Having seen the latest high jewellery pieces, I could not help but notice the trend for bright-tinted gems and jewellery materials. While some maisons created necklaces, bracelets, rings and earrings with harmonious combinations of colours; others opted for juxtaposing gemstones which could potentially seem at odds with one another - but in fact create an intriguing potpourri of different shades.
One of these brands – Cartier - chose to dedicate its whole new line to the beauty of colour in jewellery. Named 'Coloratura', the collection includes some incredibly vibrant tonal combinations, like the ones seen in the 'Holika' pieces. The deep reddish-pink cushion cut rubellite of 15.05 carats in the centre of the ring and 30 carats in the centre of the bracelet are combined with blue tourmaline and yellow-green chrysoberyl beads, providing striking contrast and drawing attention to the main stones.
Similarly, Lorenz Baumer's 'Black Magic' collection features a host of jewellery creations which are focused around large, electrifying gemstones: such a rose tourmaline of 17.79 carats, or green tourmaline of 14.98 carats in flower shaped rings, a 16 carat bright orange Spessartite garnet in an abstract design ring, a 20 carat aquamarine in the 'Rayonnement' bracelet or a succulent purple tourmaline in 'Nebuleuse' bracelet. Add to these green beryls, aquamarines and green tourmalines - all accentuated with contrasting black gold, onyx or black lacquer – and this is where the name of the collection is born.
In a style belying the oldest family run jewellery house in Europe, Mellerio Dits Meller's 'Millerfiora' pieces from the latest 'Isola Bella' haute joaillerie collection combine the classical and the contemporary. The ornate design of the gold ring, earrings and a pendant is inspired by the baroque columns of the belvedere, and decorated with a vibrant mix of precious stones. Bright pink sapphires in the centre are complemented by green tsavorites, orange spessartite garnets and diamonds, creating an undeniably exciting contrast.
Chaumet's 'Trésors d'Afrique' collection is a tribute to the continent of Africa, completing the trifecta of Chaumet's geographical themed jewellery 'Les Mondes de Chaumet'. The haute joaillerie line included the 'Ronde de Pierres' necklace, comprised of strings of red spinels, emeralds, sapphires and mandarin garnets, outlined by black spinels and diamonds on black rhodium-plated gold. The design of this piece and the stunning combination of bold colours was inspired by an encounter with the Kenyan artist Evans Mbugua.
In the case of Anna Hu, the colourful story of her latest masterpieces is centred around an astounding 26.13 carat peridot in the 'Mandarin Oriental Ducks' brooch. It was created as a tribute to eternal love between a man and a woman, as this breed of ducks is known for finding a partner for life. Carved pink coral, rubies, peridots, yellow, orange and violet sapphires are combined to create a jewel that is spectacularly unique and bright.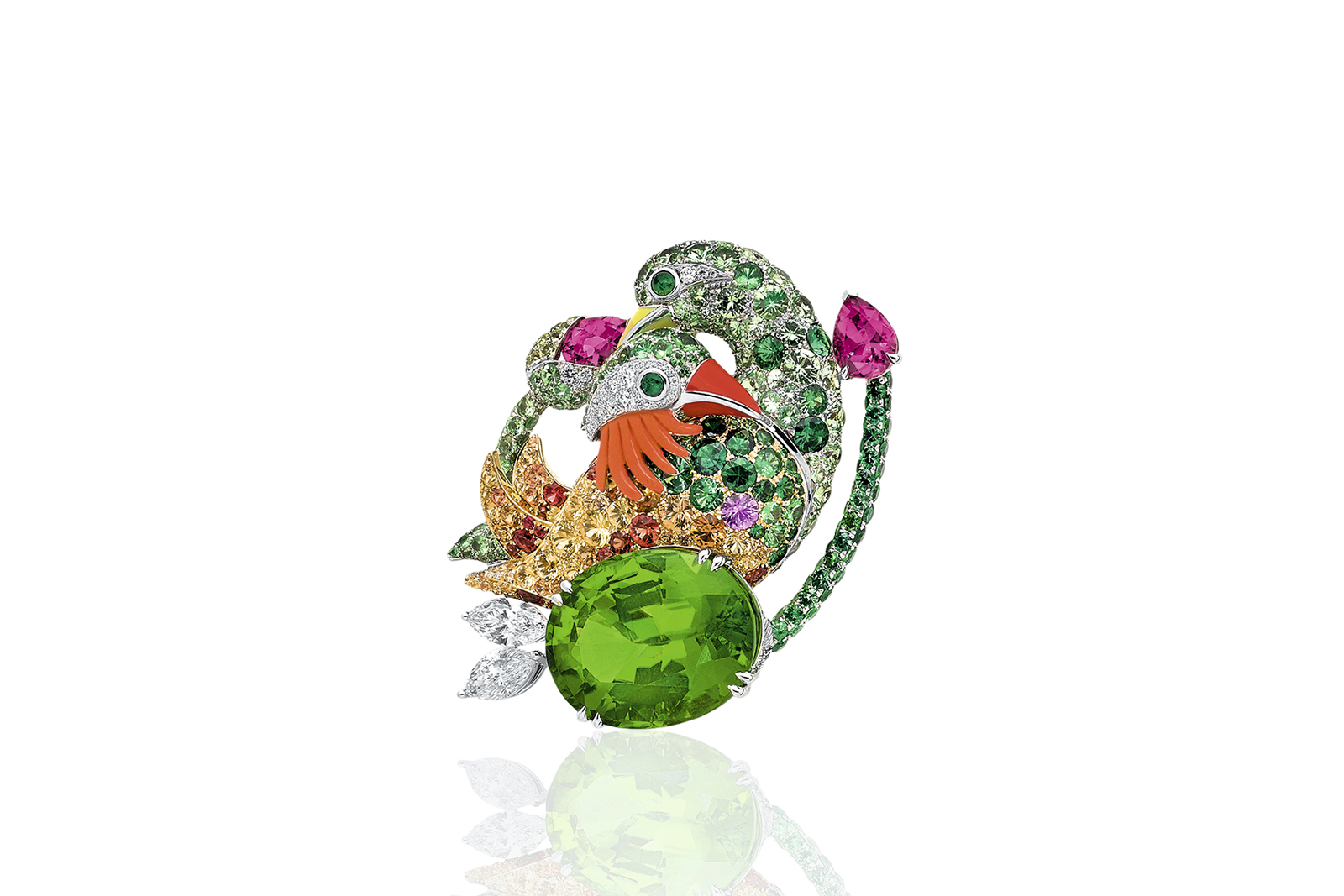 Not all of these colourful jewels are vibrant because of the gemstones which they contain; Chanel's new 'Coromandel' collection includes the 'Vibration Minerale' cuff, necklace and a ring which feature colourless diamonds, yellow gold and green and blue coloured enamel, making this design a subtler variation of the colourful trend.
In contrast, Chopard's 2018 Red Carpet jewellery collection includes a necklace which is unparalleled in its variety of hues, volume, cuts, and settings of coloured gemstones. Green, purple and yellow gemstones create an intriguing contrast and draw the eye to two bright pink tourmalines in the centre of the design. The gems are set with a minimum of visible metal, so as to let the most light possible shine through, displaying the gemstones' colours to their fullest potential.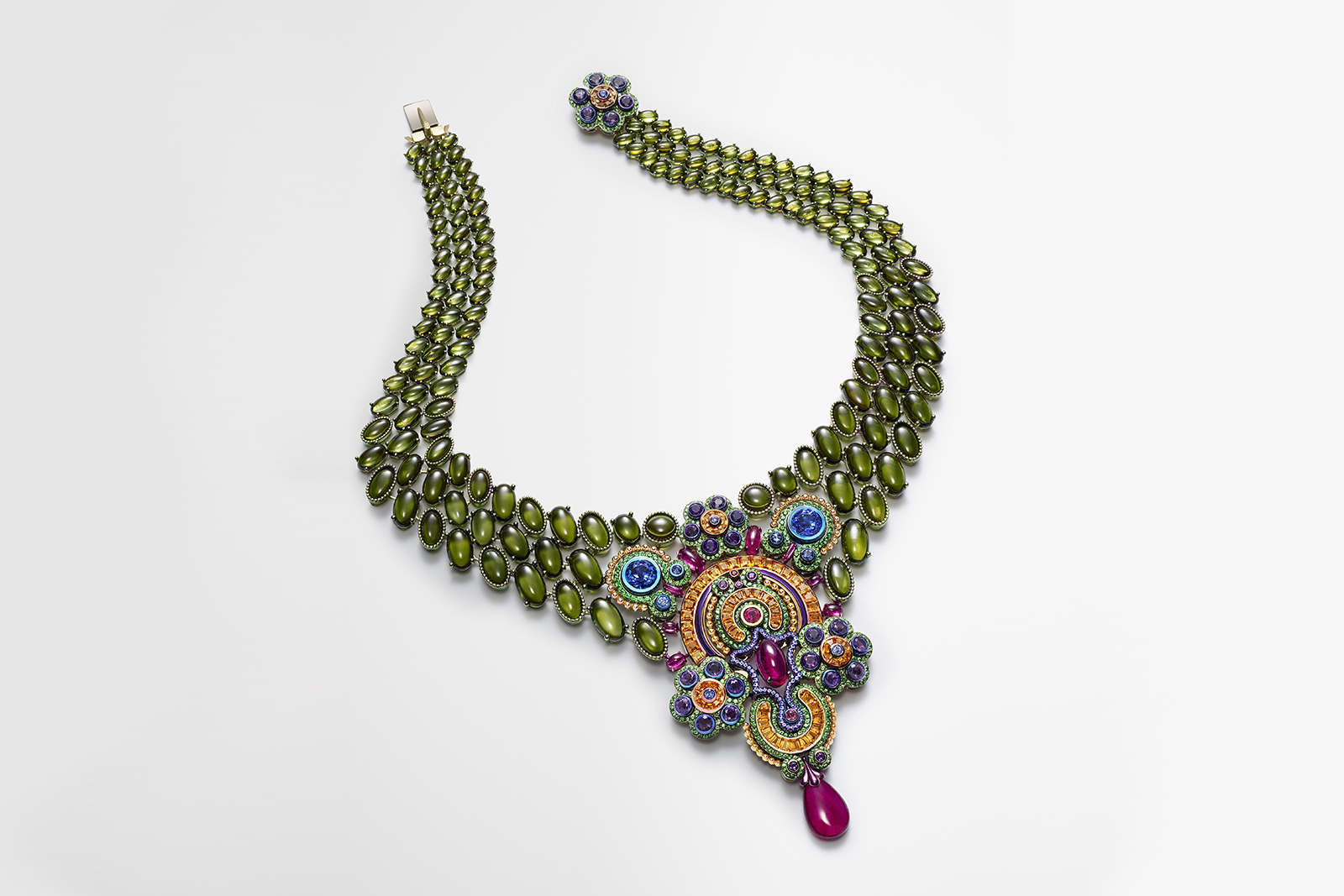 A similar approach has been taken in one of the latest Van Cleef & Arpels creations - 'Panache Mystérieux' brooch from the 'Quatre Contes de Grimm' collection, which produces some incredibly captivating gemstone interplay. Lilac and yellow sapphires are set using the patented Vitrail Mystery Set technique, which has been developed to ensure that the gold setting does not reach the surface of the gemstones, so that they seem to be floating in mid-air.
These vibrant splashes of colour across Paris Haute Couture week's jewellery collections showcase the breadth of gemstones, materials and design styles which are now being played with by the biggest jewellery brands in the world - and which are being enjoyed as a trend by all of their admirers.