Autumn – Winter 2015/16 Catwalk. From left to right: Moschino, Givenchy, Chloe, Roberto Cavalli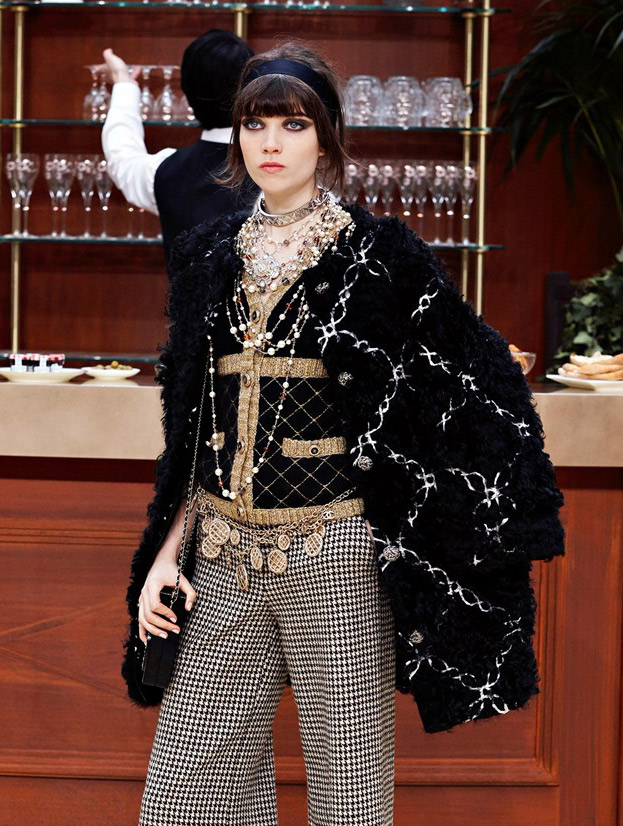 Chanel Autumn-Winter 2015/16
The onset of the colder winter season dictates changes not just in fashion but in the accessories we wear, which, of course, includes our jewellery. Ok, maybe the arrival of winter does not change the way we style our rings and earrings, but choices of necklaces and pendants must adapt to the high collars and blouses buttoned almost right the up to the neck.
For those who cannot get enough of wearing jewellery, the wardrobe change is no reason to start leaving your favourite pieces in the jewellery box. This winter the fashion gurus are recommending that you emphasise your individual style with the help of long, thin sautoirs and necklaces worn either individually or together as part of your very own jewellery ensemble.
At Chanel's autumn-winter show 2015/2016, one model's décolleté was completely covered by long ropes of pearls flowing from the neck to the trouser line; Moschino did not skimp on sautoirs either, only in their case it was gold chains partly embroidered onto the clothing with gold thread.
Designers Givenchy and Chloé were more restrained with their autumn-winter jewellery selection, completing their outfits with two or three waist length chains, while Roberto Cavalli held back with just the one low hanging pendant.
Ever since the price of gold rocketed in 2012, jewellery chains in fashion have become less chunkier, but this has only encouraged experimentation when it comes to how they are worn. I would suggest to any modern fashionista that they let their imagination come to the fore and assemble their own combination of layered sautoirs. There are plenty to choose from! KP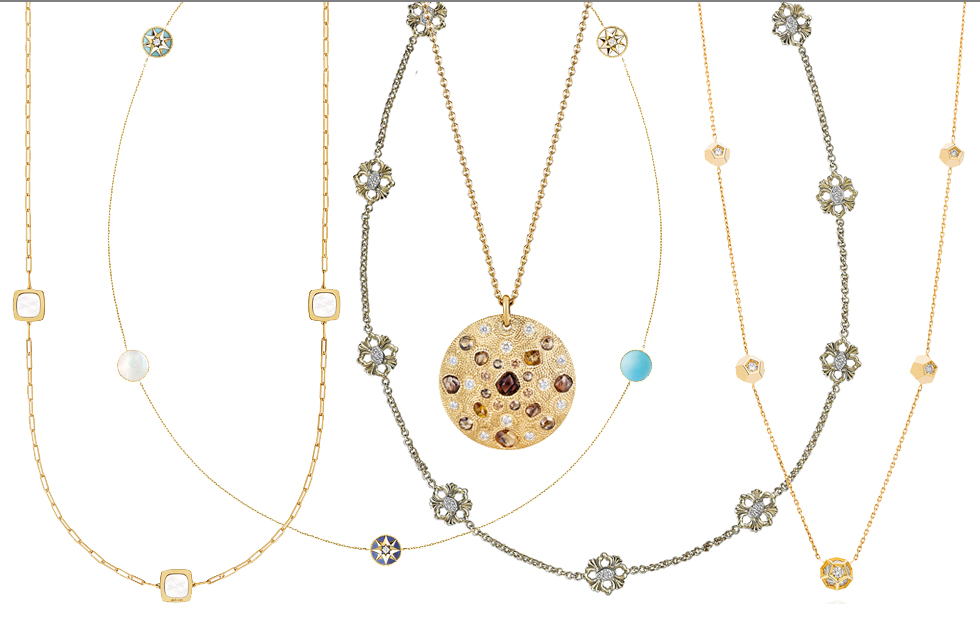 From left to right: Dinh Van Impression sautoir in yellow gold; Dior Rose des Vents sautoir in yellow gold with lapis lazuli, turquoise and diamonds; Buccellati Opera necklace in yellow gold and diamonds; De Beers Talisman long necklace in yellow gold with multicoloured diamonds; Ornella Iannuzzi RockIt! sautoir in yellow gold and diamonds.
From left to right: Damiani Bocciolo pendant in white gold full pave of diamonds; Miseno Foglia di Mare necklace in white gold with diamonds; Tiffany&Co Diamonds By The Yard by Elsa Peretti long necklace in platinum and diamonds; Chopard Imperiale sautoir in white gold with amethysts ;Harry Winston Secret Wonder reversible diamond pendant.
From left to right: Chanel Talismans de Chanel long necklace in white gold; Cartier Trinity de Cartier long necklace in white, yellow and rose gold with pearls; Lily Gabriella one-of-a-kind long necklace with diamonds, fire opal, Russian Imperial diopside, mother – of- pearl and amethysts; Louis Vuitton Monogram sautoir in yellow gold and mother of pearl; Van Cleef&Arpels Vintage Alhambra sautoir with malachite in yellow gold.