According to legend, the rat, bull, tiger, rabbit, dragon, snake, horse, sheep, monkey, rooster, dog and pig were the first to visit Buddha and celebrate the New Year. Buddha then named the years in a cycle of 12, each representing a different year in turn. 2019 is the Chinese year of the pig, and those who were born under this sign are often considered to be hard working, generous, reliable, sincere, and sociable with a large sense of humour and understanding. To encourage good fortune in the year ahead, it is believed that you should pay respect to the animal which represents it. One way to do this is to wear pieces which incorporate the pig, so I have compiled a selection of the most endearing fine jewellery and watch designs for 2019 featuring this year's star of the Chinese zodiac.
When looking for jewelled pigs which can be worn to celebrate the Chinese new year, the most irreverent pink sapphire embellished options are available from Lydia Courteille and Roberto Coin. Solange Azagury Partridge and Tessa Packard introduced cute enamel decorated versions in pink. Finally, there are golden pig designs; one with wings embellishes signet style rings by Retrouvai, while Jewellery Theatre offers a pig sculpture accented with rubies as part of their 'Animals' collection.


Each year watchmakers honour the animals of the Chinese zodiac, and Vacheron Constantin in particular pays tribute to it with new additions to 'Legend of the Chinese Zodiac' series. The two versions for 2019 in the 'Métiers d'Art' collection have dials decorated with Grand Feu enamelling on a blue or bronze tone dial. A pink gold or platinum highly detailed hand-engraved pig with lifelike rotund dimension proudly stands in the middle, while the gold embellishments allude to Chinese motifs of floral patterns.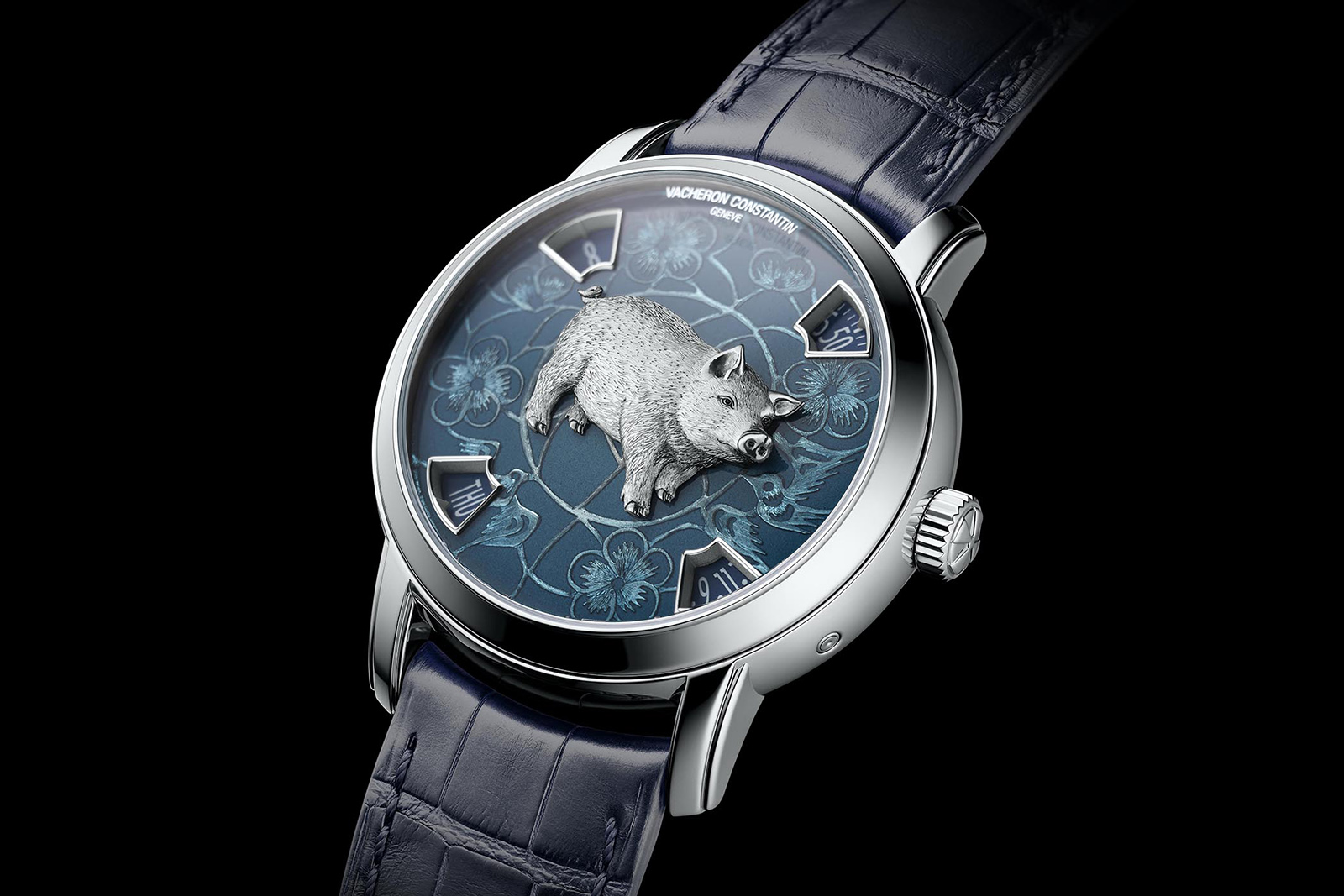 Maison Piaget has celebrated the Chinese New Year with new designs since 2012. This year, the Swiss brand continues this tradition with an enamelled limited edition of the 'Altiplano' watch for the 'Possession' collection featuring the pig. Piaget's enamelling expert, Anita Porchet, has created an astonishingly accurate illustration using the cloisonné technique. The leather strap is also in red - the colour which symbolises luck in Chinese culture.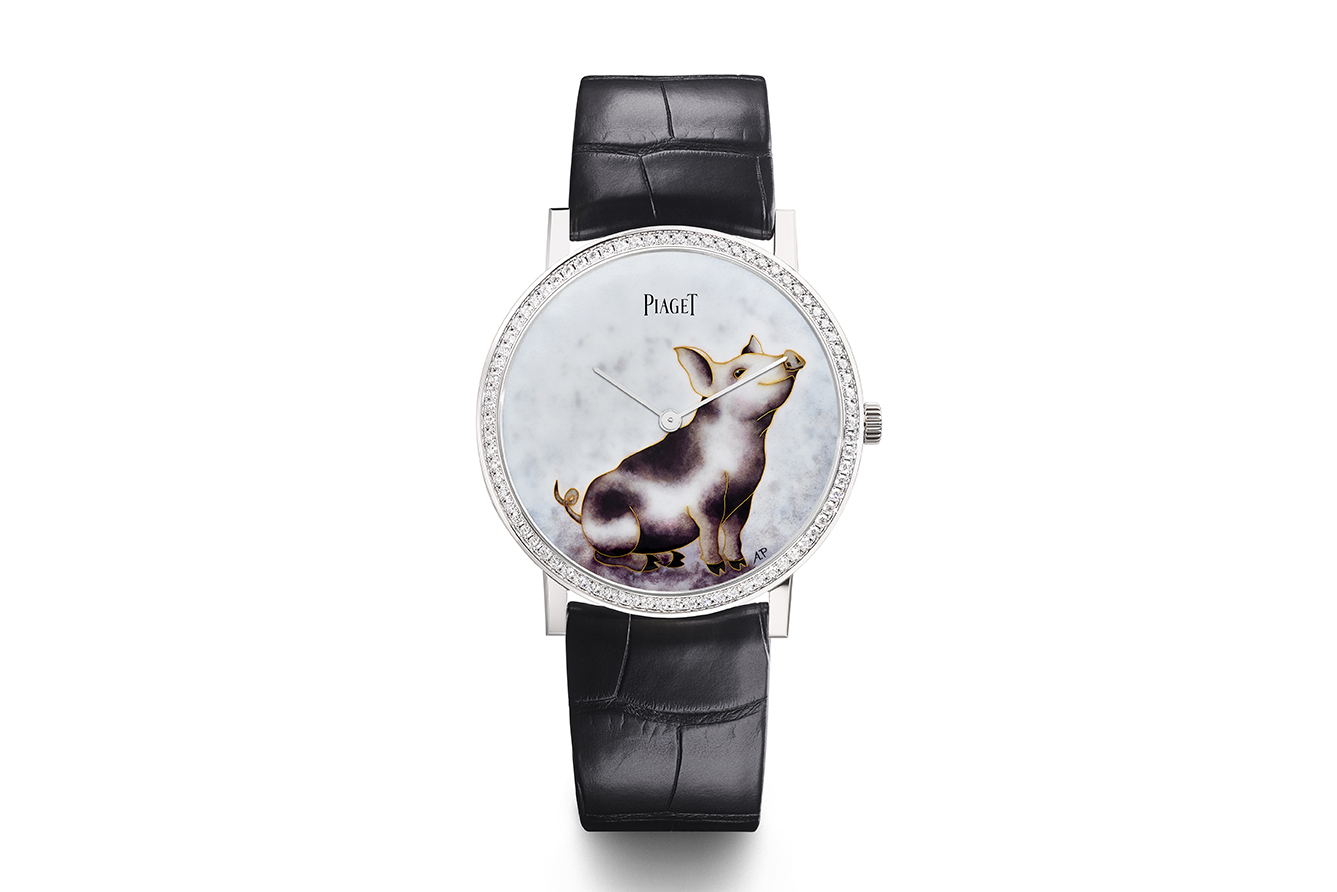 For 2019, Harry Winston has released the 'Premier Chinese New Year Automatic 36mm', featuring precious pearl marquetry, and depicting magnolia flowers on a red background, all of which pay tribute to a selection of China's richest cultural traditions. Chopard is another luxury brand which annually creates zodiac - themed watch designs as a limited number of the 'L.U.C XP' models. 2019's version by Master Kiichiro Masamura utilises the traditional Japanese varnishing technique known as Urushi.


An abundance of fine jewellery creations and timepieces can be worn to honour the Chinese new year, and far beyond into the years ahead for those who have a sentimental attachment to the creature or those who were born in 2007,1995,1983,1971,1959,1947 or 1935 - previous years represented by the pig.