Megan Fox & Machine Gun Kelly
With their engagement making headlines around the world, it has been hard to miss the hype and controversy surrounding Megan Fox's alternative engagement rings. Working with London's rock 'n' roll jeweller Stephen Webster, Machine Gun Kelly was deeply involved in the design of the profoundly personal bridal stack. The two rings, which intertwine with each other, are set with a pear-cut D-colour antique diamond and a pear-cut untreated Colombian emerald. Kelly chose these gems as they are the couple's birthstones, with the diamond representing him and the emerald for Fox. When talking about the gems' origins, he told Vogue, "It's a thoroughbred Colombian emerald, with no treatment. It was just carved into the teardrop, straight out of the mine. And the diamond was directly from [jeweller Stephen Webster]." The two split-shank knife-edge bands, further decorated with diamond pavé, contain magnets to ensure they sit perfectly on the finger. Their other quirky design feature is that the talon-like prongs are designed to hurt Fox if she tried to take them off - the price, supposedly, of true love.
Beanie Feldstein & Bonnie Chance
Actress Beanie Feldstein and producer Bonnie Chance, who met on the film set of the coming-of-age comedy How to Build a Girl in 2018, announced their engagement in June. The two were surrounded by family and friends at the romantic set-up, with a backdrop of twinkling fairy lights and blooming roses. The ring Chance chose to pop the question with is a vintage-inspired diamond cluster designed by London-based jewellery designer Michelle Oh. Its large central round diamond is circled by a halo of smaller pear-shaped diamonds set in yellow gold to create a floral design. On her Instagram, Oh shared with fans about the sentimentality of a small diamond hidden from view, set into the reverse of the cluster.
"The back and the inside of the ring is just as beautiful as the outside, and we were also able to incorporate a very sentimental little diamond to the inside of the ring, which used to feature on Bonnie's mum's ring," she wrote. "It's details like these that make a ring extra special".
Simone Biles & Jonathan Owens
Olympic Gold medallist Simone Biles and her now fiancé, fellow athlete and NFL star Jonathan Owens, announced their engagement in February. Biles posted the proposal on her Instagram, showing the couple in a wash of late-day golden light and Owens down on one knee. The caption simply said: 'The easiest yes'. Working with Houston-based designer to the stars Zo Frost, Owens handpicked the central diamond himself, which is a 3-carat F-colour VVSII oval-cut diamond on a diamond pavé band. In an interview with Page Six Style, Frost said: "Jonathan has been a client and friend for a few years, and I had the pleasure of helping him to create this very special ring." But the stones don't stop there. "He wanted to add a special touch to the ring by adding a halo around the oval diamond," Frost told Page Six Style. The halo has been created using a micro-pavé setting of melee diamonds and is hidden beneath the oval diamond to create a subtle additional play of light.
Perrie Edwards & Alex Oxlade-Chamberlain
Just ten months after welcoming their baby Axel into the world, Little Mix star Perrie Edwards announced her engagement to her partner of six years, the Liverpool F.C. football player Alex Oxlade-Chamberlain. A breathtaking sunset provided the backdrop to the romantic proposal, followed by an equally beautiful shot of Edwards' engagement ring. The impressively large oval-cut solitaire diamond is estimated to be about 6 carats and carefully balanced on a graceful, thin yellow gold wedding band. The oval-cut diamond is an increasingly popular choice for engagement rings, as the soft shape helps to elongate the fingers and effortlessly catches the eye.
"Perrie's ring is sensational," Zack Stone of jeweller Steven Stone told Hello!. "The stone is set on a thin yellow gold band - a style that accentuates the size of a ring's centre stone, making it look even more impressive."
Jennifer Lopez & Ben Affleck
In 2002, Jennifer Lopez confirmed her engagement to Ben Affleck by flashing a Harry Winston engagement ring set with a 6.1-carat pink diamond. Sadly, the wedding would never take place, with the couple parting ways in 2004. A decade after the first proposal, however, the wedding is back on – as is a fresh engagement ring. This time the couple, who got engaged in April while taking a bubble bath, have opted for an even rarer coloured diamond. The 8.5-carat green diamond, the second-rarest natural hue of diamond, was sourced by Ilan Portugali of Beverly Hills Diamonds. Affleck designed the platinum engagement ring with Los Angeles family-run jeweller Rahaminov Diamonds, taking influence from Lopez's lucky colour, green. Setting off the green diamond are two flawless, colourless trapezoid diamonds.
Zawe Ashton & Tom Hiddleston
The powerhouse acting couple met whilst co-starring in the West End revival of Harold Pinter's Betrayal in London in 2019. The lovers are famously discreet about their personal lives, and while rumours had started to circulate, they didn't confirm their engagement until Hiddleston shared the news with the Los Angeles Times in June this year. There are yet to be any celebratory Instagram posts from these two, who have also recently welcomed their first baby, but Ashton has been photographed wearing her engagement ring. The design seems to take its inspiration from the floral cluster rings popular in the 19th century. A large, oval-cut diamond, estimated to be 5 carats, arises from a circular halo setting of smaller white diamonds giving the ring a timeless, vintage style.
Alexandria Ocasio-Cortez & Riley Roberts
US Democratic congresswoman Alexandria Ocasio-Cortez spends most of her time fighting for human rights and calling out injustices, so it's only fitting that her ring matches her ethos. The politician marked her engagement to long-term partner Riley Roberts with an ethical engagement ring, a diamond solitaire on a yellow gold band. The couple shared the news of the proposal, which took place in Puerto Rico in May.
Responding to questions on Twitter about her engagement ring, Ocasio-Cortez described the ring as "zero emission and recycled gold". Though she hasn't given any more details, the description of the ring as being carbon neutral has led some to speculate that it could be a lab-grown diamond.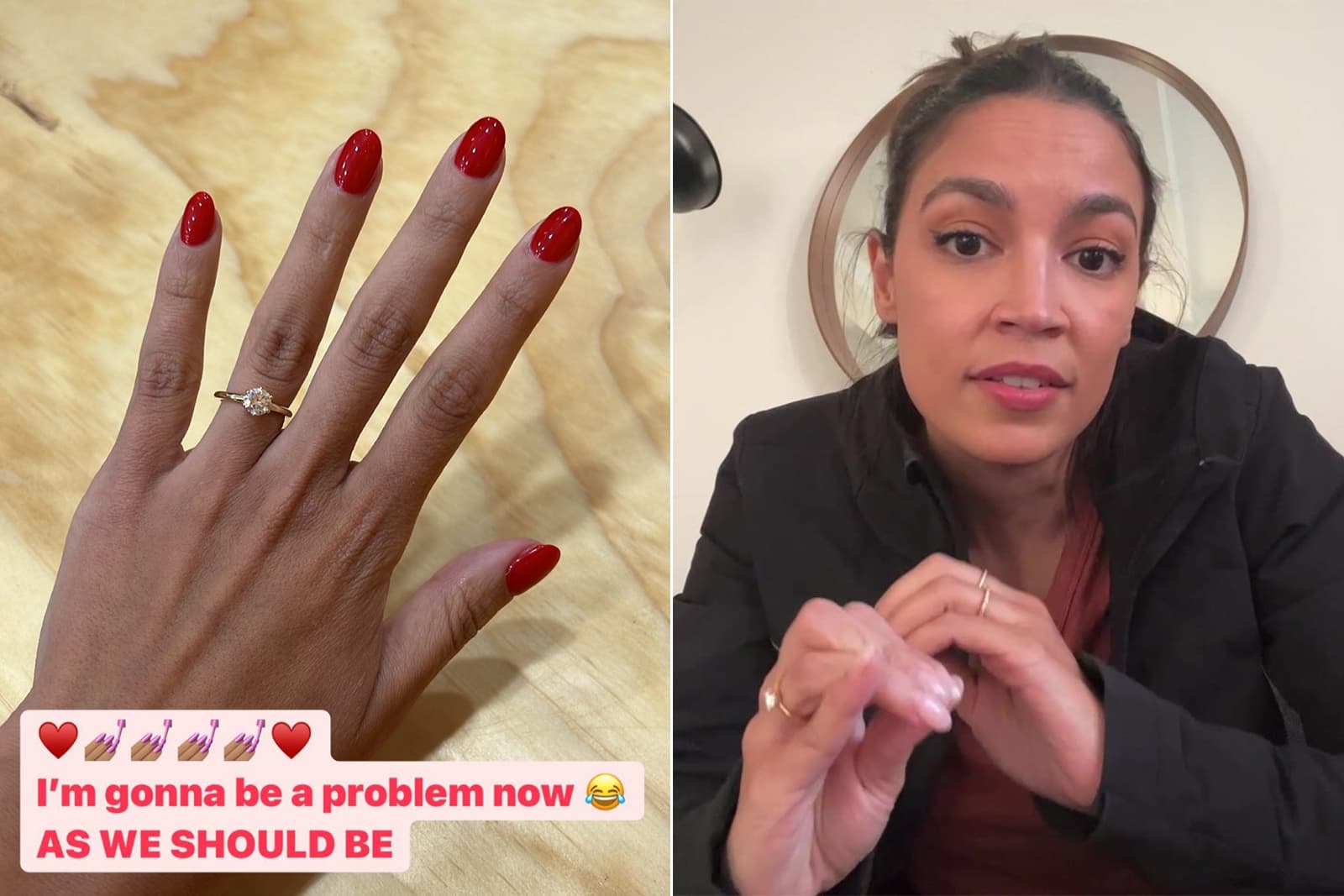 Avril Lavigne & Mod Sun
All-round emo idol Avril Lavigne got engaged to partner and fellow musician Mod Sun in April. Mod Sun proposed in Paris with a ring crafted by the designer to the stars Caryn Alpert, founder of Beverly Hills jeweller XIV Karats. Knowing that his wife-to-be would want something big and bold but also classic, the prospective fiancé commissioned one of the industry's most complex but historic diamond cuts – a heart.
In an interview with E! News, designer Caryn Alpert told them: "Literally the day they met, they both were wearing the same pavé heart-shaped ring that they both individually got from my store randomly, and they literally haven't taken them off since then." So, when Mod Sun approached Apert about creating an engagement ring, there was only one design in mind. "He wanted to give her his heart," says Alpert.
The 5-carat diamond has a minimal claw setting on a thin band decorated with a diamond micro pavé. The ring also has some unique, personal touches, including an engraving of their names and the first words Mod Sun ever said to Lavigne: "Hi Icon".