Swiss fine jewellery house Gübelin can always be relied upon for exceptional coloured gemstones. More recently, however, I've spotted a flurry of blue gemstone-set high jewellery designs emerging from the brand that have captured my attention. Whether it's the ocean inspirations of the Grace of the Sea Anemone collection or the vibrant intensity of the Splendid Feather collection, it's amazing how diverse these mineral shades of blue can be. Some are calming, like summer skies and ocean spray, while others are electric and powerful, making you feel like you can take on the world. Let's discover some of these Gübelin Jewellery pieces together and take a closer look at the properties that make each blue gemstone special.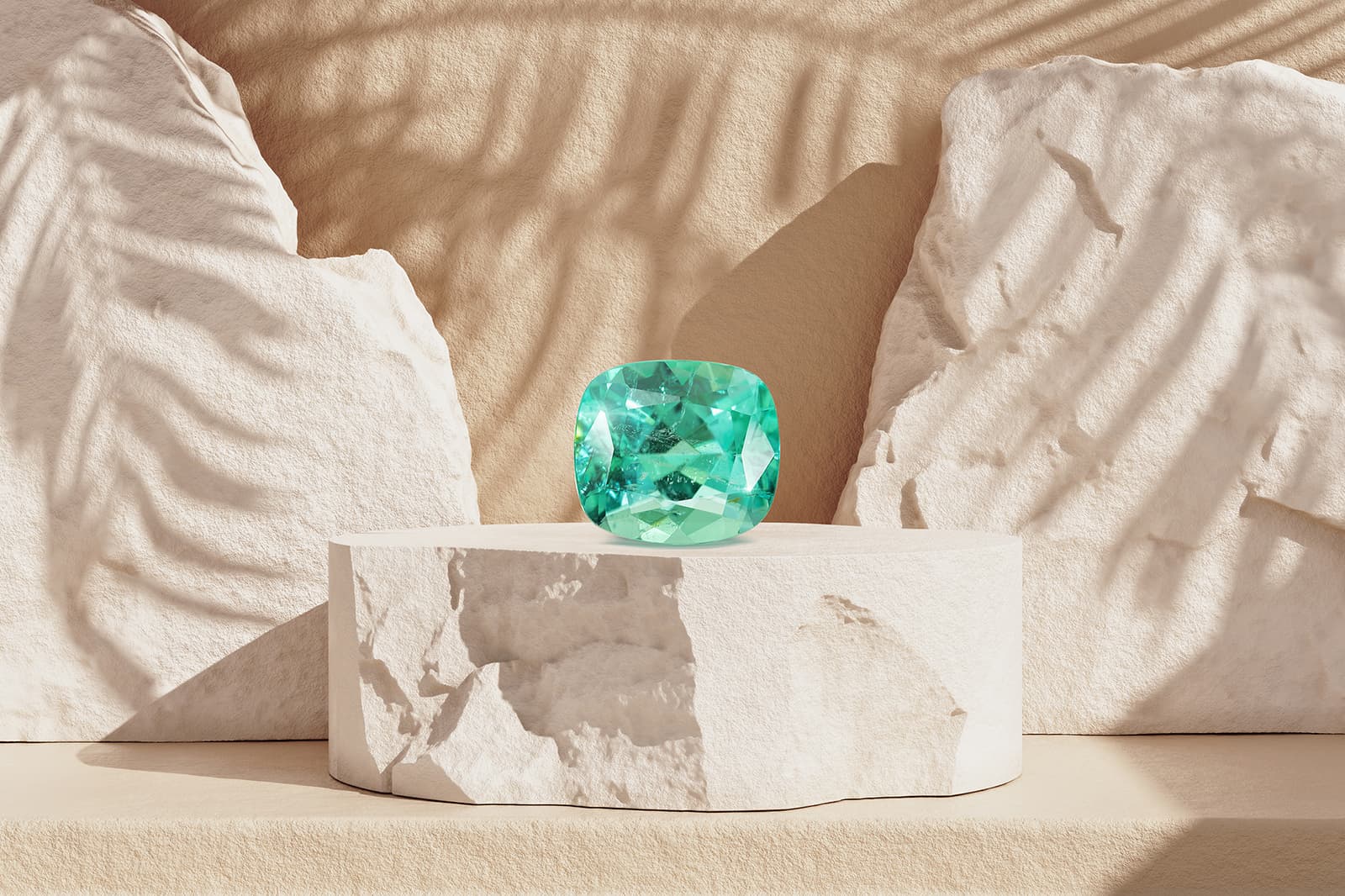 Aquamarine
Aquamarine is part of the beryl family, along with emerald, morganite and heliodor. In Latin, its name translates to 'water of the sea,' which captures its long history as a talisman for sailors to protect them against the perils of the ocean. It's actually the iron in its chemical composition that causes the sky-blue shades of the best aquamarines. One of my favourite characteristics of this gem is its pleochroism, which means it can display multiple shades and tonalities of colour depending upon the viewing angle.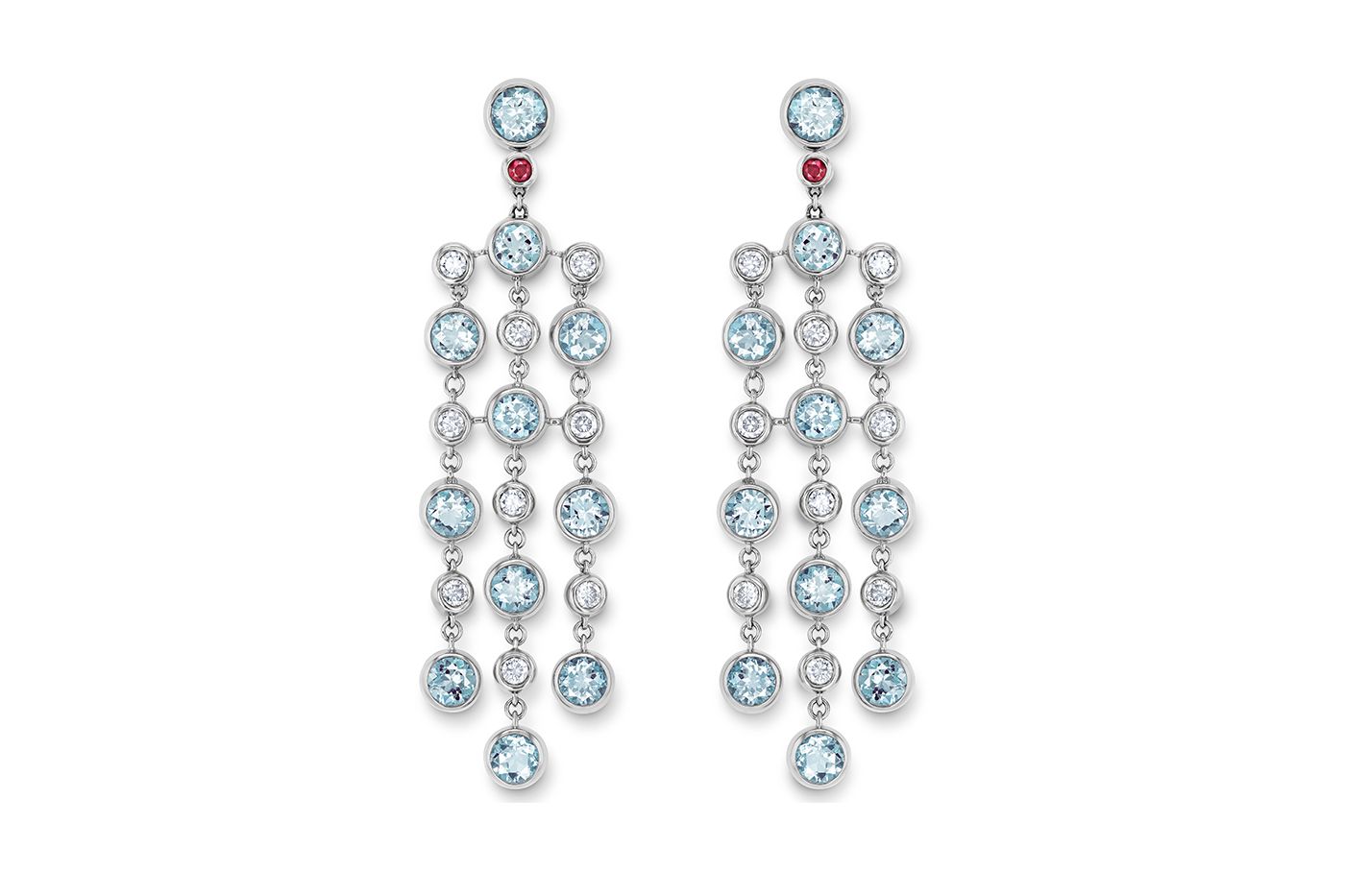 Aquamarine's strong links to the sea inspired Gübelin in the creation of its Grace of the Sea Anemone collection, especially the cocktail ring with a 22-carat step-cut aquamarine centre stone (86.5 Gübelin Points). The setting evokes the world beneath the waves, with coloured sapphires, tsavorites, brilliant-cut diamonds, and a single ruby that's a signature of the brand.
But it wouldn't be fair to say that aquamarine is tied to ocean themes. On the contrary, Gübelin uses the blue beryl to create party-ready evening accessories too. I particularly like the Sparks of Fire Chandelier earrings that can be worn as aquamarine studs or as longer earrings by adding gem-set charms. Plus, you can mix and match with tanzanites, morganites and green tourmalines and push the boundaries of aqua blue with complimentary pastel shades or contrasting deep greens.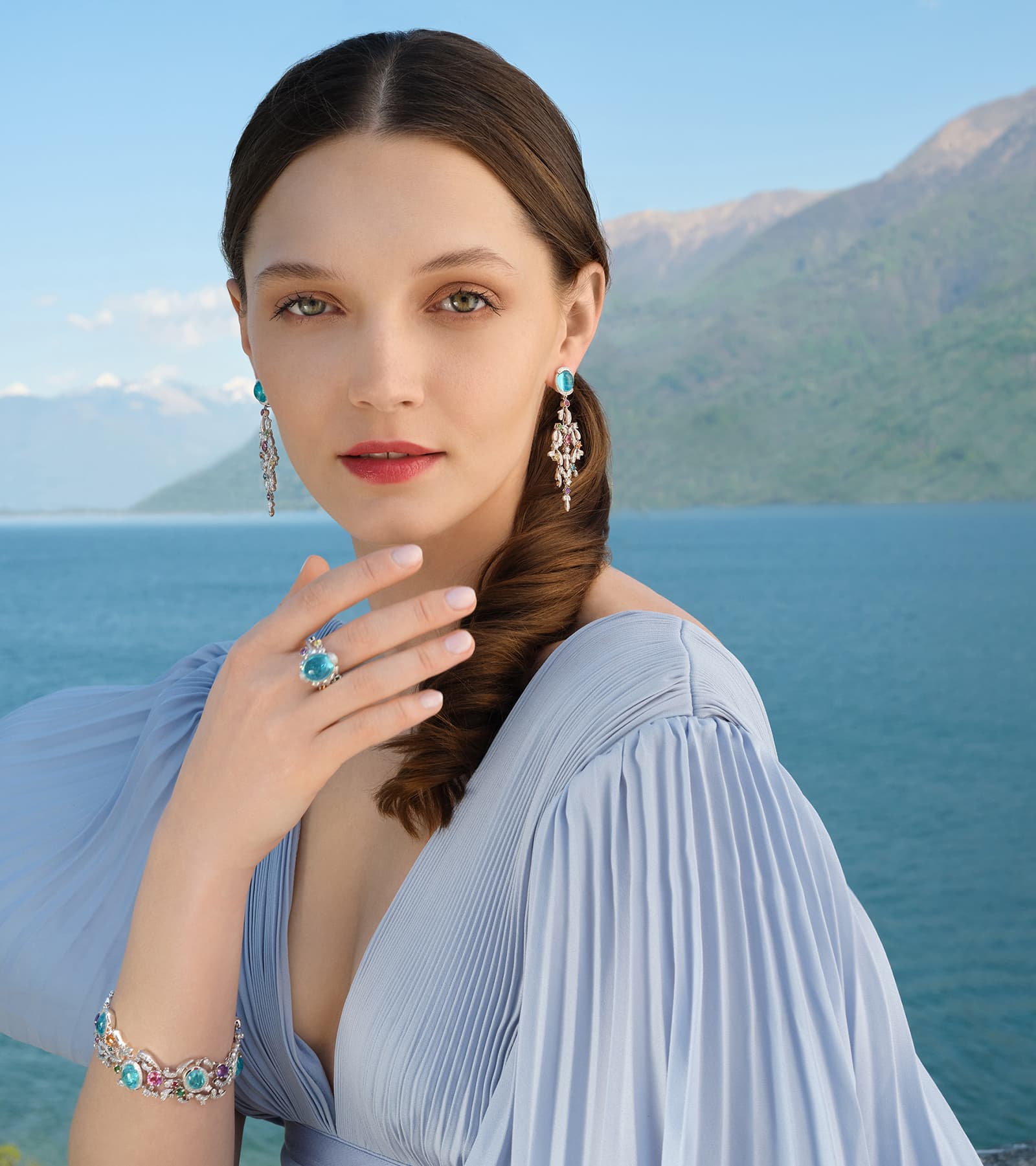 Paraiba Tourmaline
Let's return to the Grace of the Sea Anemone collection, as here you will find some sensational Paraiba tourmalines. As you may know, this is one of the rarest forms of tourmaline with an electric neon blue-to-green colour. It was first discovered in Paraiba, Brazil, in the 1980s (hence its name) but has since been discovered in small quantities in Mozambique. The Grace of the Sea Anemone Chandelier earrings can be worn as two Paraiba cabochon studs (4.78 and 4.74 carats) or as dancing tendrils of pink and blue tourmalines, amethysts, yellow beryls, mandarin garnets, tsavorites and brilliant-cut diamonds. Within the Grace of the Sea Anemone set, there's a series of high jewellery pieces with Paraiba tourmalines, including a cocktail ring with a 7.65-carat gem from Mozambique. The joy just radiates from this piece, not only because of its bright blue heart but also the amethysts, tsavorites, yellow beryls, orange garnets, blue and pink tourmalines and diamonds that make up its underwater-style setting. The matching bracelet follows the same pattern with cabochon-cut Paraiba's of more than 24 carats, and the pendant has a 15.62-carat pear-shaped cabochon from Mozambique. Gübelin Jewellery's signature ruby is placed above this shocking blue pear to create an interesting contrast.
Tanzanite
Just like Paraiba tourmaline, tanzanite is a relatively new discovery in the international gem market. The December birthstone is a variety of the mineral zoisite and was first unearthed in Tanzania in the late 1960s. It also has a trick up its sleeve; tanzanite displays trichroic pleochroism, meaning it can show three different colours - blue, yellow and pinkish purple - depending on the angle at which it's viewed. Therefore, how a lapidarist fashions a rough tanzanite crystal is very important to achieve the most coveted deep purple-blue tone and saturation. Gemstones are an art and a science! A wonderful example of the most desired deep blue tanzanite hues can be found in the Gübelin Grace of the Sea Anemone ring with an 8-carat cabochon-cut gem. It's amazing how swapping the Paraiba tourmaline for tanzanite completely changes the personality of this cocktail ring design and gives it a bolder, almost royal quality.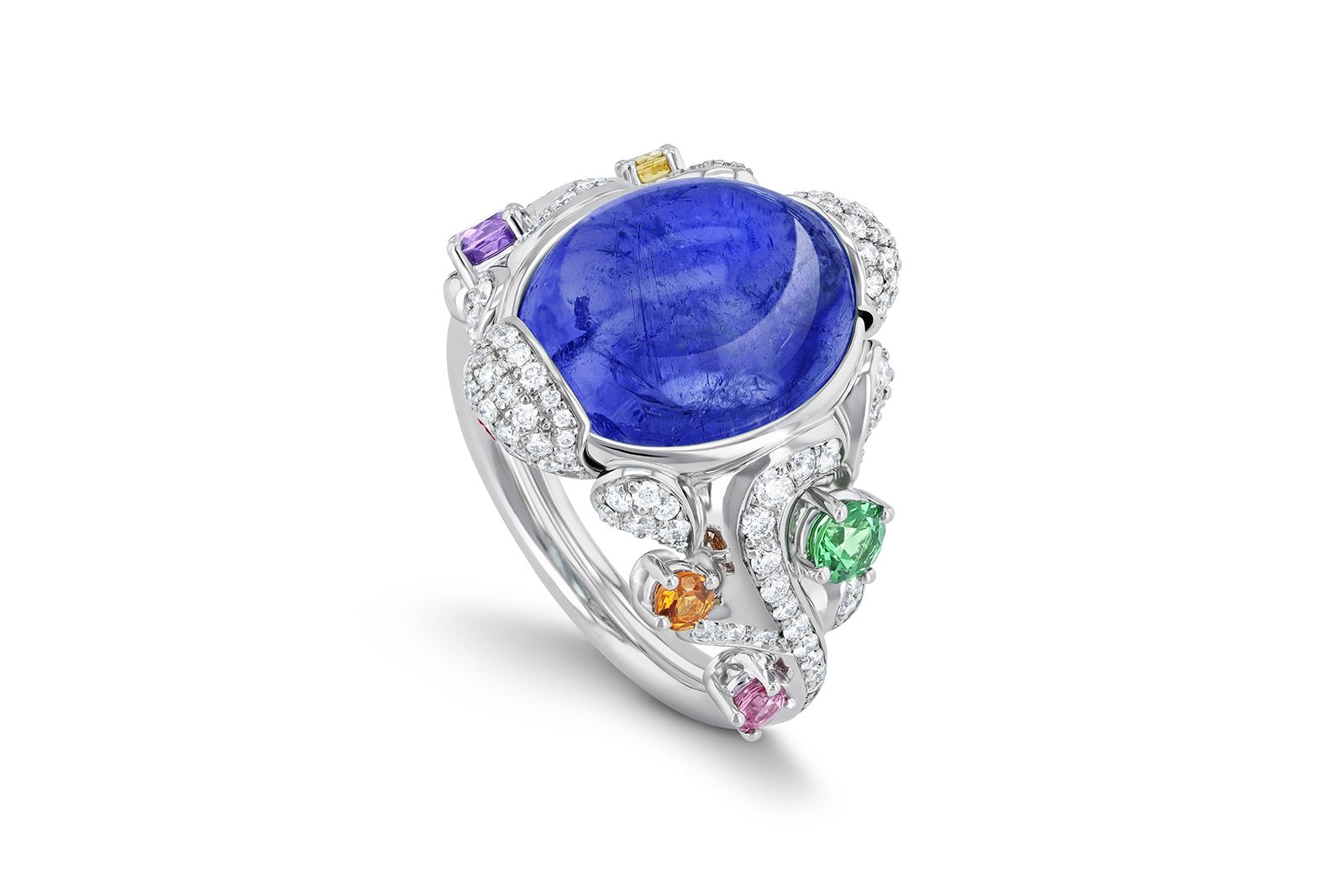 Blue sapphire
Speaking of royal, no blue gemstone story would be complete without sapphire. The blue variety of corundum is historically important and can command high market values depending upon its quality, point of origin and treatments. Thanks to its experience, Gübelin can access some really special sapphires that become the centrepieces of its high jewellery creations. Just look at the Splendid Feather cocktail ring as an example. It's made in white gold and features an oval-shaped Sri Lankan sapphire of 4.46 carats, surrounded by further marquise and round-shaped sapphires, Paraiba tourmalines, tsavorites and brilliant-cut diamonds. The Splendid Feather earrings are also regal with two oval-shaped sapphires from Madagascar and a tail of fancy-cut sapphires, diamonds and, of course, the iconic ruby. The studs can be removed and worn on their own for more versatility. Provenance is especially important in the sapphire story, and Burma (Myanmar) is an especially notable point of origin. In November 2022, Gübelin launched the Blue Lagoon cocktail ring with a 10.65-carat (91.3 Gübelin Points) Burmese sapphire surrounded by ripples of marquise- and round-shaped sapphires, tourmalines and diamonds. Interestingly, the microscopic internal world of this gemstone inspired the design as it was "reminiscent of the Mergui Archipelago off the coast of Burma", according to the House. The ring is a "homage to the aquatic colours of the Indian Ocean and the tropical vegetation bordering the brilliant white sands," which is enough to make anyone dream of their next holiday!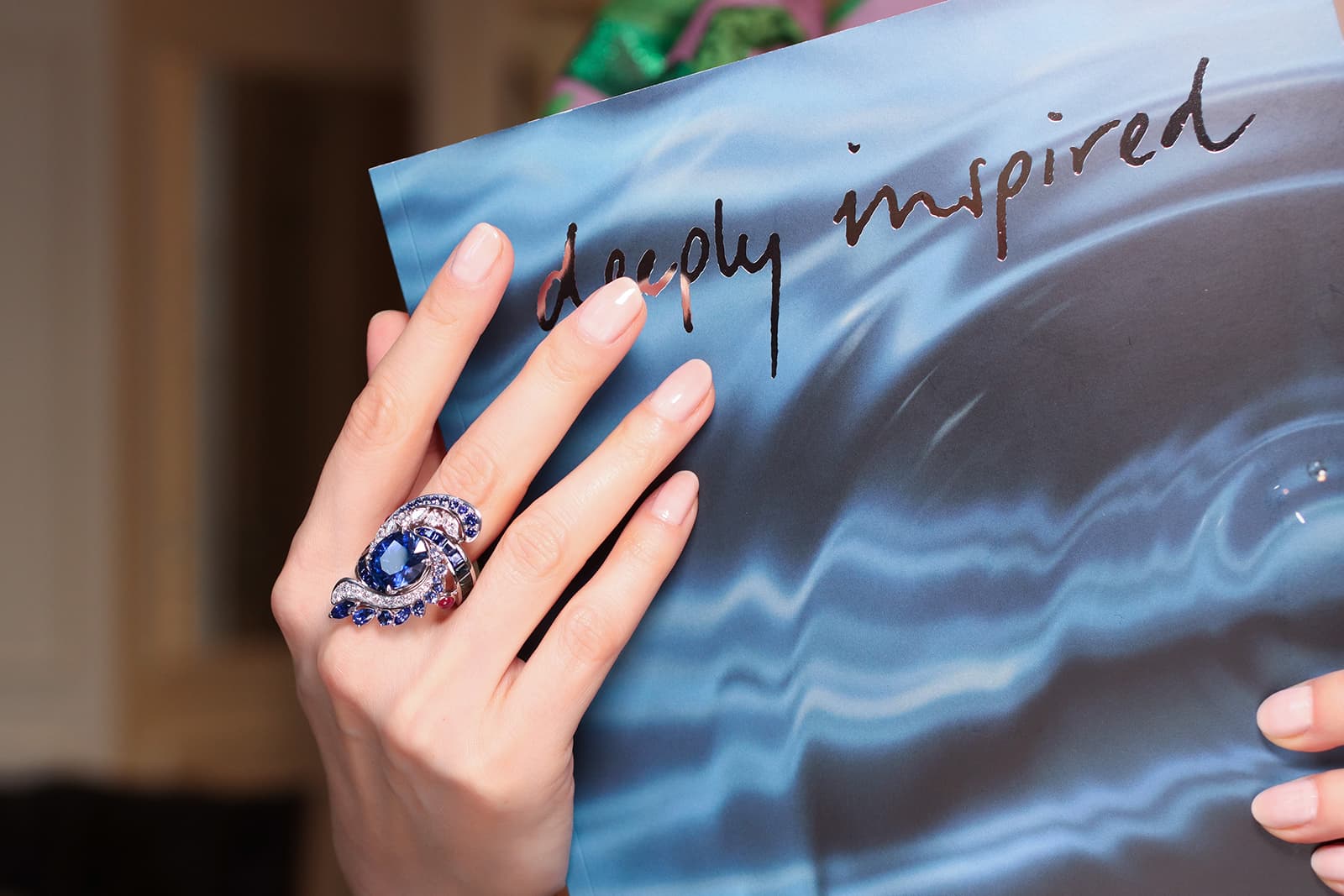 Finally, I'd like to mention the Eternal Blue ring. Naming conventions around colour are especially important in the world of gemmology – we even wrote a two-part series on this subject. "Royal Blue" was originally reserved solely for the highest-quality blue sapphires from Burma, but over time, the moniker has been used to describe a sapphire with an "intense, saturated and homogeneous blue," according to Gübelin. The Eternal Blue ring is set with a definitive "Royal Blue" sapphire of 8.88 carats with 94.4 Gübelin Points in the Gübelin Gemstone Rating. In many cultures, the number eight stands for infinity and is associated with wealth, good luck and new beginnings, so this piece is likely to turn heads. The platinum setting is quite unusual too with a nod to architecture that makes me think of a bridge over deep water. I especially like the four smaller pear-shaped sapphires and the baguette-cut diamonds that are featured too.
Colour has the power to calm, soothe, uplift and delight. It's really one of the most remarkable gifts of nature. And while blue doesn't often appear in Mother Nature's palette, she certainly made the most of it when designing the mineralogical rainbow, as Gübelin can attest.