For Yasmin and Christian Hemmerle, tea is not simply a beverage but a whole world in a cup. "Tea has always been a key cultural part of my upbringing in Egypt, and fresh or dried peppermint tea is a flavour that has signposted my palette and transports me to my homeland," says Yasmin, who married into the Hemmerle jewellery dynasty through her union with Christopher, a fourth-generation family member. "Christian [and I] purchase ingredients and blends from our travels, which we enjoy at home. As a family, we have very much embraced tea as part of the everyday."
A cherished tea recipe passed down through Yasmin's family is a signature blend of ginger and turmeric, which she turns to whenever her immune system is in need of a boost. While tea is a shared passion of the Hemmerles, the raison d'être of the Hemmerle brand is, of course, jewels. New collection Infused Jewels combines the two, with the creative process started not with sketches of jewels but the creation of a bespoke tea blend unique to Hemmerle. "We felt that tea would be our central pillar for the project and the driving force for our creativity, as we wanted to reflect on the diverse properties of herbs for enhancing health and wellbeing," says Yasmin.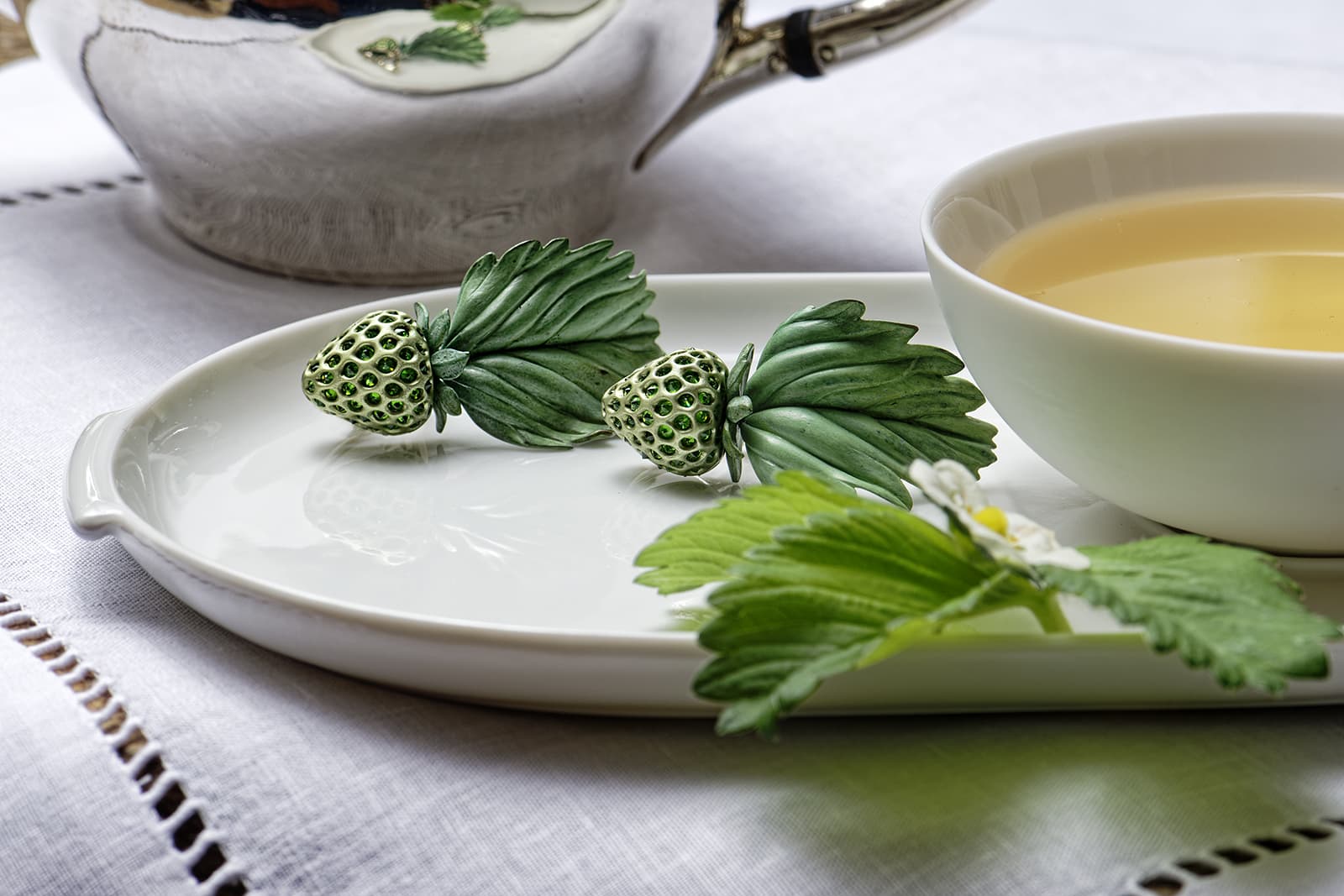 To achieve this, Hemmerle turned to the expertise of Romana Auth of Kräutergarten München, the first ecologically certified herb house in Munich, who advised on the correct combination of botanicals. "Romana Auth was able to early on grasp our vision and through a lot of experimentation and dialogue started formulating a blend that had a vibrant flavour and scent that truly animated our senses," says Yasmin. The recipe for this Infused Jewels blend can be found written in the jewels. Each of the ingredients, which include lemon balm, rose petals, ginger flower and lavender, have been transformed into one-of-a-kind jewels.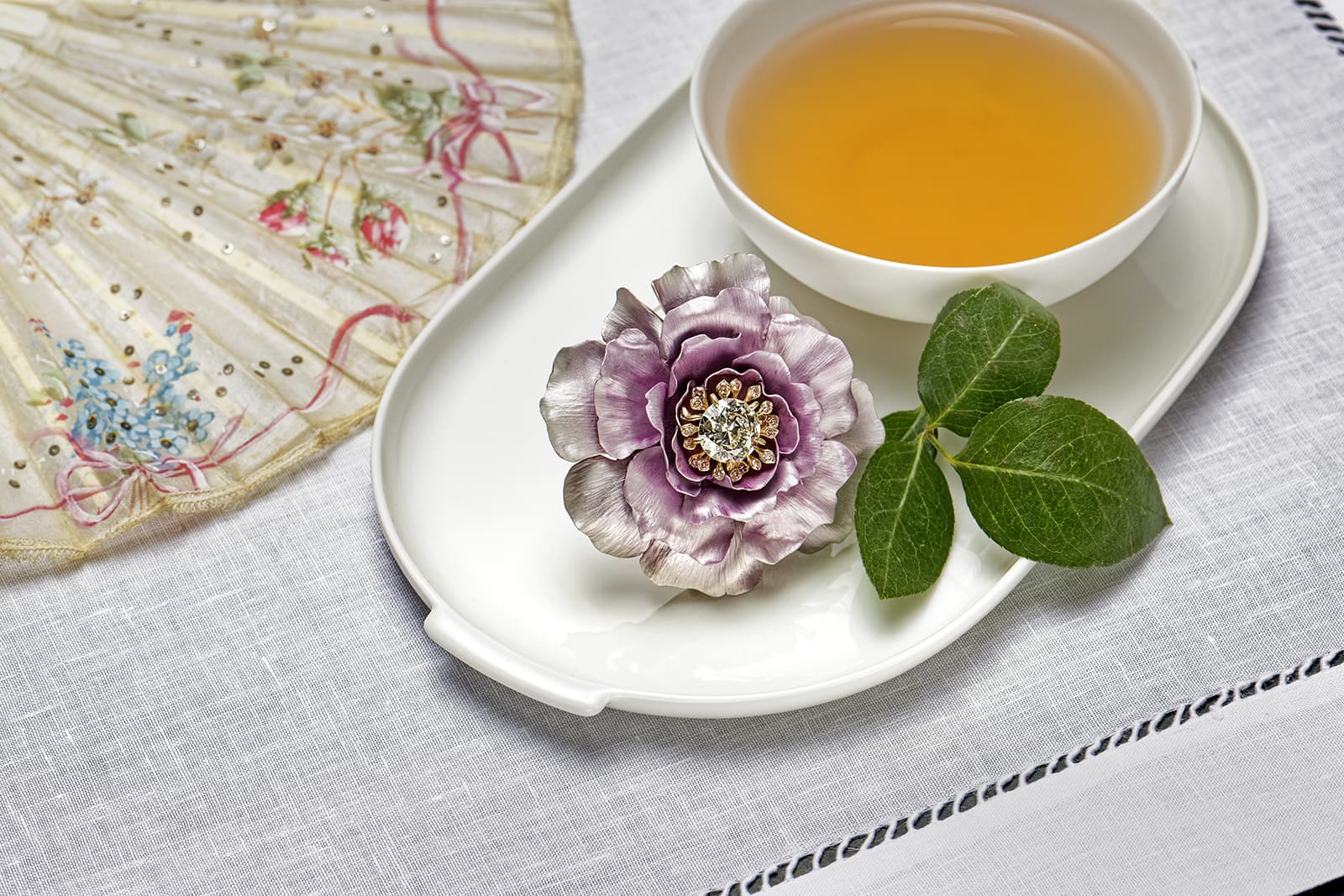 For example, aluminium, white gold and diamonds combine to create a pair of earrings that pay homage to the honey-scented sticky blooms of the Linden tree. Another pair recreate the needles of rosemary in greened bronze, seemingly growing around a pair of colour-shifting tanzanites. Infused Jewels first started to take shape four years ago, as a nod to the Hemmerles' love of tea and an appreciation of their hometown, Munich, which has a reputation as a centre for homeopathy that dates back to the beginning of the 19th century. When the pandemic hit in the midst of this creative process, it only strengthened their convictions to explore a collection that melded jewels and wellbeing.
"During the pandemic we experienced life more meaningfully, and we were all invited to reflect on our individual and collective wellbeing," says Christian. "With a strengthened sense of community in mind, the full spectrum of the project started to unfold with the central message being that of slowing down and savouring every moment in life."
Infused Jewels is as much a collaboration as a collection. In addition to the tea blend and the 10 pairs of earrings and three brooches within it, Hemmerle has worked with outside artisans to create an accompanying illustrated modern fairy tale and a handcrafted tea caddy.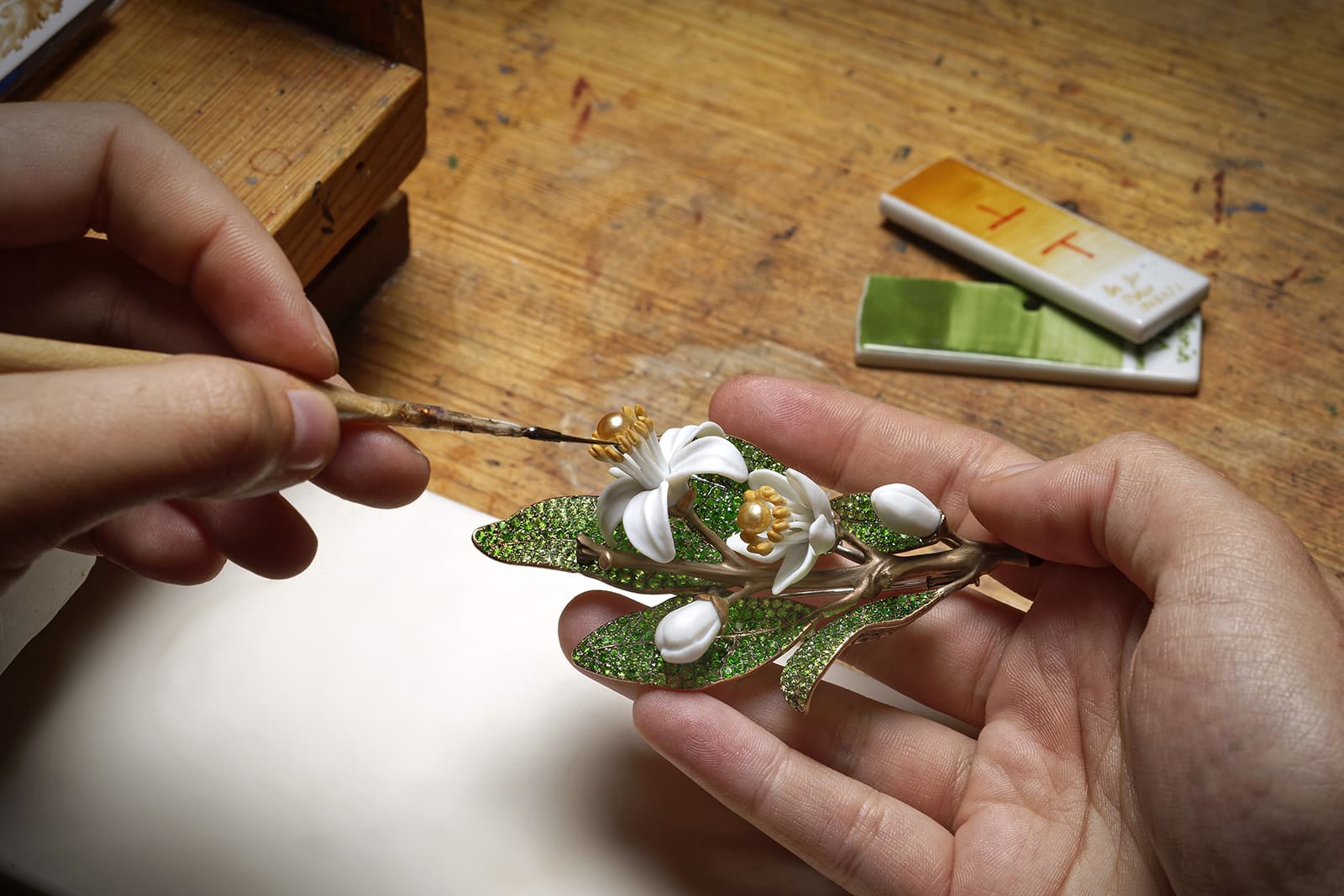 The Orange Blossom brooch within the collection is an example of this collaborative spirit. The bronze brooch, with graduated demantoid garnet leaves, has beautiful porcelain stamen crafted by the famous avant-garde Munich producer Nymphenburg, topped with a pair of natural golden pearls. Hemmerle prides itself on being able to create all of its jewels from start to finish under one roof at its own atelier, so this marks the first time the jeweller has collaborated with an outside artisan on a jewel since it was founded in 1893. Nymphenburg also created the Infused Jewels porcelain tea caddy, decorated with delicate blooms coloured in artfully faded strokes.
The collection also continues to strengthen Hemmerle's reputation for using unorthodox materials thanks to one brooch that was originally destined to evoke the roughness of cinnamon sticks through bronze, but actually ended up being set with real cinnamon. "Each creation had its own set of challenges, yet one that we had to really learn and reflect through the creative process was the Cinnamon brooch, which incorporates natural cinnamon sticks alongside a fancy deep-brown-yellow diamond with minimal use of bronze and white gold," reflects Christian. "We experimented with real cinnamon sticks for months before we were able to resolve the design in a way that seems effortless and that is stable. This brooch truly pushed our imagination as to what we thought was feasible. Such experiences truly define our journey and help us pivot in our work and we are truly grateful that our atelier is always up for such challenges."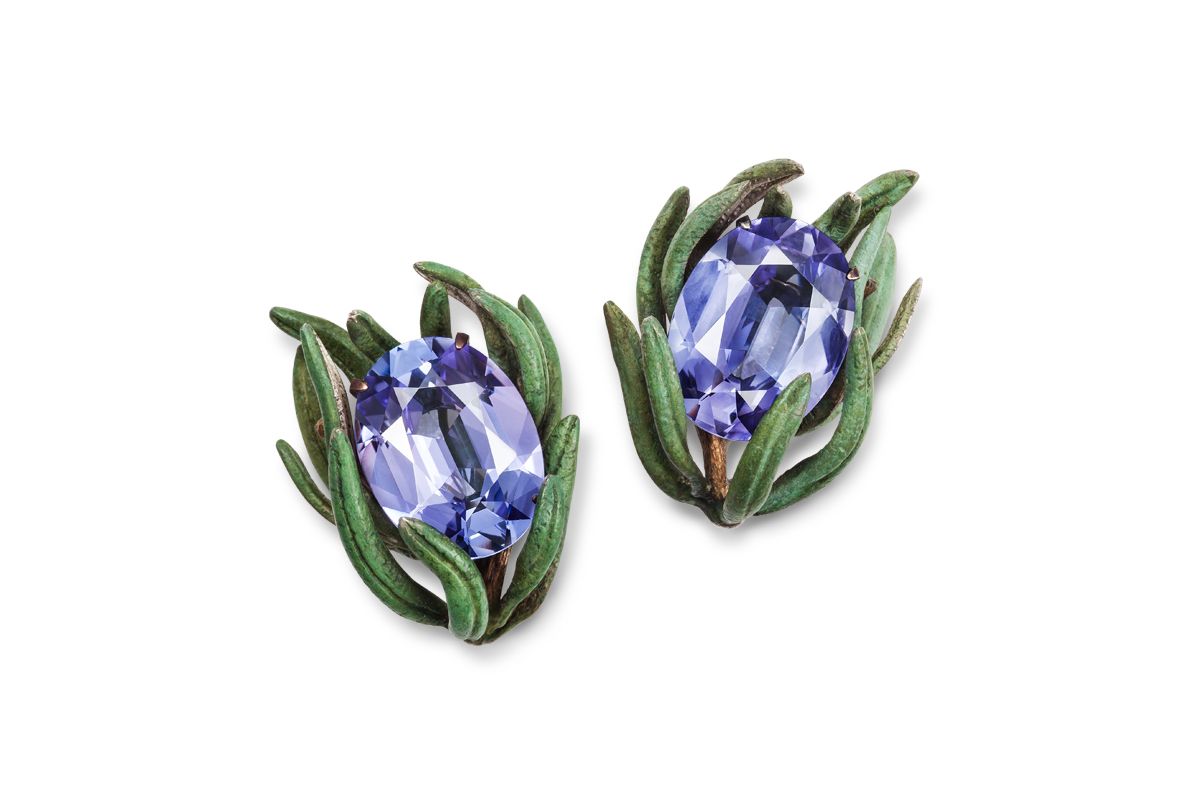 When curling up with a steaming cup of tea, a good read is in order. And with the concept of a full experience in mind, the jeweller commissioned the actress, model and poet Greta Bellamacina to write an ode to "our collective influence on the world and the power of embracing community and nature". The poetic fairy tale, titled The Herb Garden, focuses on the joy of reintroducing nature to urban areas, and is beautifully illustrated by dream-like artworks created by British artist Rosanna Tasker. "Working with Greta and Rosanna became natural, mutually respectful and creatively inspiring, and our collaborations enriched our perspective of the project in ways we did not envisage when we first conceived Infused Jewels," says Yasmin.
As with all infusions, the best creative collaborations require just the right blend of ingredients. With exquisite craftsmanship, pioneering materials, dreamy poetic scenes and hand-picked herbs, Hemmerle's Infused Jewels collection is just our cup of tea.