When René Pompanon and Mr. Bosle opened their small jewellery workshop in 1936 he had no idea that the women of Lyon would be so enamoured with their offering, nor that they would one day become a Place Vendôme supplier. Their success led to the formation of Cesare Pompanon – a French fashion-focused fine jewellery house that has remained in the Pompanon family to this day. His children, Agnès and Eric, took over the business and were later joined by Eric's wife, Christine, and their children and third-generation jewellers, Carla, Ugo Cesare and Adriana. The Pompanon cohort takes family seriously (collections are named after different members, both past and present), but they also understand the requirements of women who want joyful jewellery that's feminine, modern, comfortable and not restrictive in any way.
It's also lovely to see jewellery that's crafted in-house and with an independent spirit. Cesare Pompanon collections continue to be made in Lyon, starting life as bright pops of coloured gemstones and eventually becoming light and voluminous cocktail rings, feminine pendants and multi-coloured 'tutti frutti' inspired designs. One can imagine wearing the floral Primavera collection to a family lunch or special birthday, while the Buona Fortuna adds a precious twist to jeans and t-shirts with lapis lazuli, malachite, tiger's eye, turquoise and mother of pearl.
Rather than explain the brand's signature pieces to you, let's let Carla Pompanon speak for the family! Here are some of the highlights of our conversation about the fashionable world of Cesare Pompanon…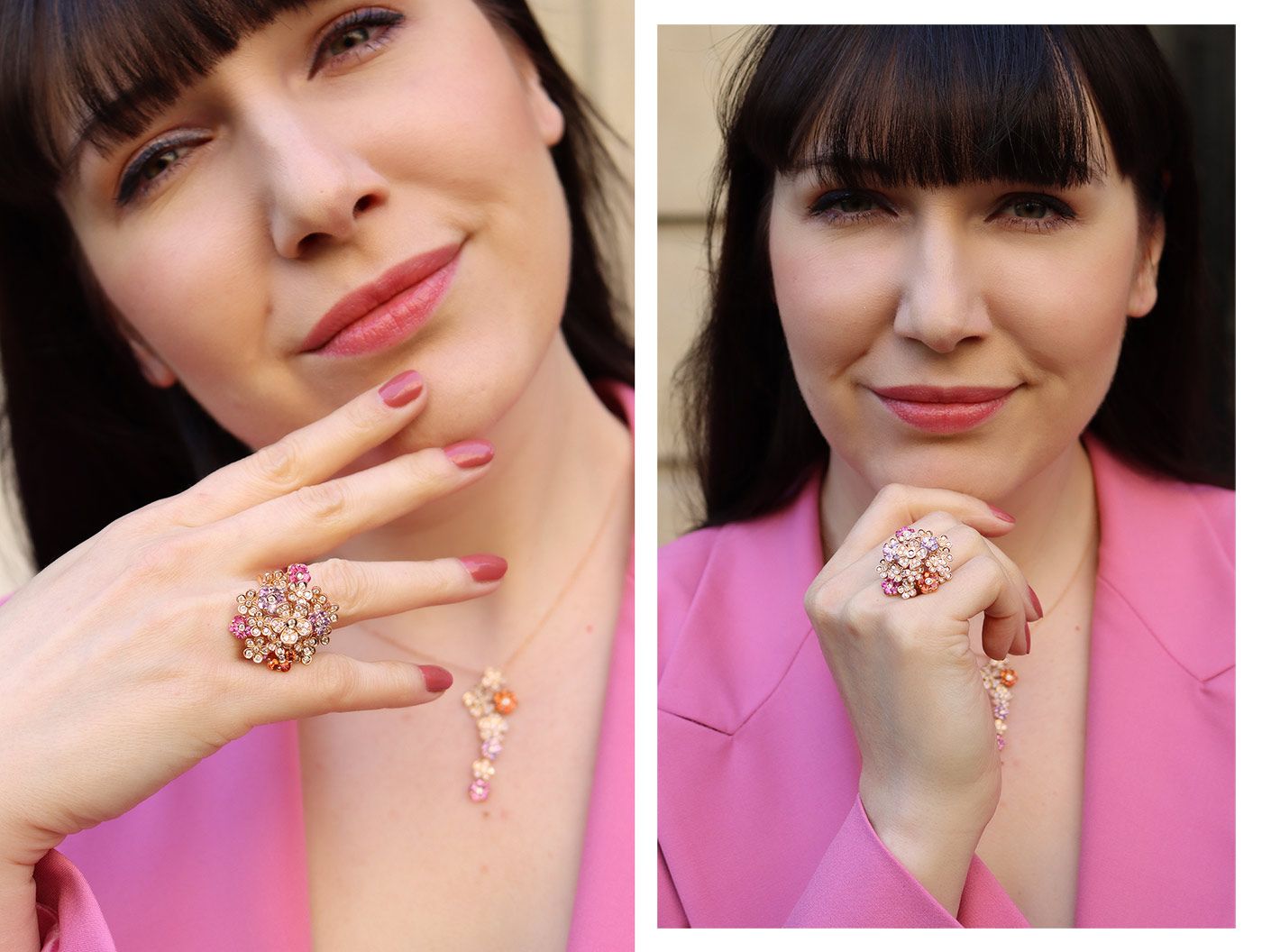 Katerina Perez: What is the most recognisable Cesare Pompanon collection?
Carla Pompanon: Our most iconic piece of jewellery is the ring we call "trembleuse". You will find a unique assembly technique that was invented in our workshop in Lyon. The patent for this model was registered in 1990. This ring is now available in every collection, whether in a large or small model, and the most important of these is the Primavera multi-sapphire ring.
KP: There is so much colour in your collections – is it important to the brand to create fun jewels?
CP: It's more than important, it's an attitude. We are passionate about fashion, styling and colour combinations. Our grandfather was a jeweller and our grandmother was a seamstress. It is this heritage that made us want to see the jewellery as a piece of clothing. In the same way that you put on a t-shirt and a pair of shoes, you must put on a necklace or earrings or a ring... Gold dresses the woman as well as the fabric. We love the colours because they evolve with trends and fashion. We love the energy that coloured stones give off: alive, young and dynamic. It must be a pleasure for women to wear a jewel.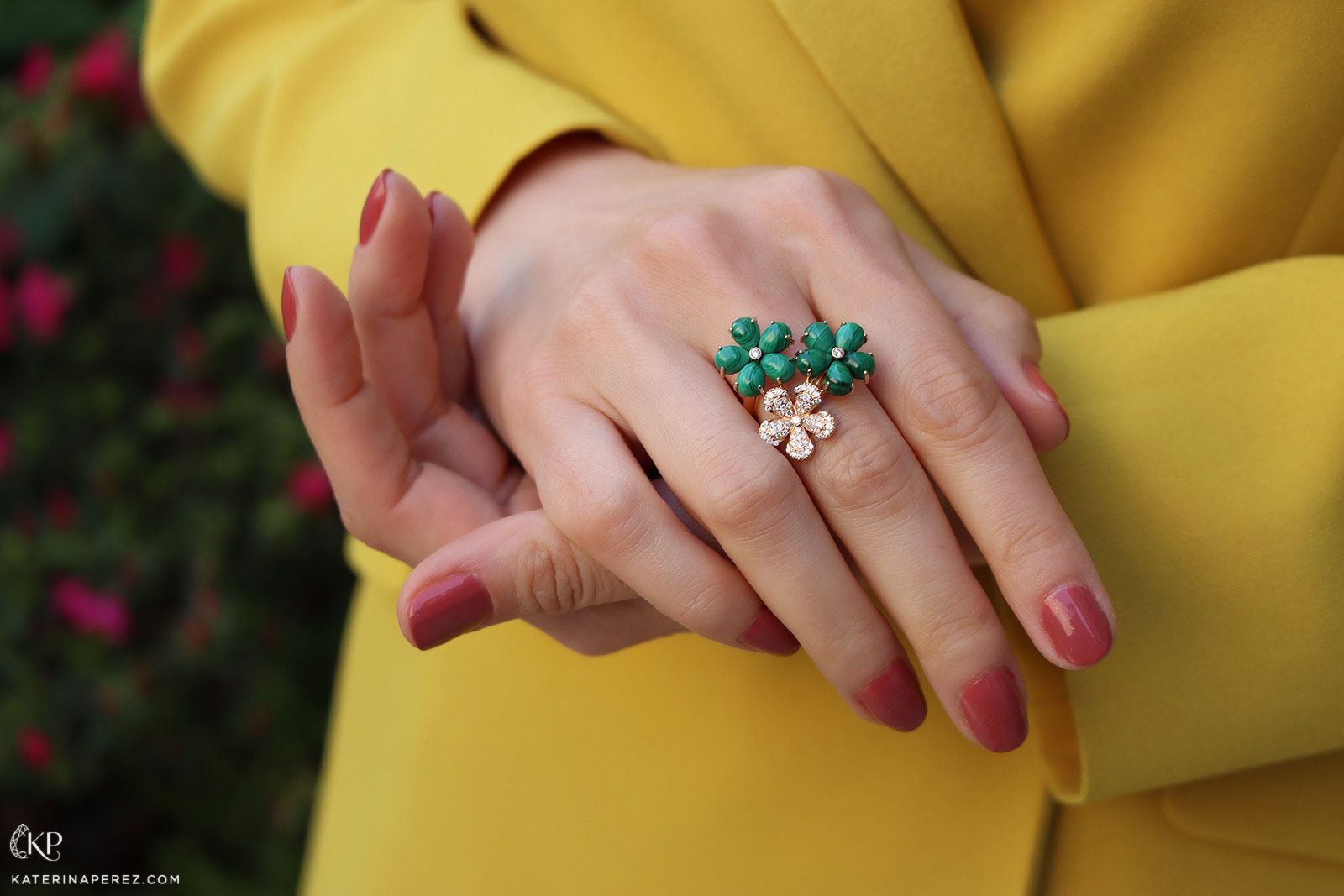 KP: What is the process of creating new collections at Cesare Pompanon?

CP: Contrary to popular belief, our designer (our father) loves shopping. He takes his inspiration from clothing trends, from his travels, from fashion magazines... We, the children, give our opinion and suggestions with what we like to bring a touch of modernity and youth within our creations so that our collections appeal to all ages. Eric has been drawing since he was 15 years old, so he has thousands of drawings that we still use today because fashion is an eternal cycle. He has passed on his passion for design and drawing to his daughter Adriana who, at the age of 15, has started to make decisions and designs like her father.
KP: How does the concept of femininity play into the Cesare Pompanon story?
CP: Cesare Pompanon is the jeweller of fashion since 1936. Jewellery is as important as any other component of an outfit and even more important because it can have meanings, an heirloom, a gift from a loved one, to mark an important event in life or to please oneself. We create jewellery that is easy to wear in everyday life, we want to democratise jewellery so that it becomes an integral part of everyday life. Our jewels are very resistant and for the little story, I try all the jewels, I am our crash tester! We can see if the jewel is resistant in all circumstances. Of course, the woman is at the centre of everything, in our family the women dominate, we are three. Girl power is our motto.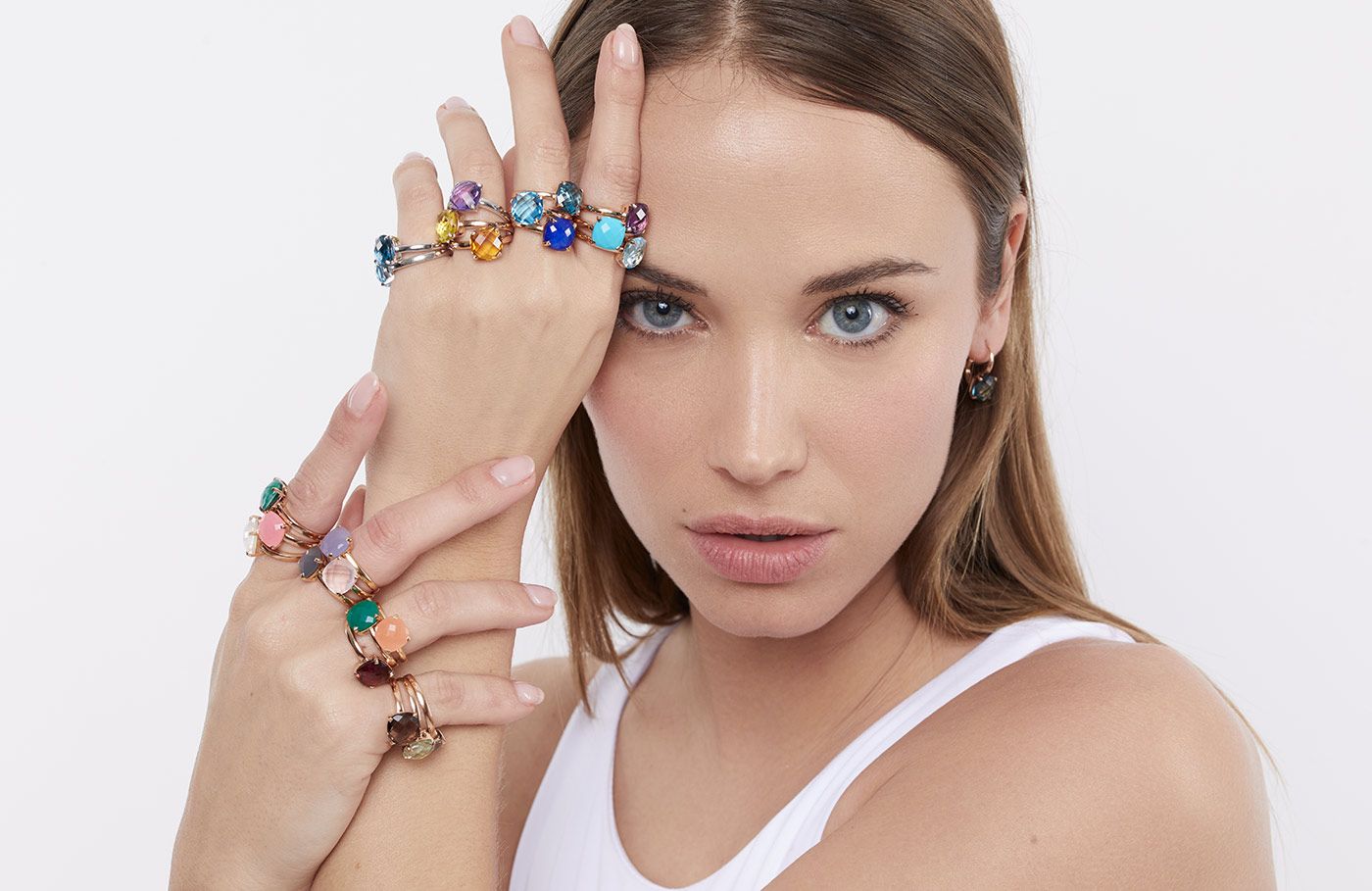 KP: You have also grown into high jewellery – how does this elevate your existing fine jewellery collections and continue their story?

CP: We make Haute Joaillerie that is easy to wear, not jewellery that is worn only once and for a special occasion. On the contrary, we want our high jewellery collection to be worn on all occasions. Through high jewellery, we highlight our know-how and that of our jewellers. They have been with our company since the beginning; Xavier, Laurent and Christian started with us when they were 17 years old and have therefore known all three generations of the Pompanon family. They have evolved and learned with us.
With a well-established foothold in France (their stand-alone boutique will soon open in Lyon featuring Poppy Blue, Amore Nana, Primavera, Fiore di Mamma, Tutti Frutti and Buona Fortuna collections), it is an exciting prospect that Cesare Pompanon will soon enter new markets… although Carla Pompanon can't be persuaded to reveal the details just yet! We also don't have long to wait until the new Renata collection launches, which is named in homage to René Pompanon himself, and there are hints of a unisex range to bring men into the fold. I hope you can join me in tracing the trajectory of this family brand as it looks beyond France and helps us all feel a special dose of jewellery fun.