Even as little as 5 years ago, experiments with ornamental stones – lapis lazuli, quartz, turquoise, malachite or onyx – were mainly only seen in fashion jewellery - which could hardly be classified as high art jewellery when considering the aforementioned criteria. The quality of work, design and the materials used were not really in the same league as those of the top jewellery houses. But the beauty, spectacular quality and richness of colour and pattern of individual specimens of these non-precious stones began to attract the attention of top jewellers. As a result, these minerals were adopted for their aesthetic quality and a small number of semi-precious stones began to appear in the work of the most famous jewellery brands.
At first, it was neat coloured accents and tinted patches, but shortly afterwards we began to see the central elements of high art jewellery making use of these 'lesser' stones. For example, lapis lazuli could be found illuminating the jewellery of several brands at once: Cartier, Van Cleef & Arpels, Mellerio Dits Meller, Pomellato and Louis Vuitton. In the 'Ondine' set from the 'Le Ciottoli' collection by Mellerio, lapis lazuli is cut into curved lines in order to convey running sea waves. We find the lapis lazuli seamlessly alongside pear and marquise cut diamonds. Together, they depict stunning transparent splashes, as if bursting away from running water – the result is truly impressive! Such an effect could never have been achieved making use of solely the elite stones.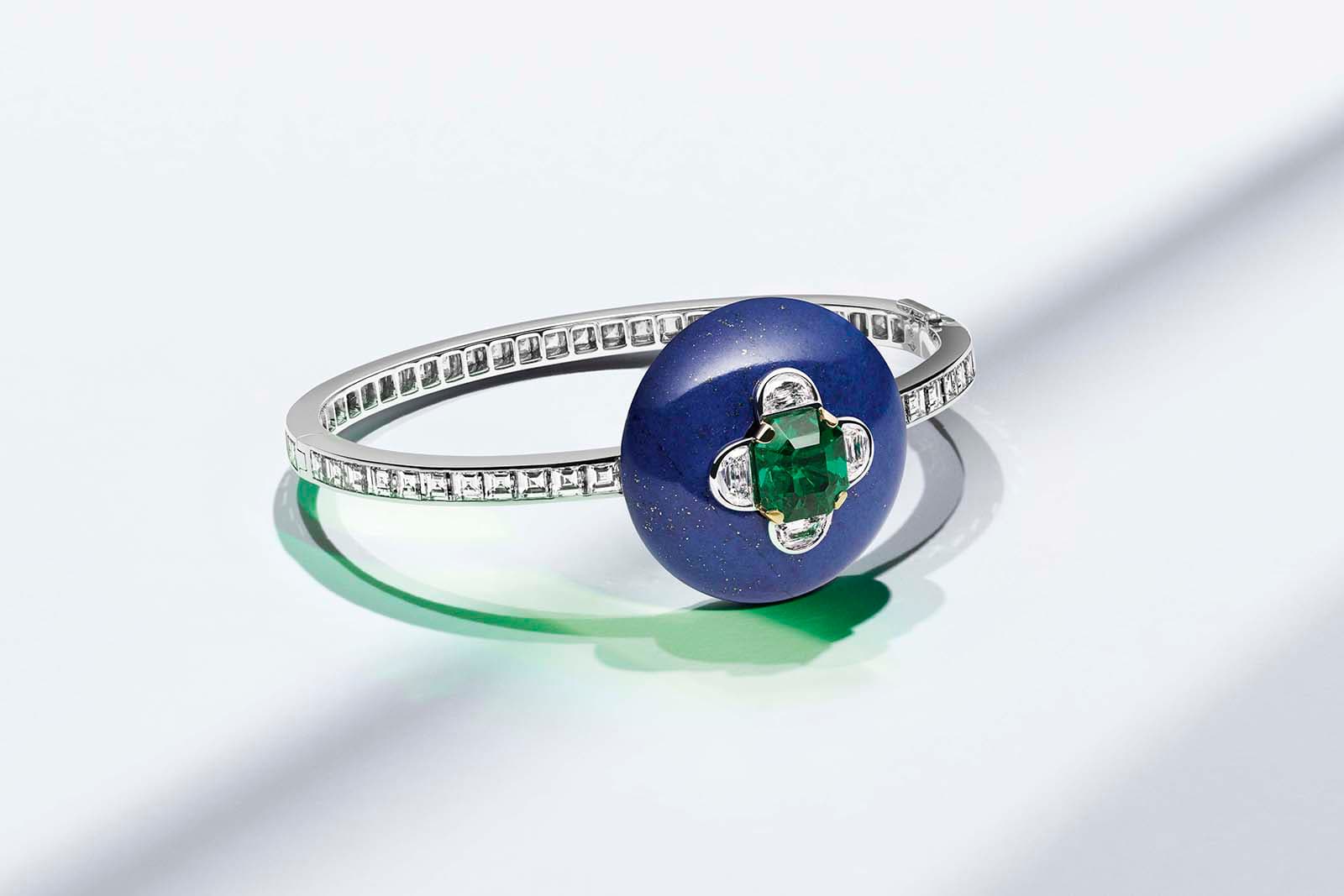 The geometric necklace 'Matrimonio' from the 'Romeo and Juliet' collection by Van Cleef & Arpels also makes use of lapis lazuli alongside diamonds, as well as blue and pink sapphires. Here lapis lazuli is designed to convey an elusive night, in which lovers might meet clandestinely. At Louis Vuitton, a piece of lapis lazuli is embedded with diamonds and an emerald, adorning a bracelet in the 'Riders of the Knights' collection - the only piece in a high jewellery line that makes such use of an ornamental stone.
The Italian brand Pomellato is preparing a whole line of cocktail rings and pendants for their collection 'Armonie Minerali'. In this line, it is rare natural minerals that have become the protagonists; the minerals are carved in the form of a semicircle and connected in the middle of a gold strip inlaid with miniature gemstones. To create a both comprehensible and striking compositional effect, the creative director of the brand Vicenzo Costaldo used both contrast and harmony in his selection of coloured stones.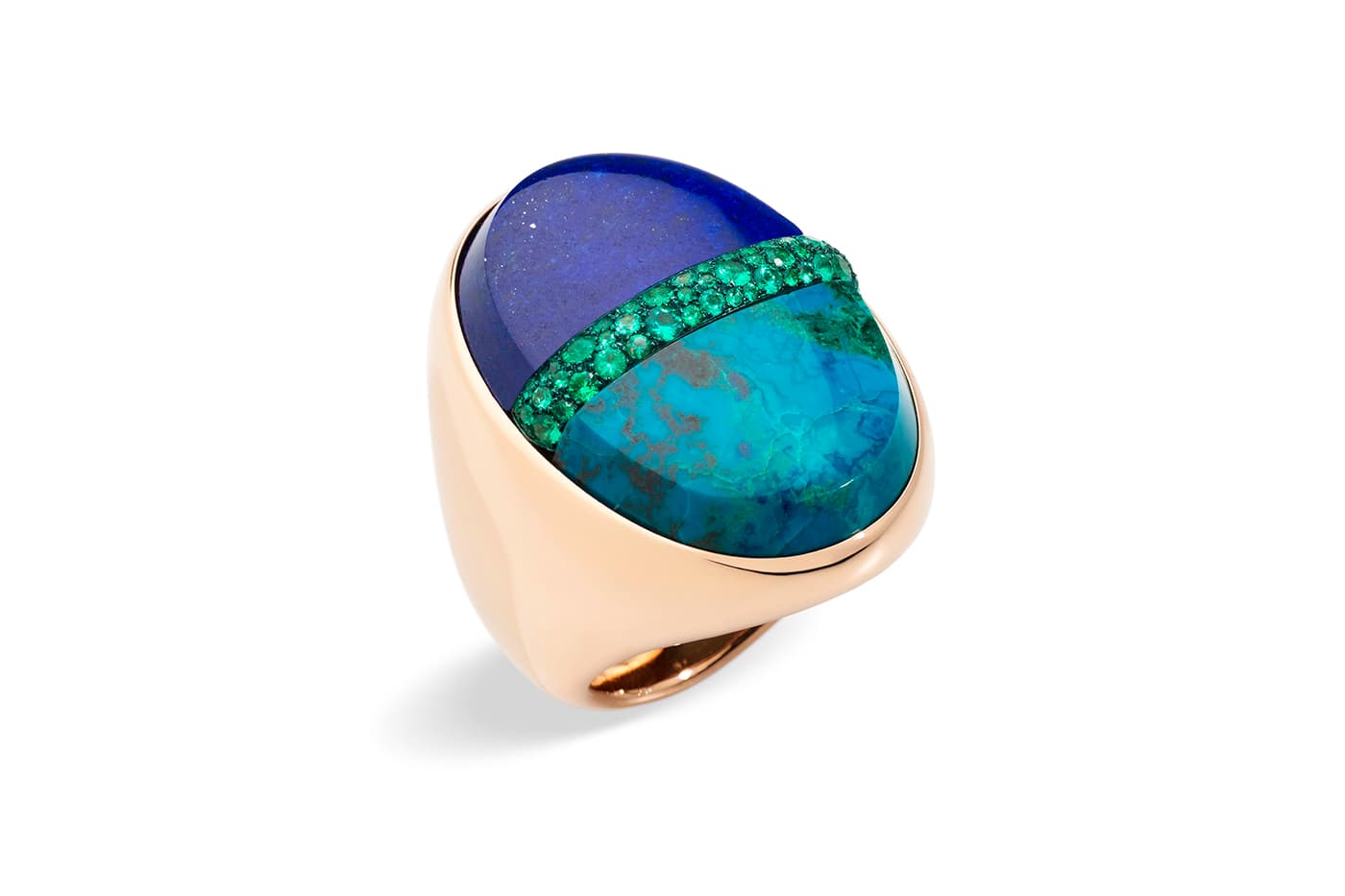 Cartier's 'Magnitude' was also a collection rich in lapis lazuli. Here, we see the stone in earrings, in rings, and in the 'Equinoxe' necklace, surrounded by yellow gold, yellow sapphires, and yellow and colourless diamonds. The contrast of light sparkling stones with the matte saturated blue beads creates an impression of the solemn and mysterious.
It should be noted at this point that the same collection has become a landmark for rutilated quartz. Quartz is the central element of the discreet diamond 'Sorelli' watch, as well as the expressive 'Aphelie' necklace in a pink tonal colour scheme - the piece also makes use of diamonds, morganites and coral. At Chanel, transparent quartz is at the very heart of the work, adorning the central element on the cuff bracelets from the collection 'Le Paris Russe de Chanel'. We also find quartz in Chaumet's tiara with yellow diamond entitled 'Les Ciels de Chaumet', and at Rubeus, wherein it is used in the petals of a removable flower brooch that takes the shape of an 'Eternal' necklace. In contrast to the uncomplicated appearance of quartz, Boucheron has created a bracelet and ring entitled 'Cheval de l'Opéra' in their 'Paris Vu du 26' collection. These make use of frosted rock crystal carved in the shape of a horse's head, which serves to imitate horses on the roof of the Palais Garnier building.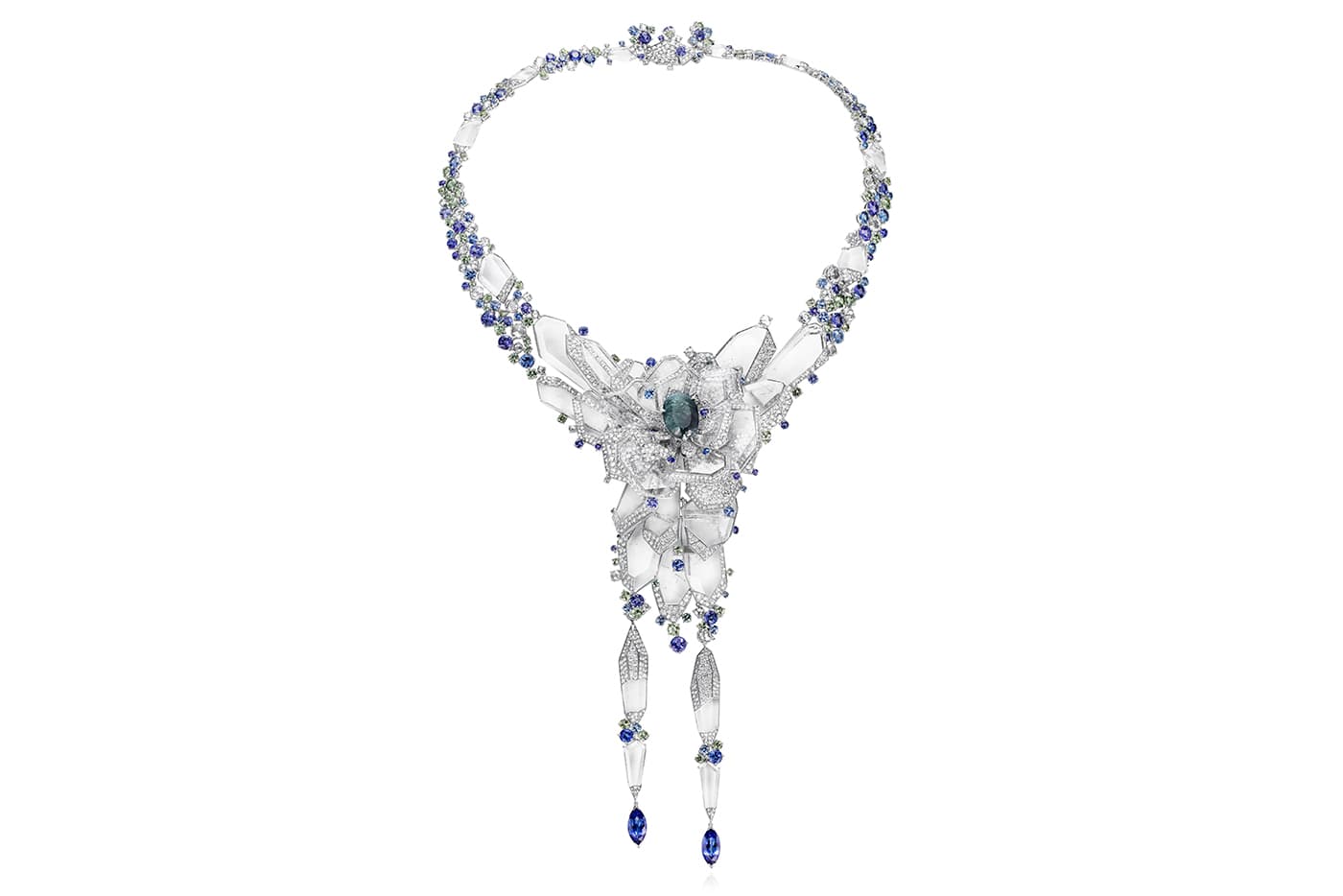 The turquoise stone, incredible in colour characteristics, also enjoys great popularity and affection among jewellery designers. In its natural form, it has become the main decorative component of a set of David Yurman necklace and earrings. The artistic and incredibly creative designer Suzanne Syz went further – engraving and painting the turquoise stone, in the process opening up new possibilities for this mineral.
I'm incredibly glad that jewellery designers are no longer limiting themselves to restrictive orthodox standards, but instead have decided to experiment and grapple with new materials and techniques – this opens up great possibility and forms the basis for many of the most daring ideas!