One of the joys of attending Paris Couture Week is stepping into the High Jewellery worlds that brands create. Presentations are no longer static and staid; we're met with dynamic model runways, music, art, video content, and scents that immerse us into a collection's inspirations and help to tell its story. At Hermès, I was greeted by music, movement, dance and whispering sounds assembled like poetry in the room. Shadows were a key component, and the way light casts on walls, floors and bare skin was a sign of the jewellery pieces to come. I must also note that Hermès presented its collection on models of various ages, sexes and ethnicities. This aided in demonstrating the brand's core themes of light and shadows and referenced the universal desirability of such high jewellery treasures.
Creative director, Pierre Hardy created the Hermès Les Jeux de l'ombre High Jewellery collection to give solid form to intangible shadows. Diamonds and coloured gemstones are layered atop deep black contours as if necklaces themselves are casting inky shadows onto the skin. This also changes the shape of pieces and gives them greater surface area and dimension.
"We always talk about light and sparkle in jewellery, so I wanted to take the opposite approach," says Hardy. "In the performing arts, I've always loved the incandescent effect of the spotlights as well as the shadows they cast onto the stage floor. I find this distortion of light very appealing. The collection responds to this desire: to poeticize the form taken by shadows."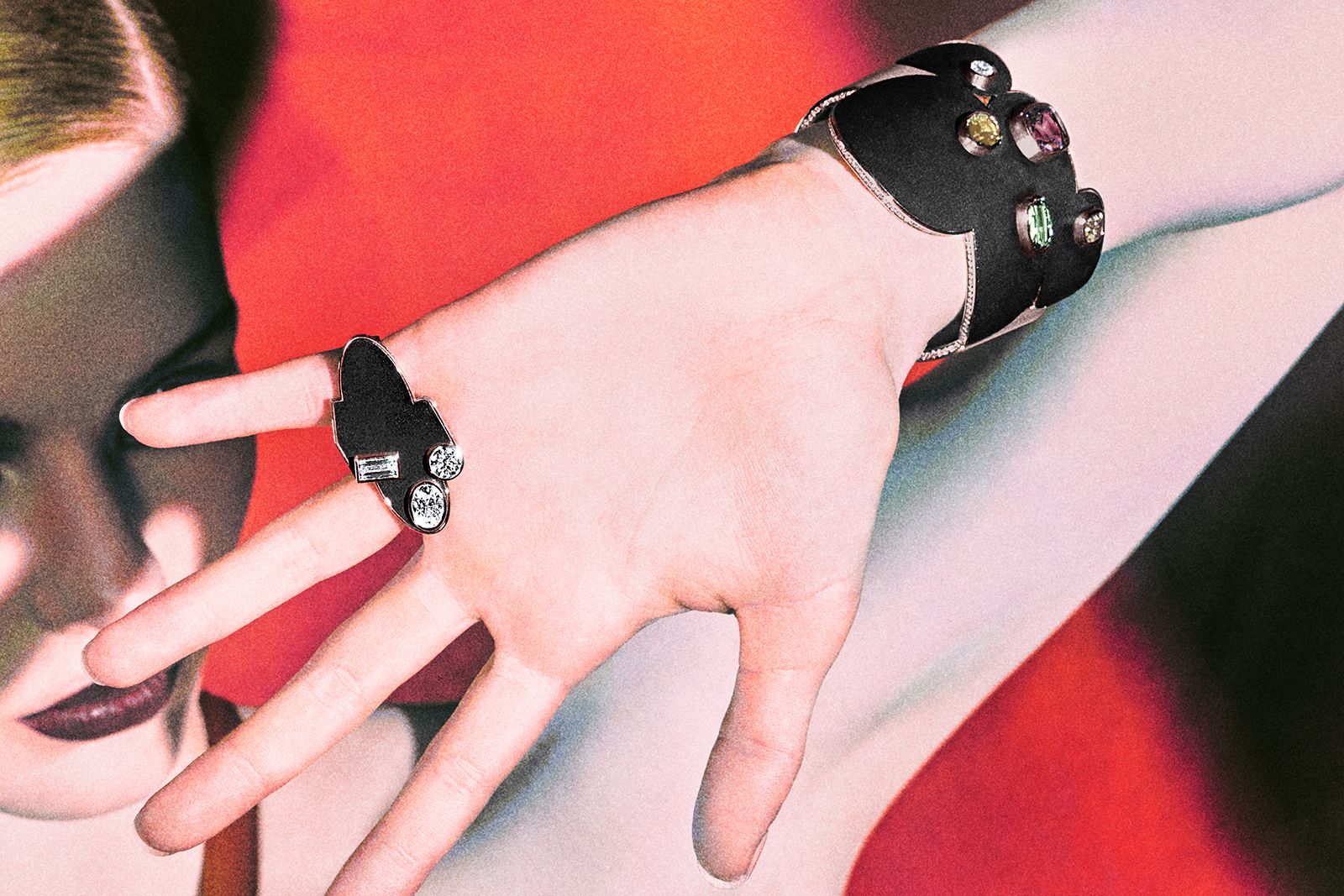 The Lueurs du jour rings, earrings, and necklace recreate shadows in the form of jade that's worked by hand to give it a satin finish. The ring in this set is crafted in rose gold and adorned with an oval-cut imperial topaz and baguette-cut diamonds with a shadow of black jade. The necklace and mono-earring are similarly decorated with diamonds, brown diamonds and moonstones.
"Any object is beautiful when placed against a dark background. The contrast effect heightens its power," Pierre Hardy.
The Ombres mobiles pieces present shadows crafted in titanium. Interestingly, the titanium is set into rose gold, akin to an inlay, and stretched like long shadows in the early morning light. The Ombres mobiles necklace contains a three-carat pear-shaped diamond, alongside brown diamonds, pink and green tourmalines, yellow chrysoberyl and green beryl. The matching ring boasts three diamonds totalling 3.5 carats.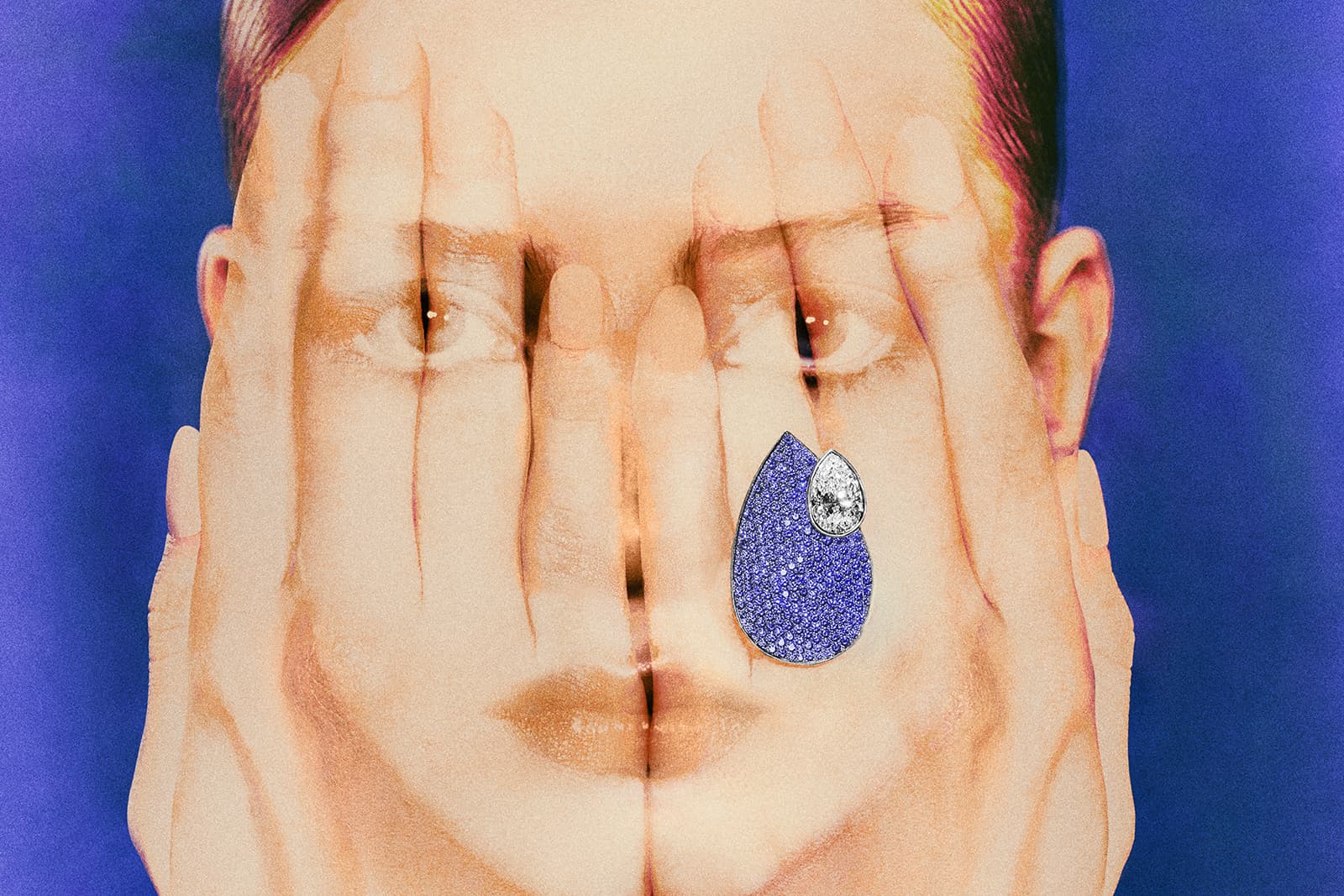 The collection also plays on the idea that shadows can detach from their 'hosts' and exist as independent spirits. The Miroir d'ombre suite relies on the power of pavé to tell this story. There's a blue sapphire and pear-cut diamond ring; a necklace in white gold set with baguette-cut diamonds, one cushion-cut yellow diamond of three carats and a shadow in a gradient of sapphires; and a pair of earrings with 3.77 carats of diamonds and a shadow of black spinels.
The Chaîne d'ombre necklace and matching brooch juxtapose flat-cut white diamonds with black spinels and blue sapphires. These pieces reinvent the iconic Hermès' Chaîne d'ancre motif, requiring more than 700 hours of gem-setting and almost 2,00 hours of craftsmanship. Other features synonymous with the brand have also been reimagined, such as the equestrian horse's whip in the Fouet ombré necklace. Easily one of the stars of the collection, this piece features a rose gold 'whip' that's pavé-set with brown diamonds and baguette-cut diamonds coupled with a shadow in midnight-blue sapphires.
Some pieces push the boundaries of Pierre Hardy's concept further. Some motifs reference the dark side of the moon and the pairing of the sun and the moon as two celestial opposites. For example, the Triptyques lumière set includes a ring that echoes the orbit of these heavenly bodies in rose gold with pavé-set brown diamonds, black jade, blue chalcedony and moonstone. This is accompanied by the Couleurs du jour necklace - a talismanic triptych that opens and closes – with outer panels of black jade and pavé-set black spinels and inner panels of white mother-of-pearl set with one diamond (2.5 carats), peridots, amethysts, tourmalines, aquamarines, spessartite garnets, and moonstone. "I designed them to be like altarpieces, with sliding mother-of-pearl panels that open up to reveal a hidden medallion," Hardy comments. "They can be worn open or closed, depending on whether you want to keep their sunlight to yourself or share it with others. I wanted to convey the idea that shadows contain light and that they conceal it like a secret."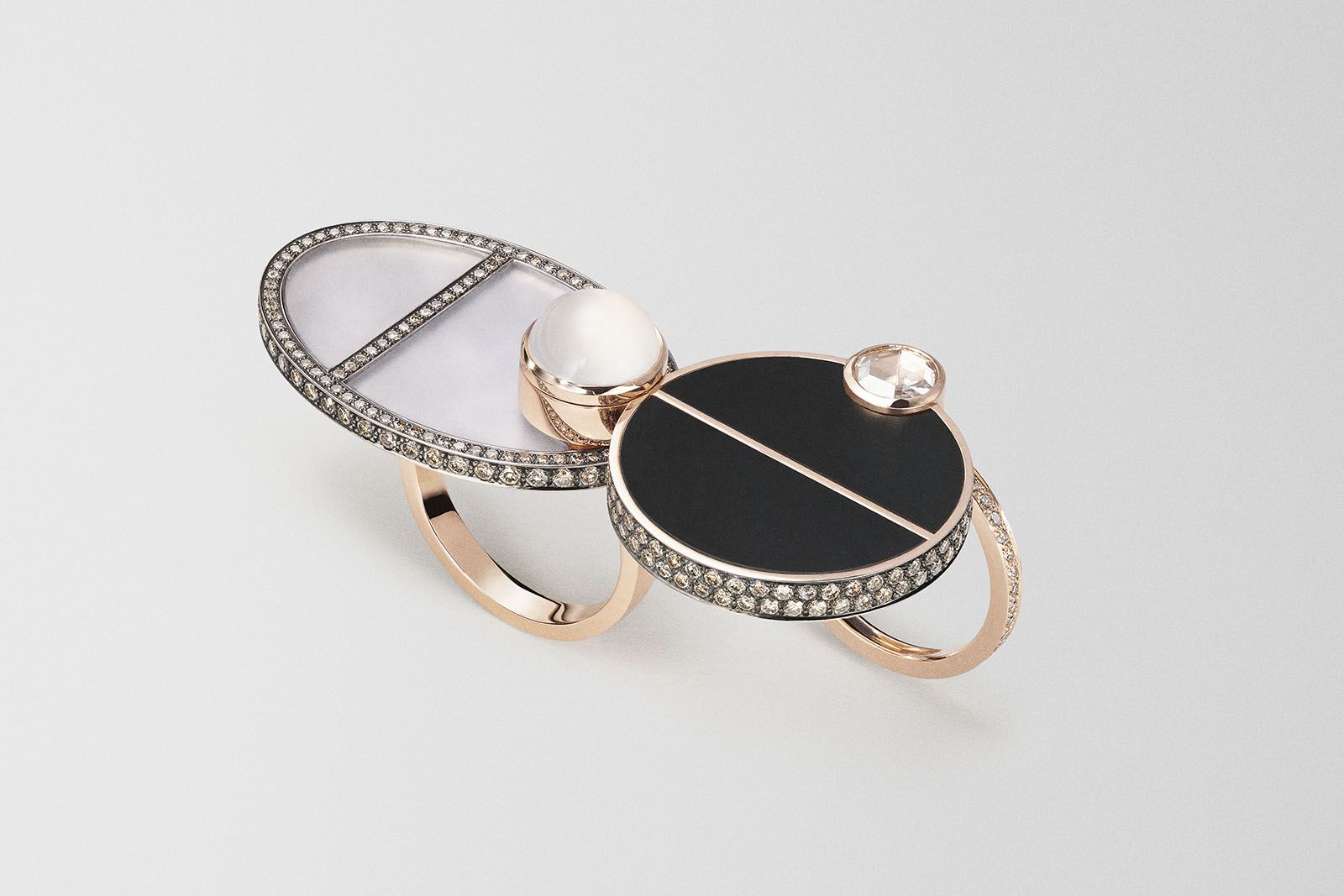 Last but certainly not least, there's the Lumières brutes series of rings and earrings with rough and uncut stones. Here, Hermès celebrates how light filters through mineral crystals and sets them jutting from smooth surfaces of pavé stones as if they're emerging from the earth. Earrings are crafted in rose gold with two rough spessartite garnets plus garnets, rhodolites, diamonds, orange-yellow diamonds, and brown diamonds. Another impressive piece, a ring, is set with a rough yellow diamond with a shadow of colourless, yellow and brown diamonds. Hardy shares the story behind this set as being from a "dream of mine," which sparked from a meeting with a gem-cutter. He says "When I shined my phone's flashlight on [diamonds and tourmalines], the light cast shapes around each of them. I worked almost like a geologist, as close to the mineral as possible. Projecting light onto a rough stone is a revelation, a wondrous experience."
The Hermès Les Jeux de l'ombre High Jewellery collection is a thematic and conceptual achievement and a feat of craftsmanship. One has to admire the imagination that transforms something as ethereal as a shadow into a three-dimensional jewelled creation!