Technically, men wearing high jewellery pieces that were created with women in mind is nothing new - and thank goodness for that! From catwalk jewels to the red carpet, we have seen many lapels adorned with a diamond-set brooch and necks layered with diamonds against unbuttoned shirts. However, what is new is that the pieces are not just worn by men but explicitly designed and created for men. In the last 12 months, some of the oldest and most respected jewellery houses have released pieces for gents and photographed them on male models for promotional campaigns. Here are some of our favourites…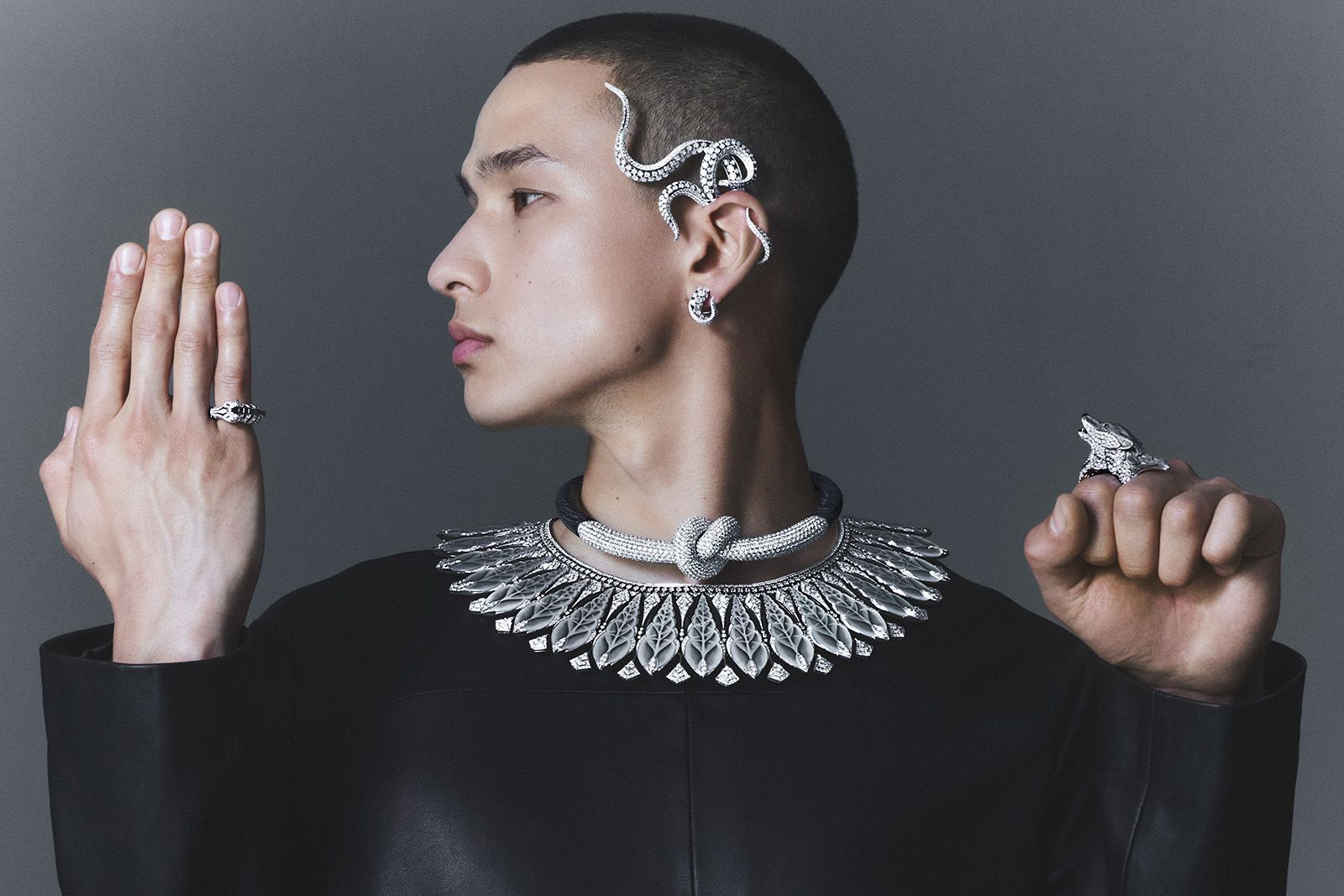 Boucheron Ailleurs High Jewellery Collection
You will be hard-pressed to find a creative director as hands-on and passionate about her work as Boucheron's Claire Choisne. Each one of the five sets in the Exploring Elsewhere collection is created from interesting textures and avant-garde materials to evoke deserts, oceans, mountains and rainforests. Perhaps the highlight of this high jewellery collection is the fifth and final suite – Volcano Man. With a monochromatic diamond-centric look, each of these pieces evokes power, ferocity and strength achieving a refined aesthetic through the manipulation of technically challenging materials. The necklace presents an x-ray effect of spiral shell imprinted onto mother-of-pearl, while the Wolf ring's lifelike appearance is carved from a meteorite. The aesthetically simple Bois Brûlé Diamant necklace uses 3,000-year-old burnt marsh oak wood and last but not least, the Octopus single earring is a careful juxtaposition of 443 diamonds and 178 thin spherical disks of mother of pear.
In Choisne's own words: "What I love and what is very important for me is to have a very natural, strong yet elegant result whether the piece is worn by a woman or a man. We definitely see Boucheron as a Maison of style, whose goal is to help women as well as men to find their style through our jewellery."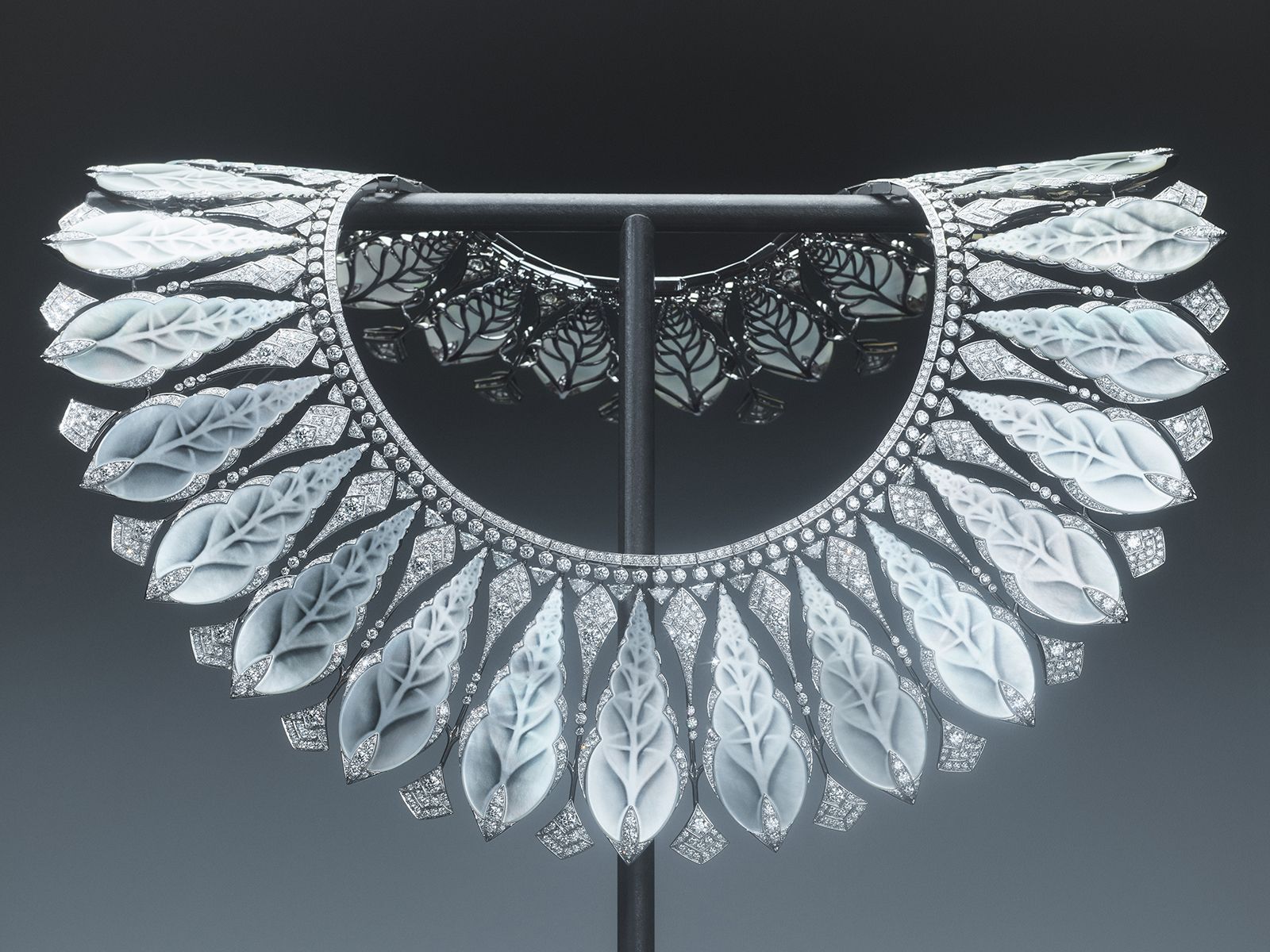 Chaumet Encres High Jewellery Brooches
In its latest High Jewellery collection, Ondes et Merveilles, Chaumet took the classic inspiration of the ocean and reinvented it in new and exciting ways. Composed of 69 one-of-a-kind high jewellery pieces, the collection explores various bodies of water around the world, their physical beauty and the joy they bring human life. The ninth and final chapter of the collection, Encres, is an ode to the brave individuals who travel the high seas. With a particular focus on maritime sailors, the Maison dedicated this chapter to men and is influenced by traditional sailor tattoos, turning them into five sculptural brooches. Modelled by men dressed in the customary striped blue and white sailor uniform, these gemstones and enamel embellished brooches are emblazoned with various sayings, such as "love is an adventure" and "do not forget me".
Dior High Jewellery Brooch – Victoire de Castellane and Kim Jones Collaboration
This summer, Dior Joaillerie artistic director Victoire de Castellane and the artistic director of Dior Men's Kim Jones teamed up to create an exceptional high jewellery brooch – for men! As exciting as this is, this is not the Maison's first foray into male-specific high jewellery. The Galons Dior High Jewellery collection contained brooches and cufflinks that were purposefully designed for men, taking inspiration from the lace, trimmings and stitching techniques that the brand's founder, Christian Dior, had in his original couture garments. This new brooch follows the inspiration of this collection. Created especially for the Dior Summer 2023 men's collection, the brooch is a tribute to nature and couture, inspired by the iconic Junon dress, created by Christian Dior for the Autumn-Winter season of 1949-1950. A delicate gradation of colours ranging from sky blue to midnight blue sapphires, this piece is as exciting, ornate and colourful as its female counterparts.
Louis Vuitton Bravery II High Jewellery Collection
Louis Vuitton's latest collection of high jewellery –
Bravery II
- is inspired by the travelling luggage trunk that the brand built its name on. There is a particular jewellery suite which artistic director Francesca Amfitheatrof hopes will attract the male gaze. La Mini-Malle, composed of a sautoir, bracelets and a chevalière-inspired ring, features custom-cut LV floral diamonds that are intended for male and female adornment alike. The monochromatic clean lines, symmetric patterns and sleek diamond cuts that the suite boasts are guaranteed to fit neatly alongside a tailored suit, which is no longer reserved for men!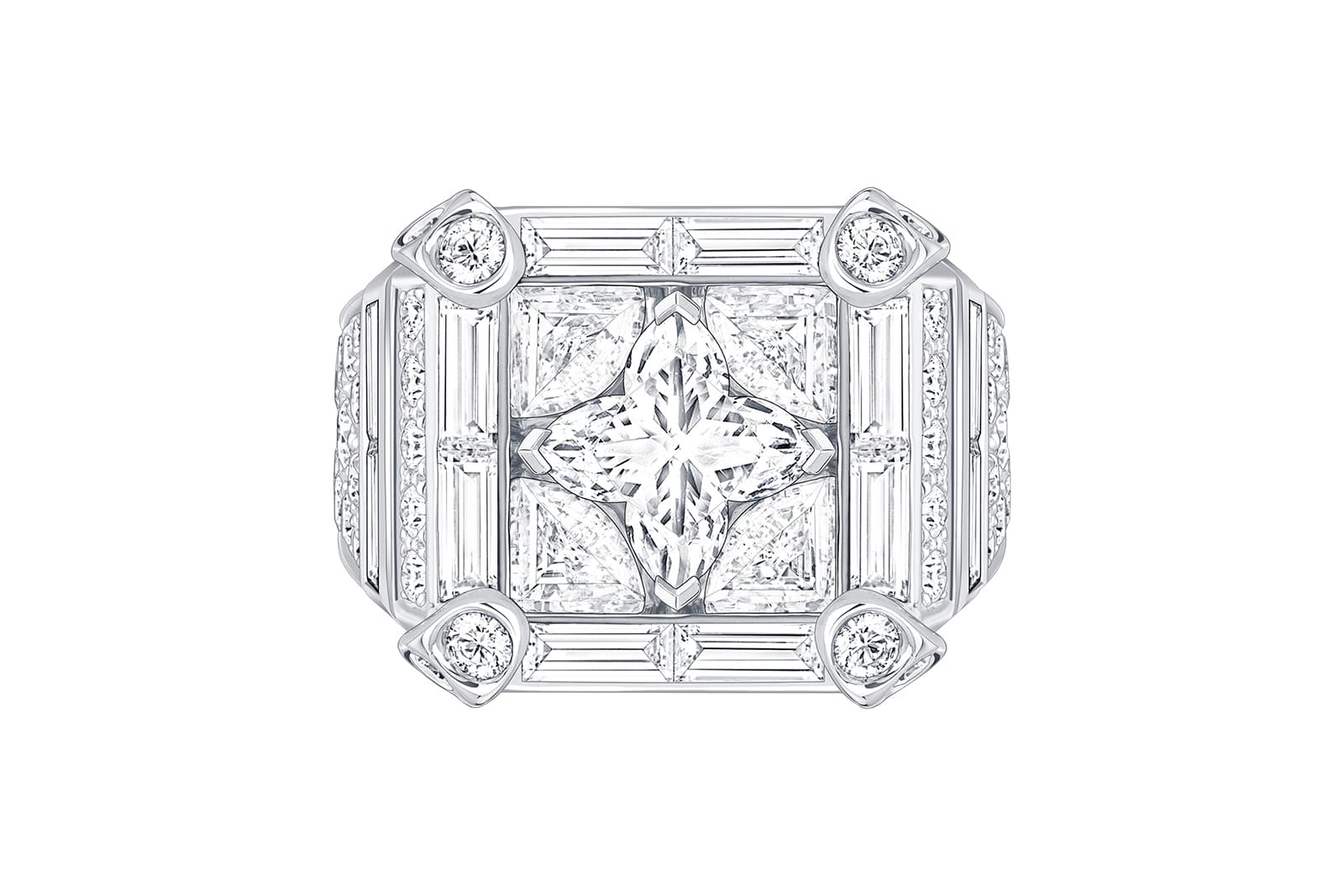 As Amfitheatrof says: "Why make distinctions, we should be for everyone and completely inclusive."
Mikimoto Wild & Wonderful High Jewellery Collection
Through precious gemstones and a variety of pearls (of course), celebrated jewellery brand Mikimoto's latest high jewellery collection also catered to men. Taking inspiration from the flora and fauna of the five continents, the pearl jeweller created a series of one-of-a-kind brooches, mimicking the realistic shapes and movements of various rare animals. From penguins sliding through icy tundras to the elegant stature of the red-crowned crane, Mikimoto's chose to display a few of these unique Wild & Wonderful pieces on the lapels of male models, proving once again that an ornate brooch can brighten and embolden any outfit, no matter the wearer.
With such large and illustrious brands leading the charge in men's high jewellery, others will likely follow suit. We can only hope that the trickle-down effect of this kind of inclusivity will serve to inspire jewellery brands from all levels and remain on-trend and here to stay.