As one would expect from a world-renowned high jeweller, there is a story behind Claire Choisne's Histoire de Style New Maharajahs collection. In 1928, Boucheron was commissioned the largest special order in the history of Place Vendôme by Bhupinder Singh, the Maharajah of Patiala. He arrived with 40 servants and required 35 suites at the Ritz to welcome his party to the city. As an individual, he had an immense presence, not only because he was 6ft 7" tall but because he was famous for his outlandish and expensive tastes for fine jewels. Upon arriving at Boucheron he was welcomed personally by Louis, son of Frédéric Boucheron, and the pair began to consider the many thousands of diamonds, rubies, emeralds, and pearls that the Maharajah had brought with him in steel safes. Louis then set about creating 149 designs to house these jewels in just six months, including emerald and diamond collars, multi-strand pearl necklaces, belts covered in precious stones... To this day, these parures created by Boucheron have remained unforgettable.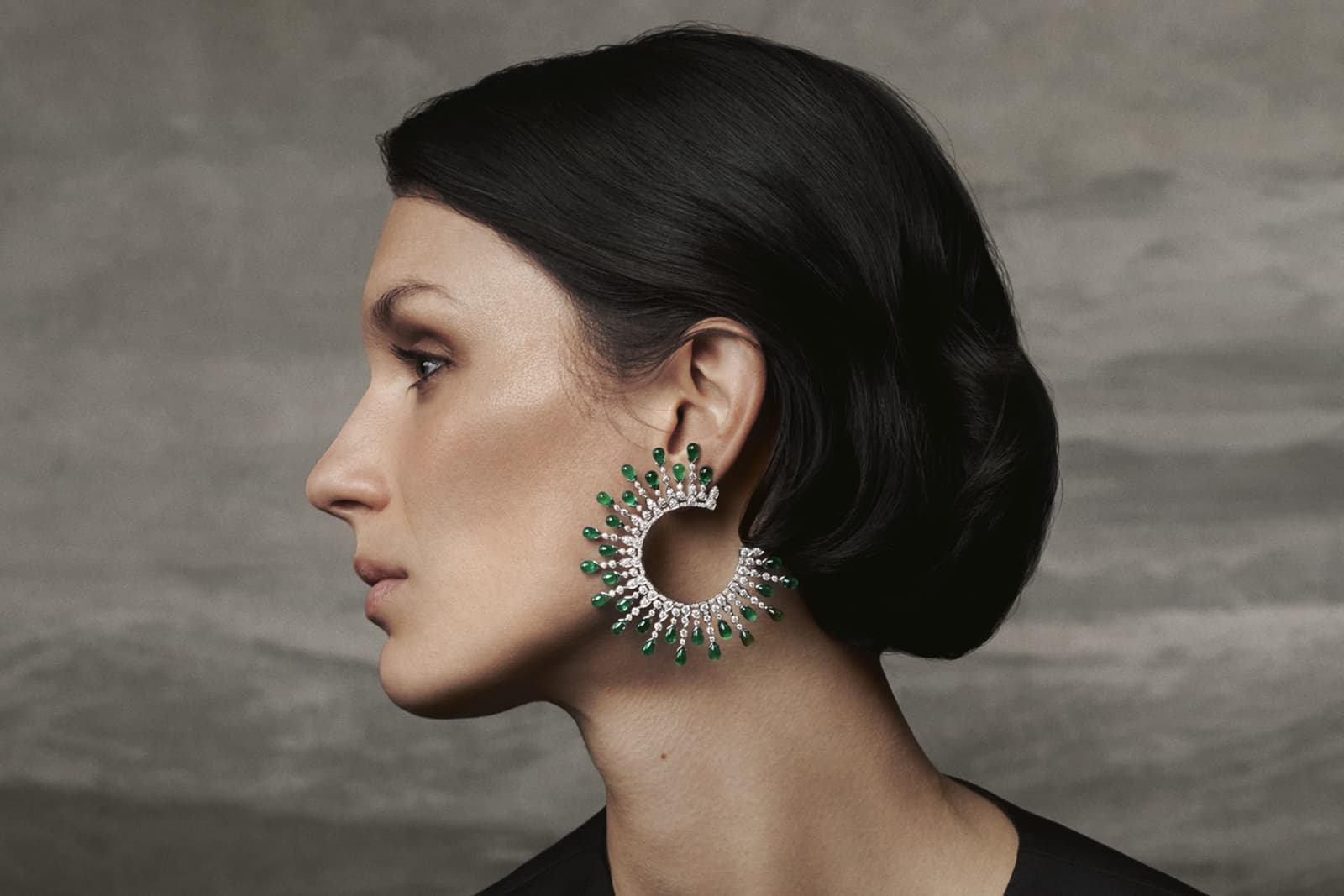 It's not difficult to understand why Boucheron's Artistic Director, Claire Choisne, was so inspired by this historic event! The 2022 High Jewellery Collection - Histoire de Style New Maharajahs – pays homage to the Maharajah of Patiala using the original designs in the Boucheron Archives as a creative launchpad. "I wanted to transpose these designs into the 21st century, and to reinvent them for today's Maharanis and Maharajahs," Choisne explains. "Boucheron's archival drawings are amazing, but I tried to find a way to reinterpret those designs. I love big pieces and I'm not afraid of the size."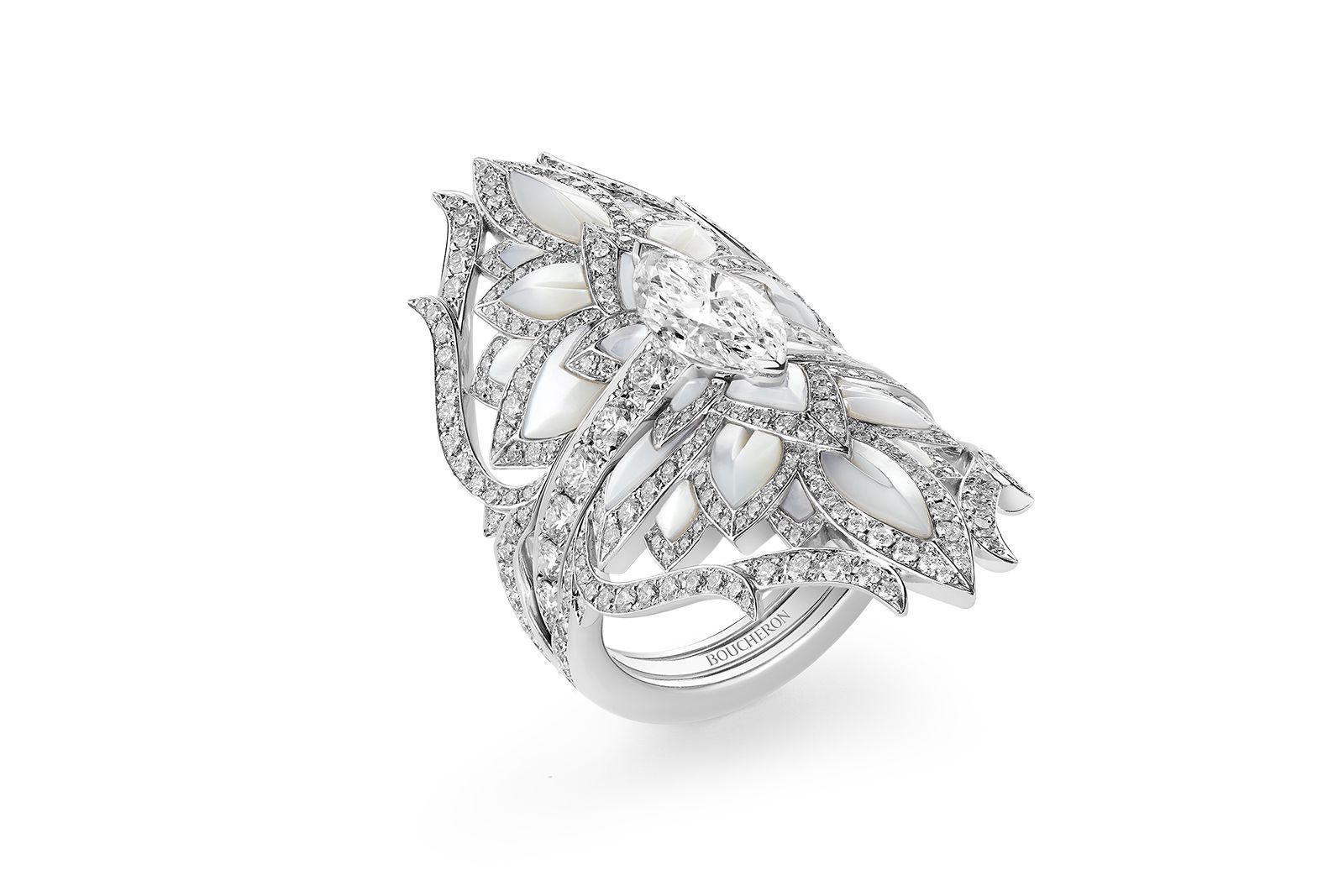 The collection is infused with Indian influence, including lotus flower motifs, interpretations of traditional turban ornaments and wedding bracelets, as well as the use of glyptics – the art of engraving gemstones. In an interesting twist, the collection is almost exclusively white… diamonds are everywhere and colour is used modestly and carefully in only one set. Choisne describes this as being "pure, clean, and maybe a little bit more subtle". She adds: "The wonderful thing about using a lot of white is that it distinguishes [the collection] from other brands that have also worked with the Indian inspiration and used a lot of colour. For me, it was really important to avoid clichés." The overall result is a remarkably ornamental and nuanced collection that has the power to transport us to a different time while anchoring us in the present. How many Artistic Directors can claim to have achieved such a feat!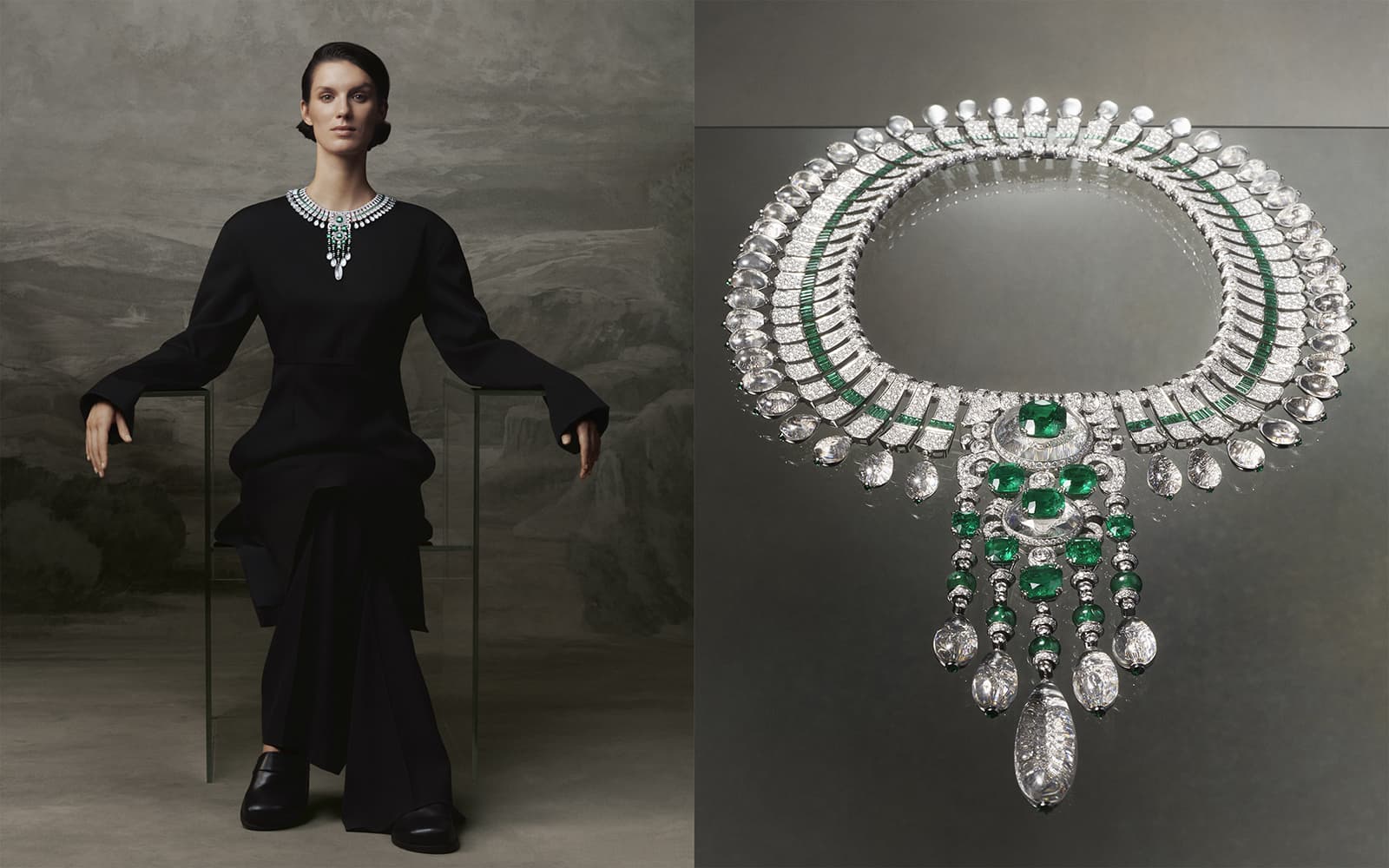 New Maharajah Set
"The second way to reinterpret this story was to play on colour and no-colour," explains Choisne. The transformable necklace – a scaled-down version of a 1928 sketch created for Bhupinder Singh - is set with nine Colombian cushion-cut emeralds with a total weight of 38.73 carats, while the matching firework-inspired earrings contain 58 drop emeralds with a total weight of 35.93 carats. "The necklace is totally supple, and you can detach the tie from the middle of the necklace and wear it as a brooch. I am obsessed with long brooches on men. Of course, it will be nice on a woman, but it's stronger on a man," Choisne says.
New Maharani Set
Consisting of a ring and three necklaces – the New Maharani necklace, New Maharani Cristal and the New Maharani Nacre – this set is an ode to diamonds, rock crystal and pearls. The former is a celebration of the lotus motif with a lace-like openwork of diamonds that sit in choker form around the neck and can be worn in three different ways. The white gold and diamond Cristal necklace was inspired by traditional Indian long necklaces and demonstrates the glyptics technique applied on rock crystal. It is set with five cushion-cut diamonds for 7.35 carats and can also be worn as a choker and a shorter necklace in the spirit of multi-wear.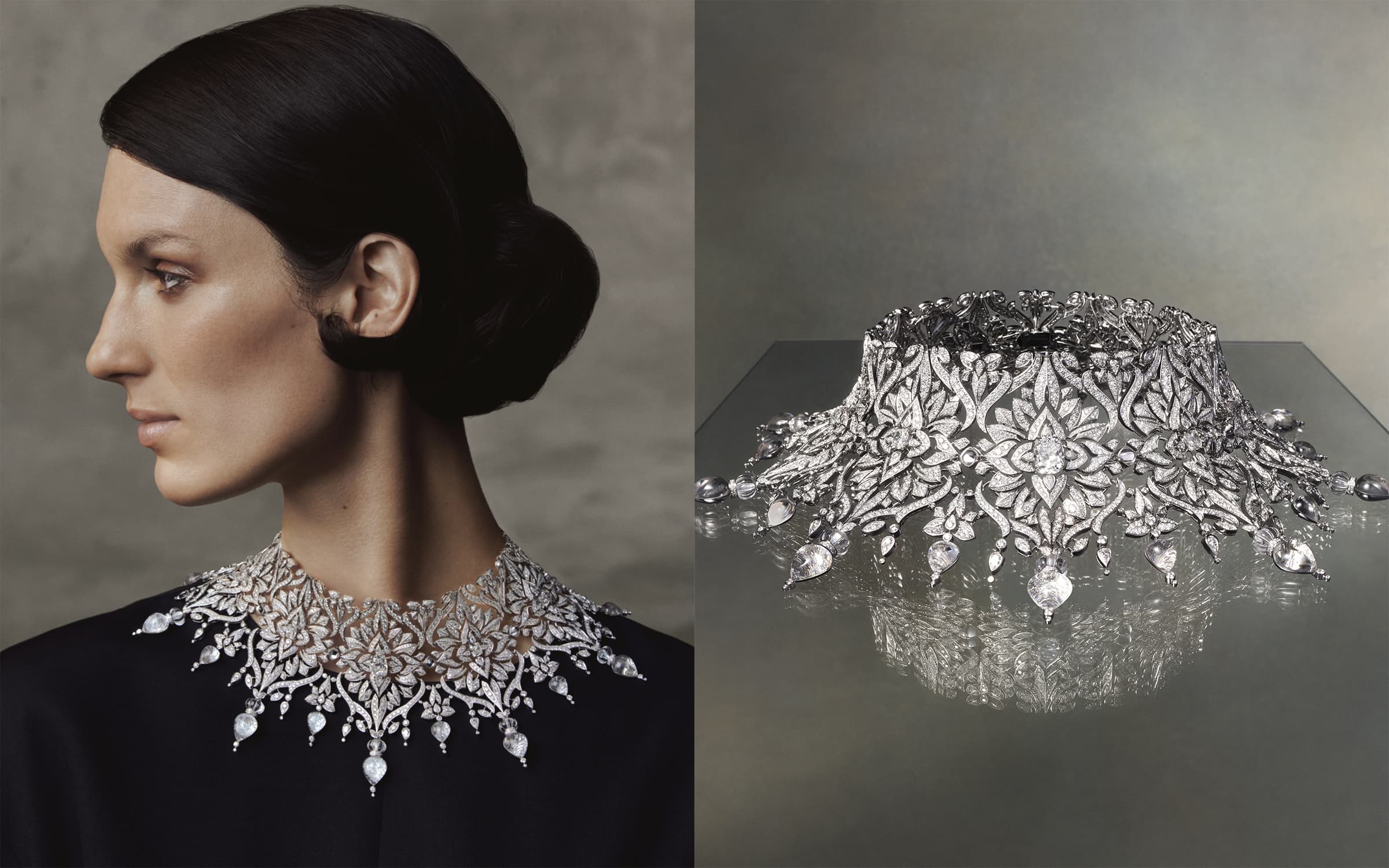 Finally, the Nacre necklace is all about monochromatic textures, consisting of diamonds, melon-shaped rock crystal beads, mother of pearl and cultured pearls in white gold. It can be worn in its long or in its short form, as a choker, as two pearl bracelets and as a brooch. "The concept at the beginning was to create a set of three necklaces that can be worn together or not," Choisne explains. "We have a sense of opulence in this collection, so I love the idea that you can wear three necklaces all together. The choker is really a superb work of craftsmanship. The making of the gold metalwork took 2,400 hours." Finally, there's the New Maharani ring with a 1.60 carat cushion-cut diamond that can be worn with or without its jacket - a pair of lotus petal adornments on either side of the central motif.
New Padma
Some pieces in the collection have an air of tradition, whereas others are entirely modern. The New Padma Nacre earrings are an example of the latter with a silhouette that follows the curve of the outer ear. The sun rays that emerge from this piece are topped with diamonds and mother of pearl drops, engraved as a tribute to the glyptics technique. Two pear-shaped diamonds are used to anchor the earrings to the lobe, which account for 1.20 carats in total. And trust Boucheron to make a pair of diamond rings feel entirely new! The first New Padma ring is a reference to the maison's iconic Parfum ring with a rock crystal dome carved with a lotus flower mounted in spotless cacholong. The second ring was sculpted from rock crystal and adorned with round and baguette-cut diamonds, as well as a 2.01 carat pear-shaped diamond centre.
New Churiyans Bracelets
Worn by women when they get married, these 'Churiyans' bracelets are considered tokens of protection. Boucheron has revisited these traditional ornaments by forging them in white gold set with diamonds, mother of pearl and pearls. And, as an added extra, Choisne has created a mother of pearl marquetry 'bobbin' stand to store the 10 total bracelets on when not worn in a style that echoes the previous Holographique High Jewellery offering. She says: "I think it's quite sad when jewellery stays in the safe, so it's great to have the object on your table when you don't wear the bracelets."
New Sarpech
Lastly, but certainly not least, there's New Sarpech – a reimagined white gold turban ornament that can be worn as a hair jewel or lapel brooch. It features curls of diamonds with an added subtlety thanks to the presence of rose-cut stones of 1.27 carats and 0.68 carats. During our conversation, Choisne suggests a husband and wife can share a piece of high jewellery such as this, declaring "it's my turn" when the mood takes them!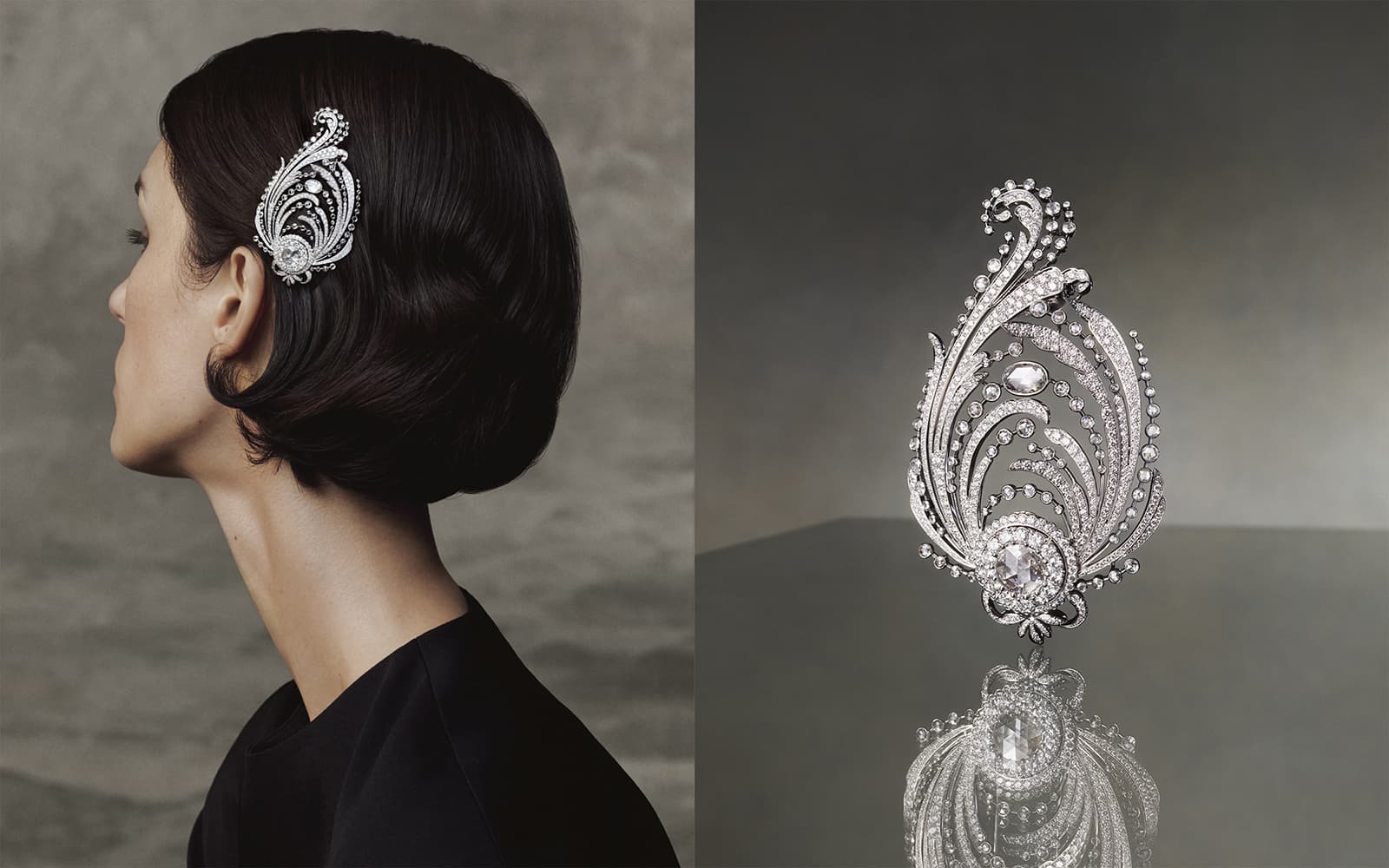 During our conversation, Boucheron's Artistic Director mentions that she wants to help wearers to "be more confident with their own style". She explains that Histoire de Style New Maharajahs is more about style than status when perhaps the opposite was true when the Maharajah of Patiala walked into Boucheron in 1928 with safes full of loose gems. "It's my little revolution, it is important to me," Choisne adds, and who wouldn't want to be part of such a sparkling endeavour?