"The beauty of the ephemeral" is the phrase that opens the story of the Boucheron Holographique High Jewellery collection. First, creative director Claire Choisne tapped into the moving beauty of the sky and the way clouds skim across it, only to disappear and reform. This season, she's delving into the theme of light and its power to change one's surroundings, to diffract, distort and even create illusions. The result is a collection of 25 pieces separated into nine 'chapters' – Opalescence, Ondes, Illusion, Chromatique, Faisceaux, Halo, Laser, Prime and Holographique - each one about a different aspect of holographic light that can be traced right back using ancient Greek etymology. For example, the word holography comes from the Greek holos and graphein meaning "to represent everything".
Choisne was inspired by the work of Icelandic-Danish artist, Olafur Eliasson, who is known for large-scale installations. Perhaps this is why pieces in the Holographique collection are so ambitious in scale, including necklaces, brooches, ear cuffs and cocktail rings that are not-so-miniature sculptures. Another thing you'll notice straight away is the use of holographic rock crystal – a first in the world of high jewellery that emerged from a collaboration between the French maison and manufacturing company, Saint-Gobain. The effect is achieved by applying a hot spray of powdered silver and titanium oxides onto rock crystal. It took around 10 coats of this iridescent powder to achieve the colourful shine of blue, pink, yellow and green that the brand was looking for! Boucheron describes this as "creative audacity taken to its climax," and it's an aesthetic that's not for the faint of heart.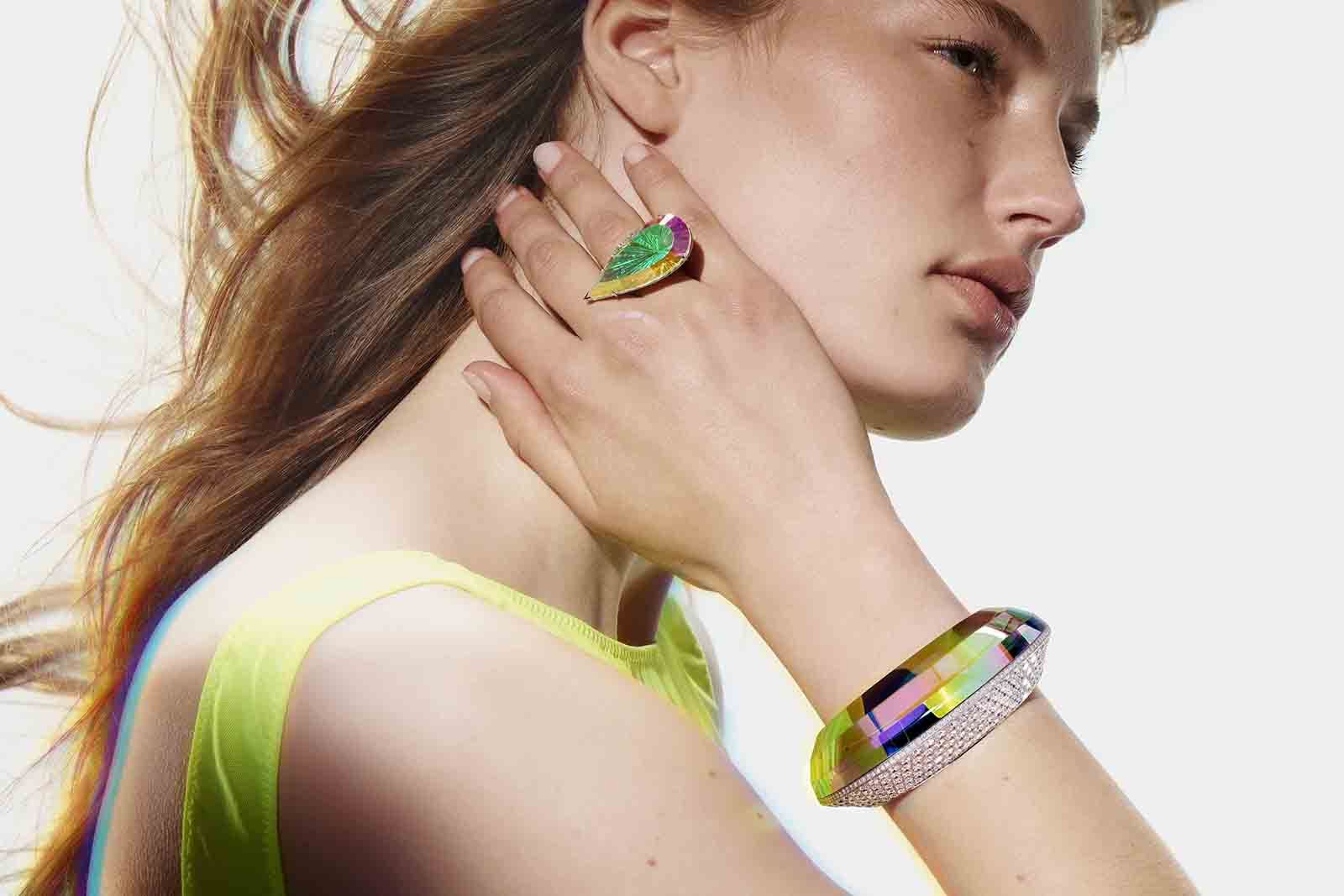 The Opalescence set explores the notion of light waves travelling through a translucent material with iridescent reflections. At its centre is an extraordinary beaded multi-wear necklace with a 71.69 carat white opal cabochon from Ethiopia, an additional 46.91 carat pear-shaped opal and a swimming, plique-à-jour betta fish that appears to glide through water in gold and powdered opal. This main element, which can be worn alone as a brooch, is set on a cacophony of opal beaded strands with a total weight of 1,518.78 carats.
Ondes is perhaps the most restrained of the Holographique sets, but its inspiration of undulating light waves is clear to see through graduating lines of opal, diamonds and mother of pearl. The set includes a pair of oversized hoop earrings with 16.14 carats of opals and a matching necklace with a 'river' of cream, pink, yellow and peach shades that must have been an exercise in patience to gather and set.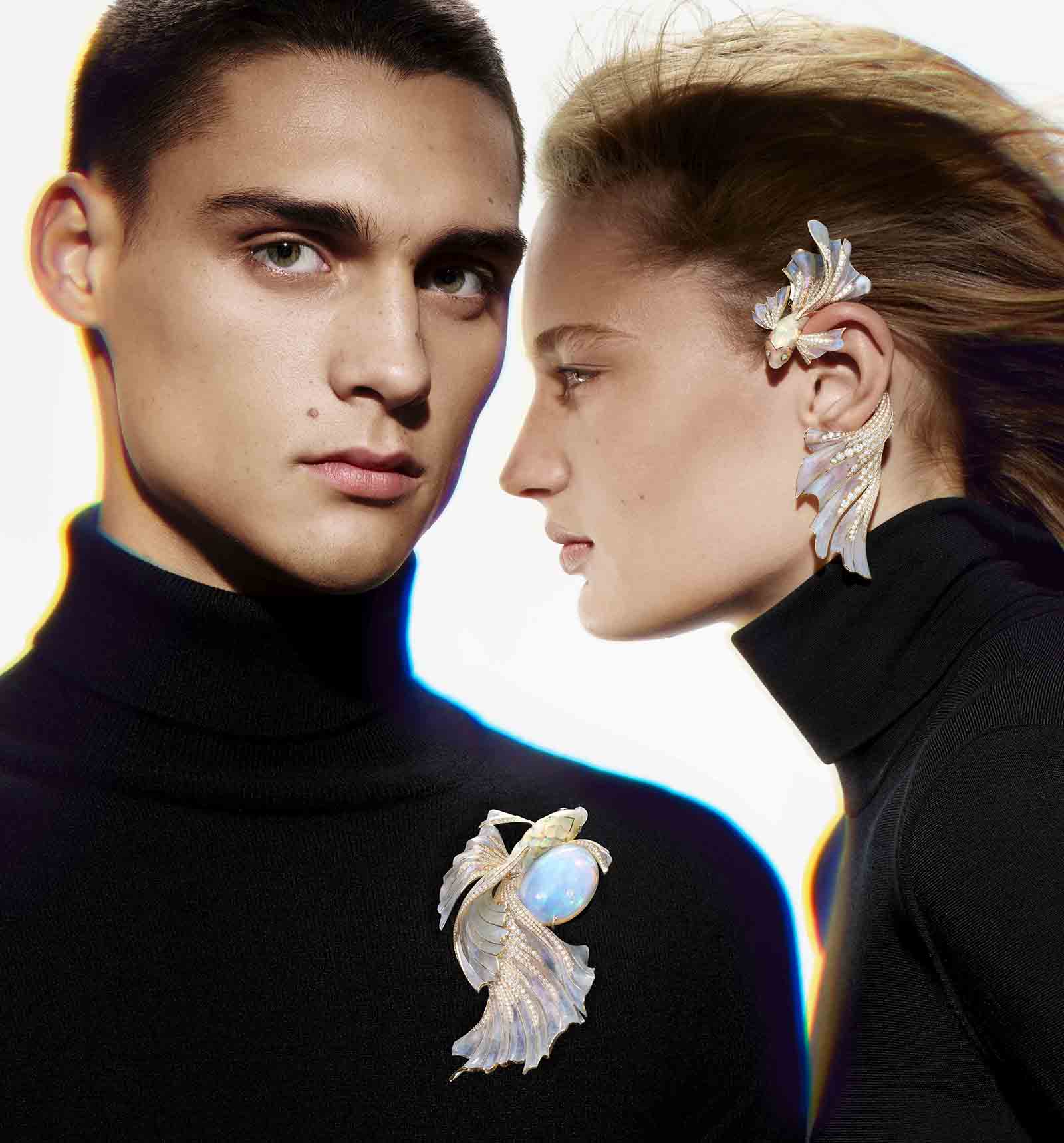 As has been the spirit of Boucheron for some time, the Holographique High Jewellery Collection is photographed worn by both men and women, with jewels designed to defy gender categorisation. The Illusion set of cocktail rings celebrates the diversity of opals, with three spectacular gems of 50.95, 30.98 and 10.38 carats from Australia and Ethiopia. One is pearly white, one pear-cut and rose colour, and the third possesses blue-green shades on deep inky black. Choisne has amplified their natural play of colour with trompe-l'oeil frames – a "second skin" with a gradation of sapphires, tourmalines, tsavorites, emeralds, garnets, rubies and diamonds in white gold.
The next chapter returns to the maison's natural themes with two rings and a brooch that recreate peony and pansy blooms in holographic ceramic, titanium and gold with cushion-cut gemstone centres. These fantastical flowers exist somewhere between classical and avant garde; one can imagine a bold celebrity wearing all three pieces to dramatic effect! The brooch is set with a 25.01 carat green tourmaline from Mozambique, the first ring with a 2.83 carat aquamarine and the second with a 12.73 carat pink tourmaline.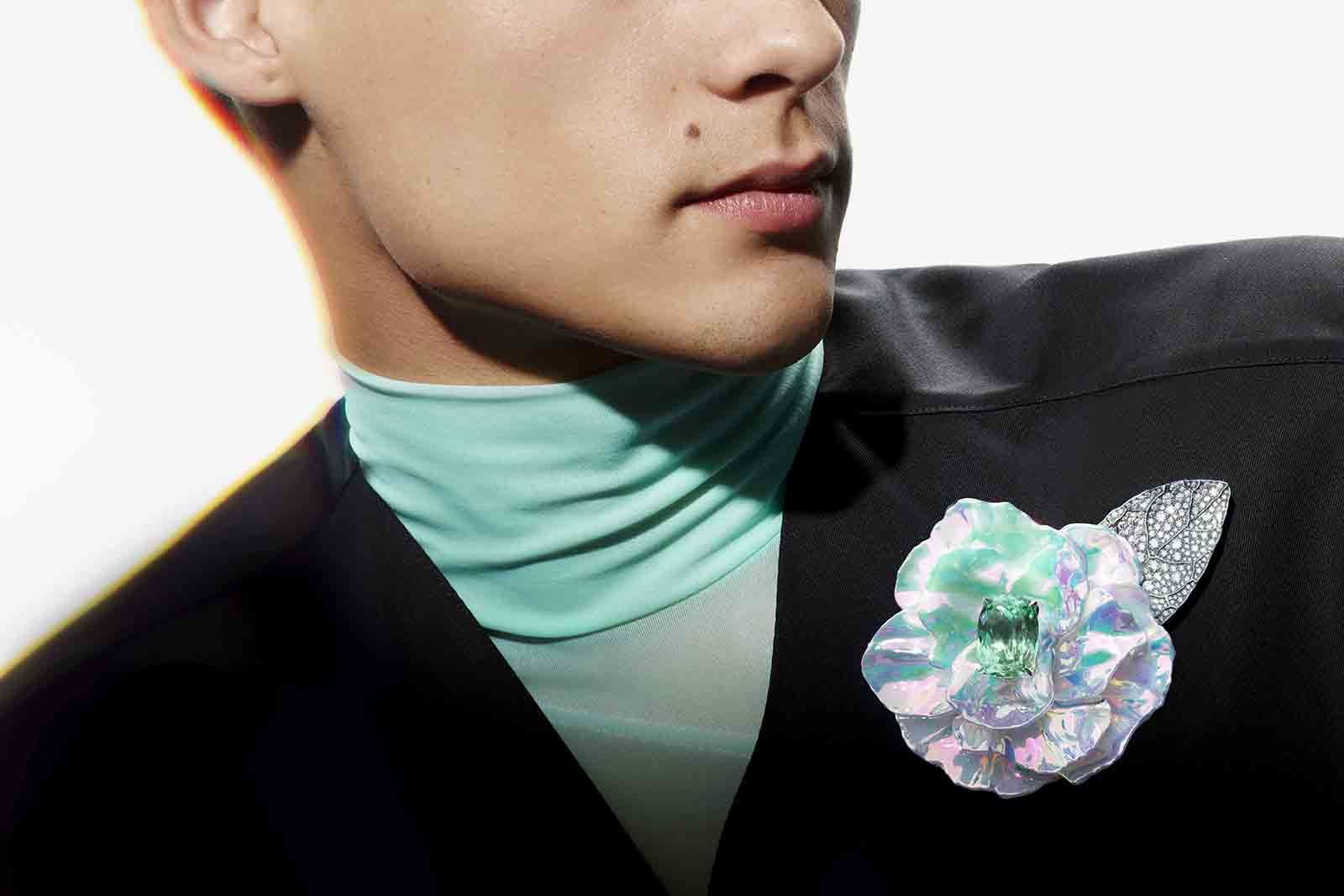 Boucheron's new holographic finish continues in the Faisceaux set, which is inspired by an ensemble of light rays that shine from the same source but travel on different trajectories. This time, it's the complexity of the construction that shines, with diamond-set elements surrounded and encased within transparent rock crystal that's coated to create a holographic finish. The Faisceaux cuff bracelet and brooch, both in rose gold, have a superhero quality to them… like they've emerged from a parallel dimension. The same can be said for the Halo set – a ring, bracelet and torque necklace that are entirely futuristic in their imagining. Again, rock crystal is coated with a holographic coating to create the sheen on a soap bubble, accented with diamonds and anchored in white gold.
The treasures continue with the Laser set, including pendant earrings, a ring and a matching necklace crafted in pigmented ceramics and following the pear-cut motif of the Serpent Bohème collection. As Boucheron explains: "How to find a stone whose tones would best match this holographic effect? The answer comes in the form of an abundance of pear-cut aquamarine with lagoon nuances." Indeed, the Laser necklace contains 23 pear aquas with a total weight of 130 carats, while the pendant earrings offer 56.26 carats and the ring an additional 11.88 carats.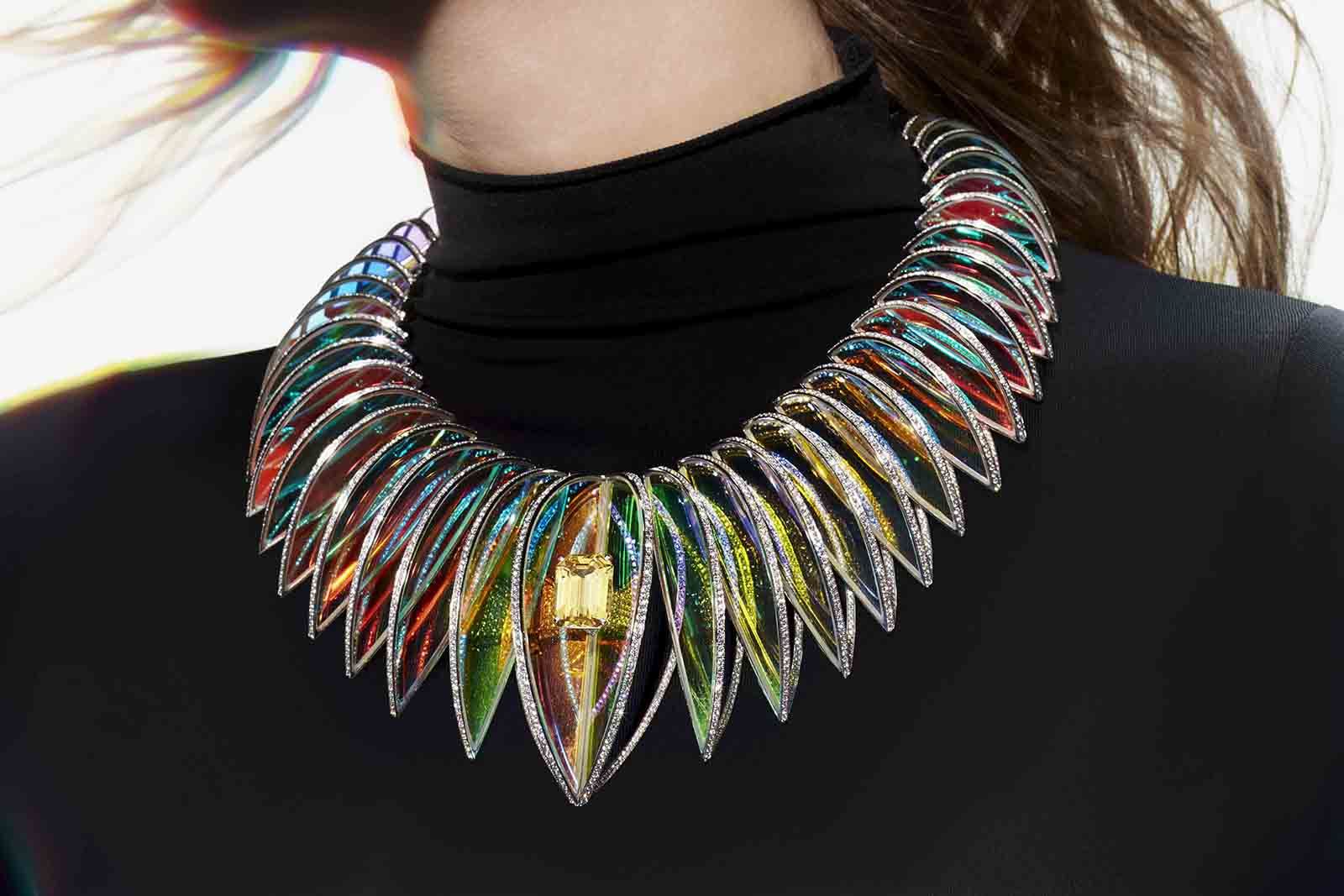 Prisme has hints of Art Deco with multiple rows of rectangular- or elongated pear-shaped holographic rock crystal and diamonds that play with the light. There's a pair of pendant earrings, a ring and a bracelet. Finally, and some might say the pièce de resistance is the Holographique set, which includes a necklace of the same name build from holographic "fine crystal blades" and diamonds. The piece stands proudly from the neck and is set with a 20.21 octagonal-cut yellow sapphire from Ceylon. Next, there's the Holographique bracelet with a 14.93 carat cushion-cut pink sapphire and, finally, the ring with a 4.61 carat oval-shaped blue tourmaline.
The Boucheron Holographique High Jewellery Collection is a phenomenal achievement for Claire Choisne and her team. It's as daring as it is diverse and one can only begin to imagine the many more red carpet moments that will be brought to life with these one-of-a-kind jewels.