Boucheron's designers and jewellers worked on Goutte de Ciel (A Drop of Sky) first, which is one of the most complex pieces in the collection, both technically and in terms of ideas. Claire wanted to wear a little piece of heaven around her neck but could not find anything within her traditional jewellery arsenal. Nothing was an ideal match, so she decided to think more laterally. Thanks to her research, she discovered a special substance called aerogel, best known for its use in the "Stardust" NASA project for capturing stardust.
With aerogel, the liquid phase is completely bypassed by a gaseous phase, which provides this class of materials with incredible lightness but comparable fragility. Outwardly, it reminds me of a moonstone because of its similar translucent-blue colour, but in terms of strength, this synthetic material is far inferior to a mineral. If you try to cut it, it begins to flake and crack, so working with a drop of heaven was especially labour-intensive. To protect the aerogel, Claire placed the bluish substance in a rock crystal shell and hung this unusual pendant on a short necklace, also decorated with transparent quartz and encrusted with diamonds. Remaining true to the traditions of the Maison, the Creative Director opted for a transformable design: the pendant can be removed and worn separately on a cord, while the short necklace is as an independent adornment in its own right. There is also a bracelet with an aerogel insert to complete the set.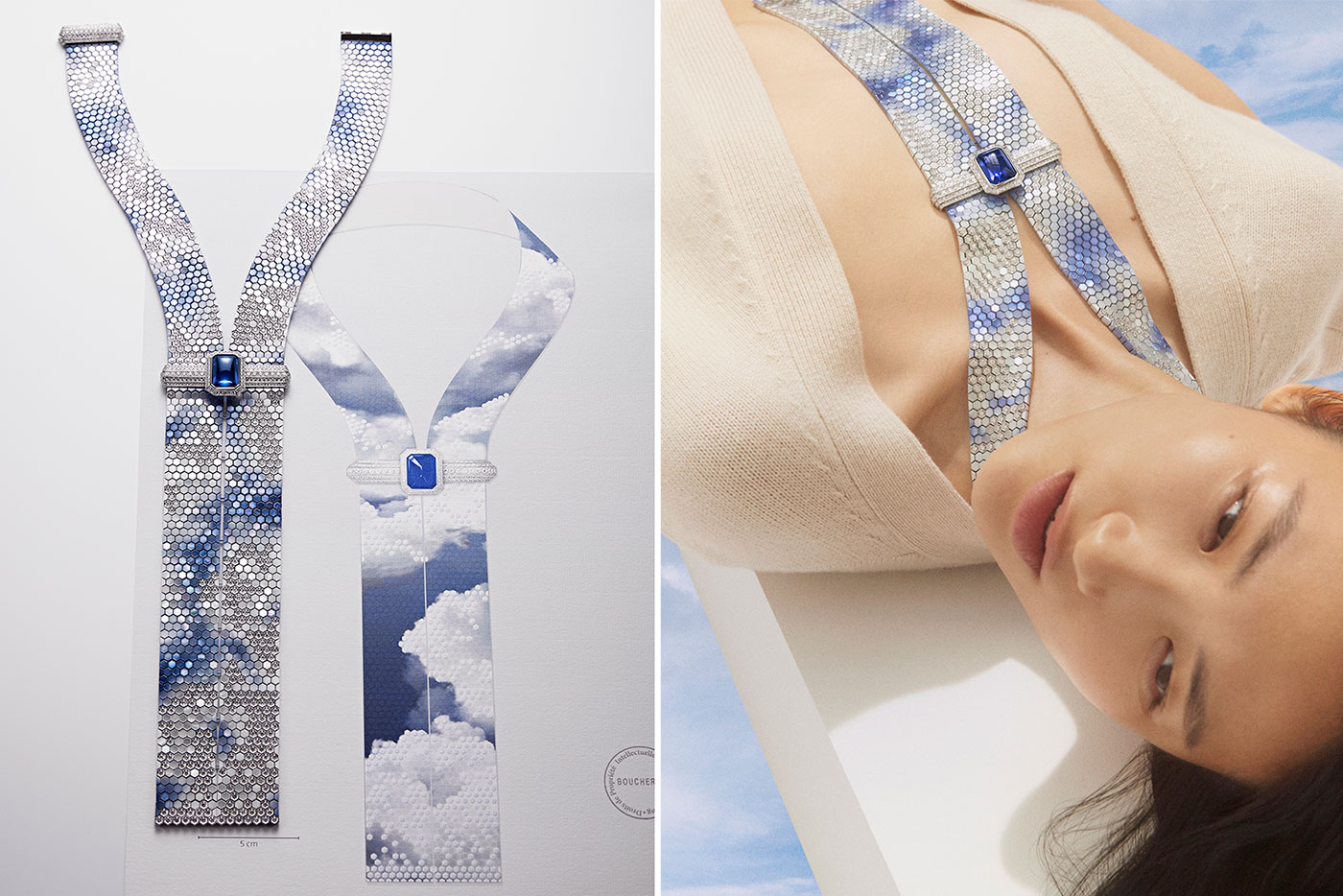 The Goutte de Ciel necklace is among Claire's favourite pieces in the collection, alongside two further, outstanding necklaces: Fenêtre Sur Ciel and Nuage en Apesanteur. The first is designed as a bejewelled tie lined with hexagons of diamonds or mother of pearl that have been set, facet by facet. At the base of the neck, the piece is adorned with a tanzanite cabochon weighing 35 carats, but it is not the spectacular gemstone that makes this masterpiece utterly unique: it is the sky motifs applied to the surface with an airbrush. The second innovation within the collection, Claire points out that this method of decorating jewellery has been used before, but only in one colour, while the gradient is clearly visible on the Fenêtre Sur Ciel necklace, which pays tribute to Los Angeles artist James Turrell and his unique installations, in particular "Open Sky" in Naoshima, Japan.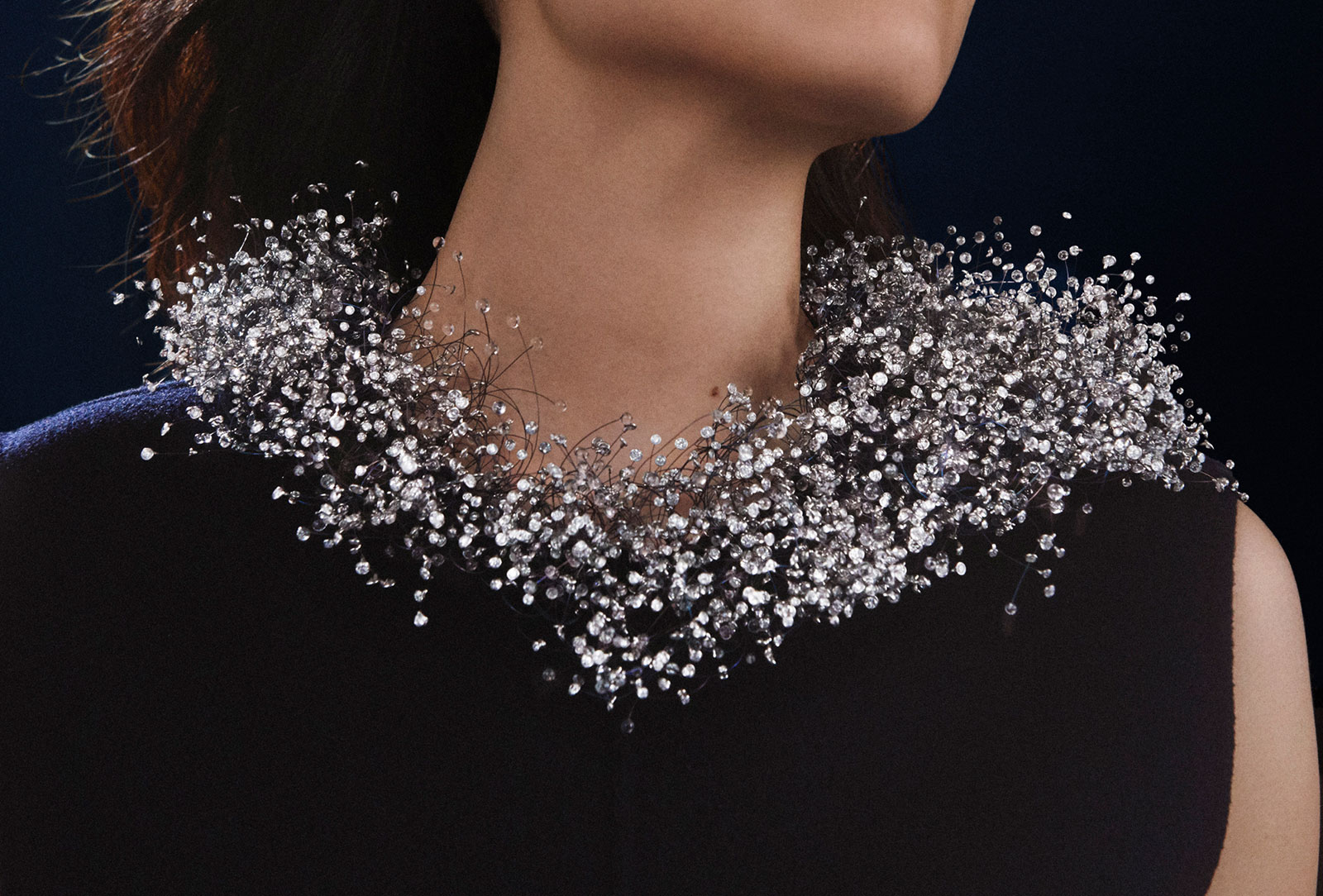 The third innovation is also associated with the sky and the use of techniques that, in principle, have nothing to do with jewellery. Boucheron's Creative Director wanted to create a necklace that would fall over the wearer's shoulders like a gentle, weightless cloud. But how can you create the effect of several thousands of miniature droplets of rain descending on the shoulders and coming together to form a haze? For the prototype of Nuage en Apesanteur, nothing more than cotton was used. For the final piece, however, Boucheron collaborated with a programmer, who used computer-aided design (CAD) technology to calculate how to arrange 4,018 diamonds and miniature glass beads on the finest titanium threads – almost 10,000 of them – to form a cloud-shaped structure. It might have taken two years to complete the piece, from initial idea to finished jewel, but the result is utterly exquisite and exceeds all expectations.
Titanium threads were also used in a set called Avant Le Frisson, which includes a necklace, bracelet, asymmetrical earrings and two-finger ring. The titanium provides the ultra-fine support on which the dandelion's pappus is held, with the delicate design allowing each stem to tremble gently with every movement. A whole new interpretation of the existing "en tremblant" technique in jewellery making, it adds an element of liveliness and intrigue to this remarkable suite of jewels.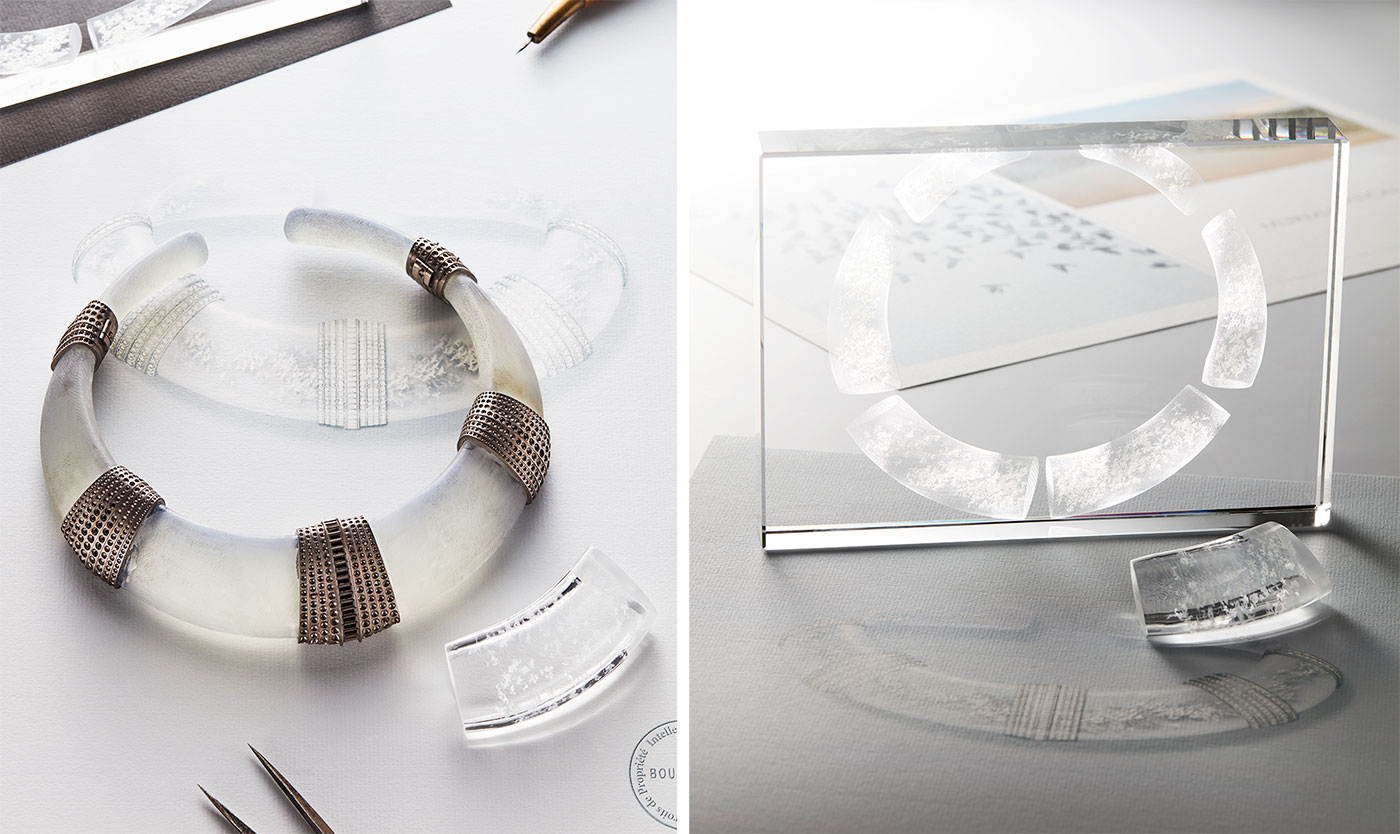 I can say with confidence that this season Boucheron has been the most daring and experimental brand on Place Vendôme. As well as the innovations described above, Claire has tried her hand at laser engraving inside rock crystal. What for, you might ask? She wanted to create a three-dimensional image of soaring flocks of birds on the Murmuration necklace, but for this she needed to vastly reduce the size of the birds.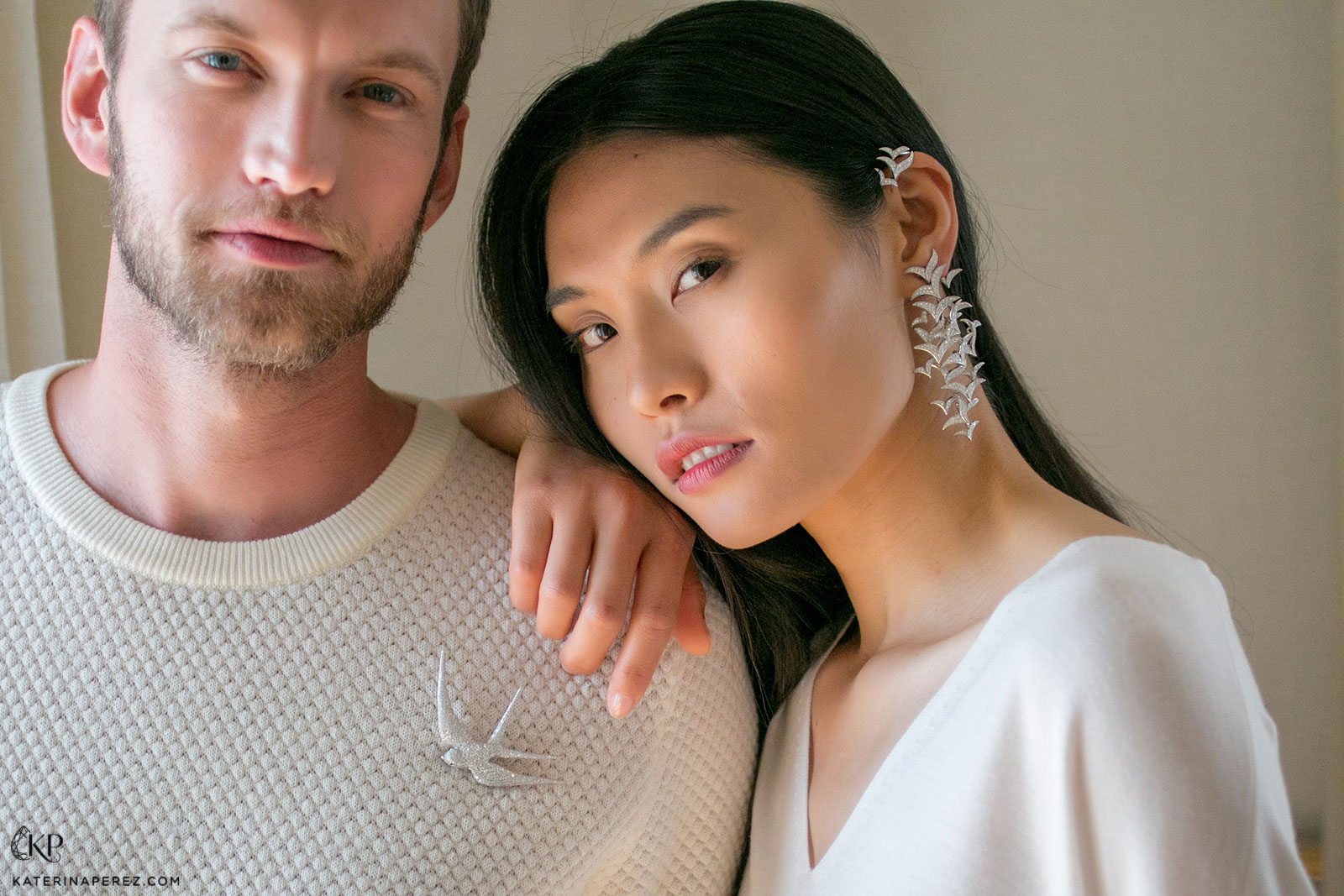 This was where the technique, which is more commonly used to draw pictures or portraits inside crystal souvenirs, came into its element. Ear cuffs with birds crafted from white gold and diamonds can be purchased as a set with the necklace, and soon there will be a ring and Murmuration bangle bracelet, also designed using laser engraving.
As you can see, Claire Choisne loves to experiment and create something of her own, but each of her collections contains work that is inspired by Boucheron's rich archives. The En Passant set, for example, is a reinterpretation of a brooch created many years ago, and the Flèche du Temps single earring, choker, bracelet and necklace apply a modern twist to the House's arrow-pin motif.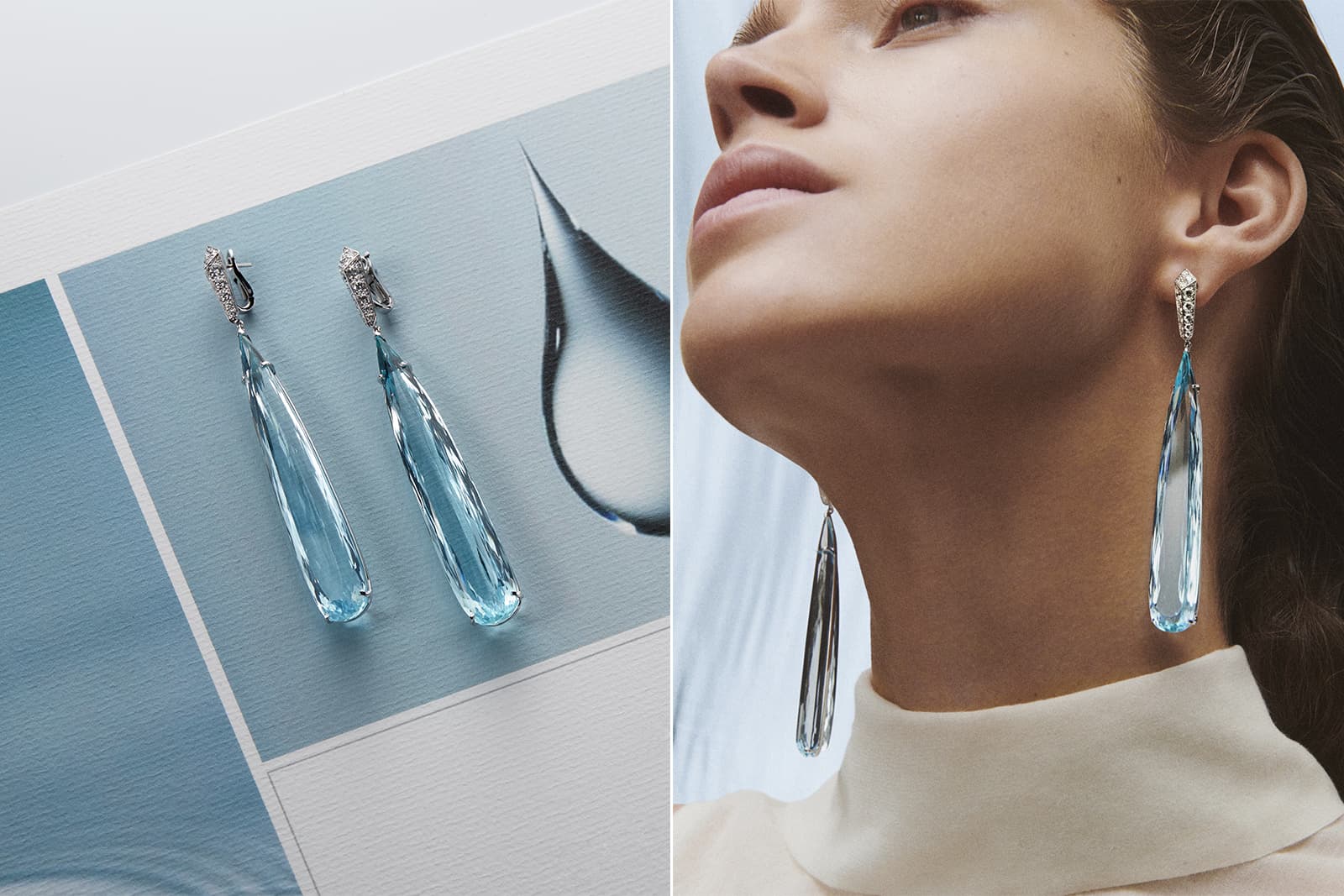 "The jeweller's art is about stopping time in its tracks, making instants eternal when, by their very essence, they are not," muses the Maison's Creative Designer. In the Contemplation collection, she has managed to not only make time stand still but also to capture precious moments of tranquillity and serenity for eternity.