Hosting brands from across the globe, including Japan, The United States, Great Britain, Switzerland and countless other countries, watches featuring intricate diamond pavé straps to coloured gemstone dials were on show throughout the entire event. The range and diversity of watches thrilled onlookers who marvelled at the simple yet elegant accents as well as the complicated functioning mechanism of the timepieces. There was a sense of surprise and amazement at how inventive a high jewellery watch can be. Let's take a closer look at the top tier selection of high jewellery watches from this year's novelties.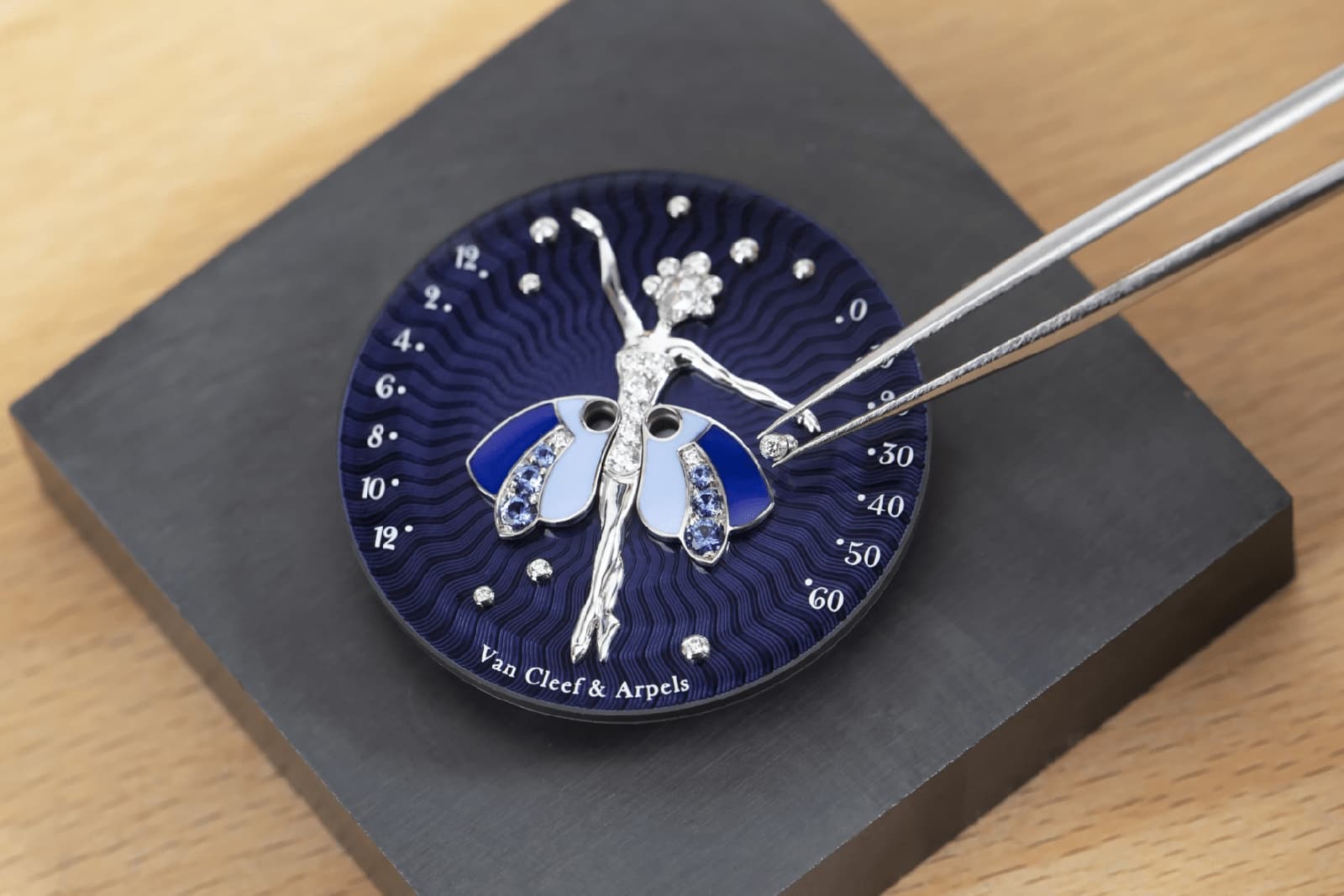 Cartier – Indomptables de Cartier
A menagerie of wild animals came to life through diamonds and coloured gems in Cartier's Les Indomptables. Gemstone and diamond portraits of panthers, tigers, leopards, crocodiles, and zebras adorn each of these Haute horological creations - animals that the brand has featured in its creations since its onset. A true gemstone safari set in white and yellow gold, Les Indomptables watches by Cartier are a collection of 3 limited edition models, each featuring a diamond pavé dial held between the clenched jaws of two wild beasts. Its practically invisible clasp is a true work of engineering genius, as pressing gently on either side of one of the creatures' mouths will release the hand-crafted strap, allowing the wearer to seamlessly slip it on and off. Intriguing, beautiful and ornate, these pieces are true oeuvres-d'art.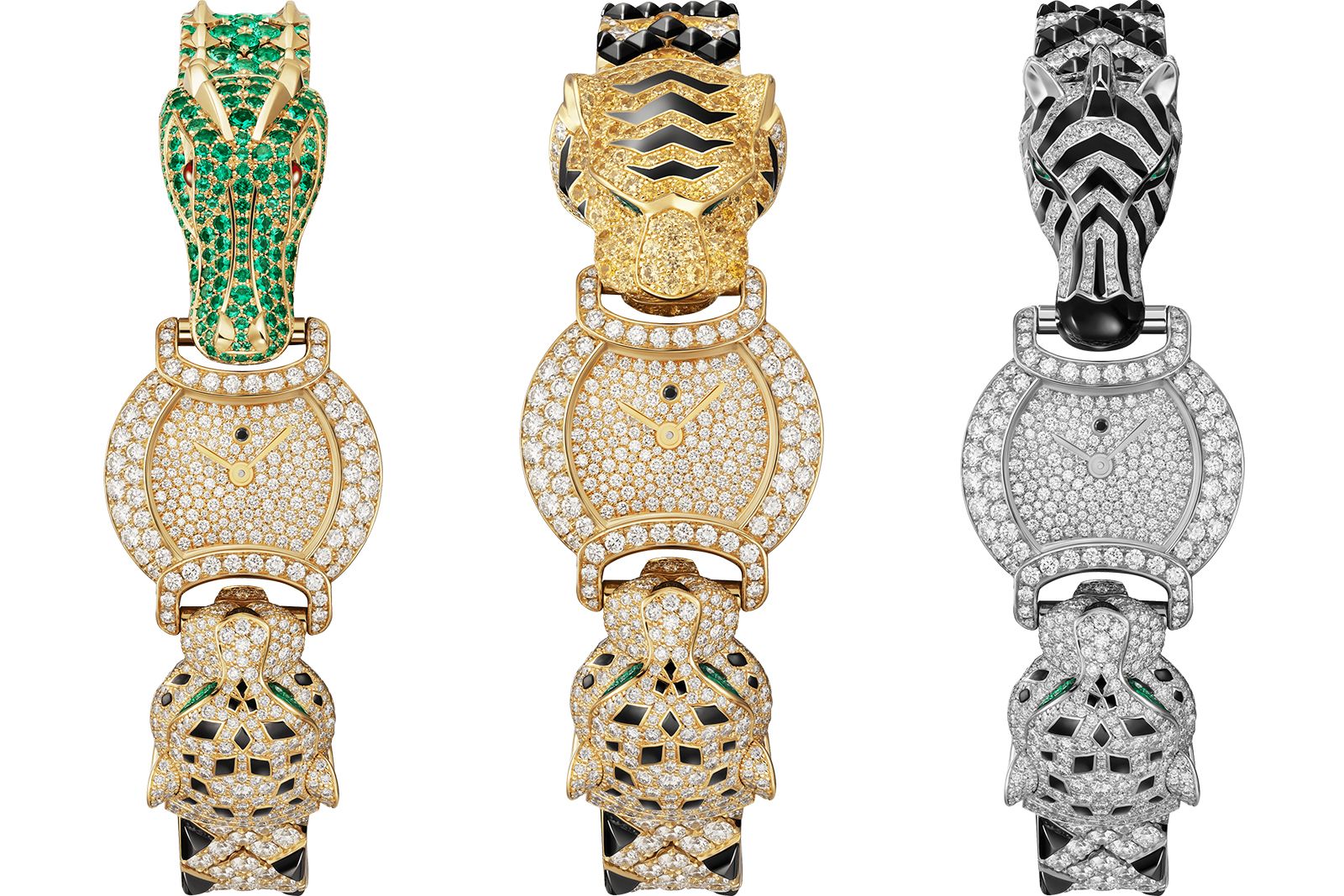 Chanel - Metiers D'art
Jewellery and watch brand Chanel presented over 30 new watches this year. Organised into 7 chapters, their Metiers D'Art timepieces were at the top of our most-wanted list. Watchmakers at Chanel took inspiration from the objects near and dear to Coco Chanel, from her Parisian apartment to the articles she wore in her daily life. The Hors Série Mademoiselle Privé Bouton Golden Pearl Motif cuff and ring timepieces are inspired by the fashion icon's love of pearls, combined with her daring sense of fashion. A true lover of all things audacious, free, and unexpected, wearing time around not only your wrist as a fashion-forward bracelet but also around your finger is the perfect way to honour her indomitable and ever-creative spirit.
With both the wrist and hand adorned with pearl timepieces, Chanel's Watchmaking Creation Studio Director, Arnaud Chastaingt, could not just stop there. Further inspired by Coco Chanel's love of this precious gem, he created the Mademoiselle Privé Coromandel Long Necklace timepiece, featuring all sorts of detailed Chanel emblems. On its front, is a bust portrait of Mademoiselle Gabrielle herself in brushed gold wearing a pair of pearl studs, as she so often did during her lifetime. On the reverse, is a beautifully hand-painted watch dial, depicting typical Chanel florals in minimalistic black and white tones.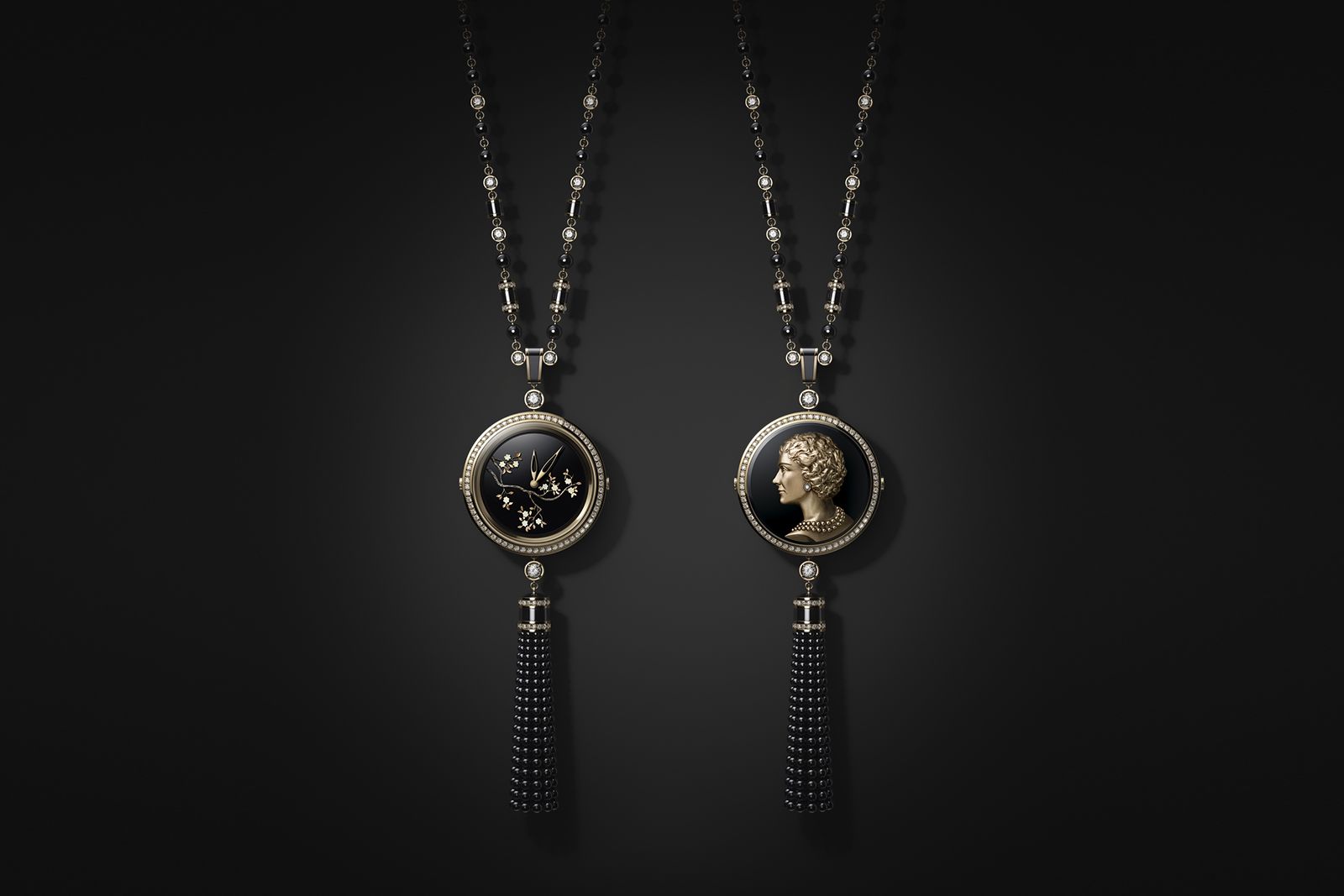 A true lover of all things sentimental, Gabrielle Chanel took comfort in keeping her most treasured possessions close to her heart. The Mademoiselle Privé Cage Long Necklace, made from yellow gold and trapezoid-cut diamonds, was inspired by a gift she received from one of her employees - a birdcage. Not exactly a "precious" object in the financial sense of the word, Gabrielle loved it dearly and made sure it was always around her. To this day it still sits on the side table next to the sofa in her apartment on Rue Cambon. To reveal the watch dial, turn the cage upside down, where you will find a yellow gold and diamond pavé dial.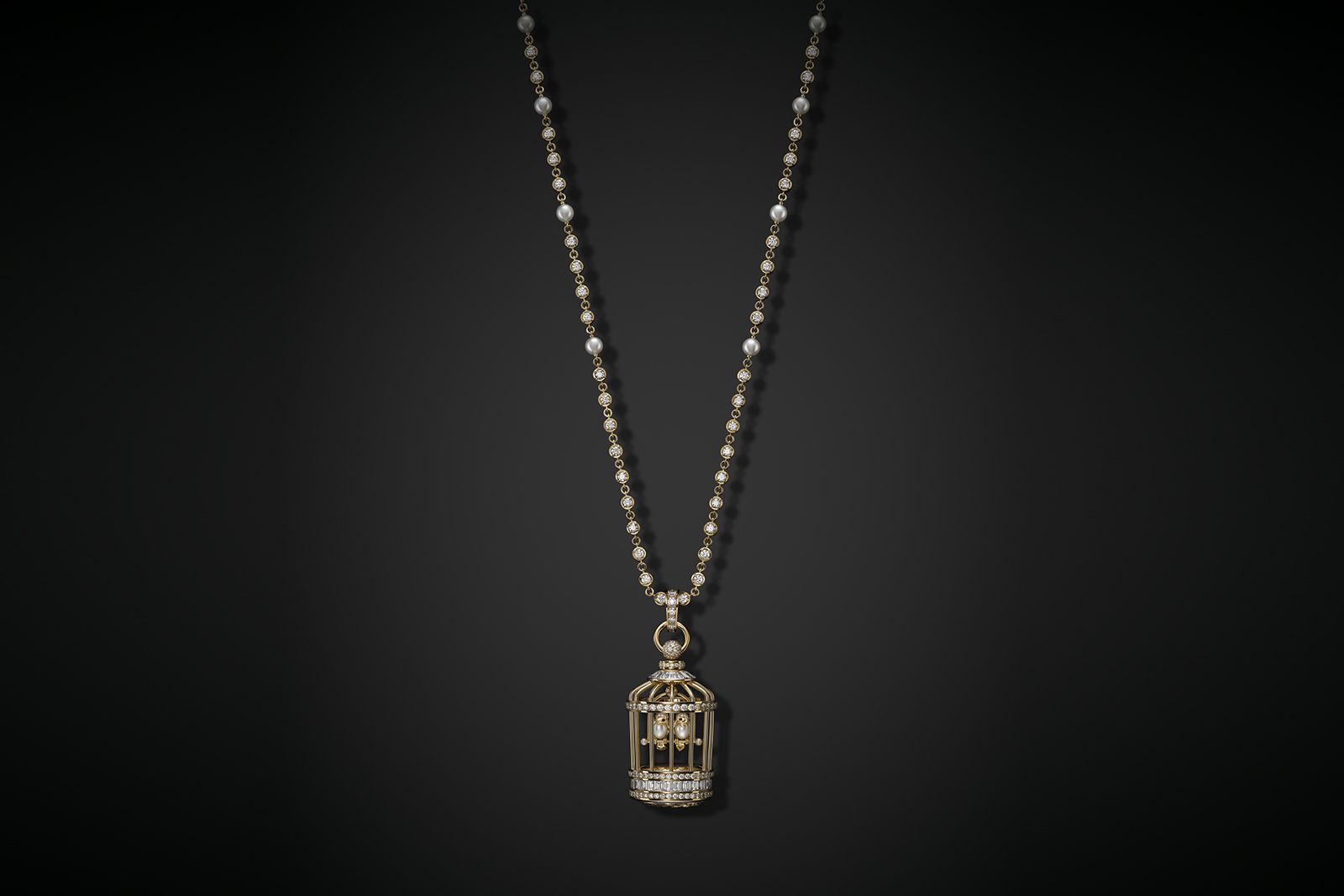 Chopard - Imperiale Flying Tourbillon
For the first time since the creation of the IMPERIALE collection, Chopard watchmaking is introducing a Flying Tourbillon movement into these infamous timepieces. Entirely crafted and designed in house by Chopard, this new timepiece aptly named IMPERIALE Flying Tourbillon unites the brand's exceptional watchmaking skills with its revolutionary jewellery craftsmanship. An eight-piece limited edition watch created from ethical 18-carat white gold, this unique timepiece features an aventurine dial, embroidered with a mother-of-pearl marquetry lotus blossom, amongst whose petals are nestled the namesake of the watch - a flying tourbillon. Encased in a bezel set with endless streams of pavé diamonds, this timepiece is an ode to the magic created when these two artistic professions co-create.
Gucci - G Timeless Dancing Bees
The true stand out timepiece in Gucci's series of bold and strikingly colourful Watches & Wonders 2022 creations are the new diamond-set additions to its family of G-Timeless Dancing Bees tourbillon timepieces. In honour of the brand's historical en tremblant jewellery styles in which jewels are skilfully crafted to dance to the natural beat of the wearer's movements, these two pieces feature 12 shimmering bees each which quiver softly inside a diamond-set bezel. Lying on a hard stone dial of exceptionally rare pink and green opals, the buzzing of the bees along with the shimmering colour variations unique to each opal create a kaleidoscopic effect, honouring the brand's fun and festive aesthetic.
Jaeger LeCoultre - Rendez - Vous Dazzling Star
It is undeniable that shooting stars are the most romantic and intriguing of natural phenomena. Unpredictable, ephemeral and mysterious, these rare and fleeting streaks of light across the night sky are magically evasive. As soon as you have locked eyes with one, it vanishes into thin air. The watchmakers at Jaeger-LeCoultre capture the romance and unpredictability of this celestial occurrence by bringing to life an entirely new complication. Thanks to the Jaeger-LeCoultre Calibre 734, the Rendez-Vous Dazzling Star recreates this enchanting celestial event on one's wrist. A blue aventurine multilayer dial evoking the night sky conceals a shooting star that appears at random up to six times per hour. With its unpredictability making it even more special, the eye-catching timepiece is set with a shower of pavé diamonds, further bringing the illusion of a star-studded sky to this breath-taking timepiece. For those of you who prefer a simpler style, this model is also available on a dark blue leather strap.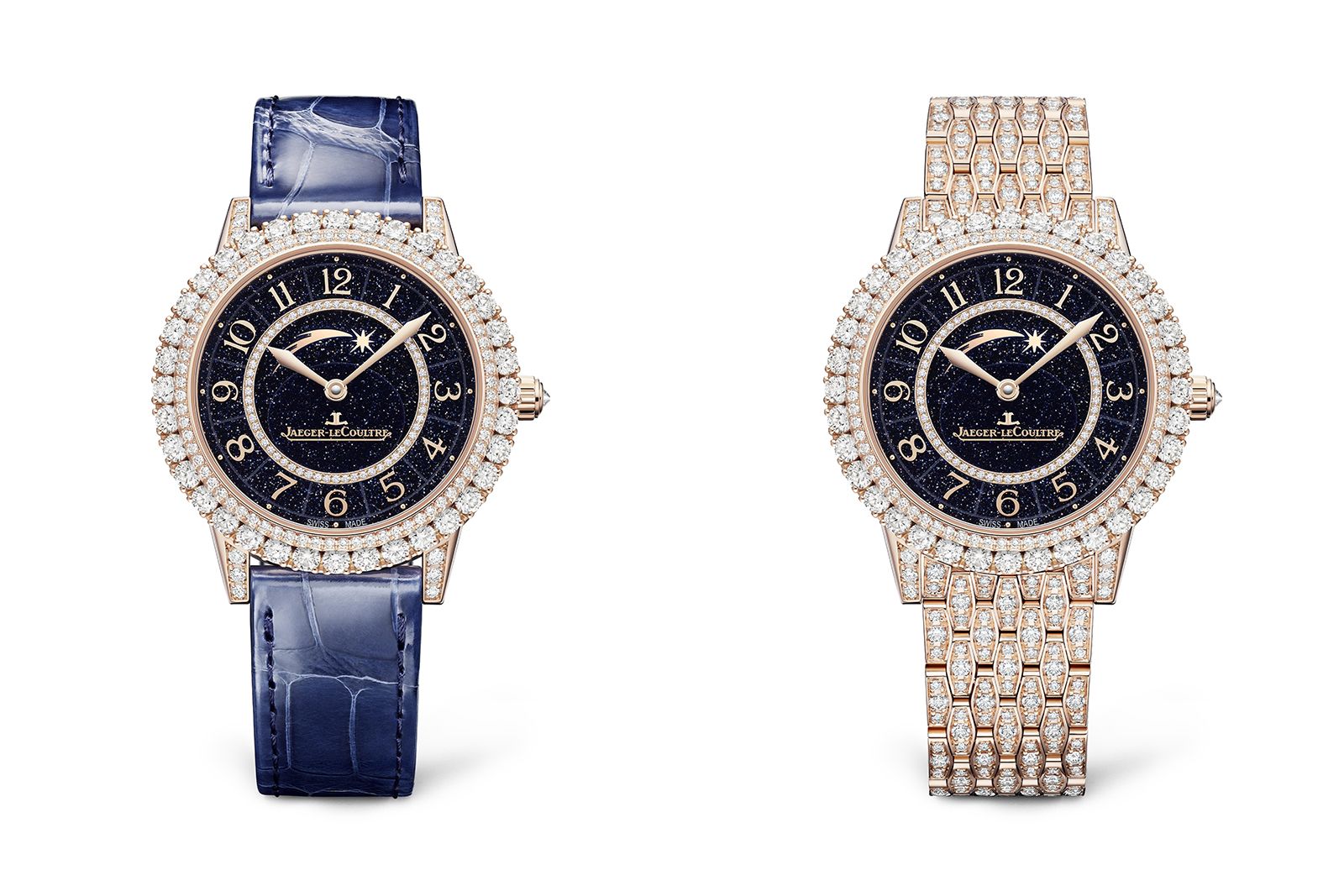 Piaget - Limelight High Jewellery and Limelight Gala
Piaget's Limelight Gala High Jewellery and Limelight Gala Precious Watches are a true testament to the brand's longstanding identity of excellence in the world of jewellery watchmaking. Both so much more than just expensive timepieces, these two works of art are a testament to the brand's impressive history in watchmaking, goldsmithing and gem setting. With a crafting period of over 175 hours per watch, over 250 diamonds, a rare selection of colour gradient tsavorites as well as a signature Piaget hardstone malachite dial, these gemstones are meticulously set into white gold using custom settings for each cut variant, ensuring that each gem is positioned to ensure maximum colour and sparkle.
Van Cleef & Arpels - Lady Arpels Ballerine Enchantée Watch
The Lady Arpels Ballerine Enchantée playful watch design stems from one of Van Cleef & Arpels' greatest sources of inspiration - dance. At the centre of both models stands a graceful silhouette resembling a fairy-like ballerina. Part dancer, part butterfly, this figure unfolds its champlevé and enamel wings in one fluid movement to point to the hour and minutes. Available in a soft pink dial and purple strap, or calming blue dial accompanied by a full diamond band, both designs are surrounded by a bezel set with white diamonds, highlighting the sparking dancing figure within.
Whether through enamel, diamonds or coloured gemstones, the novelties presented this year at Watches & Wonders are brightly coloured, impressively bold, and elegant in design. We cannot wait to see what 2023 will bring!