Recently, I received a press release from a brand about its latest high jewellery collection. Of course, this isn't new in the world of KaterinaPerez.com, but what caught my attention was the headline… "High Jewellery Collection Using Only Lab-Grown Diamonds". Immediately, I felt like something didn't add up for me personally. Instinctively I felt, deep down, that laboratory-grown diamonds cannot be synonymous with high jewellery, at least not for me. Why? The desire to articulate this thoughtfully and objectively is what sparked the idea for this article. Can we explicitly state what high jewellery is versus what fine jewellery is? Is there a cut-and-dry answer, or is it simply open to interpretation? Let's explore together!
High Jewellery vs Fine Jewellery
Firstly, it's important to say that both jewellery categories contain beautiful pieces. The purpose of this article isn't to suggest that one is fundamentally better than the other but to highlight their differences on a spectrum of jewellery artistry. A designer who produces exceptional high jewellery may also create covetable fine jewellery, but the processes and considerations behind them are likely different. Similarly, if you are presented with a high and fine jewel, and your preference is for the latter, this is okay too! We must choose jewellery based on emotion, instinct and passion, not simply on its credentials or price tag.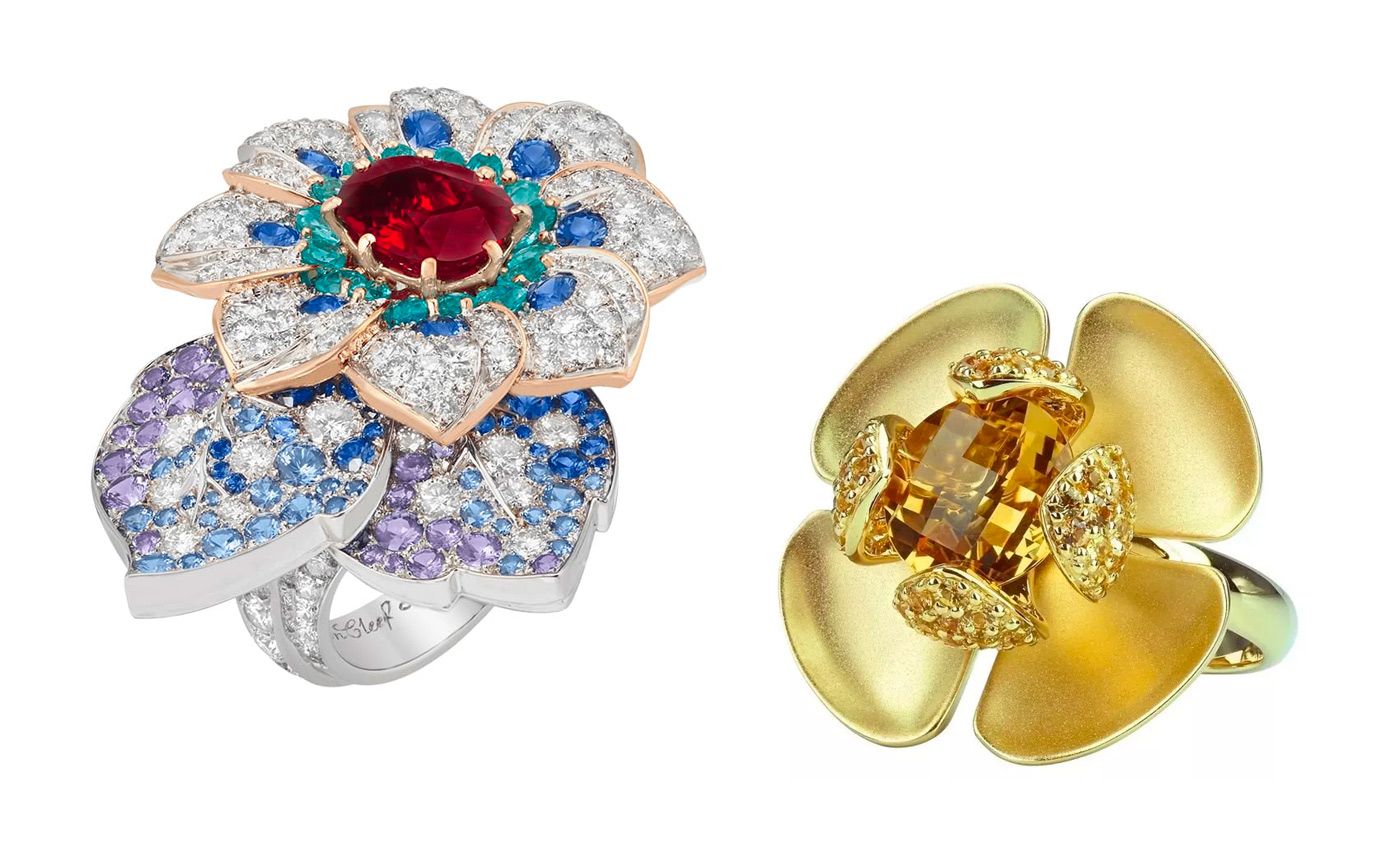 "High Jewellery is the Haute Couture of the jewellery world. A celebration of the art of the jeweller, working with the finest of precious materials, and meticulous, rarefied, often breath-taking craftsmanship that brings imaginative, creative visions to life," says jewellery historian Vivienne Becker.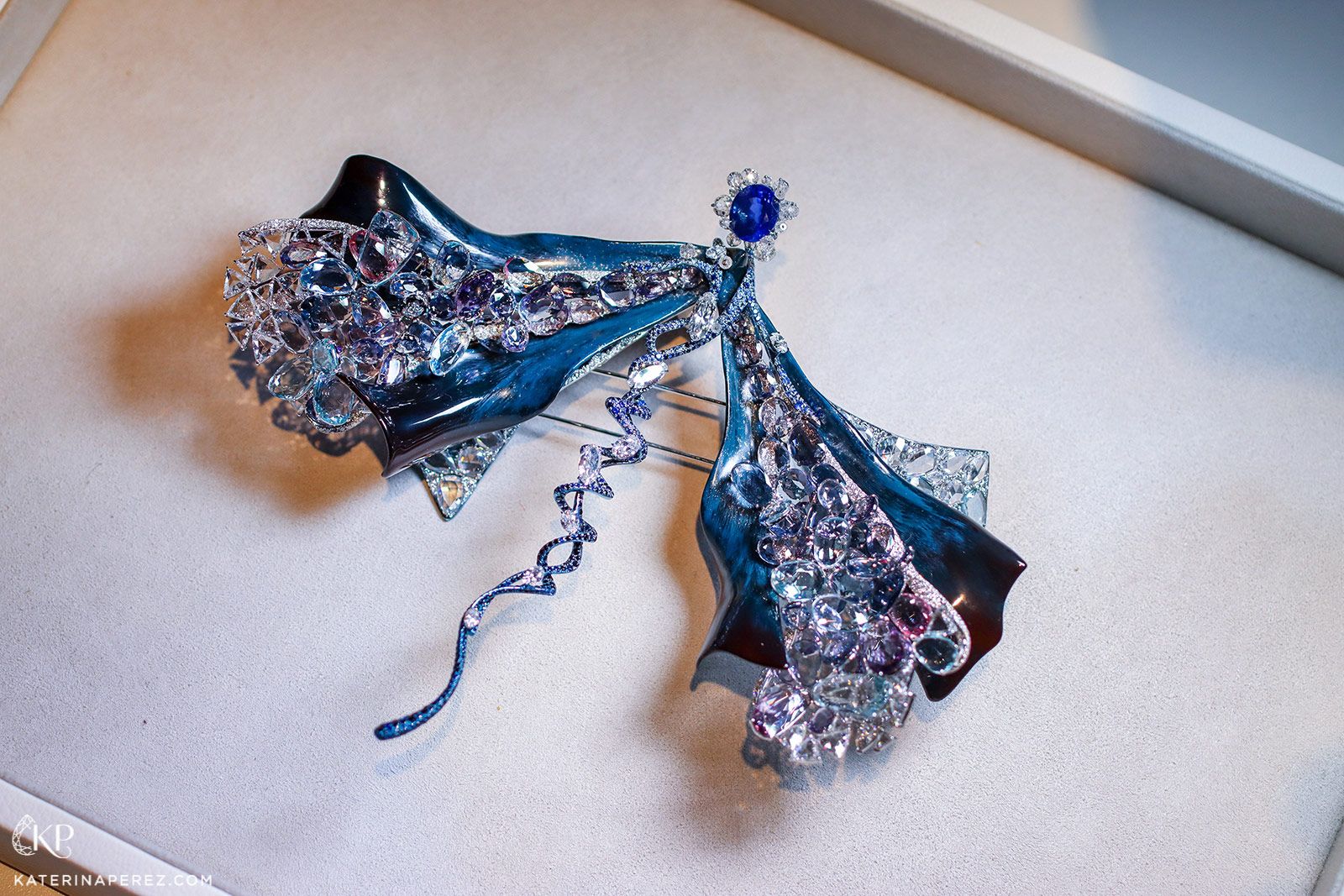 Is Price the Differentiating Factor?
High jewels command higher price points than fine jewellery pieces, which can range anywhere from several dozen for a more modest piece of high jewellery to many thousands of pounds. But to say the price is the only difference would be a massive oversimplification. "Retailers tell me they class anything above £50,000 as high jewellery," says Rachel Garrahan, jewellery and watch director of British Vogue. "Much more than price tags though, high jewellery is the ultimate expression of a jeweller's artistry and craftsmanship, featuring exceptionally rare gemstones that make a piece truly one of a kind."
Here's why the price isn't everything. Imagine you have a rare 20-carat Kashmir blue sapphire, but it's set in a plain, undecorated pendant on a simple chain. The sapphire holds extraordinary value, but does its presence alone make this a piece of high jewellery? I would argue no.
Are Rare Gemstones a Requirement of High Jewellery?
Especially large and important gemstones are a common feature of high jewellery, but they aren't a requirement. For example, the Earth Woman set in the Boucheron Ailleurs High Jewellery Collection contains the Bois Diamant (diamond wood) brooch. This piece doesn't contain any significant sized minerals; instead, it uses shapely slivers of Santos rosewood, assembled in an openwork gold structure, decorated with pave diamond petals and pistils of titanium. What makes this a work of high jewellery is the imagination, use of materials, craftsmanship, skill and innovation.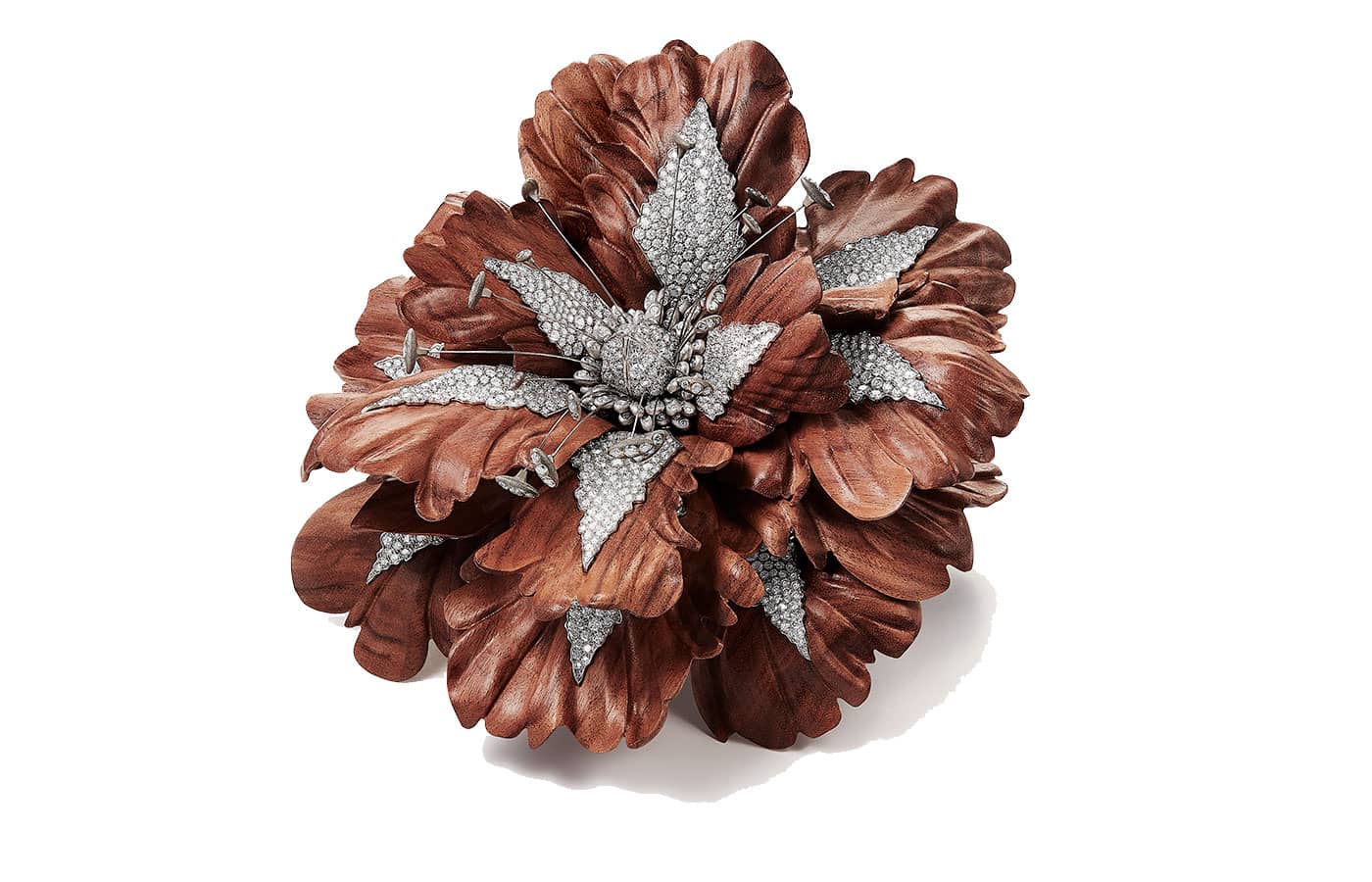 My Formula of High Jewellery
Overall, I strongly feel that to be considered high jewellery, a piece must incorporate at least two of the following elements: a significant gemstone; an intriguing, innovative or technically ambitious method of construction or craftsmanship; a statement design that stands out from the crowd; a feat of design imagination and the ability to tell a story; pristine finishing and close attention to detail. Let's call it Katerina's High Jewellery formula  If you have a rare gemstones, but it is set in a mediocre mount, this cannot be attributed to high jewellery. The same goes for a jeweller who came up with some incredible designs but didn't polish metal to perfection.
What Distinguishes High Jewellery Craftsmanship from Fine Jewellery?
In general, fine jewellery has an element of mass production coupled with hand-finishing. This requires time and skill but can be easily achieved in a short period of time by a trained professional. In contrast, high jewellery pieces are typically unique and completely one-of-a-kind. They require nuanced craftsmanship, precision, and boundary-pushing techniques that aren't common to jewellery-making workshops. As a result, they can sometimes take hundreds of hours to bring to life and require meticulous levels of finishing and polishing.
Another distinguishing feature of high jewellery is its perfecting from all angles. Often elevated creations are just as beautiful from the back as from the front; clasps are turned into a decorative feature, transformable elements are added, side profiles are adorned with stones, and the back of pendants and earrings are dusted with pavé gemstones.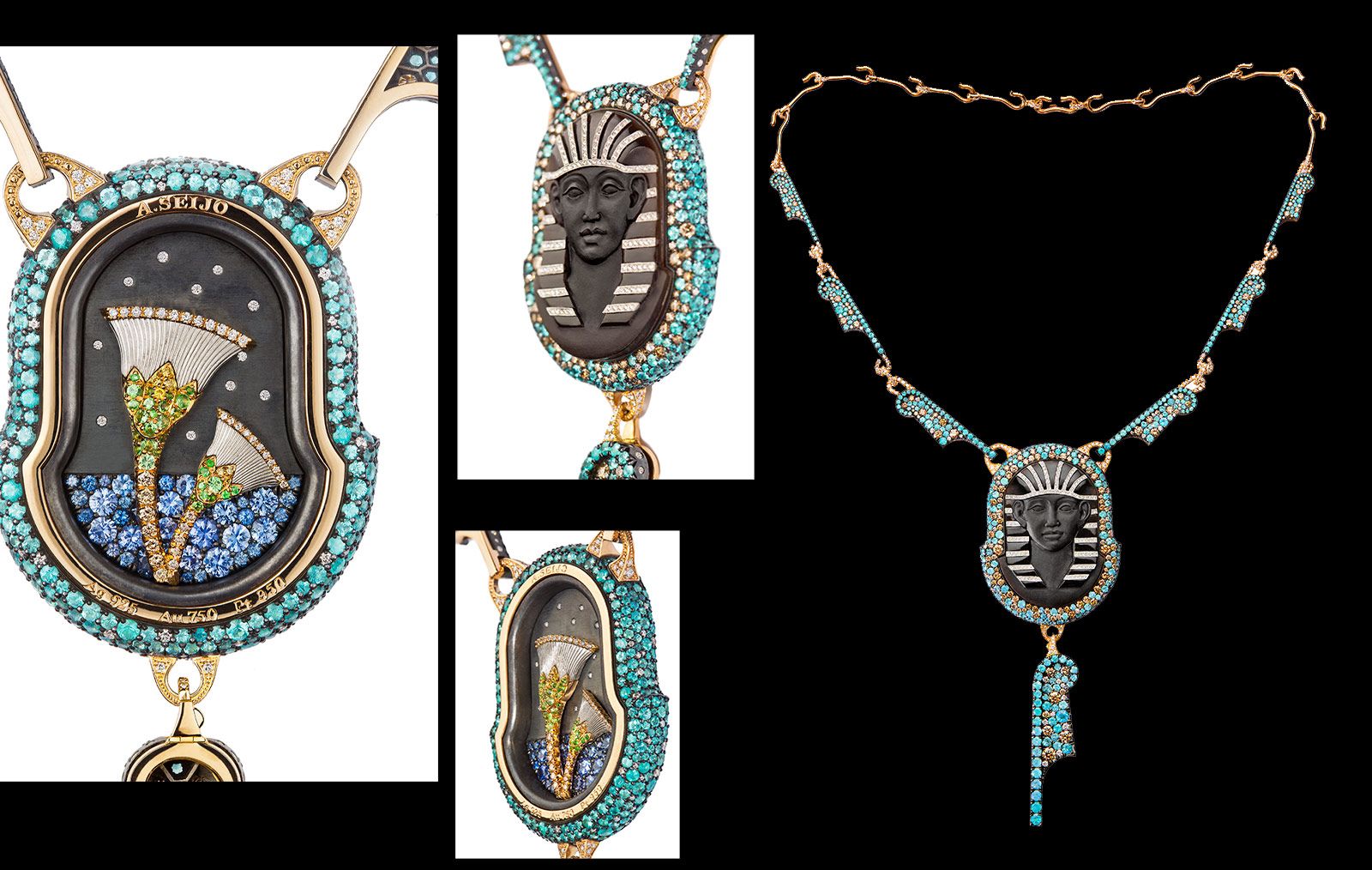 What Other Factors Separate High Jewellery from Fine Jewellery?
As I've already mentioned, high jewellery is exclusively unique. When a piece is made, it is highly unlikely it will ever or could ever be made again. Fine jewellery writer and author Ming Liu says: "High jewellery collections are all one-off pieces and a chance for the brands to showcase their unique jewellery-making savoir-faire, infused with the unique design codes of the house."
It's also worth noting that statement jewellery isn't always high jewellery and vice versa. Some creations can be light, whimsical and hyper-feminine and still be considered high jewellery. When brands like Bulgari, Chopard, Cartier and Chaumet create pieces with a statement aesthetic, they always consider comfort. After all, they are investing time, skill, innovation and money into producing exceptional pieces customers will want to wear for the finest of occasions – if the piece isn't feasible ergonomically, it won't bring pleasure to the wearer.
High Jewellery Represents a Creative Moment in Time
Not only does high jewellery take time, but it also captures a moment in time. Even a solitaire ring with a significant diamond will require countless hours to ensure it has perfect proportions, the ideal polish, immaculate stone setting and nuanced design details. Equally, this solitaire ring will be a product of its time, the century it is crafted in, and the mindset of its designer. It will reflect the cultural influences happening at the moment of its inception. That's the power of high jewellery art.
"As a jewellery historian, I see that throughout the 20th century, the most important, most historic jewels are those that seamlessly combine the rarest, most exquisite gems and pearls with excellent craftsmanship and designs that capture the essence of their moment in time. This is High Jewellery," Vivienne Becker
It's possible to feel as emotionally connected to a simple diamond-set tennis bracelet as a masterful creation that's never to be made again. However, whereas one is a comfortable piece of fine jewellery, the other is likely to be a high jewel that encapsulates rare gems, imagination, creativity, craftsmanship, nuance, innovation and detail into one entity. Exactly where that line is drawn is impossible to say even by using my 'high jewellery formula', but I think, as is the case with so many things, we know it instinctively when we see it.