This year's watch novelties can be described using three epithets: extravagant, luxurious and simply hypnotising. I want to take a look at their sophisticated designs, to reveal the secrets behind the allure of Precious Cluster, Premier and Winston Kaleidoscope. To "decipher" the complex design of new models, I have chosen to examine them one by one. Let's begin with the high jewellery timepieces.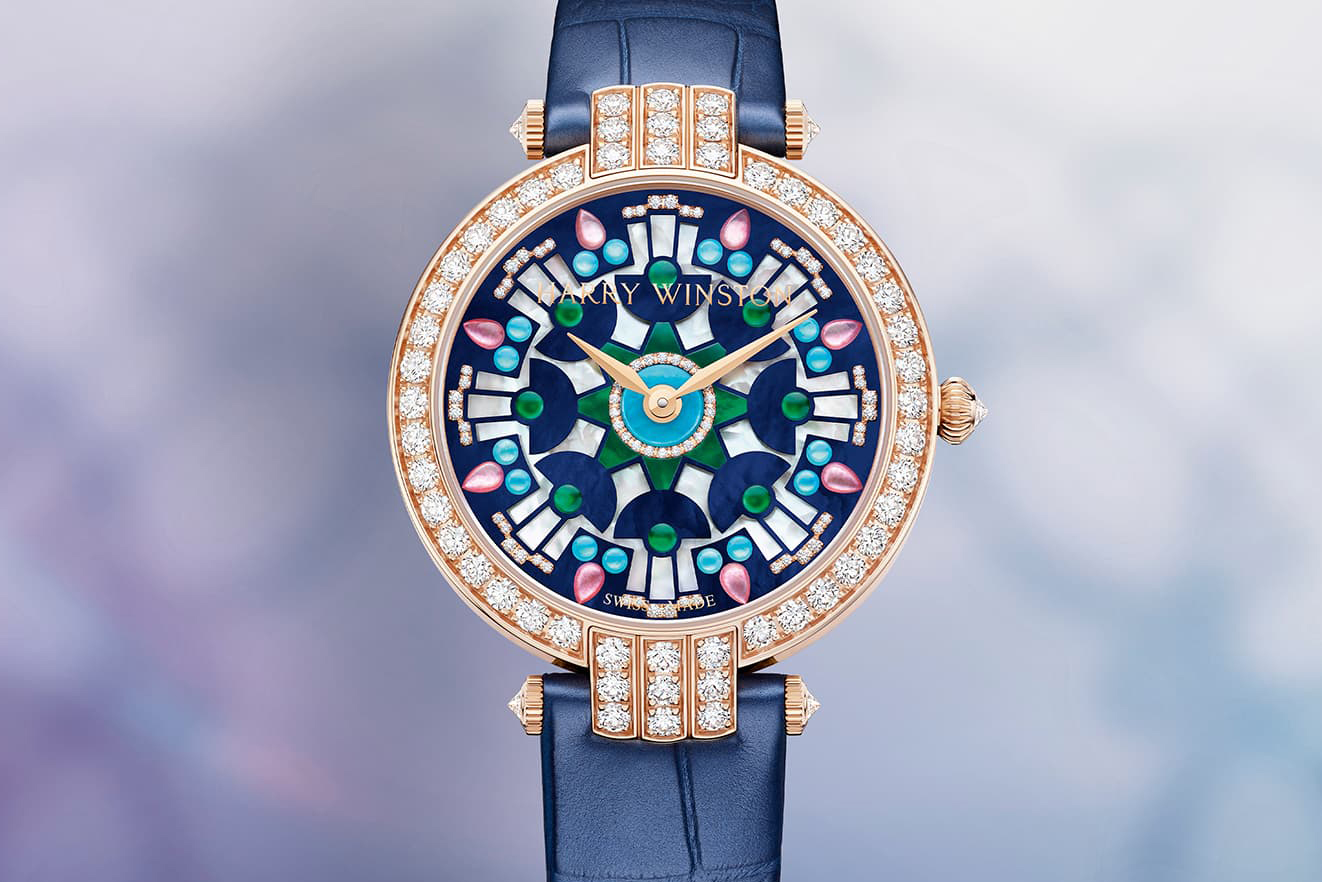 Inspired by the magic of a kaleidoscope, this collection's five new high jewellery models showcase the creative design and expert use of precious stones that characterise the House of Harry Winston. One timepiece is crafted with marquise, brilliant and pear cut diamonds, another with diamonds and black spinels, with the remaining models featuring multi-coloured gemstones of various cuts and sizes, twisted into dynamic compositions. The colour scheme is the only thing that distinguishes one Winston Kaleidoscope watch from another. The rest of the elements remain the same: a dial studded with 71 diamonds; a platinum case; a high-quality Swiss quartz movement; and a satin strap with a platinum buckle embellished with 29 round diamonds.
This model from the company's High Jewellery collection is a timepiece made in the best traditions of the cocktail style. The extravagant display of snow-white diamonds on the dial is a tribute to the accomplishments of Harry Winston. Firstly, to his title as "The King of Diamonds" – he reportedly once owned more than a third of the world's most famous diamonds and precious stones – and secondly to his revolutionary ideas on the cutting and setting of stones, for example "clustering", where a group of stones are set together, at different angles. This signature method is exemplified here, with pear and brilliant cut diamonds set either side of the octagonal diamond-set dial to form the iconic cluster motif, while the watch case is framed by baguette cut diamonds in an invisible setting that contrast beautifully with the black satin strap.
Combining four lines in one, Premier is the brand's largest watch collection and it continues to grow each year. The first line, Premier Hypnotic Chrysanthemum Automatic 36mm, is inspired by the chrysanthemum flower, which Harry Winston's watchmakers have rendered in dazzlingly bright hand-polished opals and diamonds. The model comes in two colour varieties, limited to 28 editions each.
The second line, Premier Precious Kaleidoscope Automatic 36mm, which debuted in 2019, has now been replenished with six bold new colours, with 28 editions of each. Bright, symmetrical kaleidoscope patterns are realised on six bewitching watch dials. Sparkling diamonds, gemstones, mother of pearl and vibrant design motifs evoke the youthful spirit and whimsical energy of Harry Winston.
The third line, Premier Lotus Automatic 36mm, which also debuted in 2019, returns this year with an enlarged 36mm format in 28 editions. Once again, the touching beauty of the delicate lotus is depicted in white and pink mother of pearl, complemented by pure white diamonds.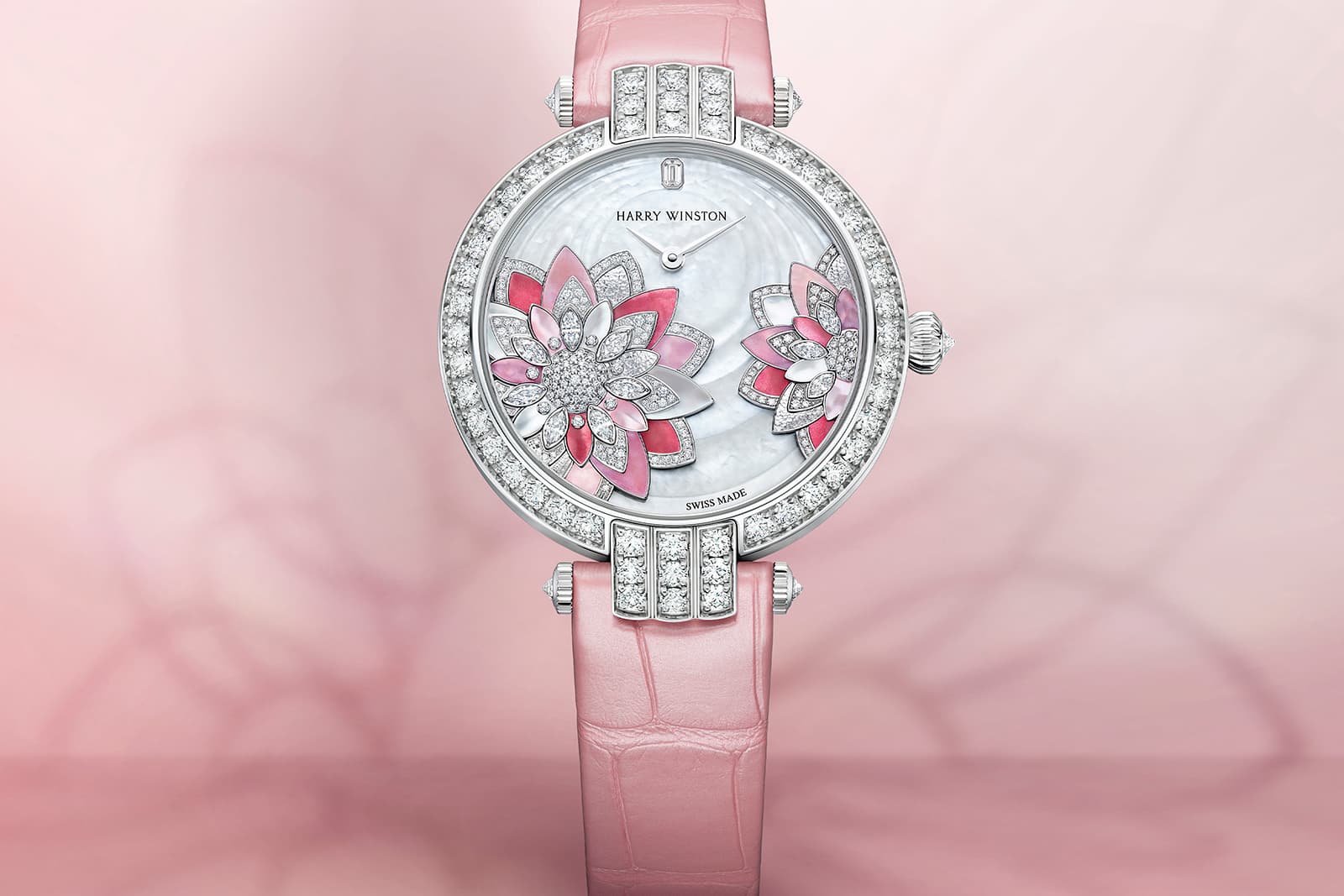 Finally, Premier Majestic Art Deco Automatic 36mm is the fourth line in the Premier Collection. A tribute to the graphic lines of this iconic period in design history, the dial, set in a white gold case, has a jazzy geometry that is accentuated by the bold black and white colour palette. Once again limited to 28 editions, an unusual combination of black jade, mother of pearl and diamonds, set in layers, creates a spectacular effect that exudes depth and glamour.
Ocean Biretrograde Black & White Automatic
Finally, let's explore two models of the sportier but no less richly decorated Ocean Biretrograde watches. Their 36mm case is made of 18-carat white gold and adorned with 57 round cut diamonds. A distinctive feature of this watch is an arched ledge near the crown, a reference to the façade of the company's flagship store on Fifth Avenue in New York. In addition to the hour and minute hands, Ocean Biretrograde also includes two semi-circular indicator windows that display the day of the week and seconds, as well as a window at 6 o'clock with the date. The dial of these models is comprised of mother of pearl, onyx and diamonds, but their sporty remains intact with rubber straps that showcase the effect of dynamic weaving in the centre, the first of their kind in the history of Harry Winston. Both models are limited edition with only 100 pieces available.
From kaleidoscopic clusters of coloured stones encircling a petite dial to sporty monochrome timepieces embellished with precious materials, each new watch represents the very essence of Harry Winston.