In her new La Chambre d'Ambre collection, the French designer invites us on a historical journey to the city of St. Petersburg, charting its past since the time of Empress Catherine the Great. On the one hand, Lydia has always been interested in the role of great women and their contribution to history. On the other, she sees a princess in every woman who likes to dress up and adorn herself in fine jewellery. Seen through the lens of this dual interpretation of femininity, Courteille feels that the most outstanding royal figures in history are Marie Antoinette and Catherine the Great. The first of these two was the eponymous dedication of Courteille's Marie-Antoinette Dark Side collection from 2019 - and the Catherine the Great collection would wait until the beginning of 2020.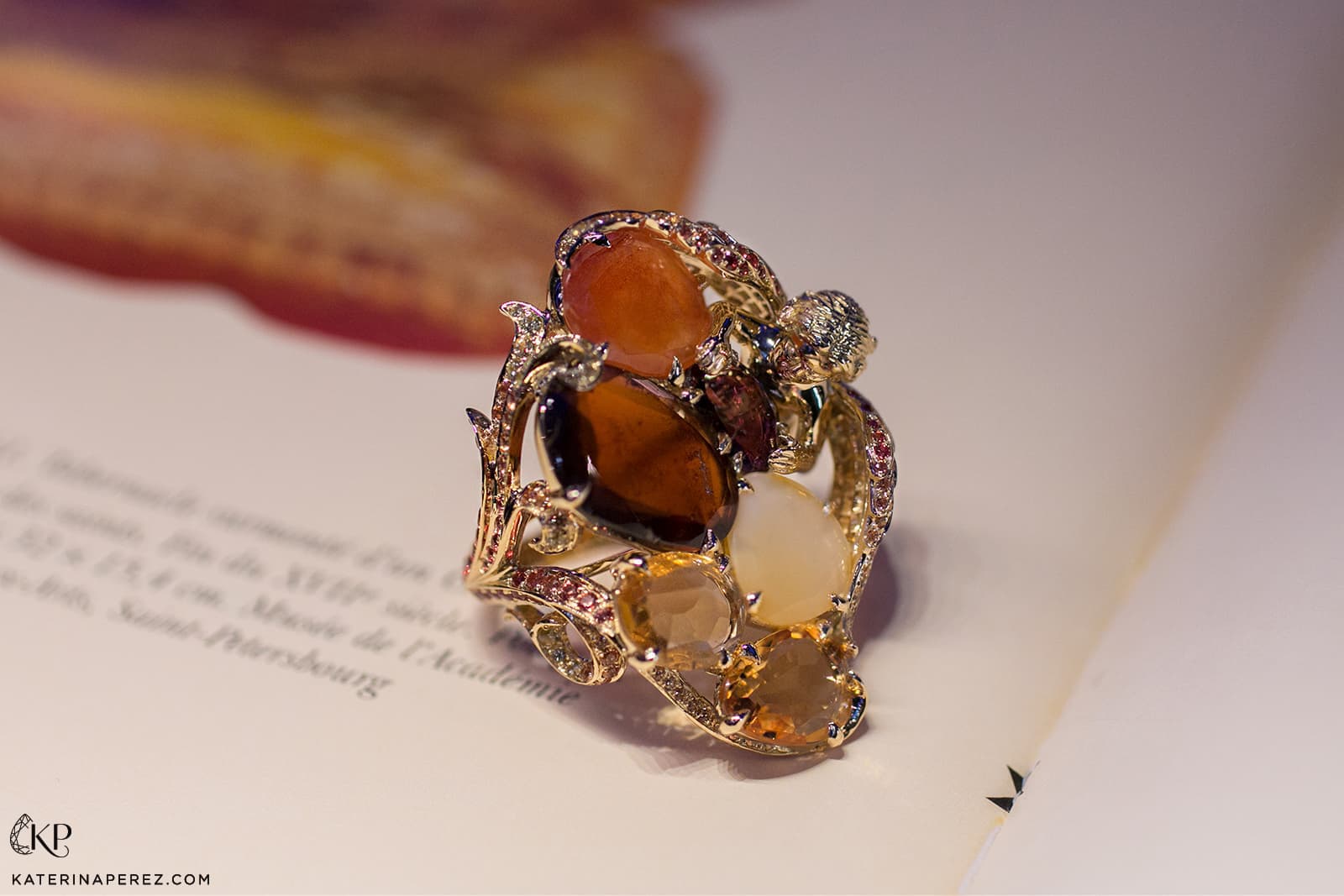 Having become queen, Catherine invested a great deal of money in adorning herself as well as the environs of her palaces – sums of money that would sound more familiar as military budgets than those for jewellery. This was not mere vanity, Catherine's splendour was political, she would blind the ambassadors of foreign states when they came to participate in negotiations. Catherine considered the optics of diplomacy a no less important battle than those fought between armies. In addition, she passionately loved art and jewellery – especially precious stones and cameos. Her affection for the arts was such that she founded one of the most outstanding collections in all history: the Hermitage Collection, whose initial exhibition included no less than 10,000 pieces.
It was under Catherine that the Amber Room of the Imperial Palace – a masterpiece of 18th century interior design – reached its splendid zenith. After its completion, it was converted into an office where the empress loved to play cards and meet ambassadors. Initially, the room was conceived for the Prussian King Frederick I, who dreamed of creating something that would be impressive on a global scale. The King of Denmark, who had initially proposed this idea, loaned a jewellery master who was a specialist in working with amber to Frederick I. It was only after Frederick I's death that his son Frederick William I presented the unfinished work to Peter I of Russia.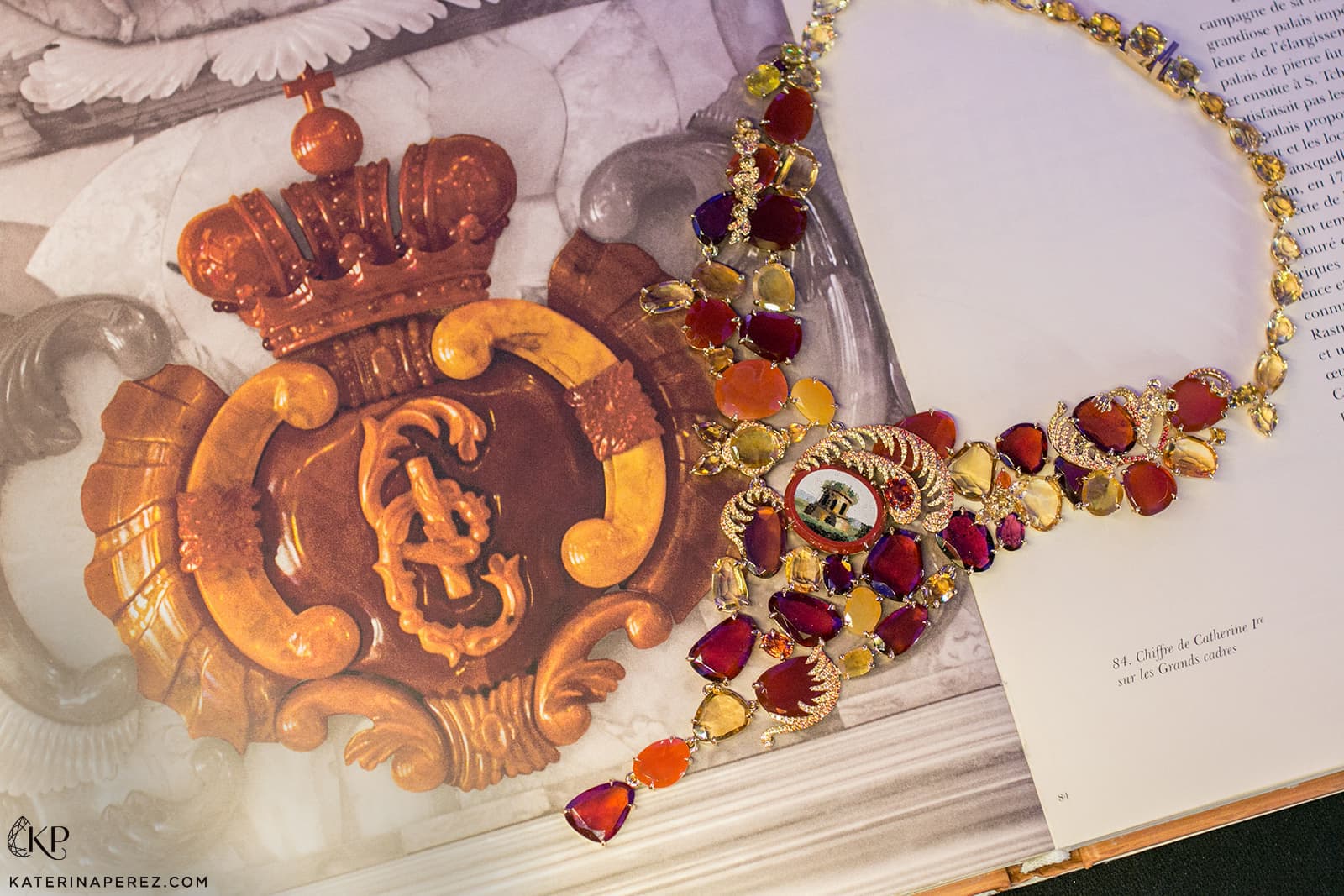 St. Petersburg and the Great Imperial Palace in Tsarskoye Selo made an indelible impression on Courteille. Of course, these vivid emotions gradually transformed themselves in the mind of the designer into sketches for her own jewellery. This transformation was perhaps to be expected, because Courteille regularly draws inspiration from travel for her collections. Although it is the case that the collection glorifies one of the most impressive pieces of amber work in the world, there is a notable absence from the 'La Chambre d'Ambre' collection: the titular stone itself does not feature once. It must be said that Courteille is not afraid of provocation in her designs – indeed it is this audacity that so often attracts jewellery aficionados and collectors to her work. In order to avoid deviating from the topic entirely when creating the necklace, rings, earrings, brooches and tiara that constitute the collection, Lydia used a whole bouquet of precious stones, the shades of which are a reference to amber: citrines, jasper, sapphires, chalcedony, garnets, fire opals and more.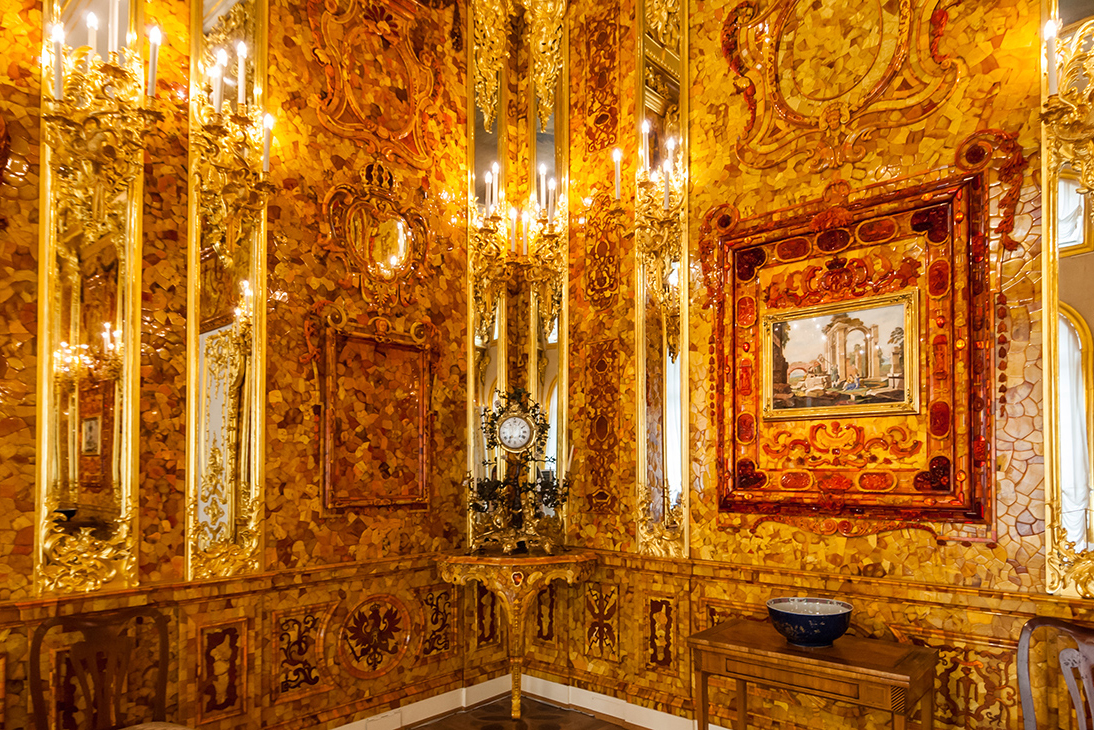 Titanium, along with yellow gold, forms the precious structure holding the gems. Since Lydia's jewellery is notable for its scale, she ensures that her pieces are not only spectacular, but also comfortable to wear, so in recent years she began to turn to this light metal more often in order to ensure comfort. The asymmetric earrings found in the collection which are adorned with cupids are composed of yellow gold and titanium, and decorated with citrines, opals, sapphires, garnets and chalcedony, demonstrating her dedication to amber toned jewels in this collection. The cocktail ring in the shape of a casket and made of yellow gold and titanium with sapphires, chalcedony, red jasper, opal garnets and rubies is no less impressive in appearance - I should note at this point that each piece is inspired or even literally repeats the elements that exist in the Amber Room.
Numerous legends surround Catherine's romantic escapades. The young German princess had a truly formidable life - not only thanks to the outstanding abilities she personally possessed - but in many respects also based on the assistance of carefully chosen allies and favourites. Catherine both made and accepted generous jewellery-based gifts from this entourage. A reference to this part of Catherine's story is evident in the collection: one finds a magnificent tiara, saturated with the Amber Room's spirit of luxury and brilliance.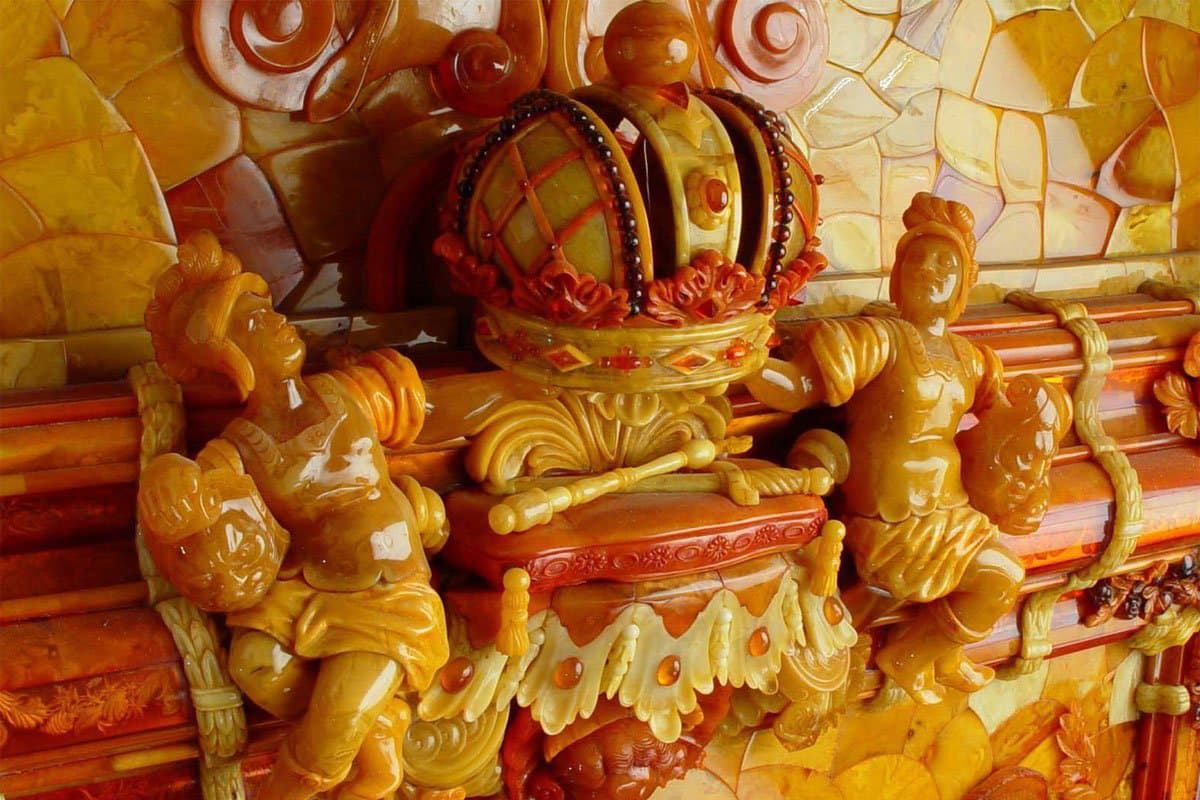 Unfortunately, nothing in this world is meant to last forever, and during the Second World War, the room was dismantled by the Nazis, with its various pieces taken to unknown locations. The modern exhibit showing the Amber Room that can be seen in Tsarskoye Selo is the result of the painstaking work of modern Russian masters who have recreated preserved sketches. In her collection, Lydia places great emphasis on this rebirth.