Harry Winston – The Jeweller's Secret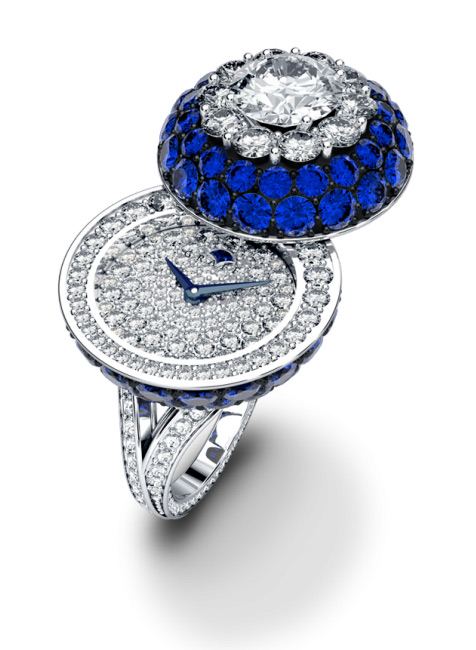 The New Year may have already arrived in style but that doesn't mean we need to bid farewell to 2015 just yet, especially when the year has so much to offer by way of amazing jewellery and watch discoveries. So, before we turn to what is in store in the Year of the Monkey, let's just refresh our memory as to some of the masterpieces of the Year of the Goat, starting with the best jewellery watches…
At first glance, this one-of-a-kind secret watch looks just like a powder compact, with a mother-of-pearl casing featuring five pink pearls, 752 diamonds and 48 pink sapphires. Then you lift the white gold cover and, lo and behold, there is a mirror on one side and a watch face framed with diamonds on the other. The clear stones are woven in a patter which recalls the key motifs of Harry Winston's famous Cluster collection. The designers of the US jewellery house have excelled themselves with this one, an excellent showcase of their innovative approach to jewellery and watch design.
Another unforgettable watch with its own special secret is Graff's 'Secret Halo' watch, designed by the British jewellery house not to be worn on the wrist as you would expect, but on your finger as a ring. A lid decorated with diamonds and coloured gemstones moves aside to reveal a miniature watch face. Graff have released four colour variations of this unusual design: white with diamonds, navy blue with a sapphire 'halo', red with a ruby 'halo' and green with emeralds. The watch-rings are a part of women's jewellery watch collection, Halo, that also includes more traditional watch designs.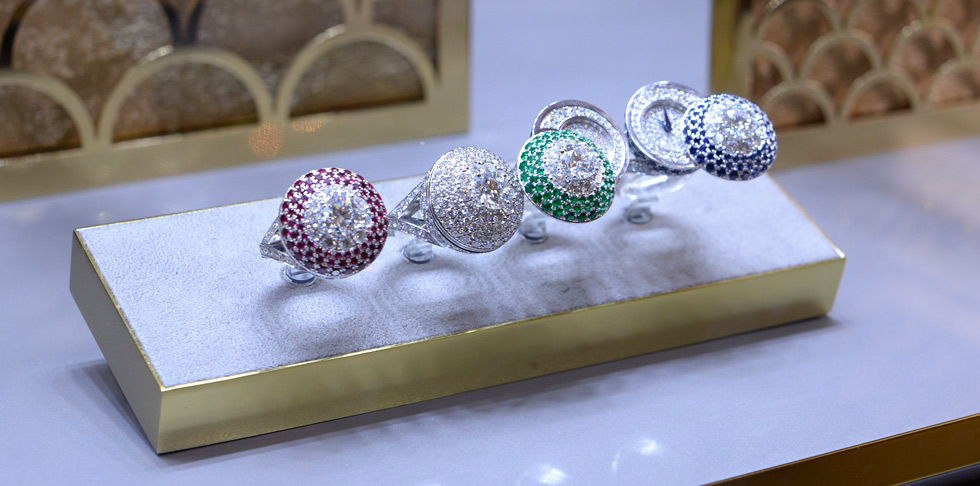 Graff – Secret Halo Watch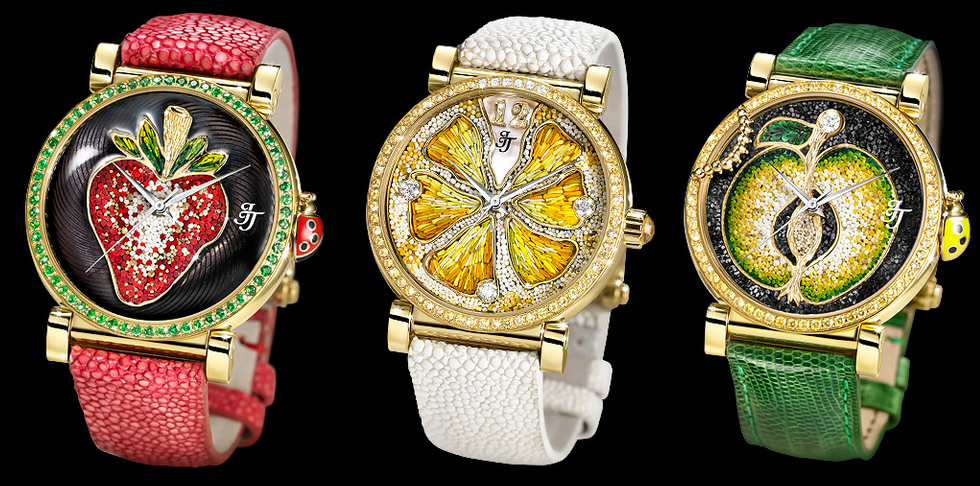 Jewellery Theatre & Sicis – Caravaggio Watches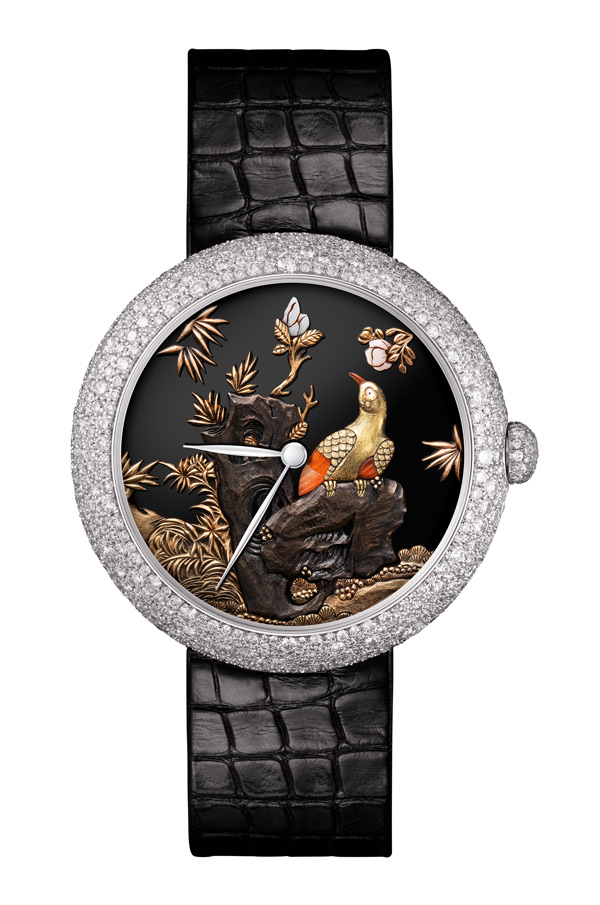 Chanel – Mademoiselle Privé Coromandel Glyptic Watch
Last year saw a fruitful collaboration between Jewellery Theatre and the Italian brand Sicis, who specialise in the complicated technique of micro mosaic. The result was five bold and extravagant watches which combine fruit and vegetable motifs made using tiny pieces of ceramics with multi-coloured sapphires, rubies and diamonds. The fruit and veg in question – chilli, apple, lemon, orange and strawberry – has all previously featured in Jewellery Theatre's signature Caravaggio collection and now can be found decorating Sicis's watches too.
Chanel never ceases to surprise us every year with its technical prowess and creative choices in the field of watch design. In 2015 the brand released a line of watches dedicated to Gabrielle Chanel with painted faces decorated with images of Chinese screens (coromandel). Mademoiselle Chanel always loved decorative screens; they were an integral feature throughout her apartments, and now the birds that adorned them have migrated to the faces of Chanel's new watches. What really makes these pieces of jewellery special, however, is the fact that the designs were realised using the antique glyptic engraving technique.
This 38mm rose gold and black ceramic watch, with a face bordered by diamonds and decorated with feathers, forms part of the Dior VIII Grand Bal line. Every piece in this collection brings to life elements of high fashion, in particular recreating the way in which the fabric of an evening gown, be it silk, satin or organza, flutters and floats on the breeze or in the excitement of a dance. The light feather fan on the 'Cancun' cocktail watch is a particular highlight, opening and closing with each passing minute, creating the illusion of a twirling skirt. Versions of the watches have been made in white and blue. KP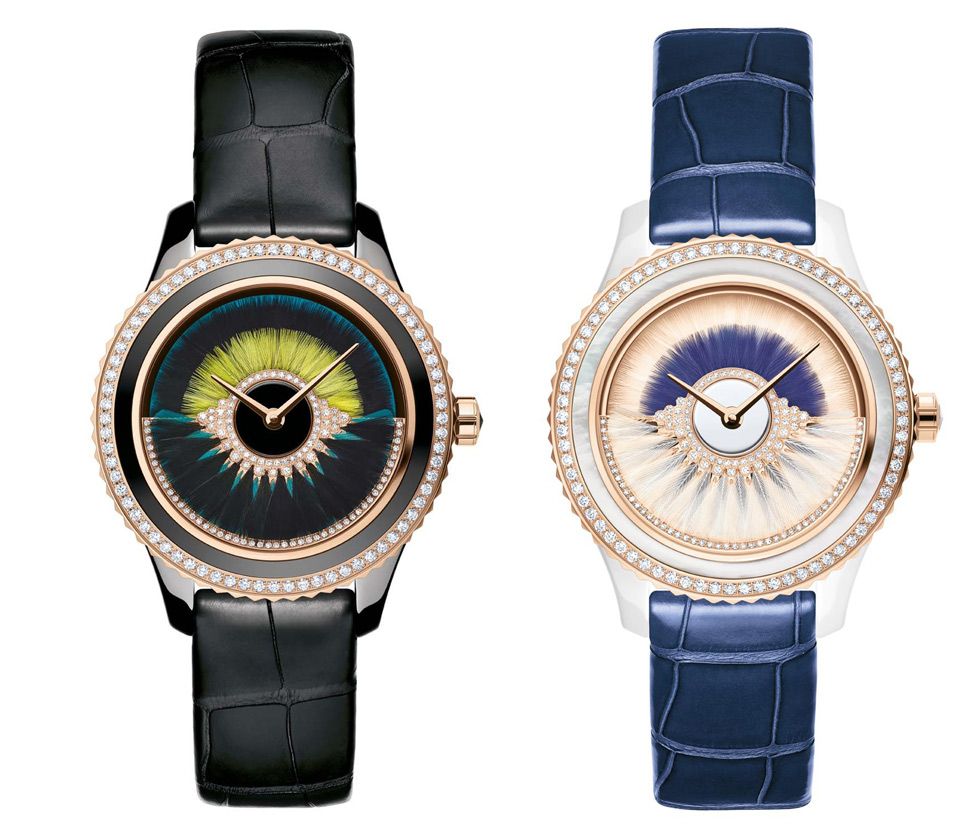 Dior – Dior VIII Grand Bal Cancun Watches