Antonio Seijo works with several workshops in different countries. He entrusts some creations to jewellers in Spain, but most are worked by craftsmen in Paris. The pieces made of titanium, like the Wave bracelet are inevitably worked in Geneva, where he has his showroom, besides another one in Marbella, Spain. "Almost every piece of jewellery, including the Wave bracelet, starts from a drawing. I have been sketching jewellery for many years now and I don't think I'll ever stop," says Antonio Seijo. "I am very influenced by the colours and shapes I see in nature, like the patterns you find in wood, the earth itself or the curve and movement of a wave."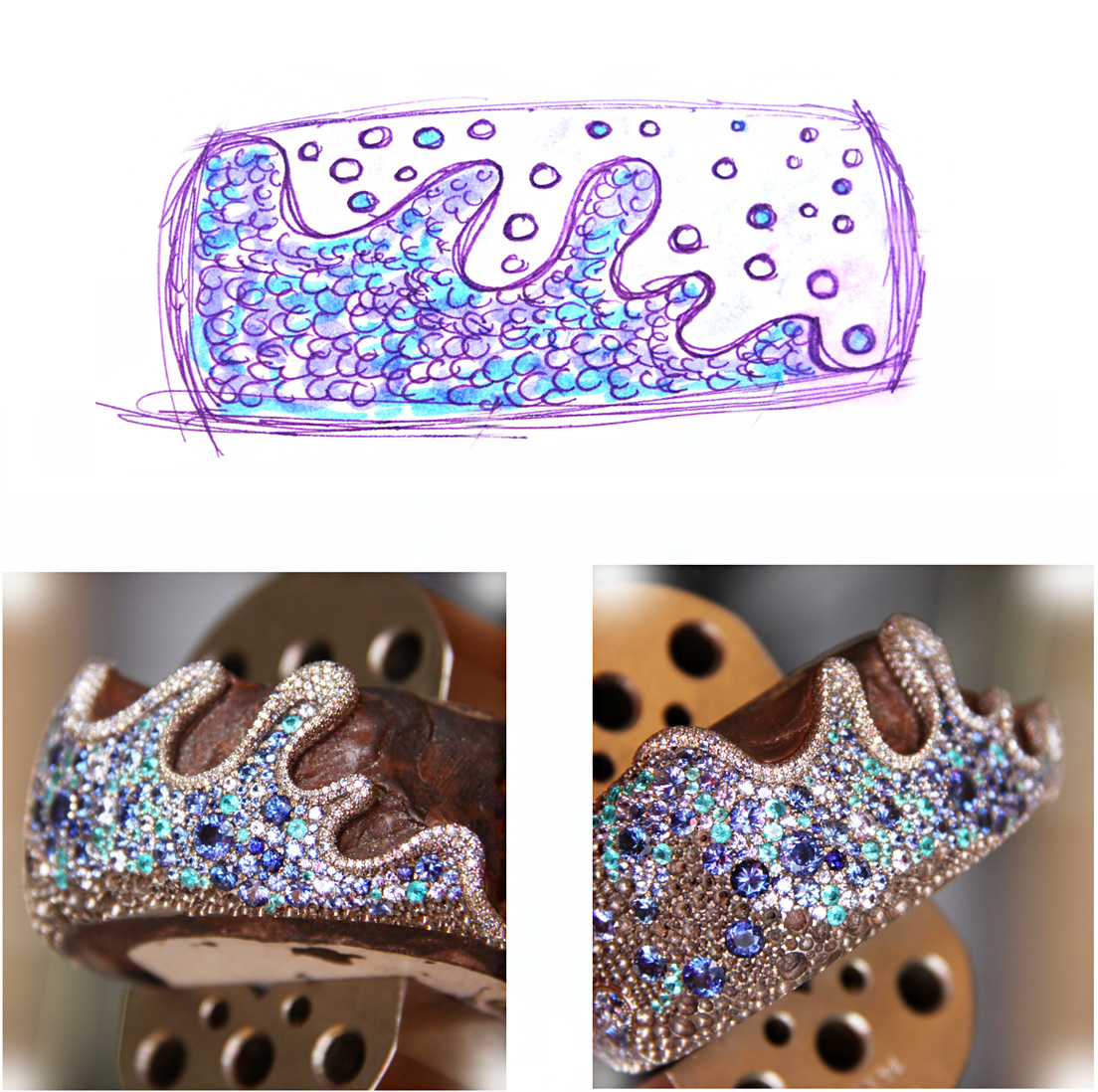 "Why not?" says Antonio. "We all see different things in glittering lights and movement. Sky, water, light, reflections, stars – whatever we like. Waves are in constant and irregular movement, which fascinates me. I like irregular forms a lot, normally more than total symmetry, though that can also be beautiful."An excellent piece of jewellery will always have a subtle and beautifully worked back side, to make it into a real objet d'art.
Antonio Seijo pays close attention to the hidden parts of his jewellery, and in the case of his Wave bracelet, he also shows the wave on the inside curve, even going so far as to give it droplets of round diamonds, sapphires and Paraiba tourmalines on the inside. It's as if a wave has struck against the rocks with great force and some of the spray has splashed onto the underside of the bracelet. Incidentally, even though the bracelet is created as a one-off piece, the Spanish designer has made a pair of matching round earrings in gold and titanium, with the same stones as the bracelet. Indeed, Antonio emphasised this when we met: "I love round forms as they mirror the planets, and there is a natural tendency in nature toward roundness which has to do with the force of gravity. So I used lots of round elements along with diamonds, Paraiba tourmalines and sapphires on this bracelet".