Van Cleef&Arpels Columbian Emerald Earrings
With Spring breathing new life into nature and everything turning green again, I was moved to write about the emerald, the birthstone for May (I know – it was bad of me not to write something sooner). So that this article doesn't read like a series of extracts from a gemmology textbook, you won't find any descriptions of the emerald's chemical composition, its crystal structure or anything about synthetic emeralds here. I want to simply draw your attention to the most valuable variety of green beryls: the Colombian emerald.
Originally, the largest producer of emeralds was India. However, that situation was radically altered when, in the 17th century, Spain colonised Columbia and extracted roughly 18,000 stones suitable for making jewellery.
To this day, Colombian mines produce a "generous crop" of emerald rocks. Of particular renown are those which are mined in the regions where emeralds are primarily sourced, situated roughly eight kilometres from a small village called Muzo. On finding these mines in the 17th century, the Spaniards could never have suspected that within those underground haunts lay emerald deposits that would eventually become models of beauty.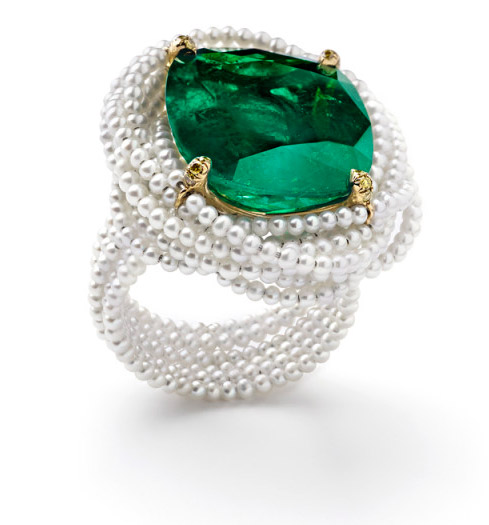 Suzanne Syz "La Colombiana perfecta" ring crafted in yellow gold and titanium. The centre stone is a Colombian Emerald 13.18 cts complemented by 12 Yellow diamonds 0.06 carat and pearls 20.00 carats
The standard by which the colour emerald is judged was set by the crystals mined at Muzo. I managed to find out how they were mined from Nikolai Timoshuk's book Jewellery Secrets (a publication which is unfortunately only available in Russian). The author talks about his unforgettable experiences of visiting the deepest Colombian mines, travelling around in armoured jeeps, long conversations over a glass of tequila and heated bargaining sessions with local fat cat businessmen. After going down the mines himself, where the lack of oxygen after just five minutes of working away with a hammer starts to make you feel like a "squeezed lemon", Nikolai Timoshuk had his views on emeralds completely changed: "Whatever price I paid for them now, it would never be too high! Unlike many other stones, emeralds are not extracted by means of a production line; everything is mined by hand. No gaping quarries, no bulldozers, no explosives. Just a slow laborious drilling process, inch by inch, to a depth of 150 metres…"
Despite the fact that emeralds mined at Muzo are a paragon of beauty, the stones extracted from the Panjshir gorge in Afghanistan (see below) are of no less quality. They are very similar to their Columbian cousins in terms of their chemical composition and for that reason they are sometimes taken for Columbian emeralds in Europe.
Throughout the years I saw various types of emeralds: some were bigger, others smaller, cabochons and faceted stones, clear and cloudy, those that have belonged to the members of royal families and famous people of the 21st century. Of all of them, the ones that have for various reasons "stuck themselves to my memory" are four unusual Columbian stones which I will tell you about next time. KP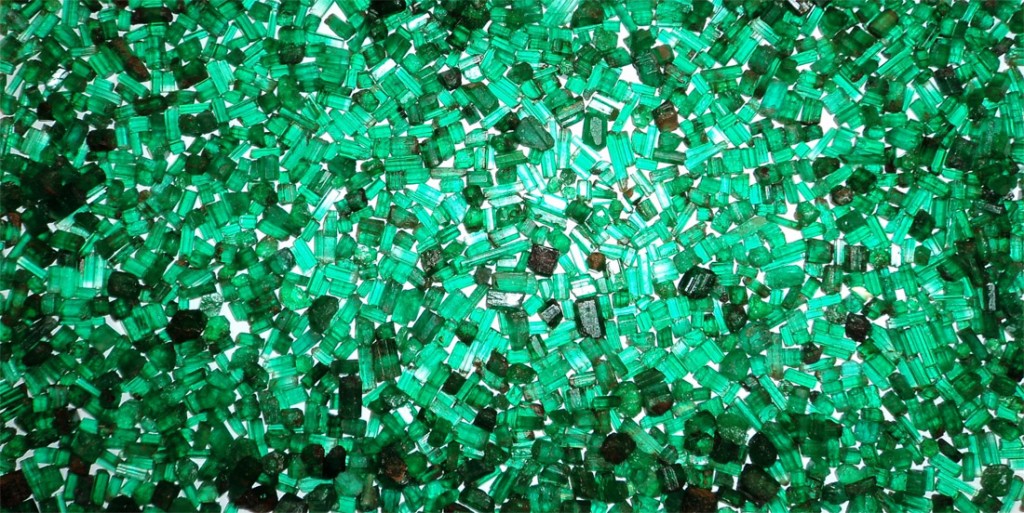 Photo by Barbra Voltaire from www.gemologyonline.com forum