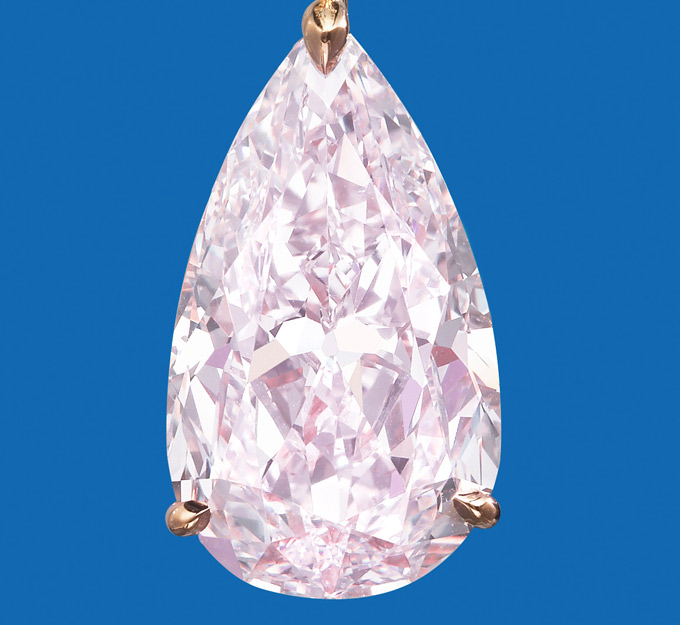 There's barely a week before the rare jewellery and jade auction is held on November 30th at the Bonhams Hong Kong Department. So, prior to the trading event, I would like to draw your attention to a few key pieces.
I have divided jewels and gemstones featured below into several categories and included one article on each of them. It was just impossible to highlight the 10 best pieces with such a huge variety of alluring, rare and truly unique pieces in the Rare Jewels and Jadeite Bonhams catalogue.
Before you browse through the lots, let me tell you about the absolute 'star' of this auction – a pear-shaped fancy, light purplish-pink flawless diamond pendant with the stone weighing 9.21 carats. The estimate price for the piece is $1.5 – $2 million. Last year, an 8.41carat diamond of the same shape, but more intense colour was among the lots at Sotheby's Hong Kong auction. Its estimate ranged between $12 and $15 million, which makes this Bonhams pendant seem like a remarkably good buy.
Read on to find out what other precious pieces ​​will be presented at Rare Jewels and Jadeite auction. KP
A loose colour-change cabochon star sapphire weighing 39.98 carats. It is accompanied by a GRS report stating that the natural star sapphire displays colour-change from violetish-blue (daylight) to purple (incandescent light), has no indications of heat treatment and originates from Ceylon (Sri Lanka).
Est. $ 22,000 – $ 27,000
A pair of natural pearl and diamond earrings. Each cluster centring a button-shaped grey natural pearl measuring 11.5 x 12.3mm and a button-shaped white natural pearl measuring 11.0 x 10.4mm. Diamonds approximately 7.25 carats total.
Est. $ 160,000 – $ 230,000
A jadeite, diamond and coloured diamond pendant and earrings suite with double-sided openwork. Jadeite plaques on the pendant are of intense green colour, each carved as a lotus. The pair of earrings en suite features jadeite white and yellow tint diamonds. Natural colour fei cui (jadeite jade) have no resin detected.
Est. $ 10,000 – $ 15,000
A jadeite and diamond 'Guanyin' pendant with fine translucent carved jadeite (no resin). 'Guanyin' of a rich bright green colour is meditating on a lotus throne, embellished by marquise, pear and brilliant-cut diamonds of approximately 7.60 carats total.
Est. $ 350,000 – $ 450,000
A rare enamel, emerald and diamond 'serpenti' bracelet watch, by Bulgari, 1970.
Est. $ 650,000 – $ 690,000
An important cushion-shaped sapphire and diamond ring. The Burmese sapphire is of natural Royal Blue colour with no indication of heat treatment. It weights 26.43 carats, diamonds weigh approximately 4.15 carats total.
Est. $ 620,000 – 750,000
A rare pair of fancy coloured diamond and diamond earrings.  Each floral earring centring a radiant-cut fancy vivid yellowish orange diamond weighing 2.87 carats, and a radiant-cut fancy vivid yellow-orange diamond weighing 2.53 carats.
Est. $ 360,00 – $ 490,000
An impressive diamond necklace, by Van Cleef and Arpels, circa 1975. Diamond weight is approximately 76 cts total.
Est. $ 230,000 – 340,000
An important fancy colour diamond pendant. The pear-shaped fancy light purplish pink diamond, weighing 9.21 carats, suspended from a chain necklace accented by brilliant-cut diamonds of purplish pink tint and similarly cut colourless diamonds (approximately 3.15 cts total).
Est. $ 1.5 million – $ 1.9 million
An important diamond necklace by Marina B. The front centring a pear-shaped diamond, weighing 2.93 carats, total diamond weight approximately 88 cts total. Colours D-E, clarity VS1 – VS2.
Est. $ 230,000 – $ 320,000