Berries, flowers and insects regularly feature prominently in Ekaterina's work, and the materials she uses include carved stones, gemstones, enamel and pearls. With each new client comes a brand new piece of jewellery reflecting their personality and tastes, which means that every jewel she designs is one of a kind.
KP: Ekaterina, how and when was the Ekaterina Kostrigina brand born?
EK: The Ekaterina Kostrigina jewellery brand was born in 2007 in a family antique shop nestled right in the heart of St Petersburg. The shop had been around for twenty years by then and had a whole world of different artworks under its roof.
KP: So it is not by chance that you ended up in the jewellery industry…
EK: Yes, I grew up surrounded by beautiful, unique things, which undoubtedly helped form my tastes and preferences. By the time I graduated in history from St Petersburg State University I was already able to engage with the antiques I loved so much on a professional level.
KP: Where did you start?
EK: The clients of our shop often wanted to add to an antique jewellery set with a brooch or a ring, or make up for a lost earring, and I enjoyed making their wish a reality. That was the first work I did.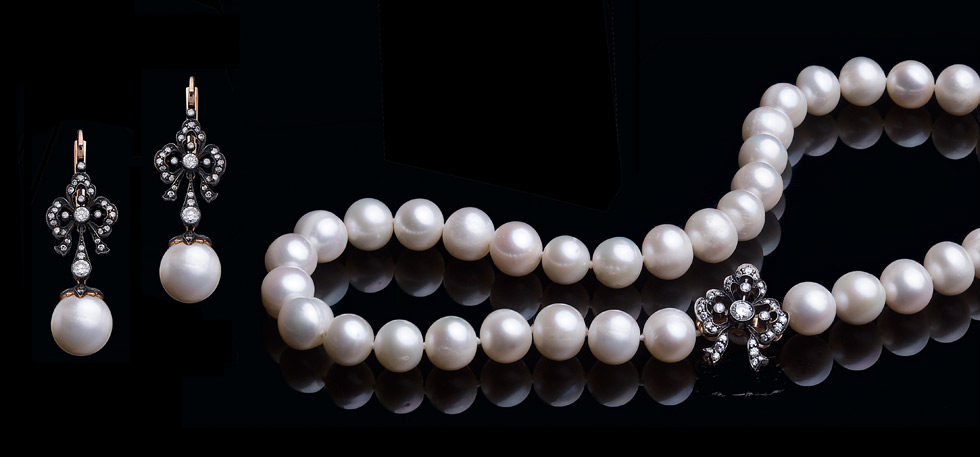 KP: You are one of a few designers that regularly produce brooches. Why the emphasis on this particular jewel?
EK: Personally, I just love brooches. When I had only just started making them they were not in fashion at all, everyone thought of them as the kind of think you find in your grandmother's jewellery box. But many clients shared my love of brooches when they saw my work and here we are a few years later and they are all the rage! Jewellery art is a creative endeavour, and the jeweller cannot simply keep making the same things or you just become a craftsman. Right now, for example, I am more into working with earrings and bracelets. But I will not forget about my brooches – they are very much my trademark.
KP: You employ unusual old fashioned techniques when making your jewellery. Which came first, your interest in them, or the customers interested in this type of jewellery?
EK: It was definitely my interest that came first. I certainly could not design something if I was not totally in love with it. It is very important to me that I like the jewellery I create. It may even be the number one criteria.
KP: What other criteria are important for you in your work?
EK: I use all manner of techniques when bringing my unusual ideas to life, from antiquated methods to the ultra-new. My team is made up of true masters of their craft: jewellers, artists, stonecutters and enamelers. All of our jewellery is made by hand and, while we do not ignore current fashion trends, we value jewellery that is organic and beautiful above all else.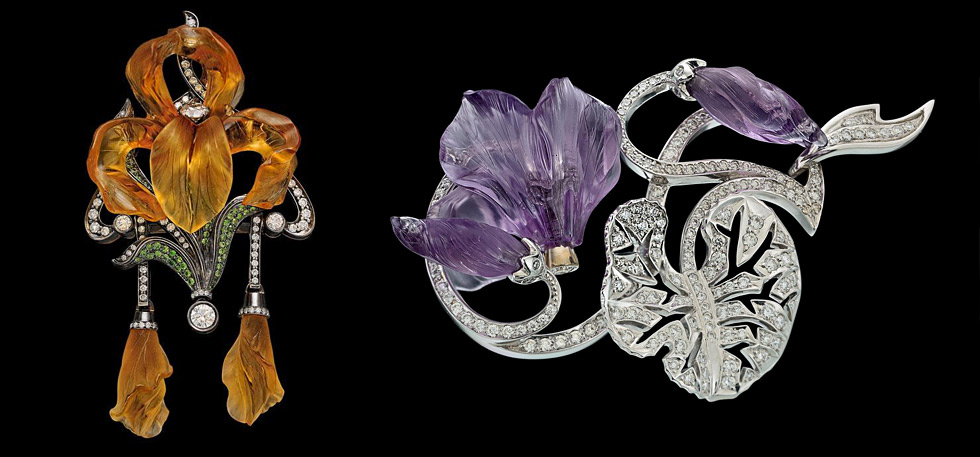 KP: I noticed that many of the large stones in your jewellery are attached using the Russian bezel technique. It was popular in the 18th Century, but what do your customers make of it now?
EK: Lots of my clients like jewellery which incorporates vintage bezel. It is the perfect frame for classical jewels. The stone is fixed in border made from a thin layer of metal wrapped round, making the whole thing look more decorative while increasing the volume and shine of the stone. You hardly ever come across this type of setting technique these days, and it has to be done by hand. The metal border has to be cut manually into very fine layers, making it an incredibly labour intensive process.
KP: You are pretty much the only jeweller in Russia who regularly uses stones carved as flowers and fruit motifs in your designs…
EK: Yes, I work a lot with stone-cutting technology, but there are two techniques which are also featured in my jewellery: filigree and combining metals. I love mixing silver and gold in one jewel, it creates a nice contrast and gives the jewellery volume. It is another old fashioned technique, but it looks just as good in contemporary designs.
KP: Vintage techniques aside, the most striking feature of all in your jewellery are the gemstones.
EK: Exactly. Gemstones and baroque pearls I love, but my absolute favourite have to be opals! I love working with the landscape effect of the stones – the patterns on every opal are totally unique. I begin by studying them to try and get a sense of their character, and then I come up with a design to fit that. I find opals not just mystical; they are an absolute explosion of passion and emotion.