Roger Mathon, who founded Maison Mathon in 1931, had a special passion for painting which guaranteed that bright colours would always play a crucial role in the brand's jewellery. Aude Mathon and her husband Jean-Baptiste have been at the helm of the family business since 2017. Under their leadership, the brand has strived to preserve this heritage - while at the same time continuing to introduce innovative methods and ideas into their collaborations. It was this approach that has allowed this kind of collaboration between Mathon and Piot to take place.
The drawings of earrings, rings, bracelets and necklaces are the work of Émeline Piot, while their physical embodiment is from the hand of the masters of Maison Mathon. They make use of traditional, time-tested techniques that French jewellers have passed from generation to generation. Each stage of the creative process is done by hand in the House's Paris workshops and this human touch – with its evident sensitivity and sensuality – ensures that no piece in the collection can be repeated. At the same time, Émeline's design required the Mathon jewellers to innovate in some of their creative processes, in order to achieve the uniformity for which the collaboration strove.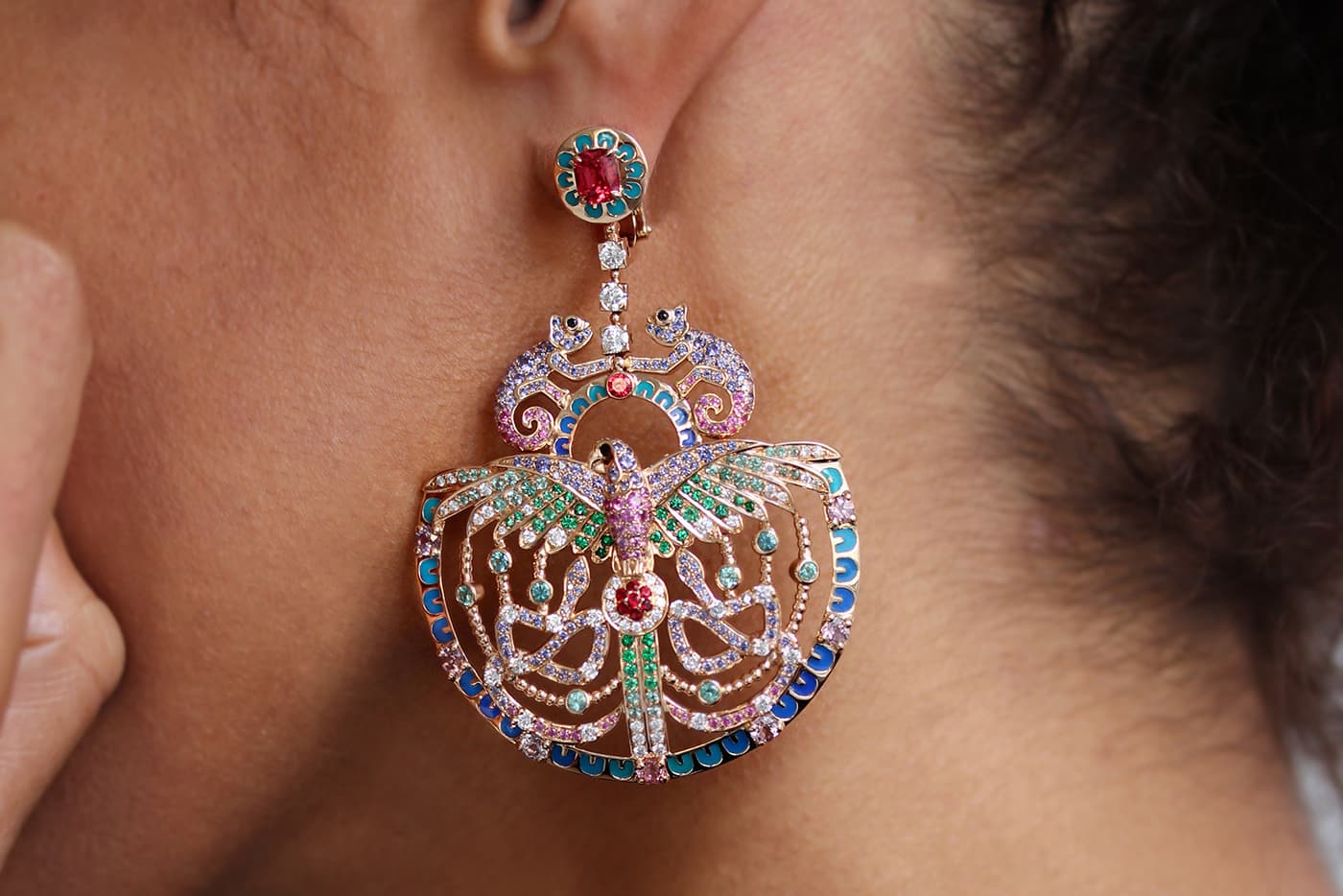 The style of Émeline Piot is harmonious with the spirit of Maison Mathon, bringing to the work a special vision of nature and mythology. This harmony finds its embodiment in gold and bright precious stones – emeralds, spinels, garnets, sapphires, tourmalines and, of course, diamonds. It was thus that ten stunning works, fashioned as miniature sculptures, came into existence. "Nature does not tolerate emptiness," the artist said, explaining the profusion of colours and symbols that are so ubiquitous within her work. To make it easier for you to decipher the purpose of the collection, you must separately note that Émeline is a synesthete. That is to say, she sees colours where they are not literally present: in music, poetry, letters and numbers. Paradoxically, working in black and white allows all of the colours of her imagination to explode.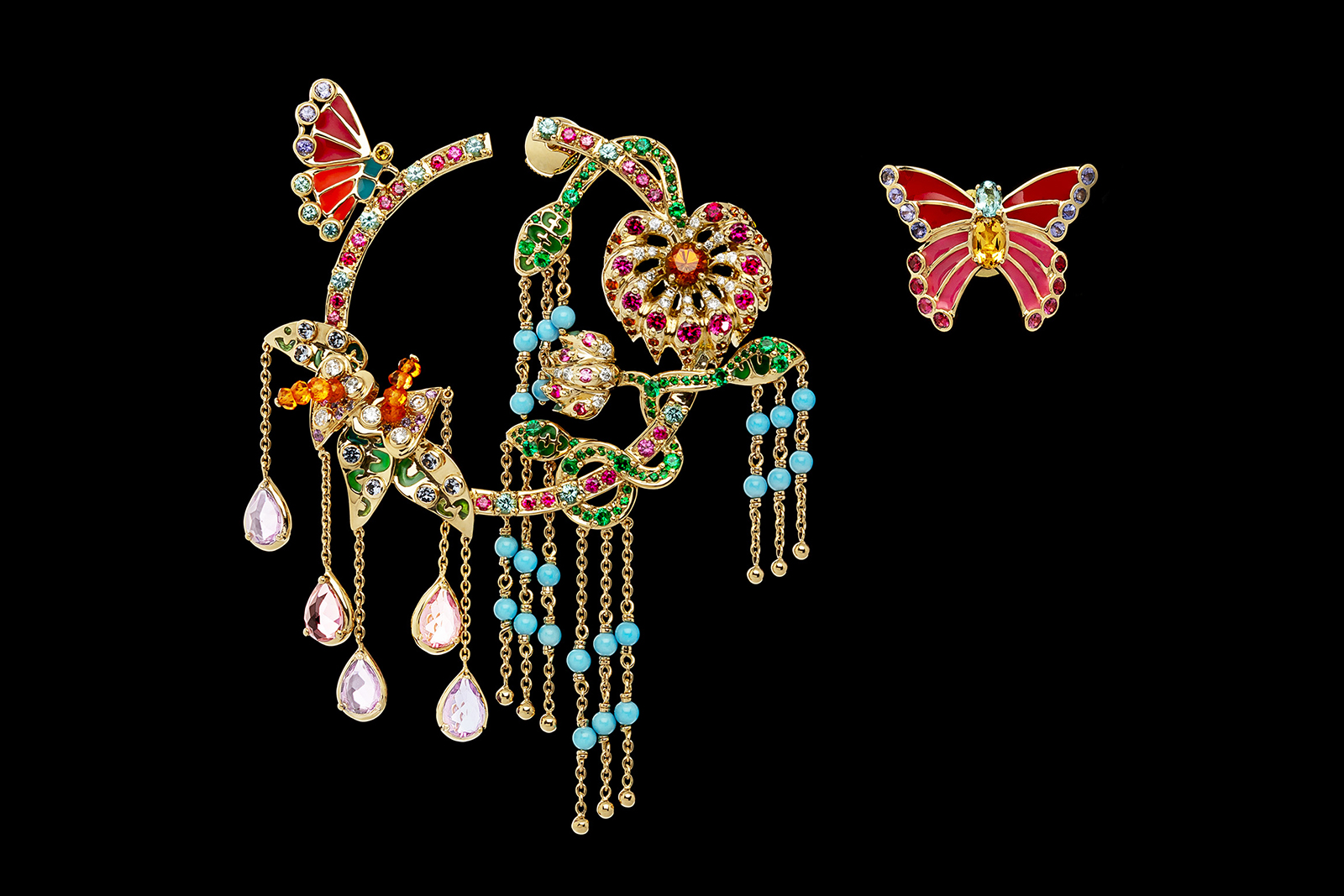 This total love of colour ensured that there would be only one piece of black and white jewellery in the entire collaborative collection – a 'Janus' necklace with colourless diamonds and black spinels. In some respects, it is a way into the collection as a whole; a link between the sketch as an object of fine art and as the basis for the physical jewellery collection.
The collection also included three more necklaces: 'Anqa' – with amethysts, moonstones, emeralds, black and red spinels, spessartines and diamonds – is a piece dedicated to the legendary bird blessed with impeccable beauty; 'Nyiama' – tourmalines, sapphires, iolites, beryls, opals, spinels, carnelian, and rhodolite – draws on the unifying life force that is said to be found in every living thing: person, plant and animal alike; 'Ser' – with aquamarines, rubellites, tourmalines, spinels, citrines, sapphires, tsavorites, spessartines – recalls the lions guarding a sacred temple and its treasures. The last of these necklaces combines 1,280 gems, each set with astonishing precision.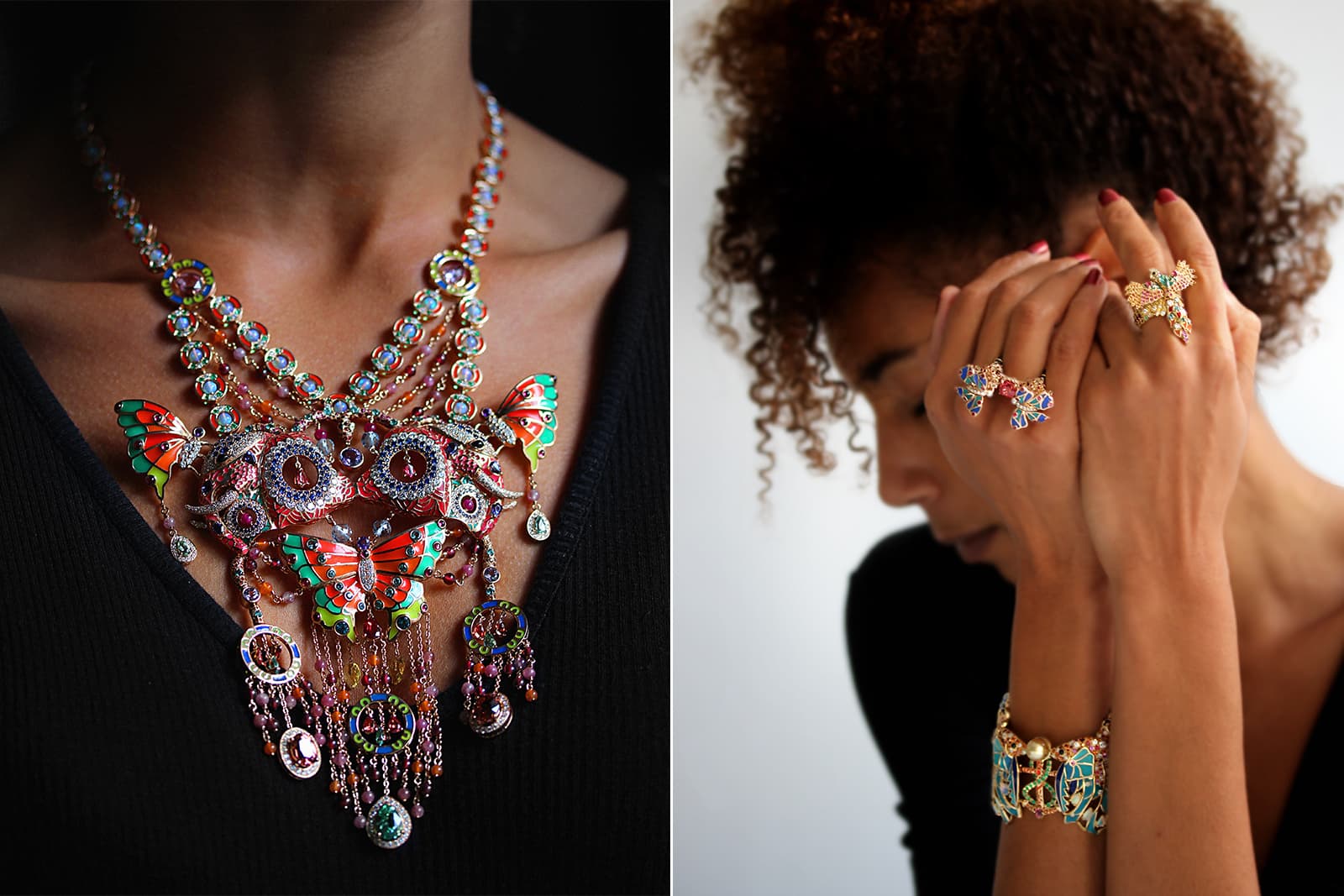 'Unique' also includes other types of jewellery with an equally broad range of ideas and an impressive set of coloured gemstones. For example, a 'Pisces' cuff bracelet composed of 18 Australian opals recalls the legend of two fish – symbols of love – which turned into the constellations of Venus and Cupid. It should be noted that the fact that the jewellery here was not drawn by a jeweller, but rather by an artist, is the source of the attention that the collection so effectively draws. So, the 'Gor Orisa-Nla' solo earring – inspired by the legend of the people of Kong, as well as tribal jewellery and the great natural abundance of the African continent – is attached not only to the lobe, but also to the upper part of the ear.
The collection's creativity knows no bounds. When true masters come and work together, true masterpieces are invariably born. If 'Unique' is anything to go by, then I certainly hope that Maison Mathon continues this practice of interdisciplinary collaboration!