The great Italian architect Andrea Palladio created many of the architectural structures in the city of Vicenza, and the city centre's inclusion in the list of UNESCO World Heritage sites is due - in part - to these. The international jewellery prize was held on 19th January at the Palladio Fiera di Vicenza Theatre which - like the Andrea Palladio International Jewellery Awards -also bears the name of the prolific architect.
The prestigious ceremony saw the 'Best Italian Jewellery Collection' rightly awarded to 'Underwater World' by Palmiero – and the judge's choice came as no surprise to me. I still remember how the collection's inhabitants of the deep sea, encrusted with colourful gems and miniature pearls, caused a sensational wave at the Baselworld exhibition in 2015. The judges of the Andrea Palladio International Jewellery Awards chose a collection that stood out from the crowd for its novel subject matter and highly skilled conception.
The winners were determined by an expert international jury chaired by Franco Cologni, founder of the Fondazione Cologni dei Mestieri d'Arte. The other members of the jury included: Silvana Annicchiarico, Director of the Triennale Design Museum; Alba Cappellieri, Professor of Jewelry Design at the Polytechnic Institute of Milan; and, Claire Phillips, Curator at the Victoria and Albert Museum in London.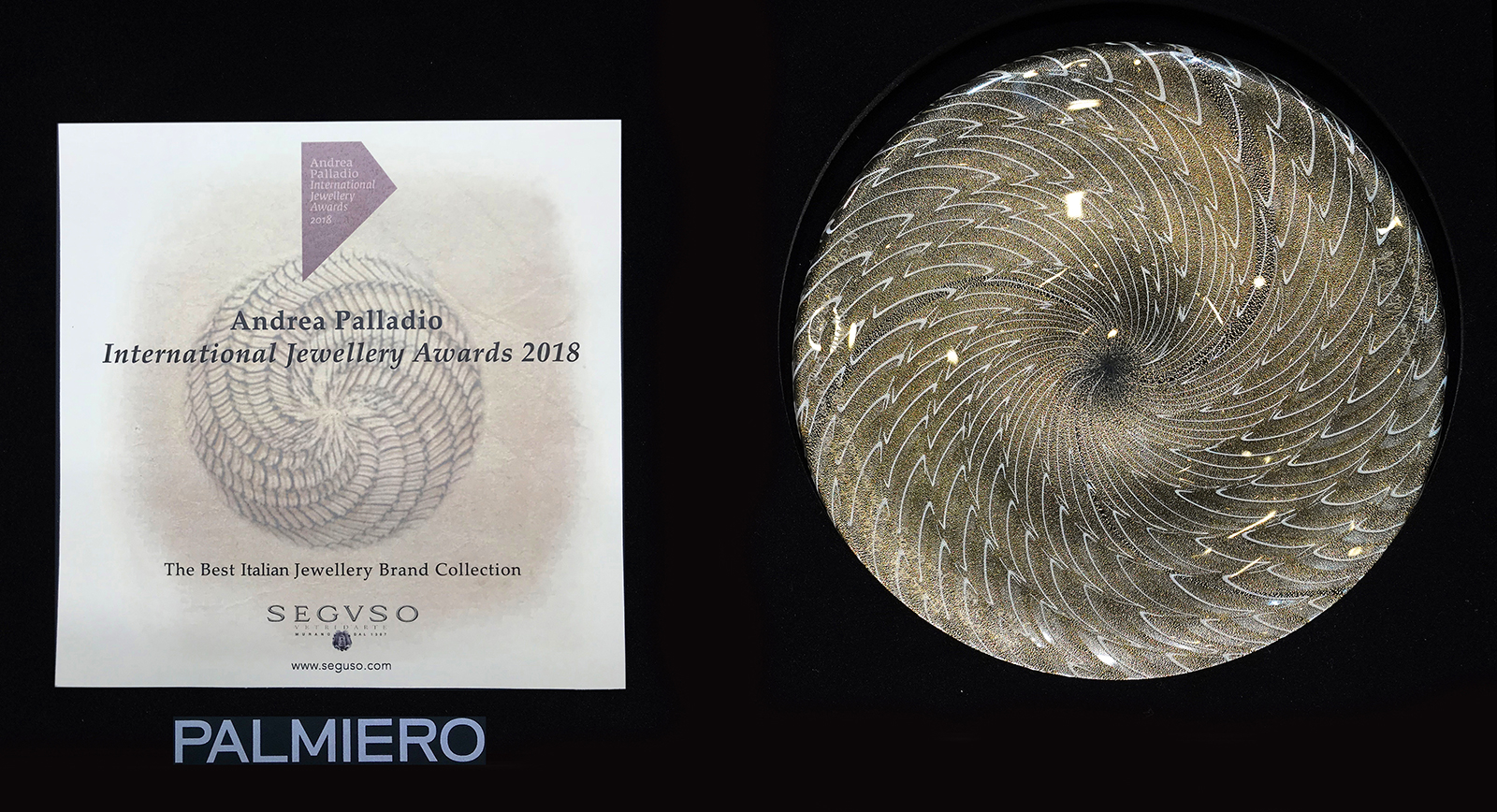 Luca Palmiero, the son of the company's founder Carlo Palmiero, said: "It is always an honour and a great pleasure to receive an award. We believe it is a testament of the hard work we do every day in order to create new designs and innovate, ensuring the best quality of the 'Made in Italy' concept for our clients."
Carlo Palmiero always pays special attention to the beauty of nature in his jewellery, and in 'Underwater World' he conveys the theme of water as a magical force, and celebrates the life it fosters. Nature has created many wonderful species, but Carlo paid special attention to the amazing Fighting Fish – a tropical creature with long, undulating fins of incredible beauty. In order to convey their spectrum of hues and the way they abundantly intermingle, the jeweller used his favourite technique: pavé. A myriad of coloured diamonds and sapphires cover the bends of the fish's body, create a fascinating ripple effect of colour and shade. The same combination of gemstones, diluted with snow-white beads of differently sized pearls, was designed to recreate the even more diverse and unpredictable element: water.
Of course, famous jewellery houses with a history were also noted at the event. So, the Tiffany & Co. flagship store in Milan was named as the best of its kind, and Chanel and Cartier received awards for the best international jewellery collection and the best advertising company respectively. Social initiatives were also recognised: SeeMe was recognised for its social responsibility (supporting women who were subjected to violence in Tunisia and Turkey), and Van Cleef & Arpels received an award for communication.