Soirées filled with music, a whirlwind of ball gowns, secret hopes and dreams, a world of unsurpassed emotions and movements ceaselessly captivate hearts and minds. The new Precious Chopard pieces, inspired by this ambience, were conceived by Caroline as an ideal union of Haute Couture and High Jewellery, realised from a genuine jewellery wardrobe. The colour of their outfits is prescribed by select gemstones: the magnificent 2016 quartet of diamonds, sapphires, rubies and emeralds has this year been supplemented by deep, richly coloured tanzanite. So, what does Chopard recommend you wear this season?
The core of the collection is comprised of exquisite necklaces, earrings and rings, as well as watches that are clearly designed to bring everything closer to reality – it would be so easy to lose your head over the sheer radiance of the jewellery! Start by taking a look at this season's new tanzanite necklace: its architectural lines comprised of 18 karat white gold are unified into a single ensemble by the colourless diamonds weighing 69 carats, along with the intense blue stones weighing 227 carats. The largest tanzanite, decorating the pendant in the centre, weighs in at 26 carats. Earrings and a ring to match the necklace have been added as crowning touches.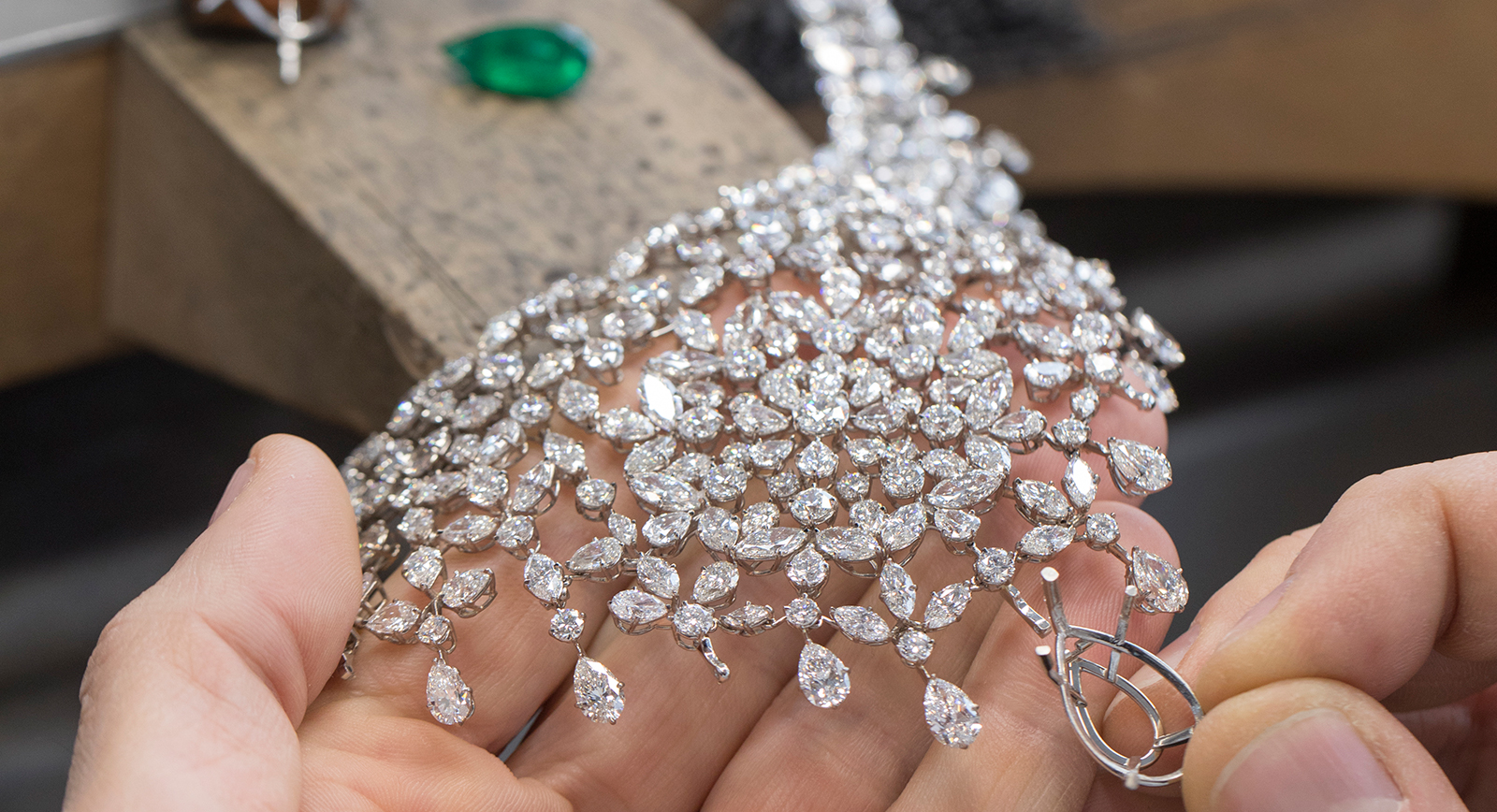 Another - no less striking - necklace has been created with seven pear-shaped emeralds, the biggest of which weighs a total of 18.7 carats; the rest together weigh nearly 31 carats. The floral design around them is made from 113 carats of colourless diamonds affixed to the 18 karat white gold frame. This unique necklace was not left on its own either: the maison's craftsmen worked on a set of earrings and several varieties of paired rings to accompany it. The combination of a necklace and ruby chandelier earrings would most likely suit the tastes of those with the most romantic of natures. Each crimson stone adorning this calm and harmonious diamond canvas has been cut into the shape of a heart. The design of the necklace creates a light and playful impression despite its unprecedented carat weight.
During Paris Haute Couture week, I had the chance to see the new additions to Precious Chopard with my own eyes. I am, once again, convinced that the Swiss brand will continue to succeed in immortalising its proficiency and craftsmanship within the jewellery industry, whilst simultaneously offering its clients pieces with original and timeless designs.