'Stage' is just the right word when it comes to this collection. Imagine the charm of a flower in full bloom spinning in a glittering dance one moment, then suddenly transformed into a beautiful floating ballet tutu.
This is precisely the image that served as the inspiration behind the brand's new collection, described in the following words on the Chopard website: "Imbued with the graceful charm of a blooming corolla and the joyful flurry of a whirling tutu, the Precious Chopard collection appears to have escaped from a dream ballet for which we have created the jewellery and a great couturier has designed the costumes. Delicate and precious, finely wrought and lit up by exquisite gems, the Precious Chopard collection is a lacework of intermingled creativity and emotion".
The gems on display here are equal measures breathtaking and delightful in their brilliance. The collection includes some of the finest specimens of the four most sought-after precious stones in the world: crystal clear diamonds, noble sapphires, vivid emeralds and fiery rubies.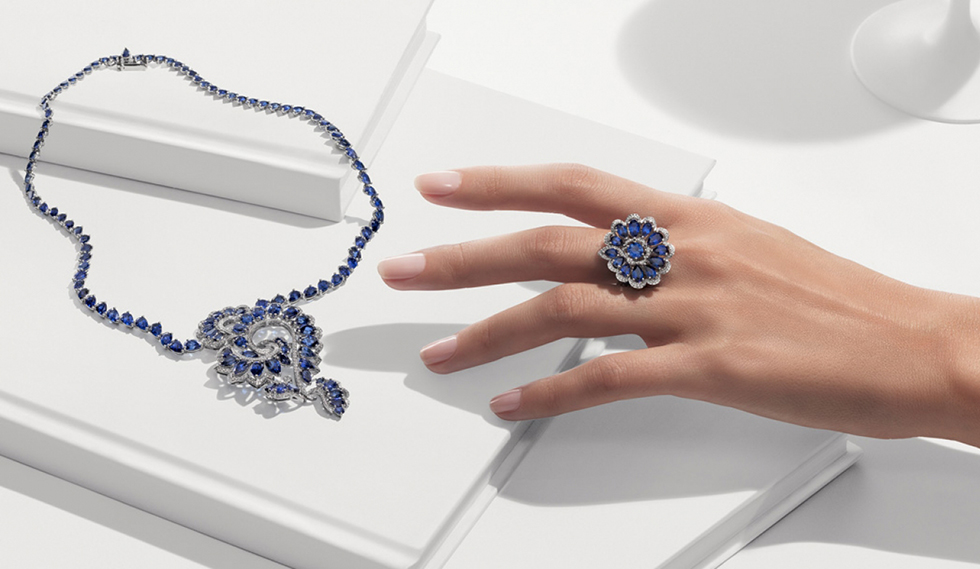 The jewellery in the collection includes earrings and cocktail rings in a variety of colour combinations and a unique necklace, all decorated with a lace-edged petal motif. At the first unveiling of the collection, the pieces were all completed with sapphires and rubies.
The Chopard brand is famous for its watchmaking; every year Caroline and Karl-Friedrich Scheufele show off new jewellery watch masterpieces at the exhibition in Basel. The star of the show this year was the Imperiale Joaillerie watch, but the brother and sister duo also presented two versions of the Precious Chopard watch: one with a satin strap; the other with a precious bracelet embellished with different sized precious stones.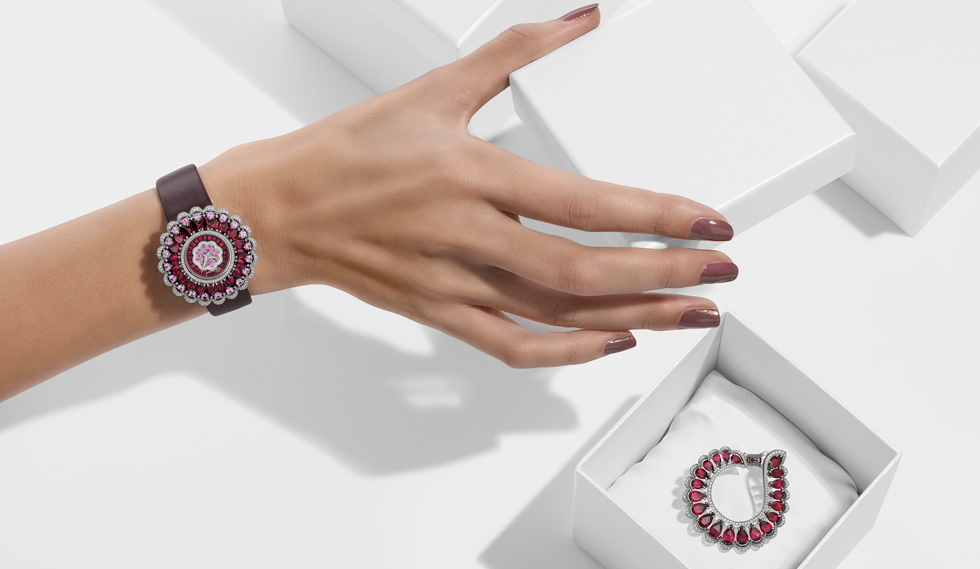 The faces of both watch models are decorated with either a combination of sapphires and diamonds, emeralds and diamonds or sapphires and rubies; or pear or classic round-cut diamonds on their own arranges into a lace pattern. Depending on the colour scheme, the watch numbers are substituted with sapphires, rubies, emeralds or diamonds in a baguette cut; in the centre of the watch face is an elegant flower pattern of precious stones set in snowflake setting.
The Swiss brand's designers have recreated the same lacework pattern across the rest of the jewellery in the Precious Chopard collection to create a unifying theme, applying the same interweaving lines of sapphires, diamonds, emeralds and rubies on the earrings, ring and necklace.