Sunita's collection was released in September this year, and was exhibited for the first time to the discerning public at the Hong Kong Gem & Jewellery show. 'Regalia' is an ode to the magnificence of the two precious stones which have been perennial favourites of royalty and prominent figures; these gems have adorned the indigenous outfits of Indian maharajas, the evening gowns of Hollywood stars, as well as the bejewelled regalia of monarchs and statesmen all over the world – to which the collection owes its name.
"I started designing the 'Regalia' collection in order to create timeless jewellery with valuable stones which can be passed from one generation to the next. These are all one of a kind, rare pieces, whose design is influenced by the timeless art deco style," says Sunita as we discuss her new collection.
The collection includes nearly two dozen pieces with different stylistic inspirations; all of which are unified by the concept of showcasing emeralds to their fullest potential. The gemstones which are the central focus aren't just any green beryls - but the very highest quality examples from Colombia and Zambia, with a minimal number of inclusions and a succulent green hue. Against a backdrop of glittering diamonds, their green colour is all the more strongly defined - creating a playful contrast between the jewels.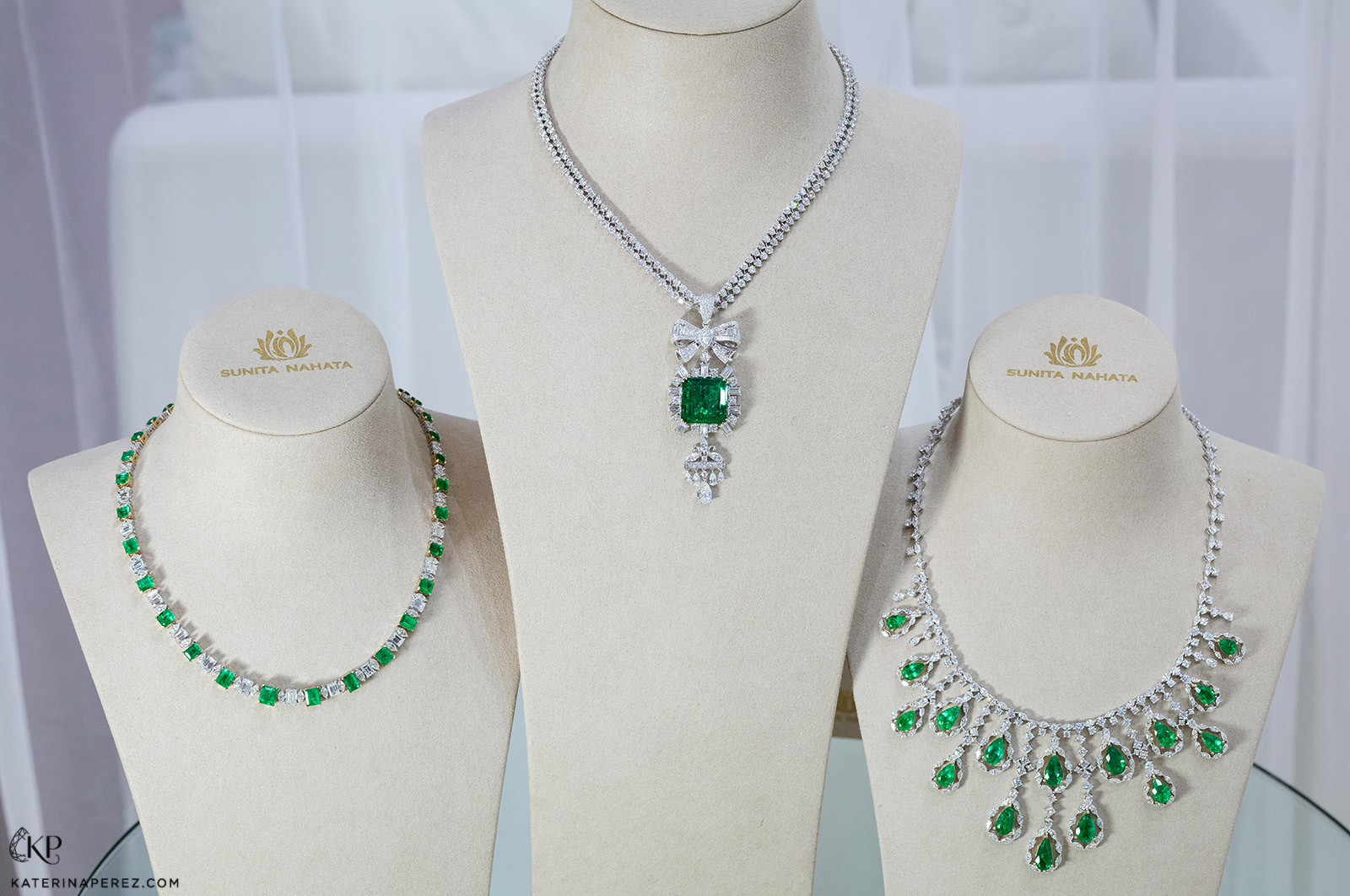 For her inaugural collection, Sunita has not chosen emeralds by chance. She explains this as follows: "My father and grandfather both traded emeralds in Jaipur, so I have grown up knowing these gemstones and understanding their quality from an early age. Needless to say, I have a real passion for emeralds. It is in my blood."
The unequivocal hero of the 'Regalia' collection is the Victorian style 'Star' necklace, with its unique Colombian emerald extracted from the Muzo mine. The stone weighs a staggering 22.31 carats, and its deep green colour is an example of the saturation and tone of old mine emeralds, which are now incredibly rare. Although Sunita often buys gemstones from her trusted network of suppliers, this particularly magnificent emerald is one that she discovered within her family collection. Atop the feature emerald shines a diamond bow, which descends from an elegant chain comprised of two rows of diamonds. This piece can also be transformed by removing the pendant from the necklace, allowing for two different ways to wear one fine jewellery creation.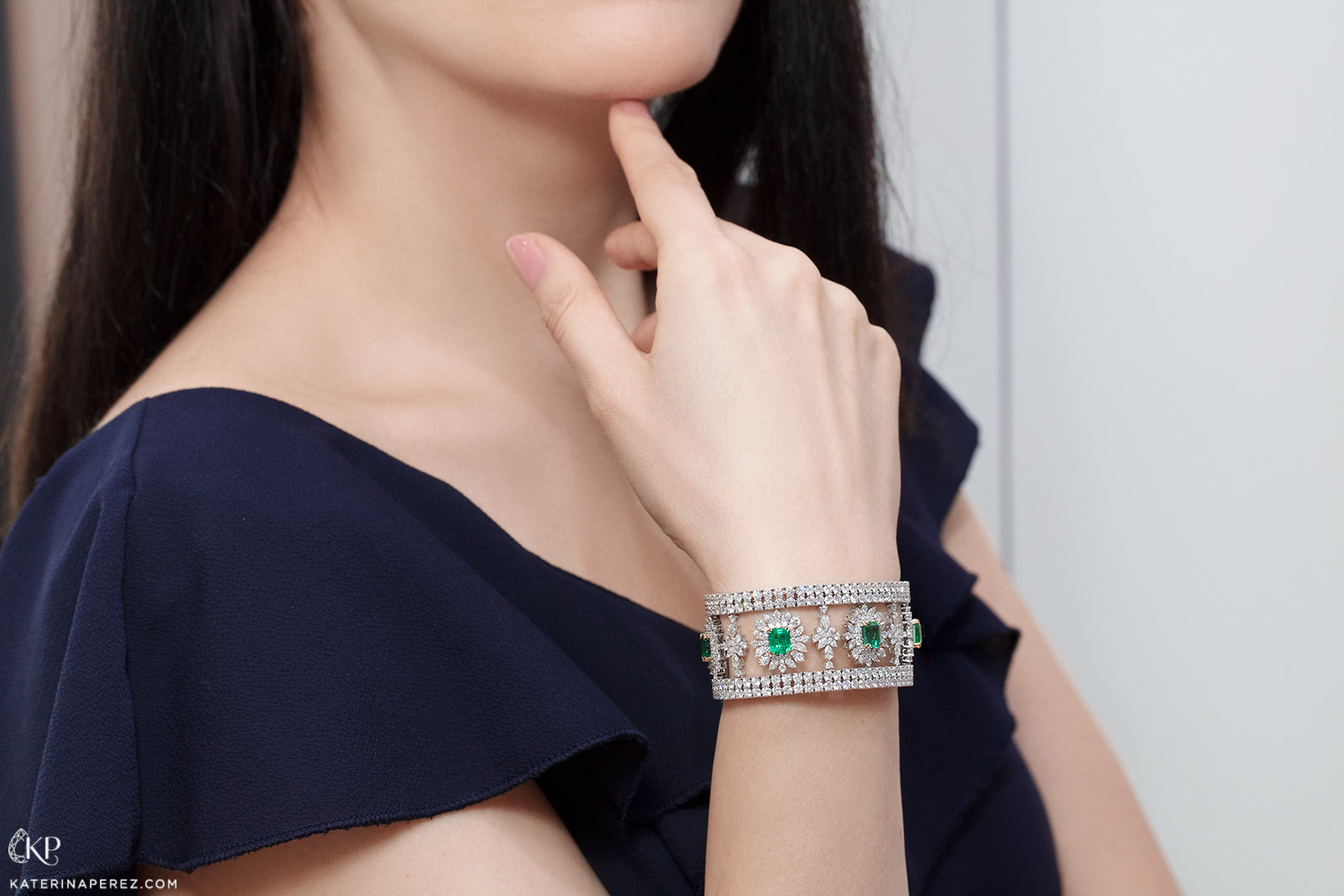 Another stunning emerald design which incorporates gems from Sunita's hereditary collection is a pair of earrings with 10 carat Colombian stones, that have been only gently enhanced with oil. "When I design a piece of jewellery, it's more about the gems rather than the design itself. I don't want to overpower them, because the beauty of the stones diminishes if you over-design. When you're looking at these earrings, it is still the emeralds that speak the loudest, and the framework is designed simply to enhance them," Sunita tells me.
Over the last few years, I have observed an increase in the popularity of emeralds from Zambia - especially in India; Sunita's homeland. The colour of Zambian emeralds has a distinct intensity; the crystals are relatively clean, and the prices are more accessible than that of their Colombian cousins. The better part of the 'Regalia' collection is decorated with Zambian stones - I found the graceful necklace with 81 green Zambian beryls weighing a total of 37.41 carats especially memorable because of its exceptional pear cut gems, which are bordered with a 21.45 carat cascade of marquise cut diamonds.
'Regalia' is a majestic art jewellery collection inspired by Victorian, Art Nouveau and Art Deco motifs, combining timeless design and investment grade precious stones. These pieces are objects of desire, and contain the potential to delight generation after generation with their beauty.