Two years ago, we had the first "boom" in wearing differently designed earrings, something which has gradually outmoded solo earrings, which remained on trend right up until last season. However, mismatched earrings were destined to overtake after the autumn/winter 2016/17 fashion shows at which Alexander Wang, Sonia Rykiel and Ports 1961 showed them in a new light, thereby igniting the public's interest again.
Designers of high jewellery also frequently create mismatched earrings from the most precious materials. These jewellery pieces are in high demand amongst women who are boldly experimenting with their image and like to go for the shock factor. For example, in the collection of American socialite Barbara Hutton, there were diamond earrings created as early as the mid-20th century with central insets made of white pearl in one earring and of black pearl in the other.
At the moment, those doing most of the work in this area are the Australian designer Margot McKinney, the Swiss jewellery house Boghossian, the private Greek jeweller Theodoros and the artisan jeweller Wallace Chan based in Hong Kong. In 2016, I saw a few pieces created by these designers that have lodged themselves in my memory, so I've included them in my Top 5 Mismatched Toi & Moi Earrings.
"Tears can well up out of happiness or grief; indeed, when you're in love, your heart can experience both love and pain equally. These earrings are a testament to those turbulent emotions that a person can experience," comments Theodoros about his earrings 'Symptoms of Love'. They are made to look like a bleeding heard, created with natural rubies, and tear-filled eyes from chalcedony and diamonds.
Margot McKinney's earrings are adorned with black Australian opals that have a combined weight of almost 50 carats. These stones were extracted from the Lightning Ridge mine situated 800 kilometres from Sydney. It is thought that's where the very best opals are found. Those included in Margot McKinney's earrings gleam with a rainbow of multiple colours to match the sparkle of tourmalines, tsavorites, garnets, multi-coloured sapphires and pearls.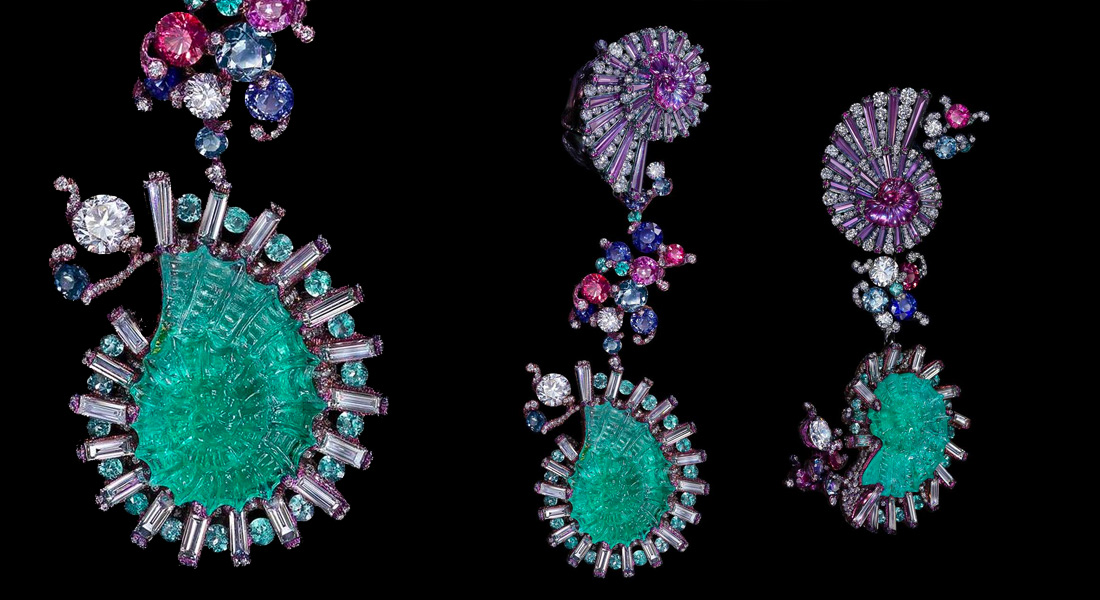 Wallace Chan commands the art of stone-cutting to perfection. For that reason, much of his jewellery is made with precious stones with engraved patterns. His titanium Sea Fairies earrings, decorated with tremendous neon coloured Paraiba tourmaline pendants, cut in the shape of sea shells. The expert also "painted" the earrings with pink and blue sapphires, red spinels, blue aquamarines and diamonds.
Natural sea pearls and clams that contain non-pearlescent pearls with smooth marble surfaces are very rarely found. The jewellers at Boghossian are constantly searching for rare sea minerals so examples of all varieties and colours can be found in their collections. The chances of finding identical natural pearls is practically zero, so Boghossian has used the varying stones from its collection to create these asymmetric earrings in the style of Toi&Moi.
As part of a showcase of jewellery collections in Paris in July 2016, the virtuoso Italian high jewellery designer Giampiero Bodino presented his colourful Rosa Dei Venti earrings. Cross-shaped and made of both diamonds and colourful precious stones, whose shades and shapes resonate with and complement each other. One earring includes a 2.27 carat purple sapphire from Madagascar, and the other a 3.61 carat blue sapphire from Sri Lanka. As with all of his work, Giampiero Bodino was inspired by his native Italy.