In November 2018, 12 one-of-a-kind jewellery masterpieces were introduced to the world at a private exhibition in New York 'Shapeshifter: The Multiverse of Wallace Chan'. Creations crafted in titanium and embellished with sapphires, emeralds, aquamarines, opals, diamonds and a whole spectrum of precious gemstones were all decorated with or encased in the new jewellery material: Wallace Chan porcelain.
The Asian master's truly original and highly recognisable stylistic approach was prominent in all of his rings, earrings and necklaces that served as his interpretations of the world around him and the universe itself. However, despite every piece being truly captivating, I chose to focus this interview on the latest invention - Wallace Chan Porcelain.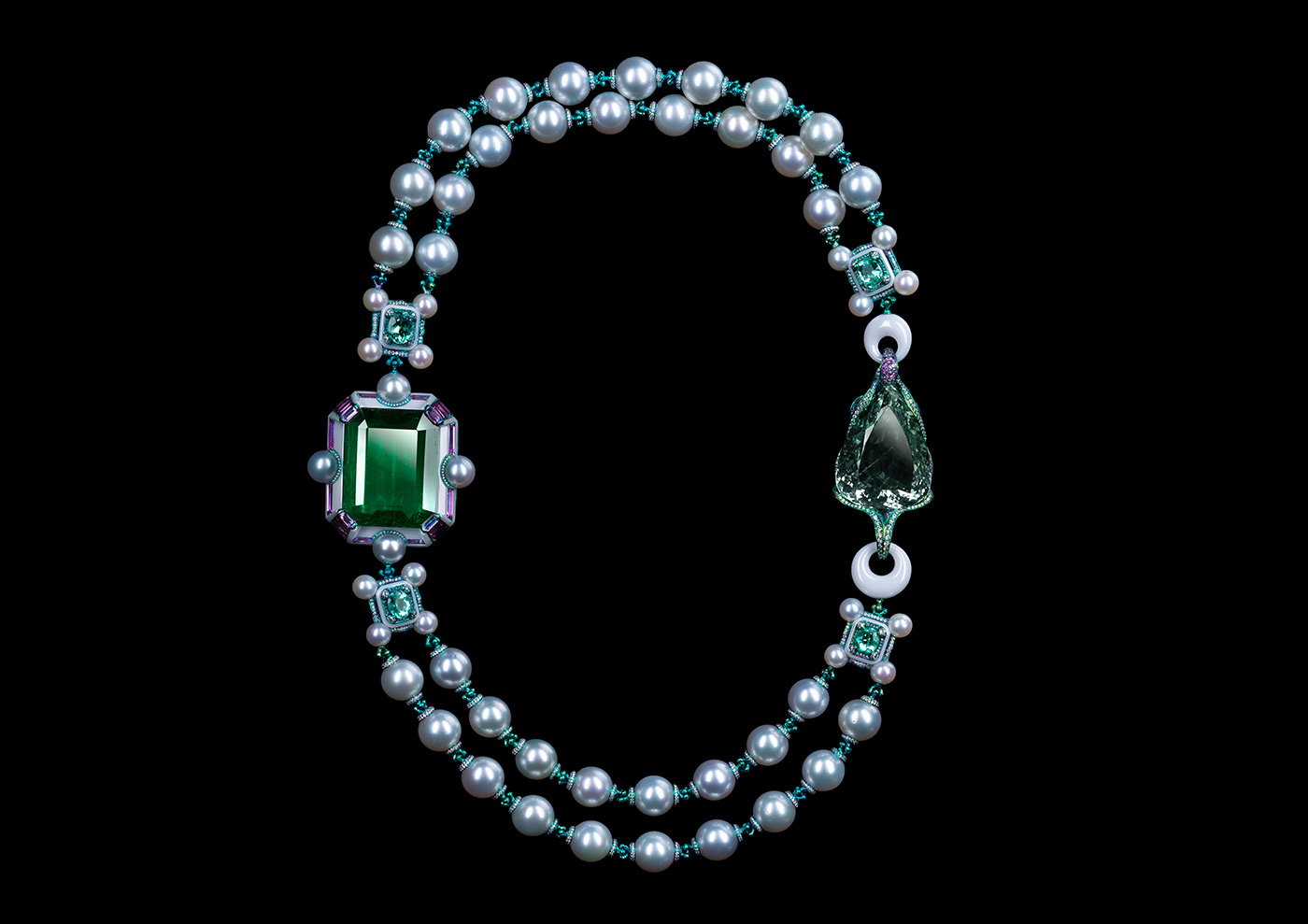 Katerina Perez: Where does this love to do things differently come from?
Wallace Chan: Ever since my first innovation, the Wallace Cut, in 1987, I have fallen in love with innovative research. I love the trial and error, the experiments and all the mistakes I make on the way to discovery.
KP: When did you first become interested in porcelain?
WC: When I was a teenager, my cousin brought home a porcelain spoon. To our surprise, that spoon had belonged to a Qing dynasty Emperor, and my cousin managed to sell it for a price much higher than what he had purchased it for. It was then when I realised the adults in my family were not the only ones who used porcelain - it was in fact, a material for royalty. Porcelain contained culture and history.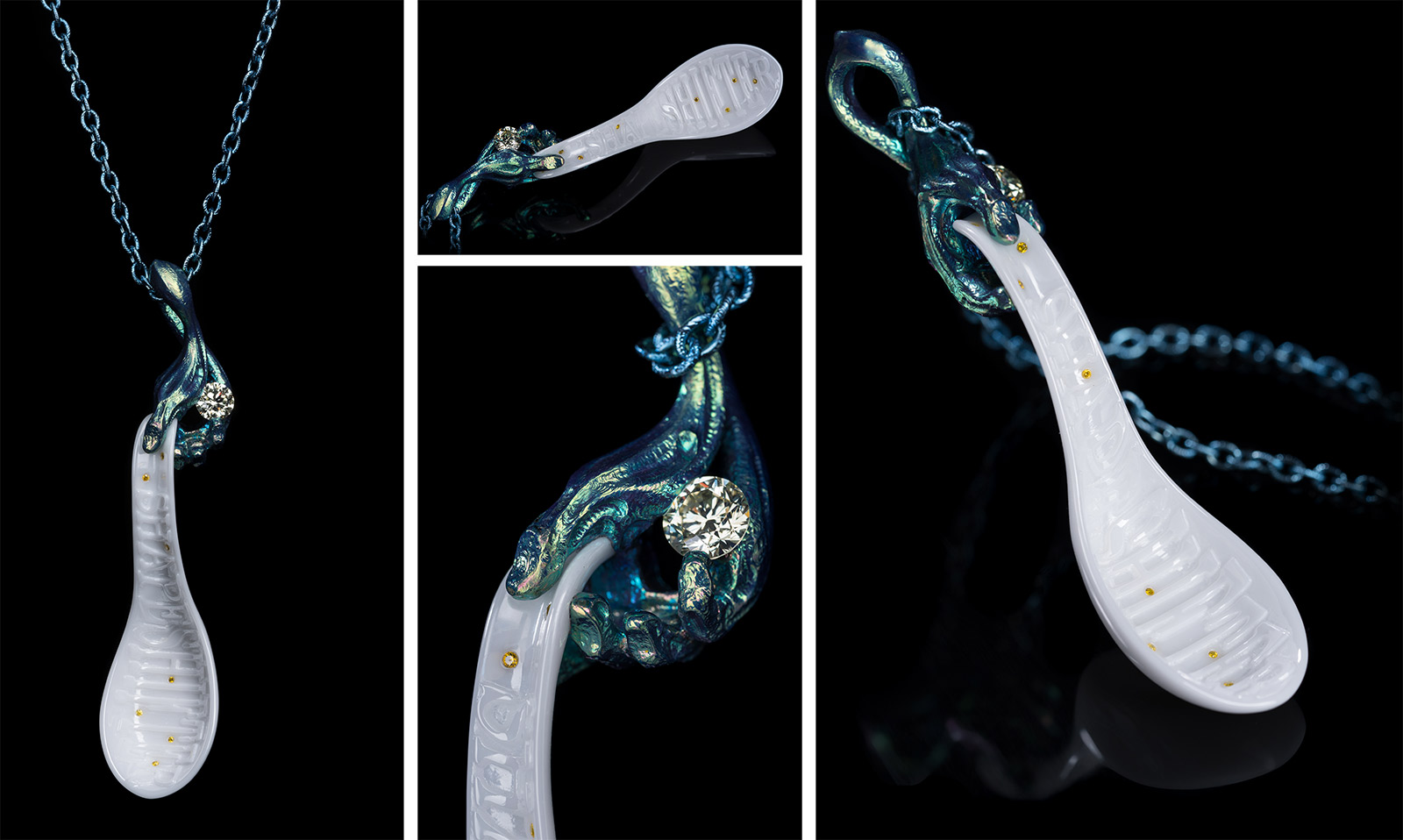 KP: So, you decided to explore further…
WC: Yes, I attended almost all porcelain exhibitions in Hong Kong. I came across a zisha (purple clay) teapot that I liked, re-visited it many times during the exhibition period and decided at last to buy it. I spent three months' salary on it but, unfortunately, cracked it upon first use. Broken-hearted, I kept the lid and some years later, it inspired me to turn it into a ring called Graceland.
KP: The most frequent question you get asked now is whether you would continue working with titanium since you are focusing on porcelain now. What's your answer?
WC: I could never abandon titanium, so my creations will incorporate both materials as together they make each other stronger. Again, it is about the interaction, expanding the creative space and finding harmony among materials.
KP: And it's interesting how even when you were focusing on titanium, porcelain still played vital role in the process…
WC: During the eight years that I experimented with titanium, porcelain helped solve a great problem – the melting point of titanium is about 1,700 degree Celsius, can you imagine what it can do when poured into containers that have a low melting point? Fortunately, I found out that porcelain could withstand the heat to become the mould.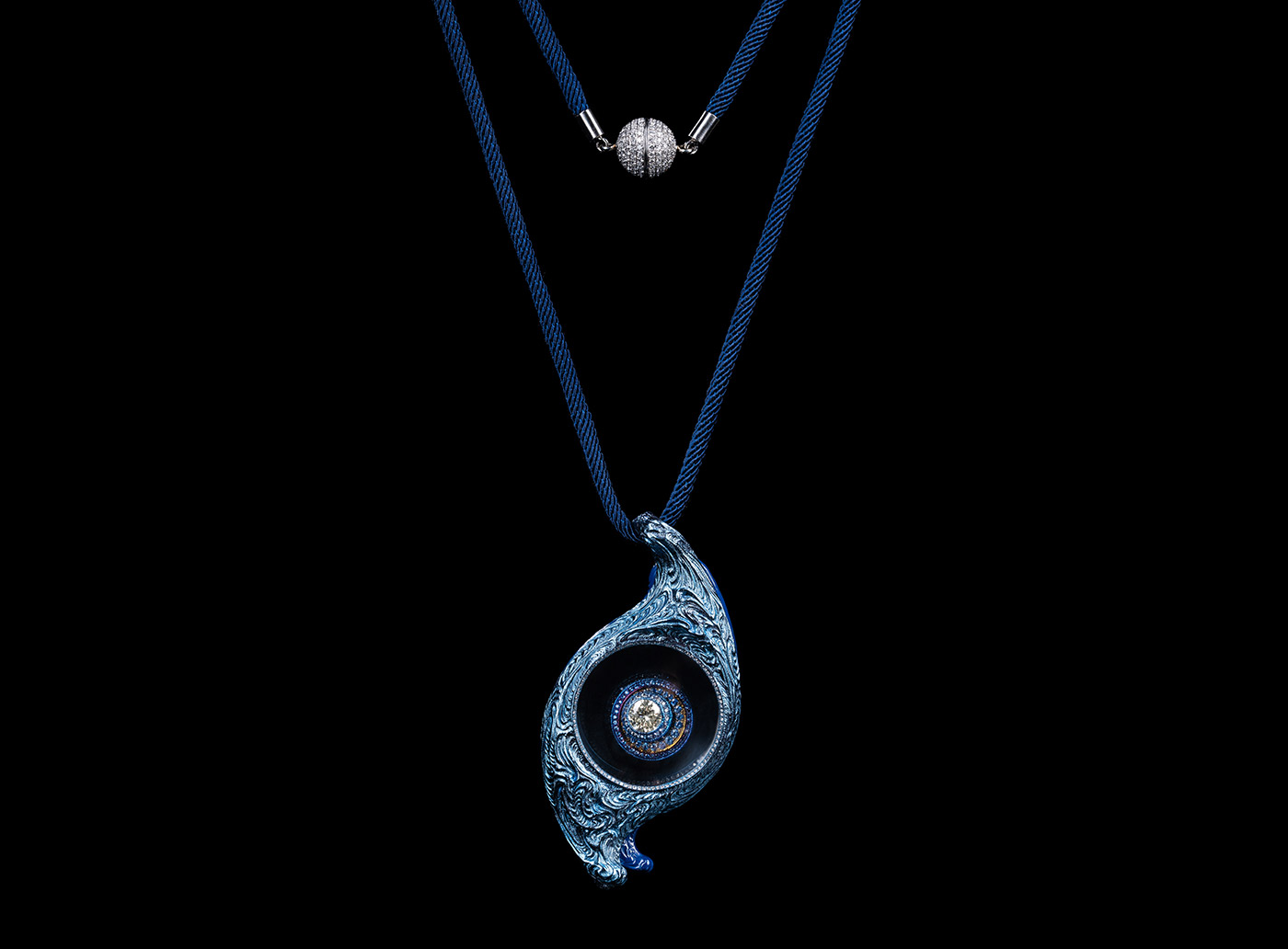 KP: This porcelain's feature was to your advantage then, but has it also caused some challenges for you?
WC: Yes, I had to invent my own oven that can sustain porcelain melting temperatures between 1550°C and 1650°C instead of more traditional 1400°C. I travelled to several countries in search of manufacturers who could build one to my specific requirements before I found two suitable companies in Germany. Ovens had to be a certain size, in order to allow for more stabilized heat, we also had to find the way to standardize and regulate the oven's temperature to my exact specifications for every creation. For example, if at any certain point, the temperature increased too slowly or too quickly (by even a fraction of a degree), the chemical makeup of the porcelain would be altered and I would not be able to achieve the result I desired.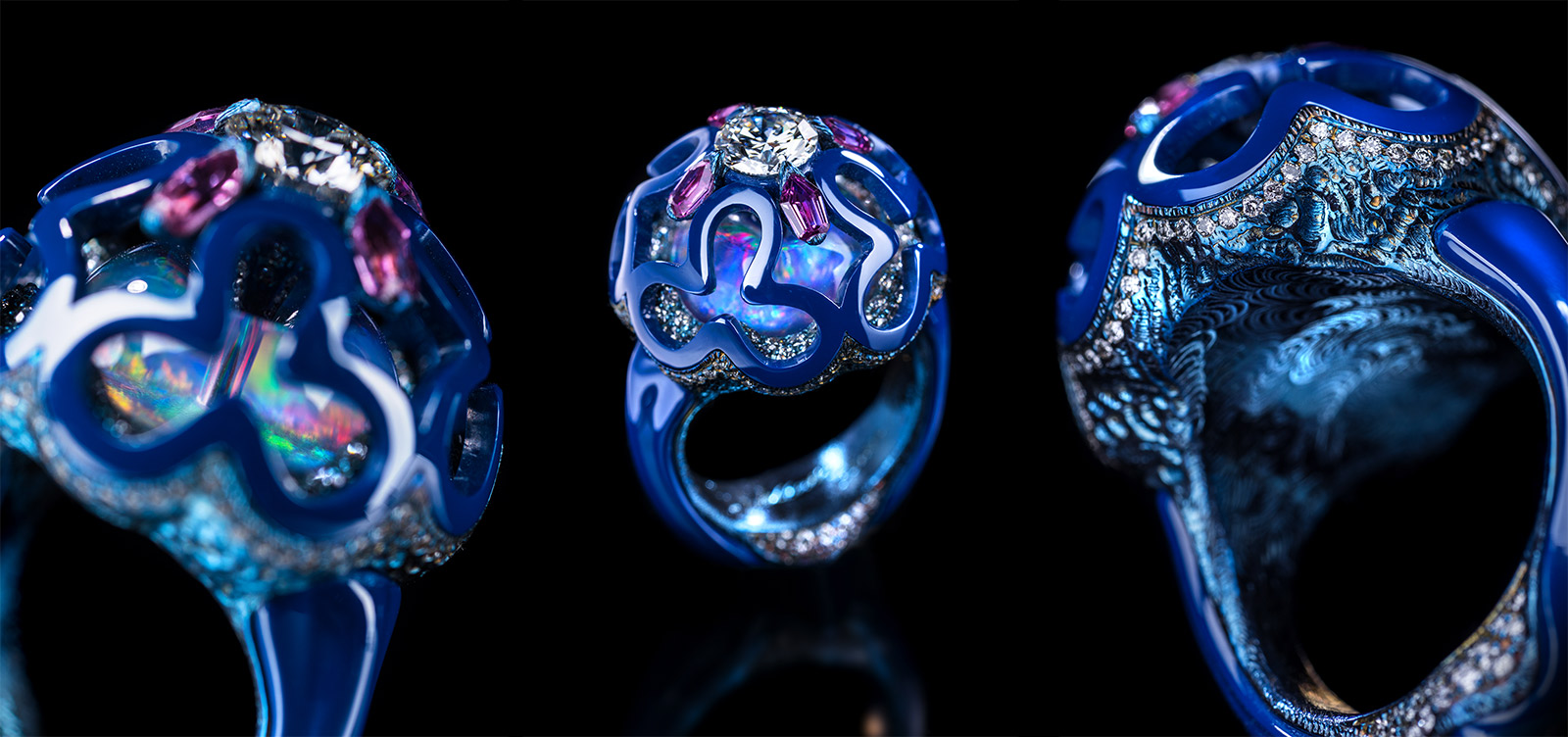 KP: The porcelain itself has created excitement because of its hardness, allowing a durability in fine jewellery. But what is it about the aesthetic qualities of this material that you find attractive?
WC: Porcelain is very dense, almost twice the density of sapphire, so it is highly difficult to polish. The end result, however, is a material with an extremely high lustre that will not dull over time. Saying that, much of the porcelain's beauty in its interaction with other materials. When the gemstones cast their glow on its surface, there is this beautiful dance of colour and light, floating on the porcelain.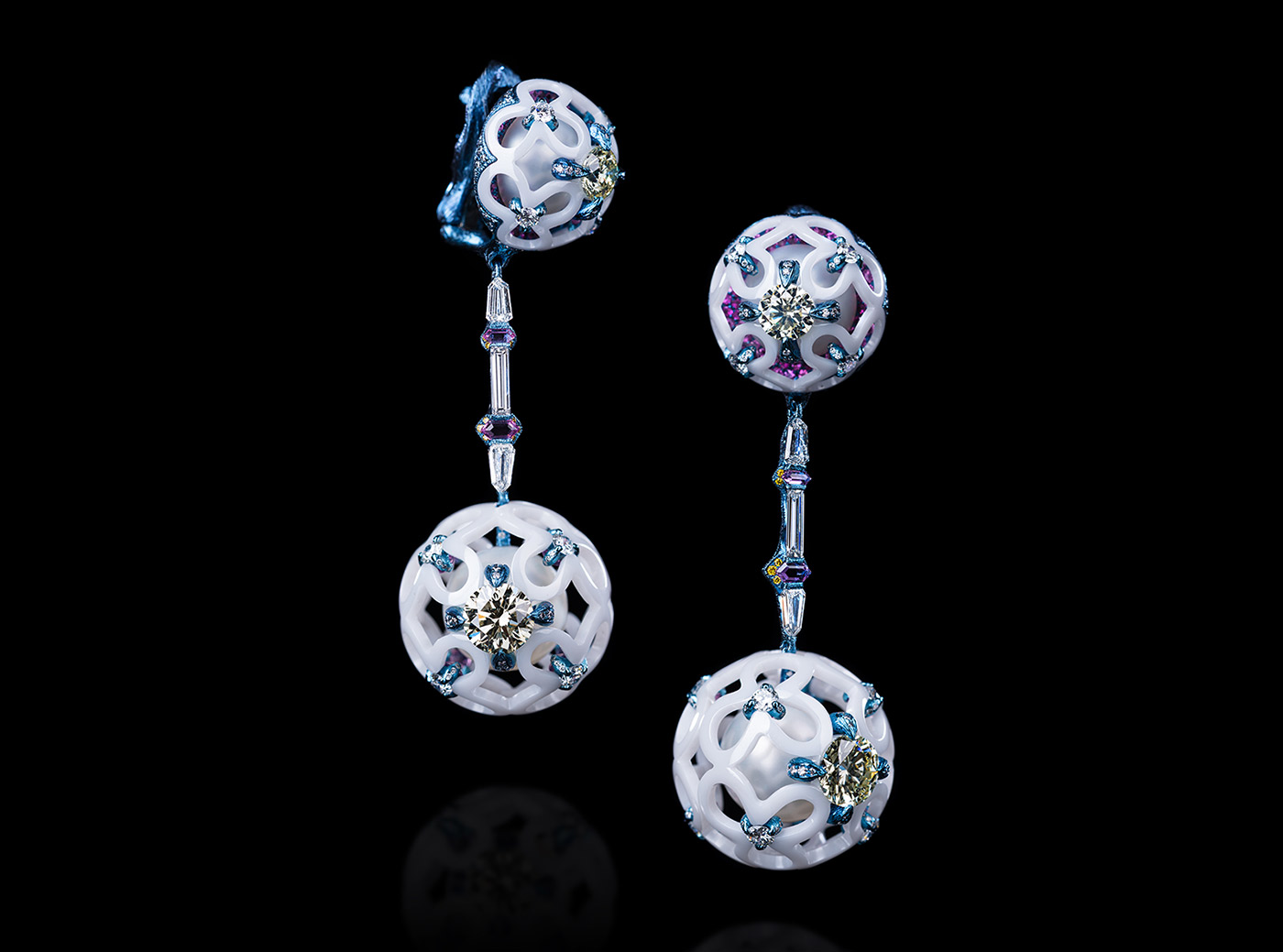 KP: The design of the new Wallace Chan porcelain creations purposely allude to a futuristic aesthetic - while also being inspired by your past, and referencing ancient Chinese symbols such as peapods, and infinite occurrences like galactical phenomenon. Is it important for you to avoid creating jewellery which is defined by the era of its inception?
WC: It is important for creators to honour what came before them because we are all influenced by history, and our ancestors, to a great extent. I have loved this old quote "we are all standing on the shoulders of giants". The past and the present together create the future. The future is happening now, although it looks as though it is always ahead of us, it is being formed in our hands, at this very moment. It is important to me that my pieces embody the contemporary spirit as they carry on certain cultural, historical or emotional values from the past. That is why I constantly innovate in terms of techniques, materials, tools and my own thoughts.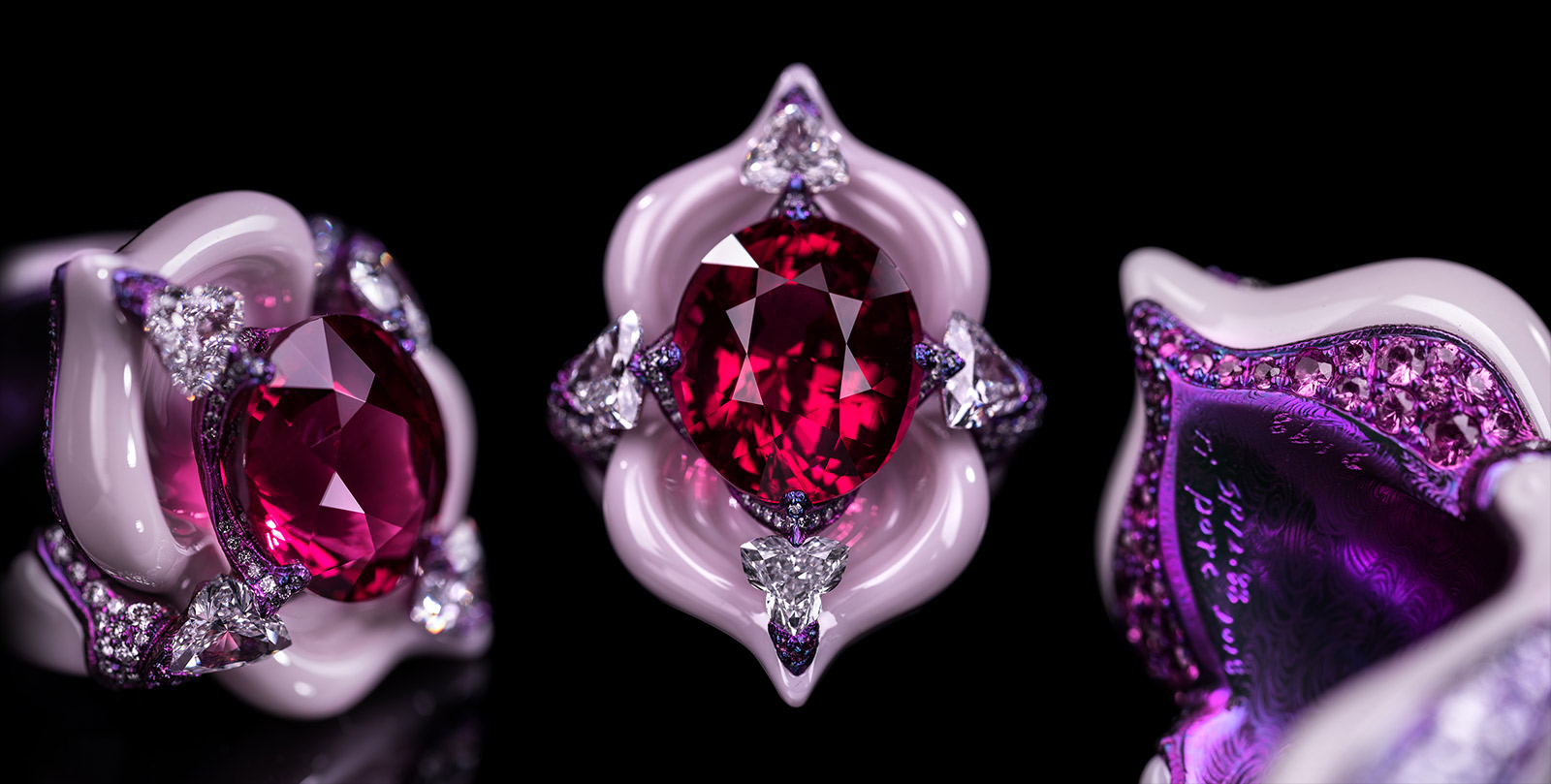 "I learned a great deal during the creation process, so I very much value all the challenges I encountered – they help me grow and change," this was the last thing that the Asian jewellery virtuoso told me, and it perfectly explains his burning desire to constantly bend the boundaries of what is perceived to be possible in jewellery design.