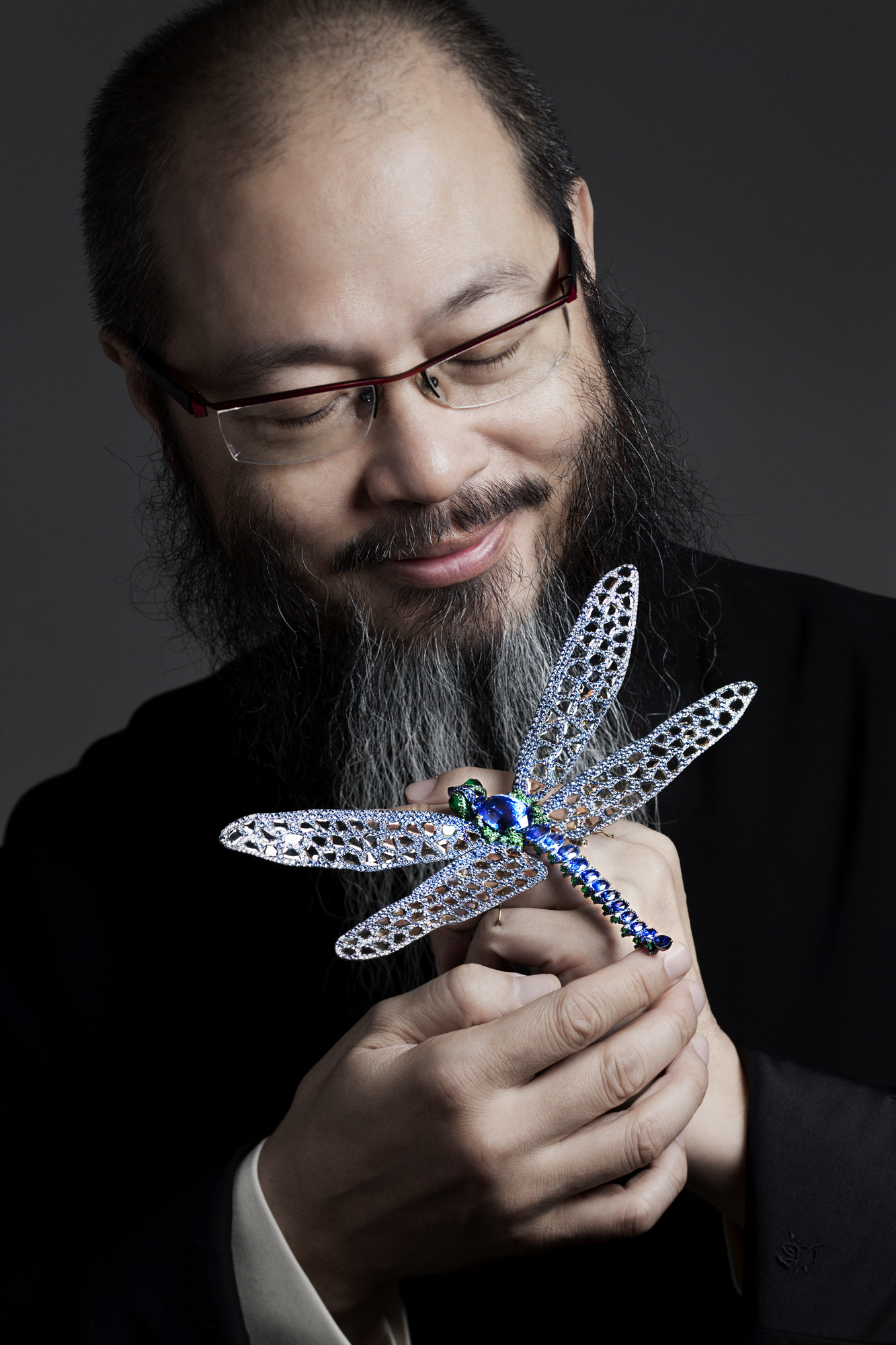 Wallace Chan, the first and only Chinese jeweller who was invited to showcase his one-of-a-kind designs alongside some of the most esteemed houses at the Biennale des Antiquaires 2014
There can't be many jewellers whose work is so expressive and extravagant that you want to relish it all piece by piece… then go back again and again to what you've already seen. The legendary Asian maestro Wallace Chan and his unique jewellery can without a doubt be listed in such a category.
Wallace Chan was born and raised in Hong Kong. He began his difficult journey to the heights he has now reached at the age of 13. After becoming an apprentice to an ivory sculptor, Chan only worked for him for nine months before deciding to continue his education independently. Without limiting himself to ivory, the young Chan started to acquire the skills needed to work with precious stones and crystals and took every opportunity to master and understand the style of European sculpture and jewellery. Eventually Chan totally mastered European jewellery techniques and every secret of engraving.
Now this genius from Hong Kong is a global legend and his works are miniature masterpieces. When creating the sublime, Chan isn't held back by the rules and limitations of jewellery design; all that holds him back on his creative path are the laws of physics, but even they cannot stop Chan because he simply finds another way to realise his ideas. This is precisely what happened with one of his latest works: the Secret Abyss necklace encrusted with emeralds placed inside a rhombus shaped mountain crystal through a hidden central aperture.
This piece is utterly phenomenal and so it is hardly surprising that ten years were devoted to its creation. "Ten years ago I was watching a show on television which featured this magician tying up his assistant and throwing her into a pool of water. In spite of the shackles on her arms and legs, the girl was able to free herself and escape death," recalls Wallace Chan during a meeting at Paris Fashion Week. "Until she'd freed herself, the magician was completely calm despite the danger and risk involved". The moral of the story: don't allow external factors to influence your inner self.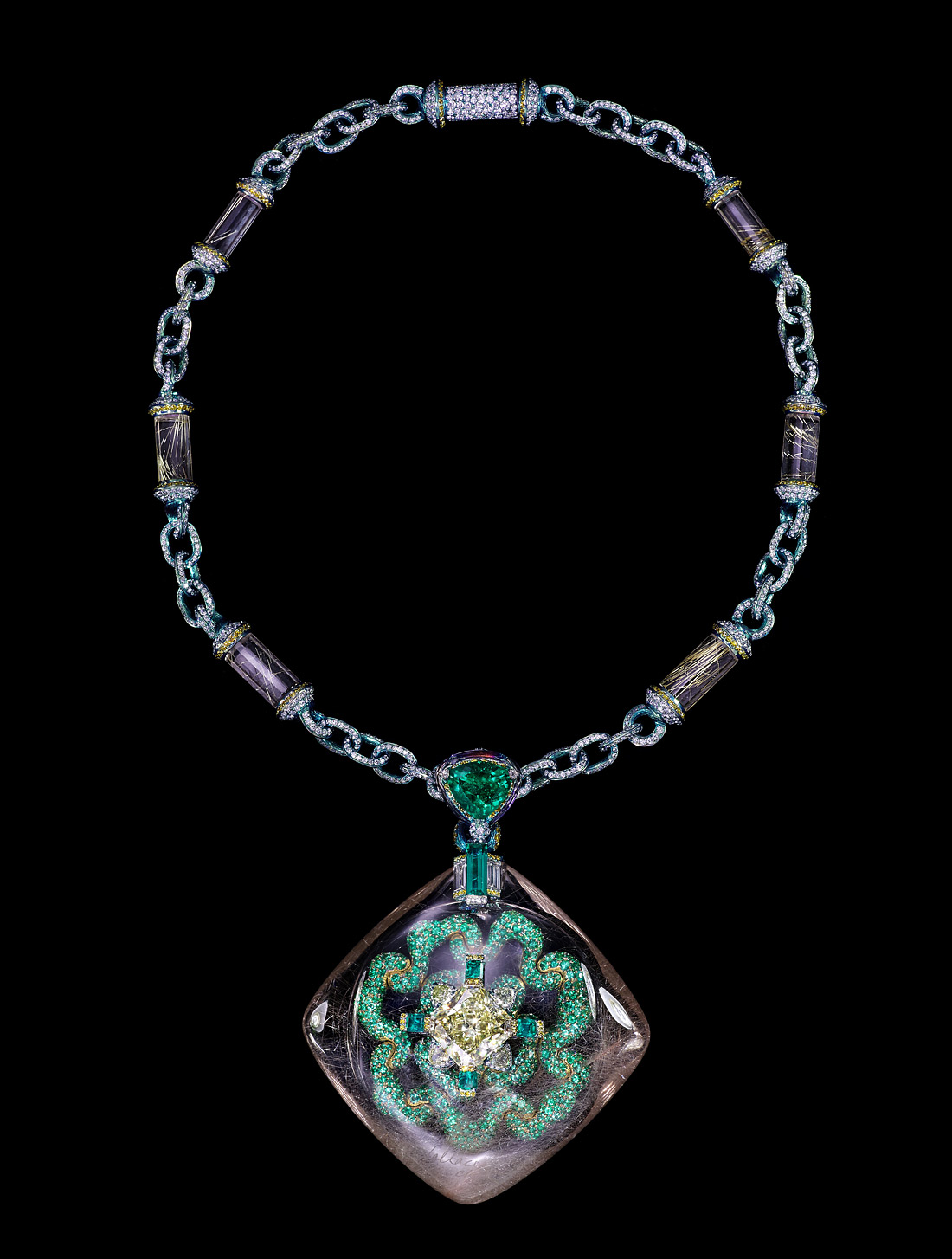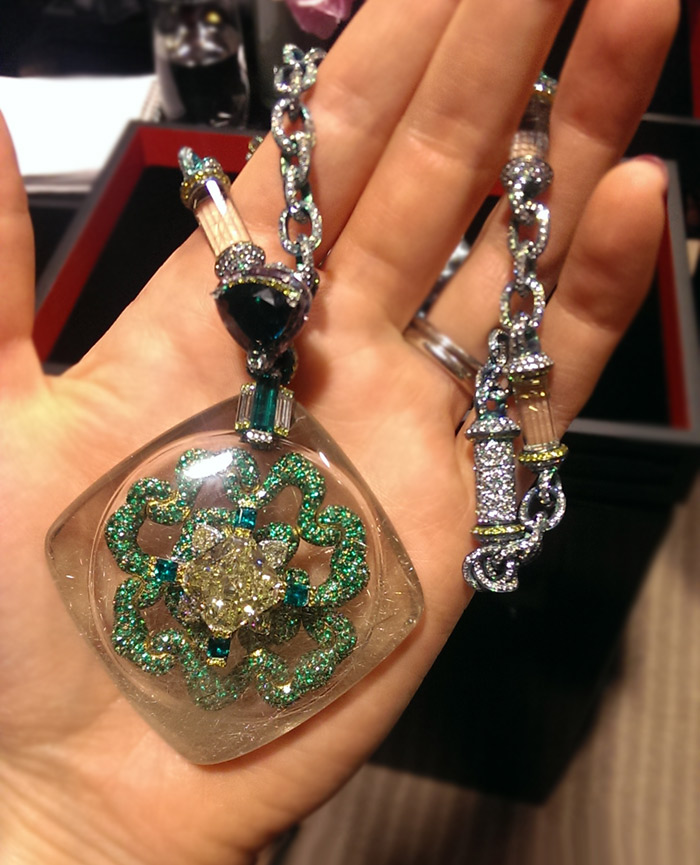 No one could deny that being in a state of peace and harmony gives us a greater chance at achieving our goals. This is why Wallace Chan never once had to resort to meditation whilst working on Secret Abyss. The connoisseur worked for two years on the concept of a pendant with a quartz shell. He changed the process by which the precious details would be included on the inside several times. After starting with the very simple method of drilling a strong enough hole in the back of the pendant, through which something could be positioned and sealed inside with a special little lid, Chan, as always, decided to set himself a challenge and make things harder.
The master jeweller wanted to make it look like the pendant on the necklace was a single natural whole, without any visible signs of human interference. He then cut off his "cradle" of quartz and moved on to the hardest, seemingly impossible task of implanting interwoven waves of emerald in the very centre of the quartz though a tiny aperture on the front. The process took four years, neither more nor less.
"Tenacity is the supreme quality of a human," says Chan. In Russia, in fact, we say "with toil and tenacity, you will always succeed". All of Wallace Chan's work has a profound subtext so when you go to look at his creations at the Biennale des Antiquaires in Paris make sure you "read between the lines". KP
Photos are courtesy of Wallace Chan, necklace on hand is by Katerina Perez.
The featured necklace has a yellow diamond of 10.05 cts set in a rutilated quartz shell of 211.74ct and complemented with emeralds, fancy colored diamonds, amethysts and rutilated quartz.