Time is an exciting commodity, especially when it's packaged in shades of green, yellow, turquoise and pink provided by ornamental stones, fancy-coloured sapphires and colourful leather straps. To illustrate my thoughts on this stress-relieving facet of watchmaking, here are the latest offerings of five brands that present the perfect pop of colour.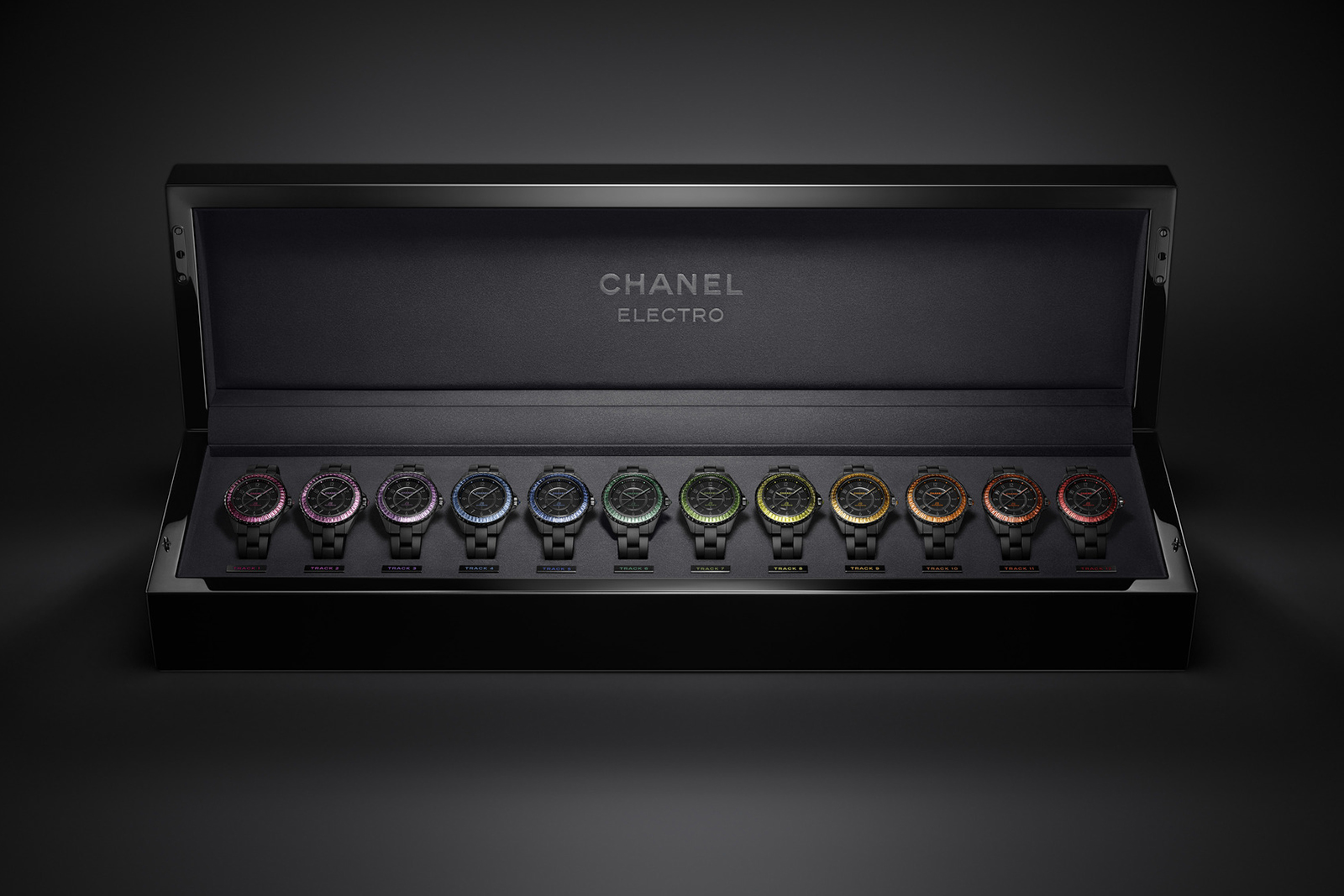 New additions to the Chanel Electro collection each have a touch of rainbow colouring, whether that's contained to the bezel, spread across the case and dial, or designated to straps. The Chanel J12 Electro watch, for example, is limited to 255 pieces and has a black ceramic and steel case with neon rainbow-coloured indices, while the J12 Electro Dream watch is limited to 55 pieces in white ceramic, 18k white gold and baguette-cut rainbow sapphires, diamonds and lacquer. There are two pieces that caught my eye though: the Première Electro watch has a triple row steel chain bracelet with a neon rainbow leather strap woven between the links, while the Code Coco Electro watch has a quilted calfskin strap in the most acidic shade of bubblegum pink! These aren't watches for the demure individual who wants to blend into the background. Reader, you will need to be prepared to stand out!
GemDior is one of the latest watch feasts from the mind of Victoire de Castellane, featuring an irregular octagonal shape that occurs as a repeating motif throughout the collection. A second repeated element – irregular layers of smooth gold and carved hardstones – appears like blocks in a game of Jenga, seemingly precariously balanced but surprisingly strong and robust. "The spirit of this collection is modern, it's a style that I would describe as abstract-organic, an organised disruption that turned out to be a true technical challenge for our ateliers," comments de Castellane. There are seven watches in total, with the most spirited of the bunch boasting a malachite dial, turquoise and diamond-set case, and a clasp-less asymmetrical bracelet of ornamental gems set in yellow gold, including malachite, lapis lazuli, carnelian, pink opal and tiger's eye. The octagonal shape of the case is inspired by the natural form of rough gem crystals and it appears across the other six pieces, most of which are more reserved in steel, pink gold and mixed metals, paired with black mother of pearl and lapis lazuli dials and diamond pave bezels.
Designed to evoke the colours of summer and lush tropical landscapes, these new creations from Breitling could be a balm for the soul of world-travellers who've felt trapped for 12 months! There are just three timepieces to choose from in the Chronomat Automatic 36 South Sea Capsule Collection and each will only be available for a limited time only. They are distinguished by colour: a lacquered beige, midnight blue or mint green dial with a complementary alligator leather strap and a gem-set bezel in shades sunset pink, orange and yellow. Each has yellow gold indexes and hands, which is contrasted nicely with a stainless-steel case and diamond-set hour markers. The movement inside is equally exciting, with a Breitling in-house calibre 10 with a 42-hour power reserve that will last even the longest of long-haul flights!
These new Harry Winston Emerald timepieces are part of the Emerald Collection and have been especially created to inject some bold colours into the range. Each dial is crafted with 20 diamonds and colourful cabochons of mother of pearl that frame a slightly elevated piece of mother of pearl in the centre. This has an effervescent effect, like the watch dial is fizzing in a bottle of champagne. A diamond-set bezel and lugs (comprising 53 brilliant-cut diamonds) completes the case and leads to a matching double-tour satin strap in the collection's four key shades: turquoise, champagne, orange and violet. Of course, this is Harry Winston, the 'King of Diamonds', so there's more to see, including an 18k white gold buckle with 11 brilliant-cut diamonds and an extra 18k white gold Milanese bracelet trap with 120 brilliant-cut diamonds that's available as a variation.
Let's not forget about men! The Big Bang Unico High Jewellery Rainbow is a kaleidoscope of colour achieved through the meticulous placement of 290 individual gemstones totalling 24 carats. It's crafted in 18k pink gold with a gradient that morphs from scarlet to fuchsia to ultraviolet, followed by sky blue, green, yellow and warm orange. It's not just the construction that's impressive here, but also the patience to curate this mineralogical rainbow and place them in such a way as to truly create a wrist-sized rainbow. And the brand has not simply relied on the palette of sapphires… this piece is set with rubies, amethysts, topazes and tsavorites to achieve just the right blend of hues. The Big Bang is a Hublot icon, of course, which means it contains the brand's self-winding chronograph movement that offers a 72-hour power reserve. It's available with a muted black alligator strap or, my personal favourite, a multi-coloured alligator strap. Well, if you're going to wear a rainbow you may as well take it to the extreme!
Colour is universal and, as such, it can adorn a classically designed timepiece or an out-there creation that's straight from the designer's imagination. I hope you've spotted one time-keeping masterpiece within this list that you would love to own… or simply stare at!