First, a quick history lesson for all my jewellery aficionados. Peridot is an ancient and significant gemstone, not only for its presence throughout time but also for its unique gemmological properties. For example, peridot is one of only two gems that's not formed in the Earth's crust but in the molten rock of the upper mantle. The other gem is, of course, diamond. It is one of only a handful of gems that exclusively forms in just one colour – the bright green with hints of yellow we've all come to know. One of its most distinguishing traits is its high birefringence or double refraction, which refers to the way in which light travels through the gem and causes everything to appear doubled when looking into its depths.
We've got evidence of peridot being unearthed in Egypt some 3,500 years ago, and from that point onwards, peridot was a gem that not only maintained its significance, but somehow managed to become even more enticing… especially when peridot infused meteorites were discovered in 1772! When we think of royal jewels, it's easy to focus on diamonds and large sapphires, but peridots have their place in regal collections too. The Archduchess Isabella of Habsburg's peridot and diamond tiara set from the 1820s is the best example as it's the only known royal parure that uses peridot as its centrepiece. It was made in the Georgian style comprising earrings, a necklace with seven pendants, a large brooch and a bandeau style tiara. Another well-known example is none other than St. Edwards Crown from 1661, part of the British Crown Jewels that's used to coronate successive kings and queens. It contains peridots alongside all manner of coloured gems, including amethyst, garnets, zircons and spinels.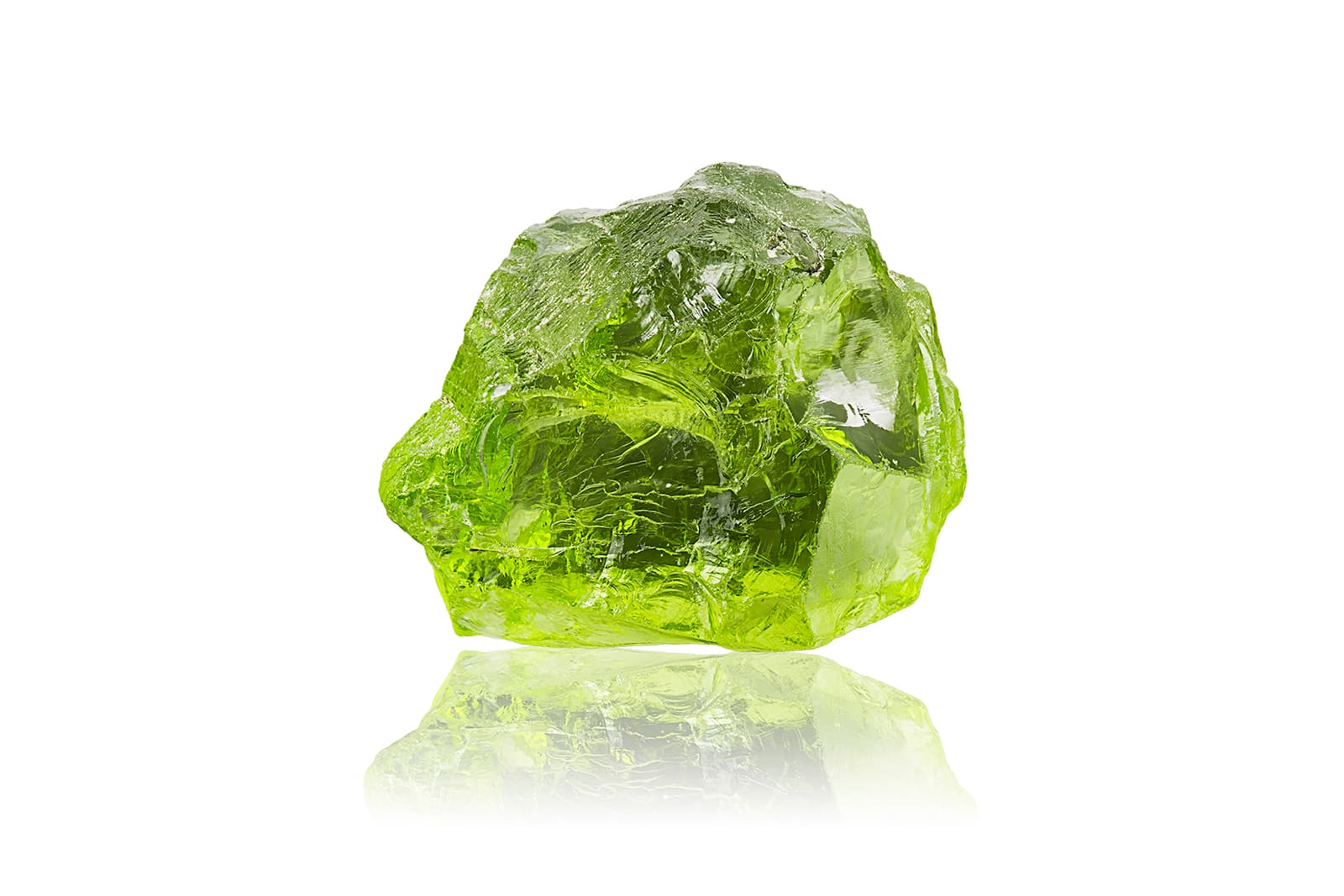 If peridot is good enough for royalty, why doesn't it share the same gemmological pedestal as rubies, sapphires and emeralds? No one knows why exactly, but it is thought they were becoming increasingly difficult to find just as emeralds and diamonds were entering the market. Striking examples of peridot jewels became less commonplace, but some highlights emerged in the Art Deco era, especially a necklace and bracelet set by Cartier (circa. 1936) with 63.48 carats of emerald-cut peridot in the former and a 68.93 carat emerald-cut peridot in the latter. In the 1950s and 1960s, pieces by Van Cleef & Arpels were also acquired for private collections or by jewellery collectors, notably Peggy Rockefeller and, of course, Elizabeth Taylor. One of my favourites (and, indeed, one of the most iconic) is the Verdura 'X' necklace – an important peridot creation made for Betsey Whitney in 1967. This piece took more than seven years to make and contains 55 cushion-cut peridots, 217 baguette-cut yellow sapphires and 46 round brilliant-cut diamonds that can be worn with a detachable peridot pendant of 89 carats.
Jump forward to more recent years and we're beginning to see a new peridot revival flourishing in fine jewellery. One of the leading lights behind this shift is Fuli Gemstones, which specialises in peridot from the Yiqisong Nanshan Peridot Mine in China. Discovered in 2016, this deposit of grassy green peridot produces gems with ideal clarity that are naturally vibrant, and require no treatments. With this fully traceable bounty, Fuli Gemstones is reigniting the love of peridot and working with designers and brands like Annoushka, Zeemou Zeng and Memorigin to place its gemstones in fresh collections.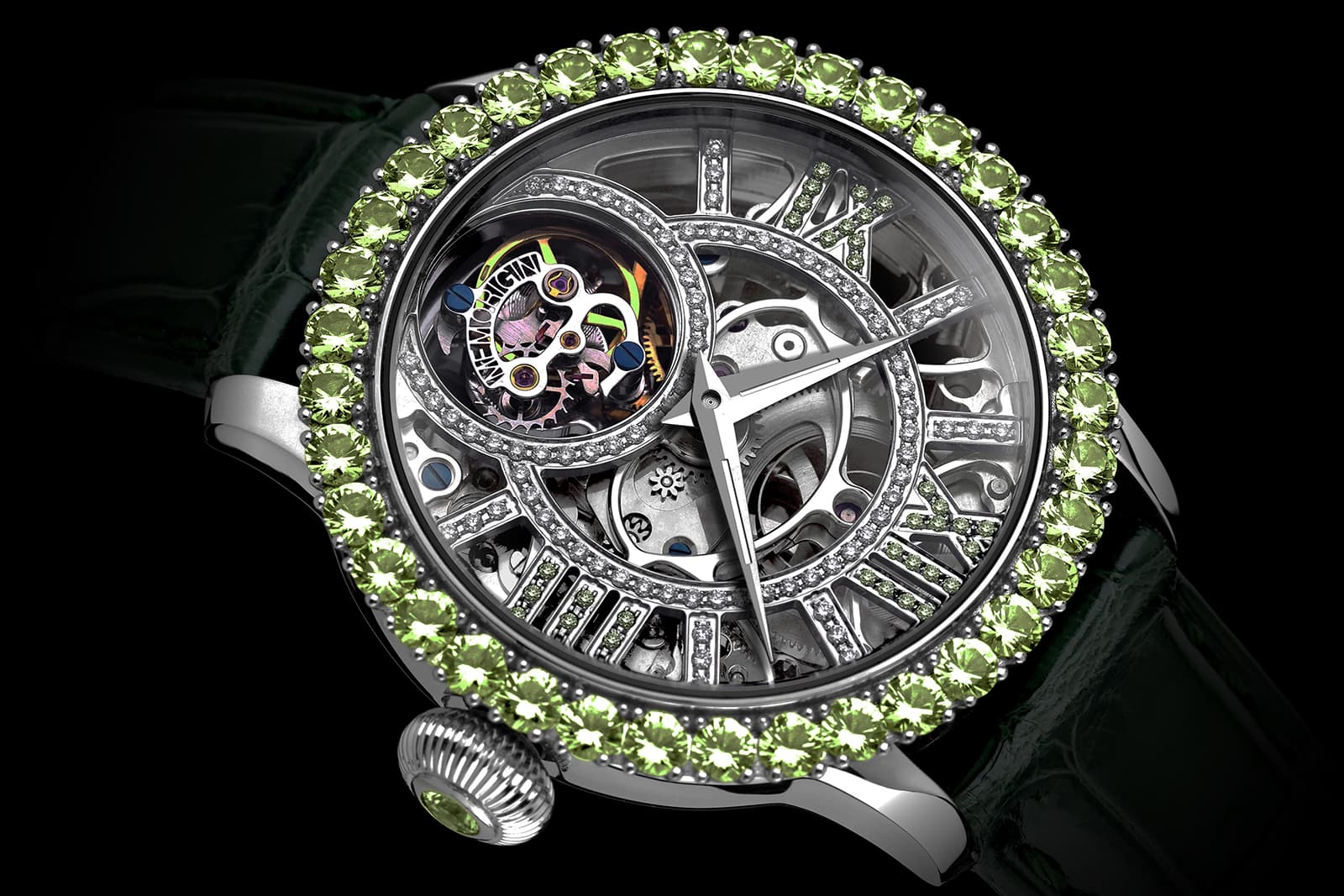 "I have always believed that gemstones speak to and suit certain people – the colour of peridot connects me to nature – whether it's lush green fields in Sussex or the plains of Africa," says Annoushka Ducas, who has just recently unveiled a new collection with Fuli Gemstones. The range includes octagon cut Fuli peridot, malachite and pink sapphires set in 18k yellow gold, which is so often the precious metal of choice for these gems, designed in the Art Deco style. The collection has an Old Hollywood vibe, especially the statement cocktail ring that secretly unclips and can be worn as a pendant on a gold articulated choker necklace.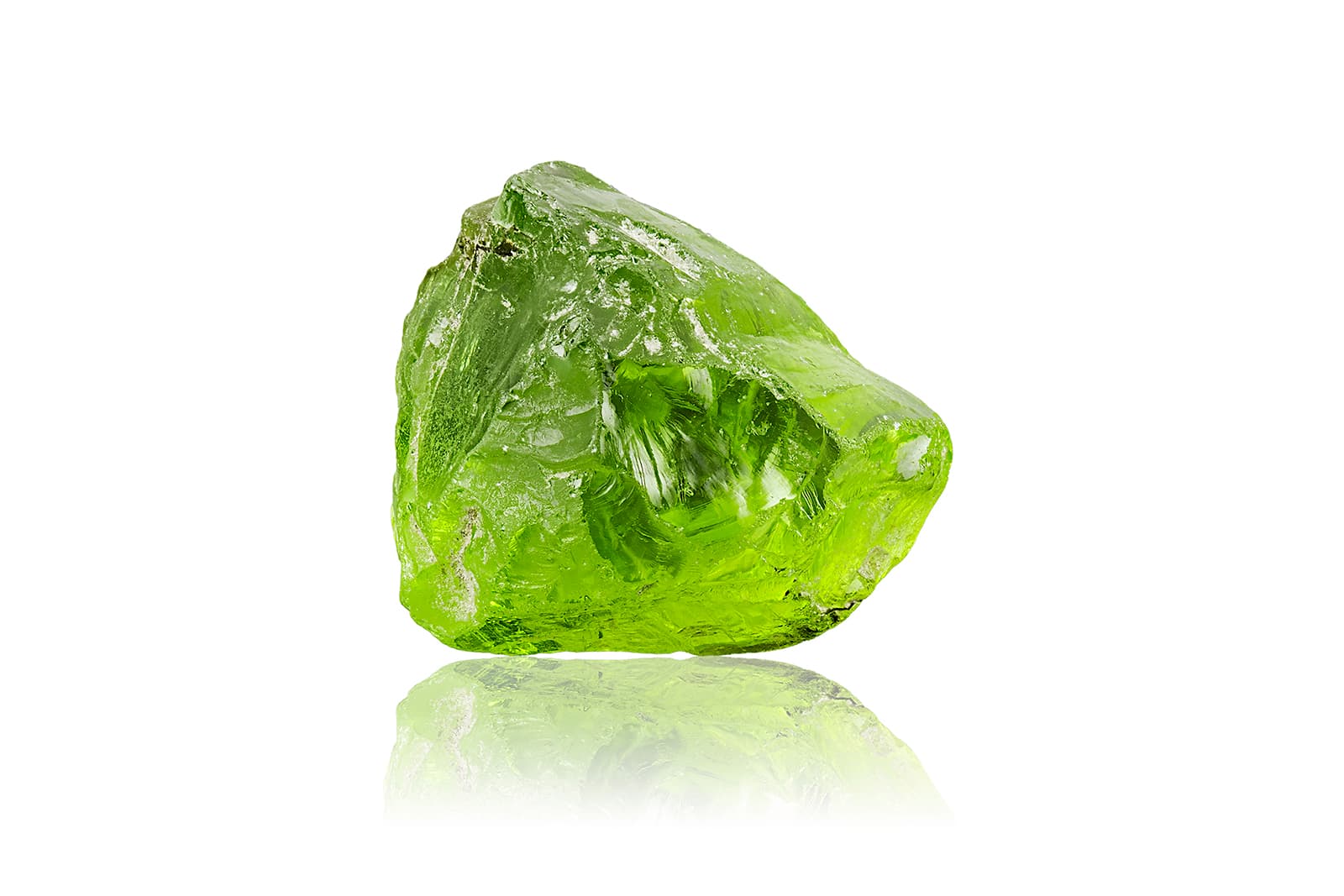 Peridot rarely forms in larger, high clarity, rough crystals, however with Fuli's probably supply, designers like Annoushka Ducas have a plethora of options and cuts to choose from. In this case, it's shoulder skimming octagonal peridot earrings with gems of graduating size, but for designer Zeemou Zeng its small round peridot beads that are free to move in 'kinetic' Melody cocktail rings. His new 'The Art of Travel' collection also uses Fuli peridot, this time as octagon cuts within modern-day talismans that hark back to peridot's mythological "gem of the sun" past. Finally, there's Hong Kong-based watch company Memorigin, that specializes in tourbillon watches. Bringing Fuli Gemstone's, peridot to life in the world of horology.
On a personal note, I have been pleasantly surprised by the diverse use of peridot in high jewellery in recent months and years. Bulgari, Gucci, Pomellato and David Webb have all used the gem in creations that prioritise shape, size and scale. The latter has some voluminous cocktail rings and bracelets with faceted and baroque-shaped peridots, set in 18k yellow gold, while Bulgari uses peridot in its Barocko High Jewellery collection and its new Magnifica High Jewellery collection, including the Color Vibrations necklace with a 10.72 carat gem. The Pomellato Nudo Collier Cascade necklace is also worth mentioning here for its bright green rainfall of peridots, paired with dark green tsavorite garnets.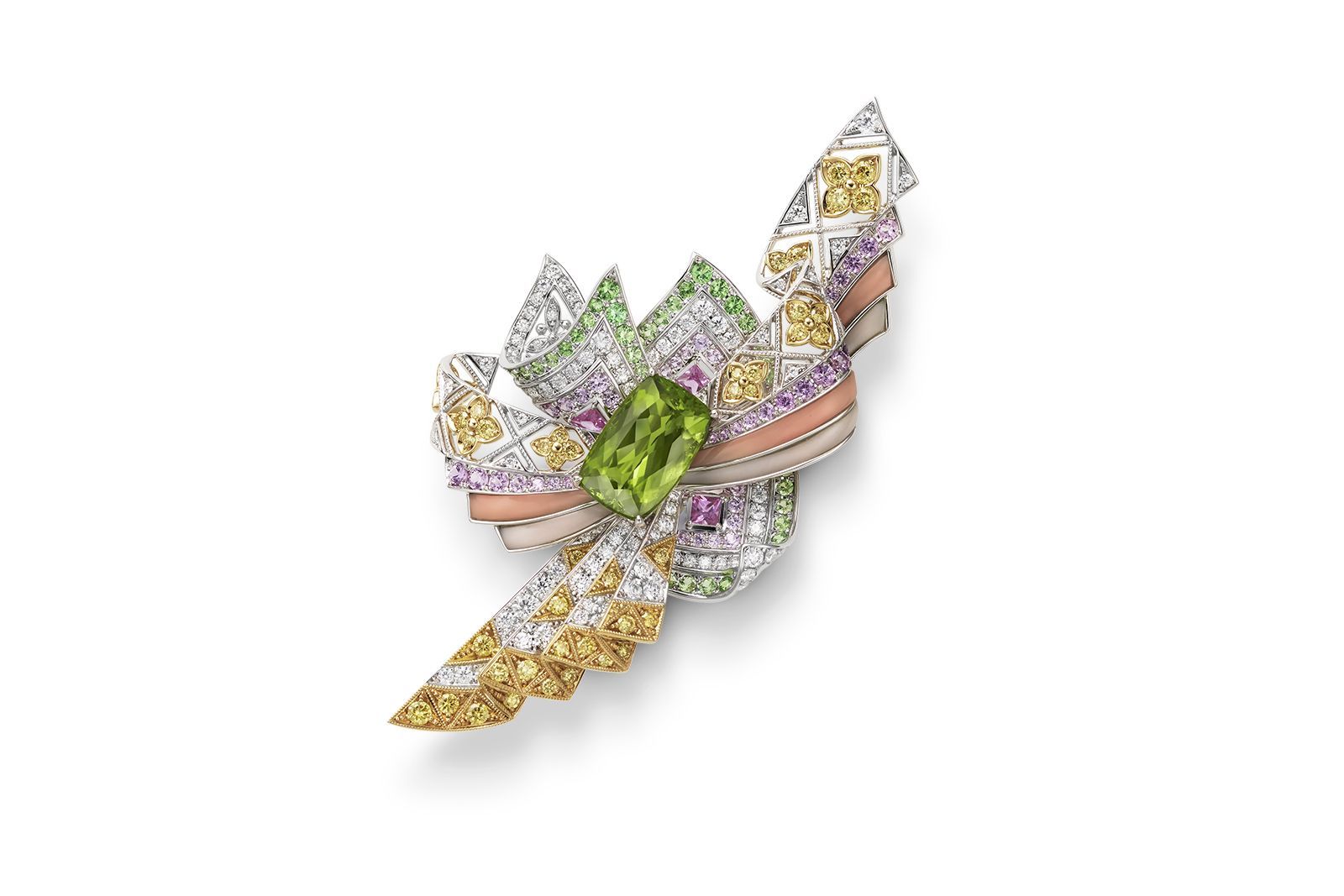 Just recently, Mikimoto unveiled its 'The Japanese Sense of Beauty' High Jewellery collection, including a brooch set with a cushion-cut peridot, surrounded by sapphire, garnet, diamond and coral. Now we can say that even the world's most influential pearl jewellery brands are feeling the lure of peridot gems!
Austy Lee is also turning the traditional notion of peridot on its head with large gems set alongside bi-colour tourmalines and within coloured titanium to create kaleidoscopic colour contrasts. The Accacia Fall earrings, for example, are set with Arkansas peridots, sapphires and diamonds and look positively tropical, as if one's just stepped out of a rainforest. And let's not forget Fabio Salini's 'Fibbia' buckle-style bracelet made from carbon fibre, peridot, diamond and gold. Here, the bright green of peridot is used as the perfect punch of colour to break through an otherwise black and white creation.
There's so much to love about peridot, from its large sized rough (which makes for larger more experimental designs), it's vibrancy under different light sources like daylight and candlelight, as well as its mood lifting hue. No wonder designers are turning to the likes of Fuli Gemstones to get their green fix.