Since its founding in Milan in 1967 by Pino Rabolini, Pomellato has focused on designing powerful, creative but wearable jewellery. What was once locked away in the safe was replaced by bold accessories for women designed not only to adorn them, but to enrich their lifestyle, revolutionising the world of jewellery world.
Come 2020 and Pomellato has chosen to take a bold, new step into the world of high jewellery while remaining true to itself. The 165 pieces in La Gioia di Pomellato reflect the Italian art of living in which there is no distinction between every day and evening jewellery.
"I find it interesting that this collection can act as a kind of bridge between our past and our future," says Vicenzo Costaldo, Pomellato's Creative Director. "We had no restrictions, only a great desire to pay tribute to our history and declare: this is what we are!"
With La Gioia, the Casa Pomellato workshop has reinterpreted its own story whilst maintaining a balance between masterful performance and a bold approach. We therefore have large chains reincarnated in the Gourmette Caméléon necklace comprised of 29 gold links, decorated with a gradation of multi-coloured precious stones: sapphires, emeralds, tourmalines, spinels, tsavorites, garnets, rubies, tanzanites, aquamarines, topazes and diamonds. It took almost 200 hours of work to make this "gourmet chain" shine like a rainbow – a symbol of hope. And for fans of monochrome jewellery, 21 gold links have been combined to create the Gourmette Assoluta chokers, presented in two colour varieties: almost 3,000 colourless diamonds on white gold and the same number of cognac diamonds on pink gold.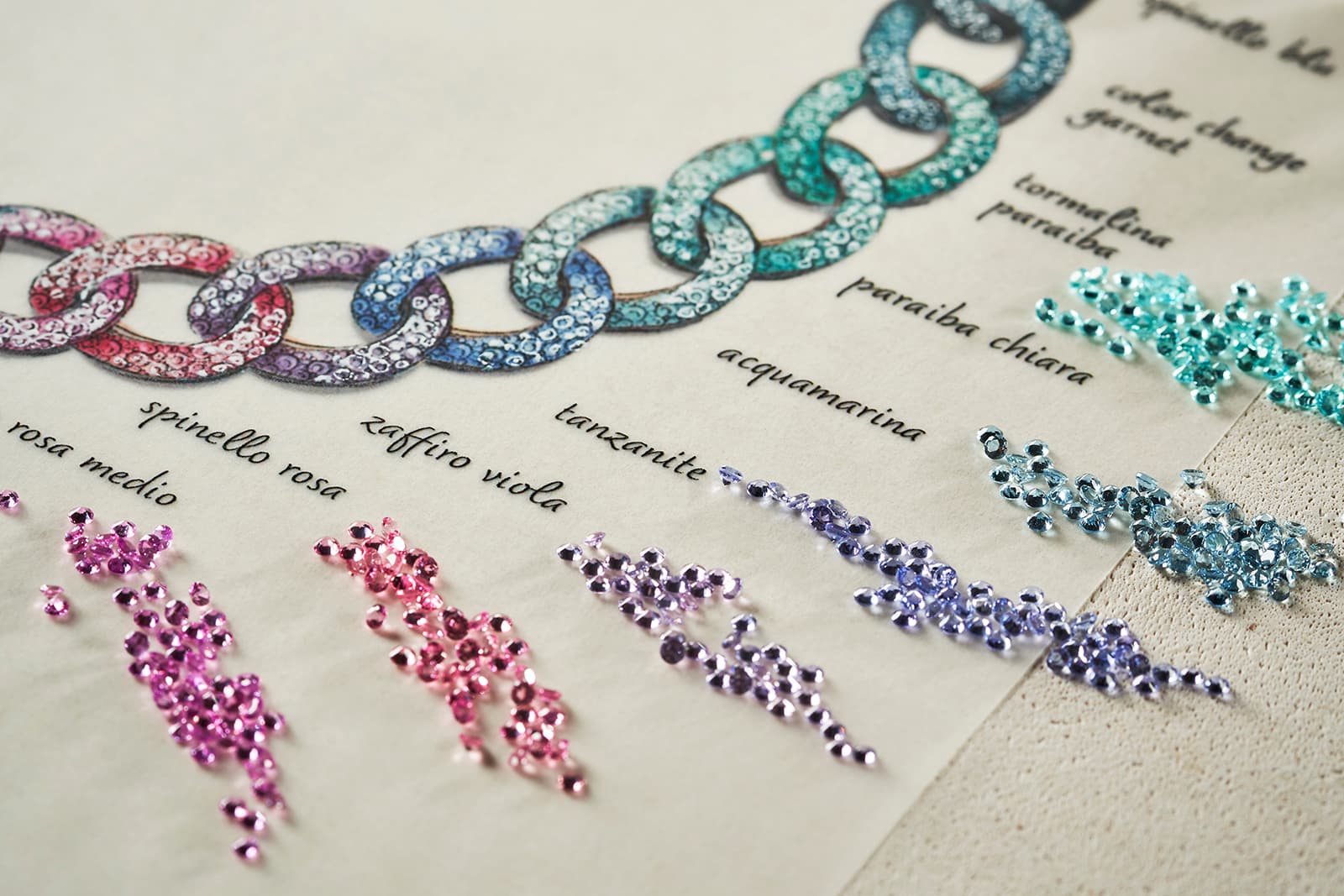 Inspired by Nudo, Pomellato's most iconic collection, the new Nudo Cascade necklace features irresistible "nude" gemstones that sway at the slightest movement. Their double-sided cut allows the stones to roll across the skin from side to side, with chandelier earrings enhancing this fluid effect.
The necklace is also available in two colours: one with matte topazes and another with green peridot. In the Nudo Plastron necklace, the Milanese Maison delivers an explosion of colour: blue topaz, moss-green peridot, lilac amethyst, sparkles of orange spessartine, raspberry shades of tourmaline, lemon-yellow quartz and waves of pink rhodolite.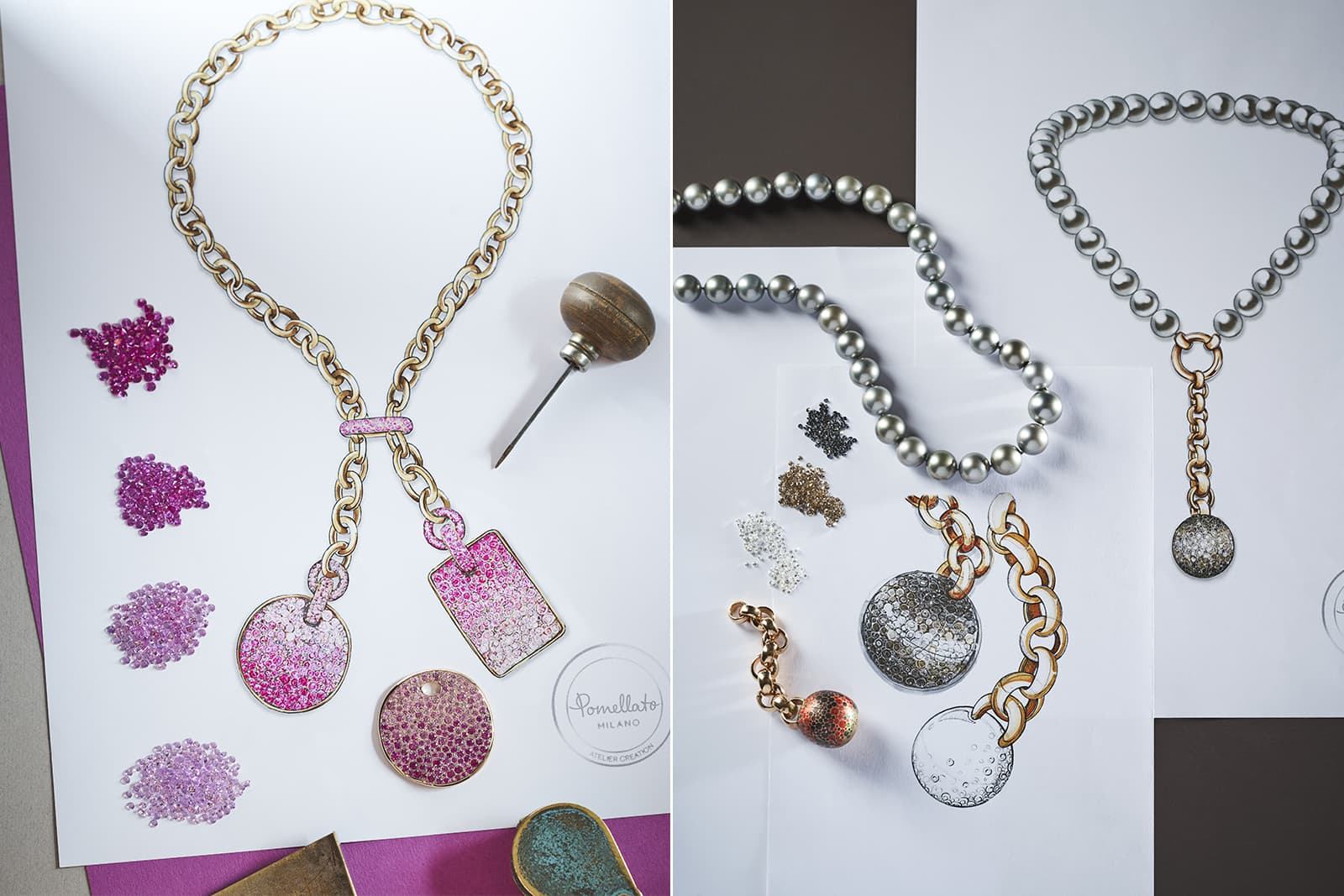 Pavé, Pomellato's favourite gem-setting technique, takes its rightful place in this collection. But in contrast to the colourless diamonds that most jewellers favour for their high jewellery creations, many coloured gemstones have been used in La Gioia. A striking example of this technique is the Pavé Sabbia necklace, accompanied by a ring and clip earrings. Pink sapphires and luminous rubies on pink gold are combined in the Pavé Sabbia Flamingo necklace and emeralds, colourless and cognac diamonds on white gold are combined in the Pavé Sabbia Peacock necklace. To create the striking ombré effect seen on these gemstones, seven different sizes of stones have been used, and it is literally impossible to count the number of colours used.
In honour of its use of rare and unusual minerals, the Milanese brand debuts the Mineralismo set. On their surface, patterns sketched by Mother Nature are works of art in themselves. With echoes of Pomellato's ring-only high jewellery collection, Armonie Minerali, pink rhodonites with soft black spots surround the "claws" in the bracelet and necklace, which are studded with black diamonds and pink sapphires. The necklace signs off with a "scorpion tail" that is also encrusted with glamorous pink sapphires, with the same design repeated in green malachite, brown tiger's eye, blue turquoise and blue lapis lazuli.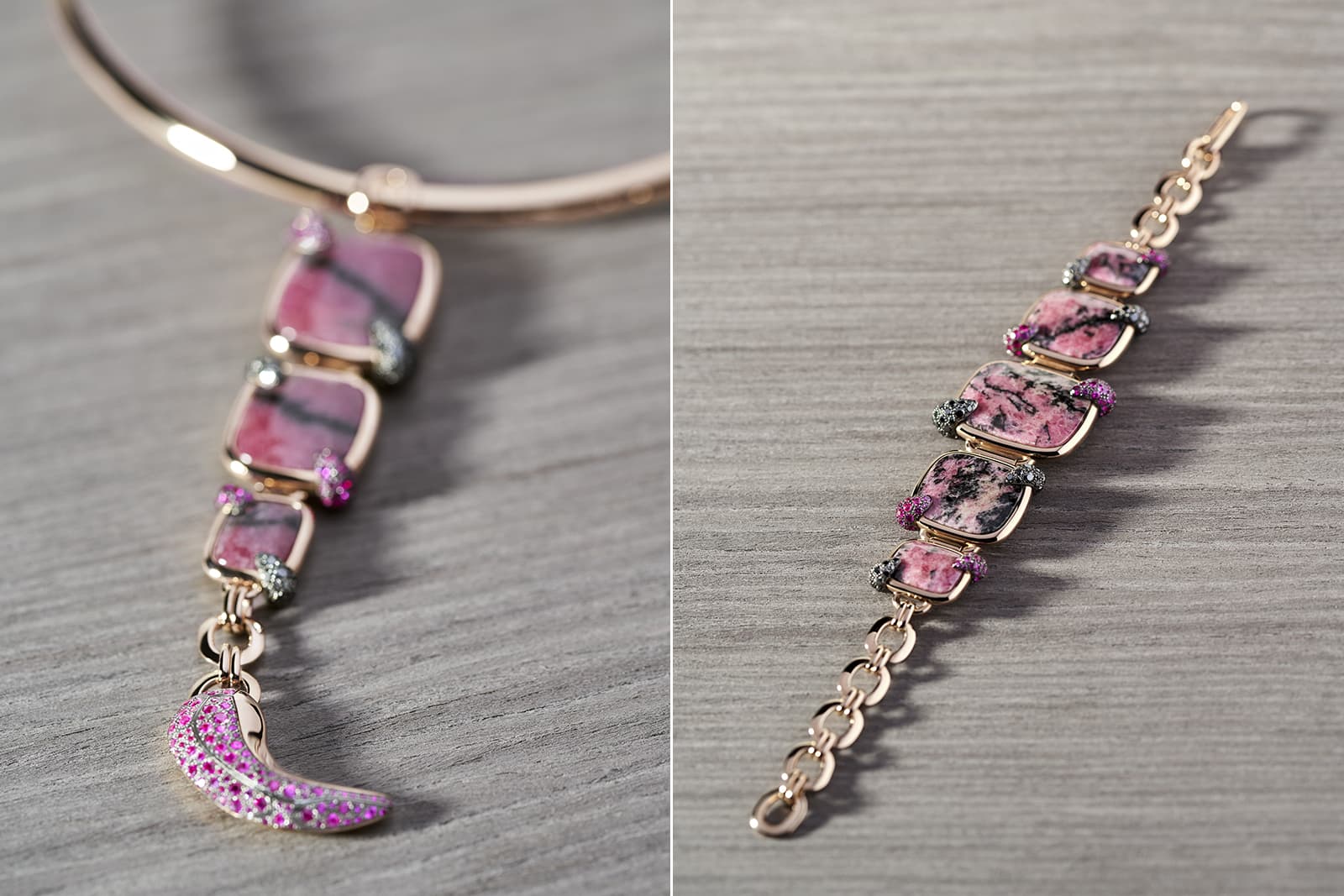 As you can see, already familiar images once again glisten with new colours and became even more elegant – La Dolce Vita in every sense!