The vision of this collection - produced under the direction of Vincenzo Castaldo, Pomellato's Creative Director - was to introduce a new way of interpreting and perceiving jewellery. This explains why the range of gemstones chosen for embellishing Ritratto cocktail rings and pendants was rather unconventional.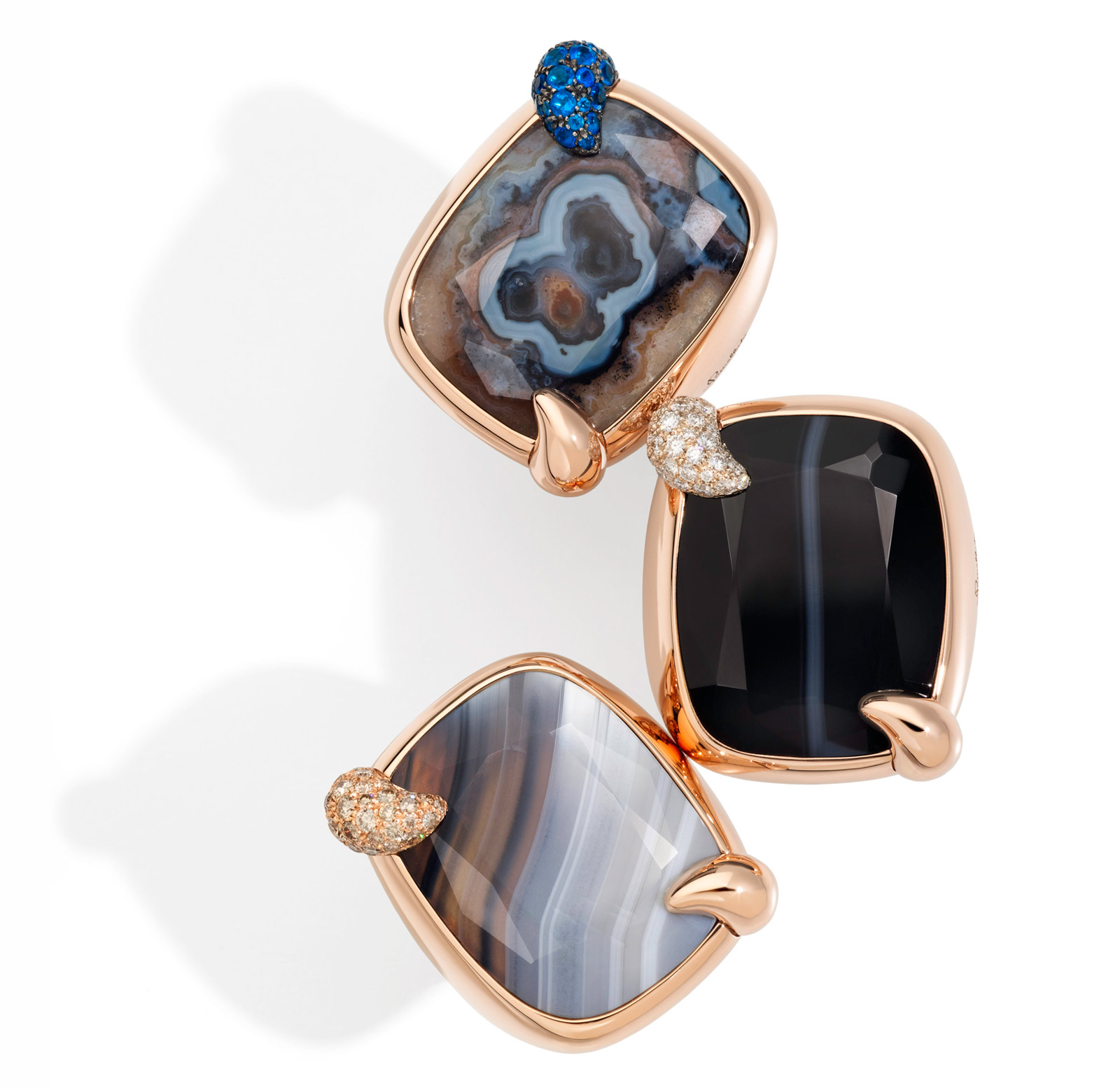 When it comes to beauty created by nature, there is no true difference between precious and semi-precious stones, there is just availability and therefore difference in monetary value. However, according to Pomellato's Gem Master Stefano Cortecci, the lack of raw materials and the scarcity of supply has steadily turned previously known 'semi-precious' stones into the 'new precious' and sometimes even the 'super-precious' gems.
For the first time in the Pomellato's 50-year history, the whole line of jewellery was embellished with hard stones. Translated from Italian for 'portrait', the Ritratto 50th Anniversary Special Edition collection created a new take on the traditional portrait cut that was traditionally used for diamonds. Vincenzo Castaldo has personally chosen every specimen and informed the way in which it should be cut, making each stone resemble a miniature painting. By teaming up with Constantin Wild, a renowned gem-cutter from Idar Oberstein whose expertise lies in how to extract the best potential yield from each mineral, Pomellato have incorporated their signature cut and volume by slightly modifying the portrait cut. Vincenzo Castaldo commented that "the process of cutting hardstone was same as all other stones, but the process of selecting them depending on their specific pattern was a new frontier for us".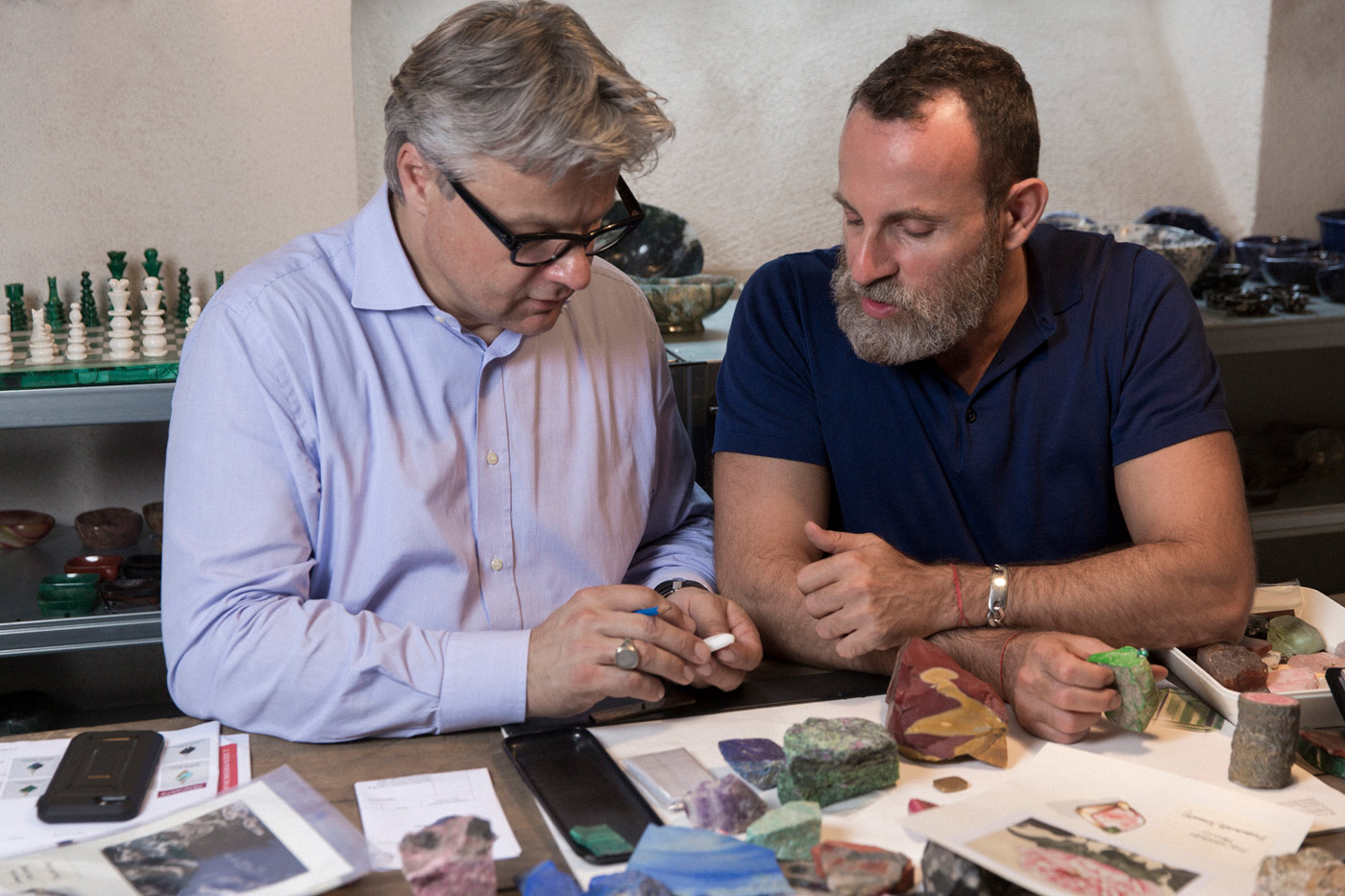 Each unique ring and pendant from the Ritratto 50th Anniversary Special Edition collection has its own name and personality. 'Out of Africa' features an agate with pattern resembling blazing hot sun, 'Stormy Weather' displays picturesque dendritic agate with tree-like inclusions, 'Le Grand Bleu' of magnificent blue colour is embellished with chrysocolla and 'Caramel Dream' looks good enough to eat with a sparkling orange garnet in the centre. "There is a ring called the 'Secret Garden' as it featured green zoisite with red ruby inclusions that together create an impression of the trees and flowers in a garden. The claws of each ring are a part of the design, reinterpreting the functional element of jewellery. We selected a huge variety of incredible mineral stones with inclusions and veins which add to their beauty," says Vincenzo.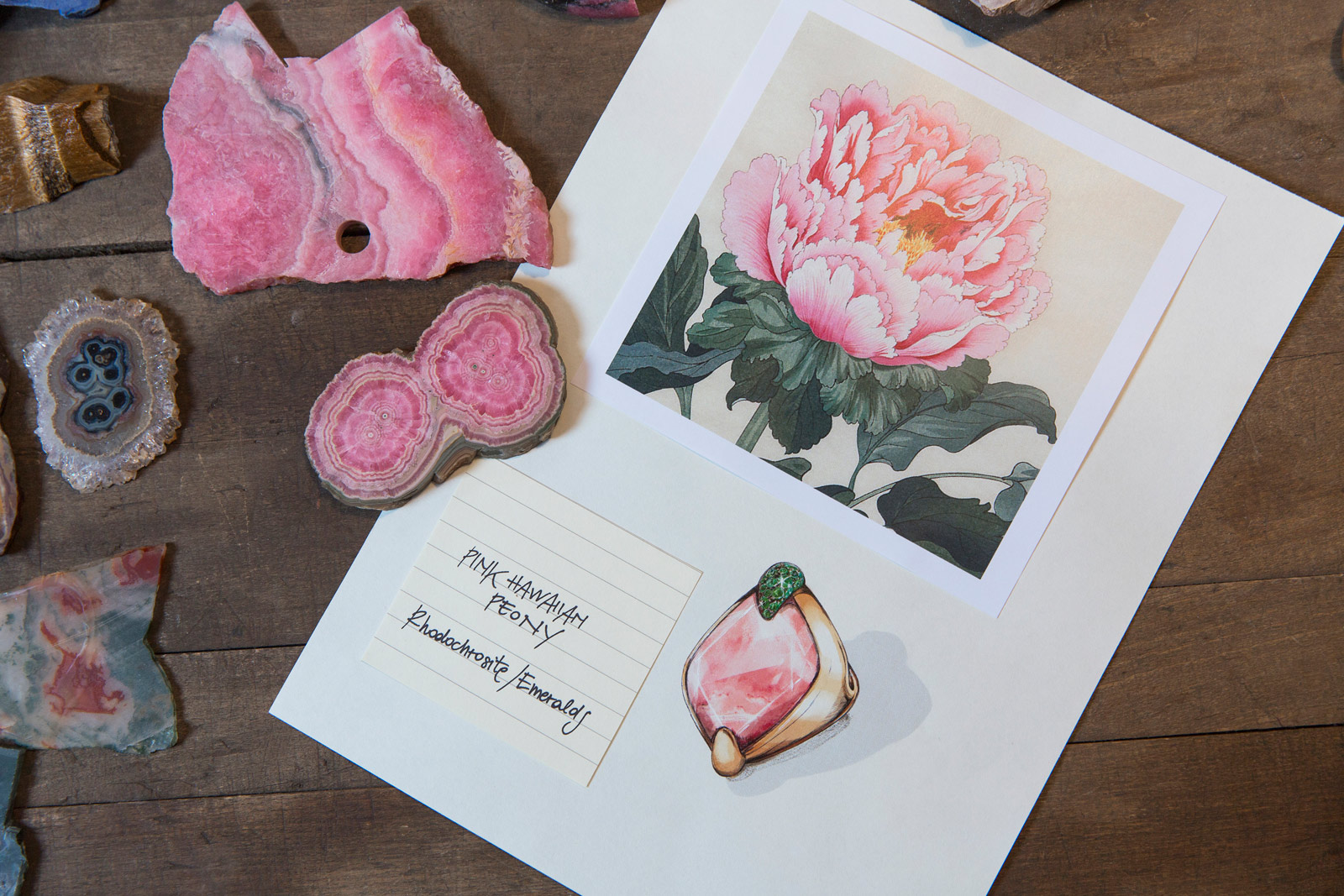 An interesting fact that I found out during the interview with Pomellato's Creative Director is that he discovered most of the gem varieties in Florence at the Opificio delle Pietre Dure - the temple of hardstones. During the renaissance, minerals were fashioned to be used for furniture and decoration.
"These stones are so expressive!" says Vincenzo. "For instance, the lapis lazuli's blue is so deep it looks like a starry night. We also included tigers eye and bulls eye ring, a ring embellished with aquamarine and paraiba tourmalines.
We chose to incorporate red jasper and amethyst that have lots of personality thanks to the abundance of inclusions in them, turquoise with attractive inclusions, malachite and many other hard gemstones as well as some transparent varieties such as mandarin garnet, tourmaline and peridot. We practically went on a journey through the earth to discover all of the specimens we could!"
Establishing their reputation for using unconventional gemstones, with the Ritratto 50th Anniversary Special Edition collection Pomellato has truly demonstrated their independent spirit, audacity and desire to innovate when it comes to fine jewellery design.