This shift is evidenced in 'Pomellato since 1967' – published by Rizzoli New York to celebrate the 50th anniversary of the celebrated Italian brand. With text by Sheila Weller and Giusi Ferré, it features a number of iconic images by some of the most famous photographers of all time - such as Helmut Newton, Lord Snowdon and Herb Ritts – alongside the original editorials created by Pomellato themselves. This is a jewellery book unlike any other I've read before.
Pomellato is a brand distinguishable by its dedication to vivid colours and bold design forms which are achieved through complex creative processes. For example, microfusion - also known as lost-wax casting - is a process dating back to 3500 B.C. which allows the soft lines and voluminous, flowing shapes that the Maison has come to be known for.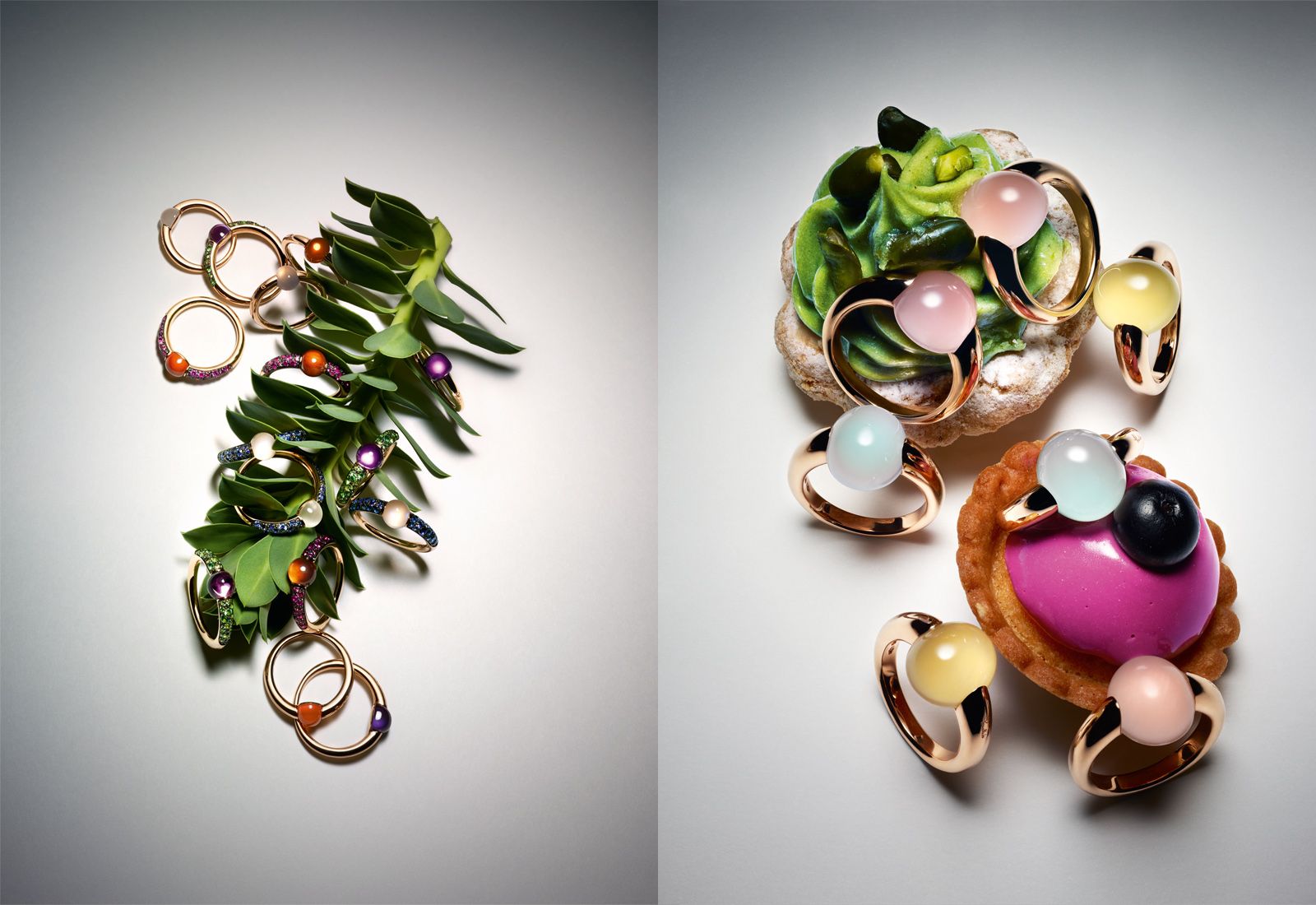 Pino Rabolini, who established the brand in Milan those 50 years ago, provides an insightful and heartfelt introduction to the book, as told through the intermediary of Giusi Ferré. His description of the moments, the muses and even the words that inspired him in every sense – down to the very name 'Pomellato' (the Italian translation of 'dappled') - allows the reader to feel a personal connection to this incredibly sophisticated presentation of fine jewellery.
Pop art creations and kaleidoscopic prints school Pomellato's hallmark rounded, colourful designs in artistic and playful compositions – Pomellato since 1967.
The book is much more than just a jewellery brand's retrospective; it intelligently explores all facets of the age and time which was so influential in shaping the aesthetic of Pomellato as a brand. 'Pomellato since 1967' explores and celebrates the "cultural, sartorial, and artistic revolutions of the 1960s and onwards."
Primarily focused on imagery rather than text, this coffee table book is one that has a potential audience much larger than simply those who are a fan of fine jewellery, or who are already aware of the Pomellato brand. This tome sits comfortably with any artistic or cultural retrospective on the era, and the editorial images which have been chosen to illustrate the artistic elevation of Pomellato are truly in keeping with and reflective of the book's theme.