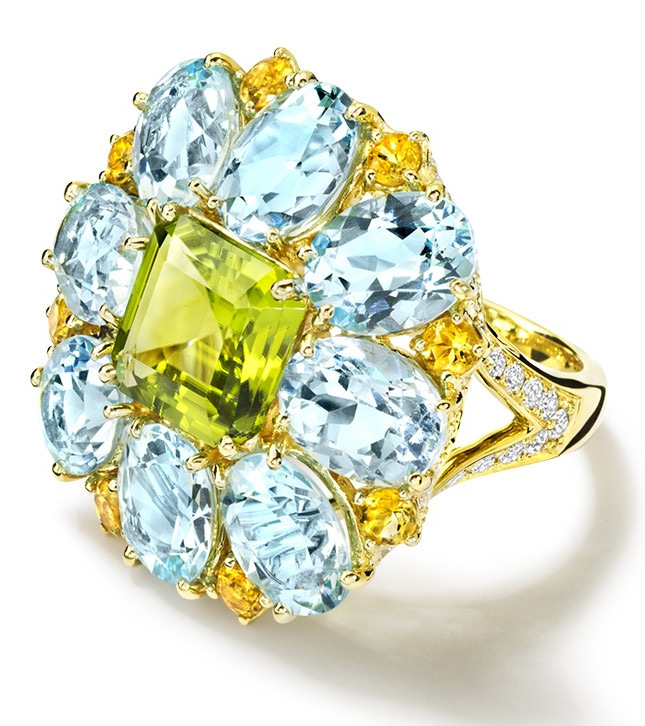 Cassandra Goad Ana Carolina ring with an emerald-cut peridot of 4.30cts, surrounded blue topaz, yellow citrines and diamonds
Peridot is a transparent type of olivine. You've probably heard of a different name for this stone: chrysolite. As it's the August birthstone I planned to write about it last month but only got around it now. Better late the never, right? So here are some interesting facts about peridot.
1 – Chrysolite is another name for peridot . Since ancient times it has been considered a tradesman's stone, most likely because the word gold features in its name (in Ancient Greek, "chrysos" meant gold and "lithos" – stone). In the Middle Ages, bankers chose it as their talisman as the stone's green tint (the colour of hope) signified luck for its owner.
2 – The best and most famous chrysolite mine, which has been consistently exploited since antiquity, is on the island of Zabargad in the Red Sea. It is famous for having particularly large crystals.
3 – At the turn of the 20th century, geologists stumbled upon samples of chrysolite so often that they even came up with the theory that an "olivine layer" of rock existed above the earth's core. This theory has yet to be substantiated.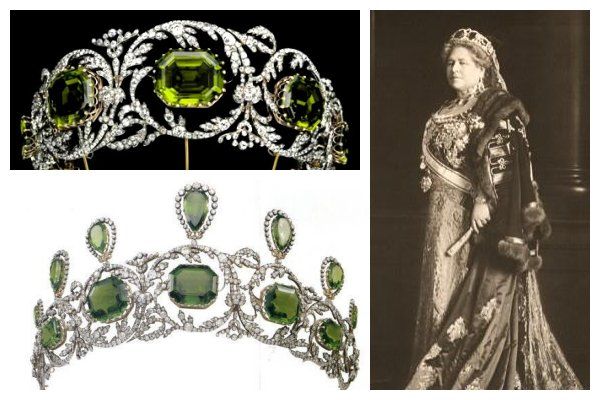 Tiara owned by the Austrian Grand Duchess Isabella
4 – Peridot is difficult to polish and easy to scratch. It is often step-cut or cut in a variety of ways to improve its colour and reduce the risk of the stone cracking (its hardness on the Mohs scale is 6.5-7).
5 –Peridot's colour can be a pale yellowish green, an olive green, a dark green or a bright light green. It can be reminiscent of green tourmaline, green zirkon, green apatite and green sapphire.
6 – Peridot is sometimes called a "poor man's emerald" or an "evening emerald" because its yellow hue disappears under artificial light and the stone looks green.
7 – The most valuable peridot has bright yellow-green colour tones. Stones of more than 8 carats have collector status.
8 –The rarest forms of peridot are cat's eye peridot and star peridot. The effect is created by the parallel needle shaped rivets inside the stone.
9 – The largest cut peridot is 310 carats and displayed at the Smithsonian Institute in Washington, D.C. Another, a yellowish green stone weighing 192.75 carats, used to belong to the Russian royal family and is now in Russia's Diamond Fund.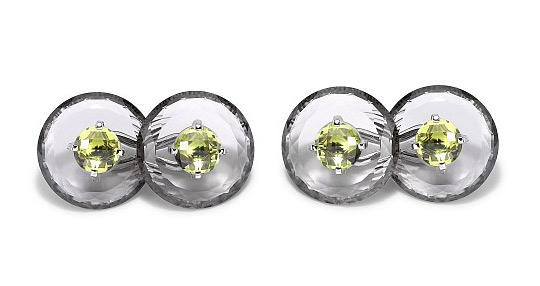 Asprey two layer stone cufflinks with smokey quartz and peridot
10 – The most famous peridot jewellery collection comes in the form of a tiara, necklace and earrings owned by the Austrian Grand Duchess Isabella. The collection was initially created by the imperial Hapsburg jeweller Kochert for Grand Duchess Henriette, the wife of Charles, Grand Duke of Tuscany, who later gave the collection to his nephew, Grand Duke Friedrich. He, in turn, gave the jewels to his wife, Grand Duchess Isabella. In 2001, the peridot jewels belonging to the Grand Duchess were sold by Sotheby's in London as part of the Magnificent Antique Jewels event and purchased by the jewellery brand Fred Leighton.
I hope you've now discovered something new. So what interesting facts do you know about peridot?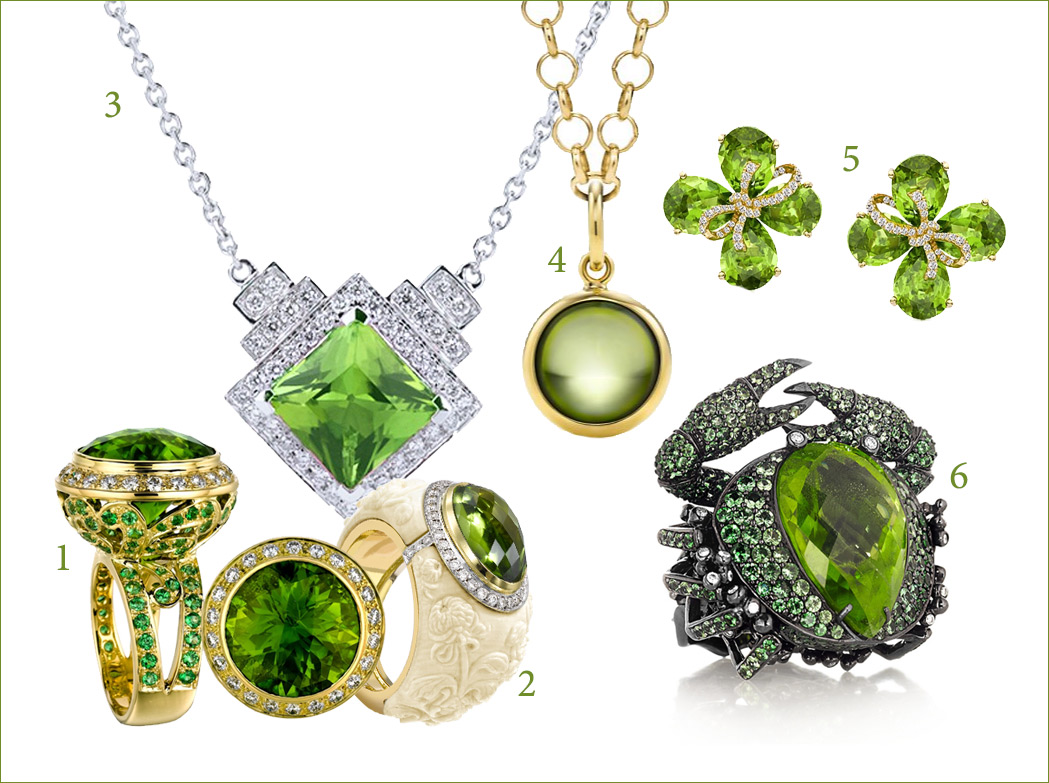 1. Paola Crevoshay; 2. Theo Fennell; 3. Boodles; 4. Tiffany&Co; 5. Kiki McDonough; 6. Lydia Courteille