Hair jewellery was trend at the 2020 SAG awards, with Charlize Theron causing a stir with her ultra-chic addition to her hairdo: a 3 carat Tiffany & Co. Victoria line diamond bracelet in her hair parting. Helena Bonham Carter also opted for vintage diamond hair jewellery, which perfectly suited her eccentric bohemian signature style. Michelle Williams chose to adorn her hairdo with diamonds, wearing a 6 carat Forevermark diamond feather barrette. "For Michelle's look we really wanted to focus on her gorgeous skin and colouring," Kate Young, Michelle's stylist said in a statement.
Forevermark jewellery had another big red carpet moment with Lupita Nyong'o wearing their chandelier diamond earrings and bracelets which cost $3.5million and weighed 90 carats. "This is such a bold, modern look and I wanted jewellery that could not only stand on its own, but also complement the styling perfectly," said Nyong'o's stylist Micaela Erlanger. "I immediately thought of these Forevermark pieces because they have such brilliance to them — they're as luminous as Lupita!" Television star Rachel Brosnahan also kept things chic and very simple in ribbon-like Forevermark diamond drop earrings.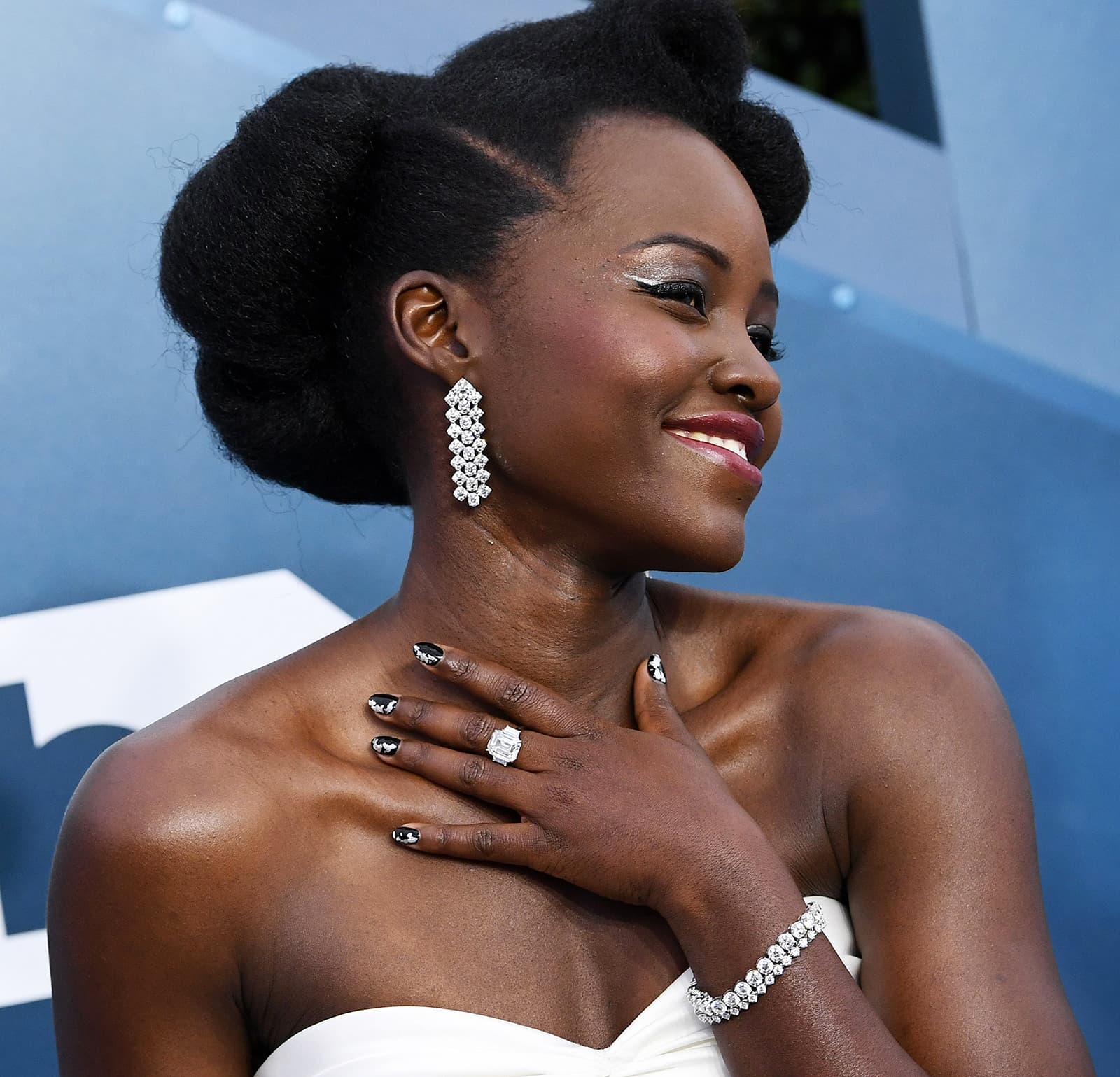 Diamonds were almost exclusively the only gem on the red carpet this year - the only glimmers of colour were seen in the vivid choice which Danai Gurira made with her Bulgari High Jewellery Divas' Dream necklace, featuring over 85 carats of coloured gemstones and diamonds, which she paired with matching Divas' Dream earrings. Nicole Kidman also alluded to colour in amethyst, sapphire, pearls and black and colourless diamond drop earrings by Lydia Courteille, as well as diamond bracelets by Levian Jewellery, and diamond rings by Mindi Mond, Karma el Khalil, and Swati Dhanak. Another subtle colour flash came from Dakota Fanning's aquamarine earrings from Fred Leighton.
One cool way to wear red carpet jewels came from Renée Zellweger in two matching cuffs: the Cartier Paris Nouvelle Vague bracelets with hematites, amethysts, smoky quartz, pink opals, and diamonds in rose gold. Another star who decided to go for a less conventional way of wearing red carpet jewellery was Christina Applegate in mismatched Azza Fahmy earrings with diamonds, sapphires and emeralds in yellow gold. Also opting for a young, modern jewellery designer was Phoebe Waller-Bridge, who chose Fernando Jorge's Brilliant collection jewellery - all with diamonds and white gold.


Dressing diamonds in a different way was Cynthia Erivo, who not only joined the red carpet trend for multiple earrings with Roberto Coin diamond ear climbers, but also wore a Roberto Coin lariat style necklace "worth about a million dollars" according to the actress herself. The twist in this jewellery styling came from the necklace being worn backwards, accentuating her short hair and strapless dress choice with diamonds dripping down her back.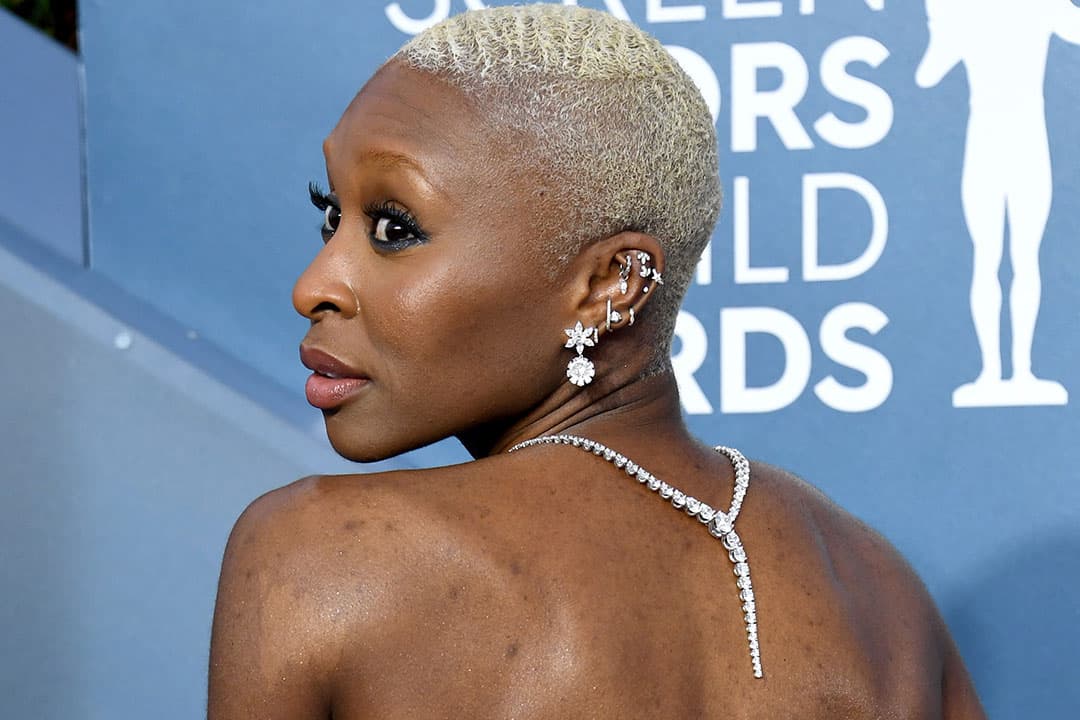 In a classic take on red carpet glamour, Jennifer Lopez chose to wear over $9 million worth of Harry Winston jewellery, including a 73.55 carat necklace, 13.77 carat drop diamond earrings, two diamond bracelets totalling over 95 carats and two diamond rings boasting more than 17.50 carats. She wasn't the only star with high-octane sparkle: D'Orazio PR dressed Yvonne Strahovski in an astonishing 182 carat diamond necklace by Harry Kotlar worth $25 million.


Two actors who made the biggest headlines of the evening were Jennifer Aniston and Scarlett Johansson - while Aniston's jewellery was refined, wearing only antique diamond drop earrings from Fred Leighton, Johansson's choice was the polar opposite! To accessorise her famous Taffin engagement ring, she wore Taffin drop earrings in his signature ceramic and inverse set diamonds and a statement diamond Taffin cuff which made waves with editors in 2019.
With awards season in full flow, we can't wait to see the high glamour jewellery which will be on show at the Oscars on 10th February!