With such a broad spectrum of talent, information and creations from all facets of the jewellery industry, there was so much which inspired and intrigued at the 3 day event – held from September 3rd- 5th in Olympia, Kensington. I have selected a number of pieces that caught my eye for a variety of reasons – some for their innovative design, others for their use of gemstones, and some which I simply fell for!
Chamovskikh is a Russian jewellery house which I had never been introduced to before, and this type of discovery is what I love the most about shows like IJL! As part of the Made in Russia exhibit, it presented a true masterpiece - the transformable Sofia ring with a 3.03 ct pear central diamond surrounded by 392 additional stones. Its intriguing design featured a pear cut D colour, Internally Flawless grade diamond solitaire enclosed within an elaborate halo-like 'jacket'. The creative thought which has been employed in making 2 beautiful rings into one is astounding, demonstrating how the jewellery house pushes the boundaries in all forms of their presentation.
Argentov is another Russian jeweller who fascinated me with their creations, especially the signature pieces with intaglios! This type of gem-engraving technique is very traditional in Russian artworks, and speaks to the brand's Russian heritage. The carving process is undertaken by hand under a microscope, by a master craftsman who intuitively knows how to carve the gemstone perfectly without even looking. The decoration of every Agentov jewel continues throughout the entirety of the setting, making the back looking equally beautiful as the front. The 'Spring of Wonders' beryl pendant is a wonderful example of the company's original take on fine jewellery.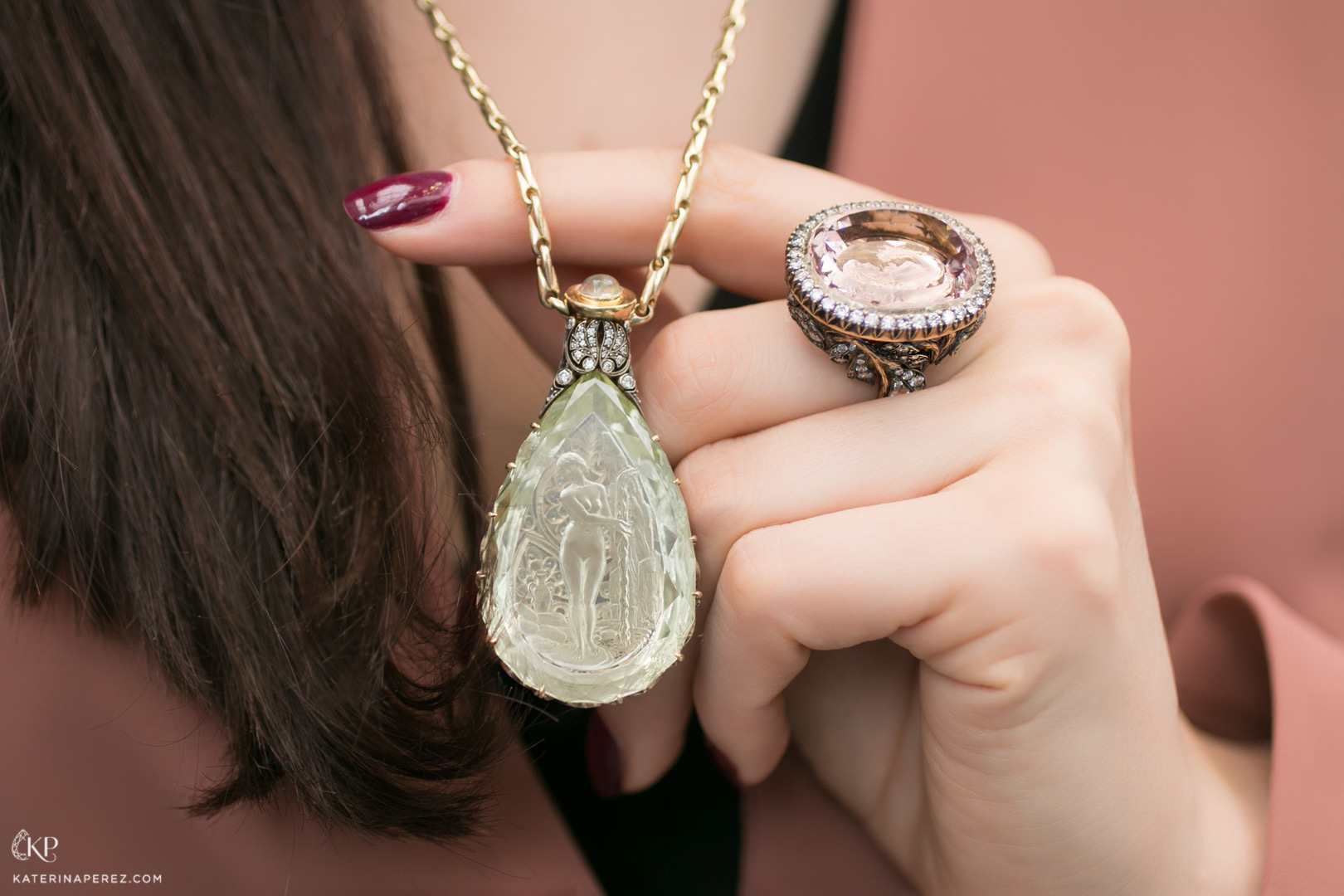 Russian jewellery atelier Echo was also among the 8 participating brands of Made in Russia stand. Grigory Myagkov, Echo's General Director, and the company's designers have a strong vision – often influenced by pastoral and classical folklore - which is then interpreted into precious metals of all types and forms. The piece that caught my eye - the 'Protector' cuff - depicts a family of wolves crafted in white and yellow 18k gold, layered and decorated in different textures. The father wolf is standing proudly in the centre, with his older cub running freely on one side of the bracelet and the mother with a new-born resting on the other.
As one of the hottest names in fine jewellery at the moment, Nadine Aysoy has had a front cover feature in Retail Jeweller magazine just in time for the show. She showcased her infamous Tsarina earrings and rings at IJL 2017 alongside some newest creations and the pearl Mille et Une Feuilles Rose Gold ring, which won the coveted 'Showstopper' award at IJL. Crafted in 18K rose gold with a 14mm South Sea pearl and 0.70ct diamonds, it spreads graciously along two fingers creating an extravagant and stylish look.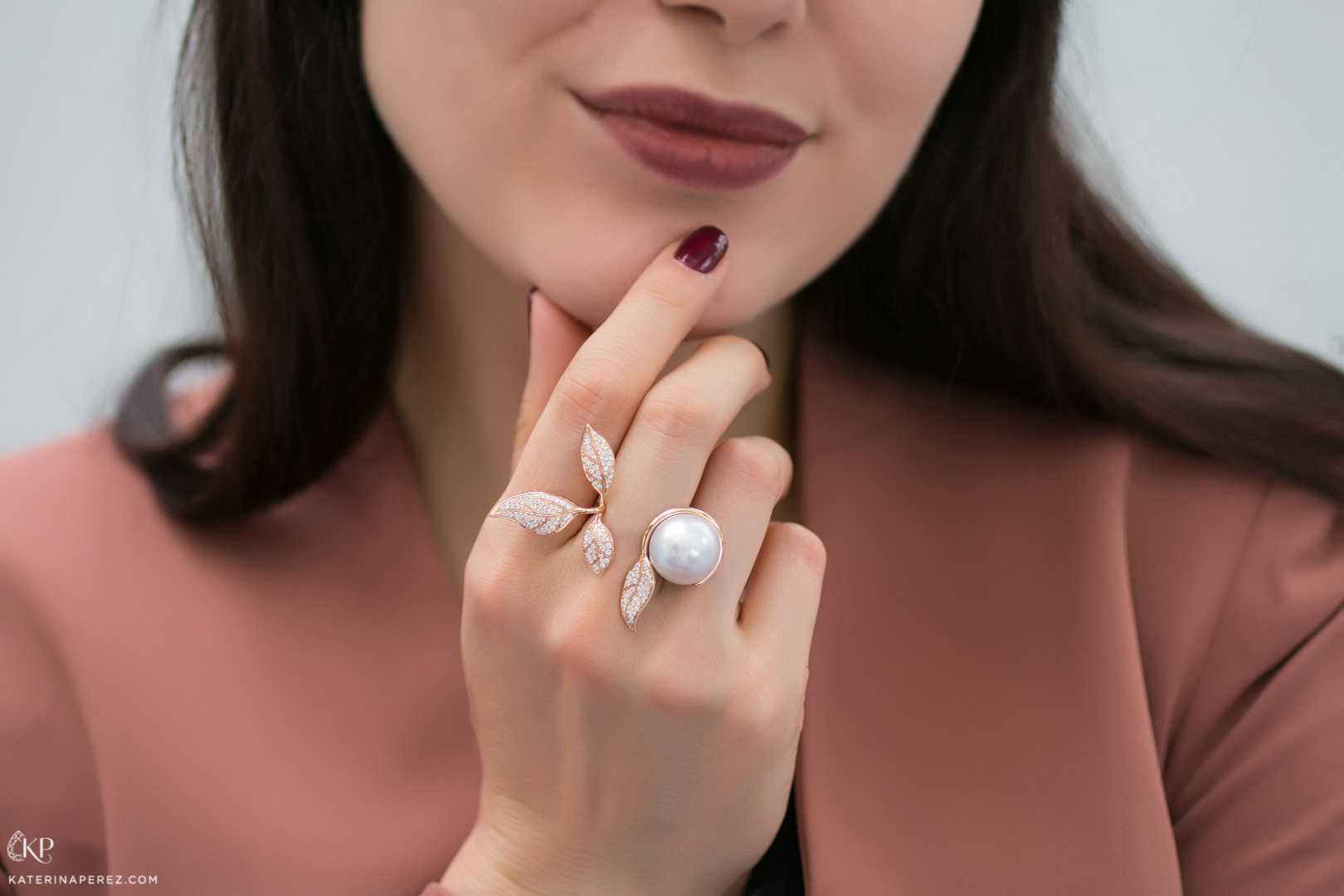 José María Goñi's Chilean heritage is interpreted through the focus on large, statement jewellery and colourful gemstones. Among many of his gorgeous pieces was this 'Rose' necklace; whose gradating green and pink tourmalines form the basis of the necklace, mimicking the reds and greens of roses in nature. The centre piece is removable, with the option of being worn as a separate brooch or pendant. The luscious flower is a show-stopper itself, being embellished with pave of diamonds paired with an oval rubellite whose colour is rich and alluring. I am sure you'll agree that José María Goñi's jewellery is certainly all about glitz and glamour.
Mahak Kala, who is the creative mind behind Panchoo jewels comes from a family of gemstone dealers in India, specialising in tanzanite. As he fell for the art of gemstones and jewellery, he started designing and now boasts a collection of some of the most exquisitely crafted and colourful gemstone jewellery I have ever seen! This bracelet from their 'Jaipuriya' collection combines an array of gemstones such as turquoise, sapphires, spinels, iolites, amethysts and diamonds. Their shapes and colours have been inspired by Jaipur's famous Amber Fort. It took 185 days to recreate the intricate ornaments in 3-dimensional design!
Fei Liu's poppy brooch was a sight for sore eyes at IJL, with its jade cabochon and luminous carved opal. It was so precious that only select clients got to see it, since the brooch was not displayed alongside the rest of the jewels. Fei's considered design embellished the centre of the piece in yellow and white diamonds that sparkle liked raindrop dew in the sunlight, and encrusting the stem in tsavorites. The combination of shiny and opaque stones created variation in tone and texture in this bejewelled masterpiece which took 8 months to create.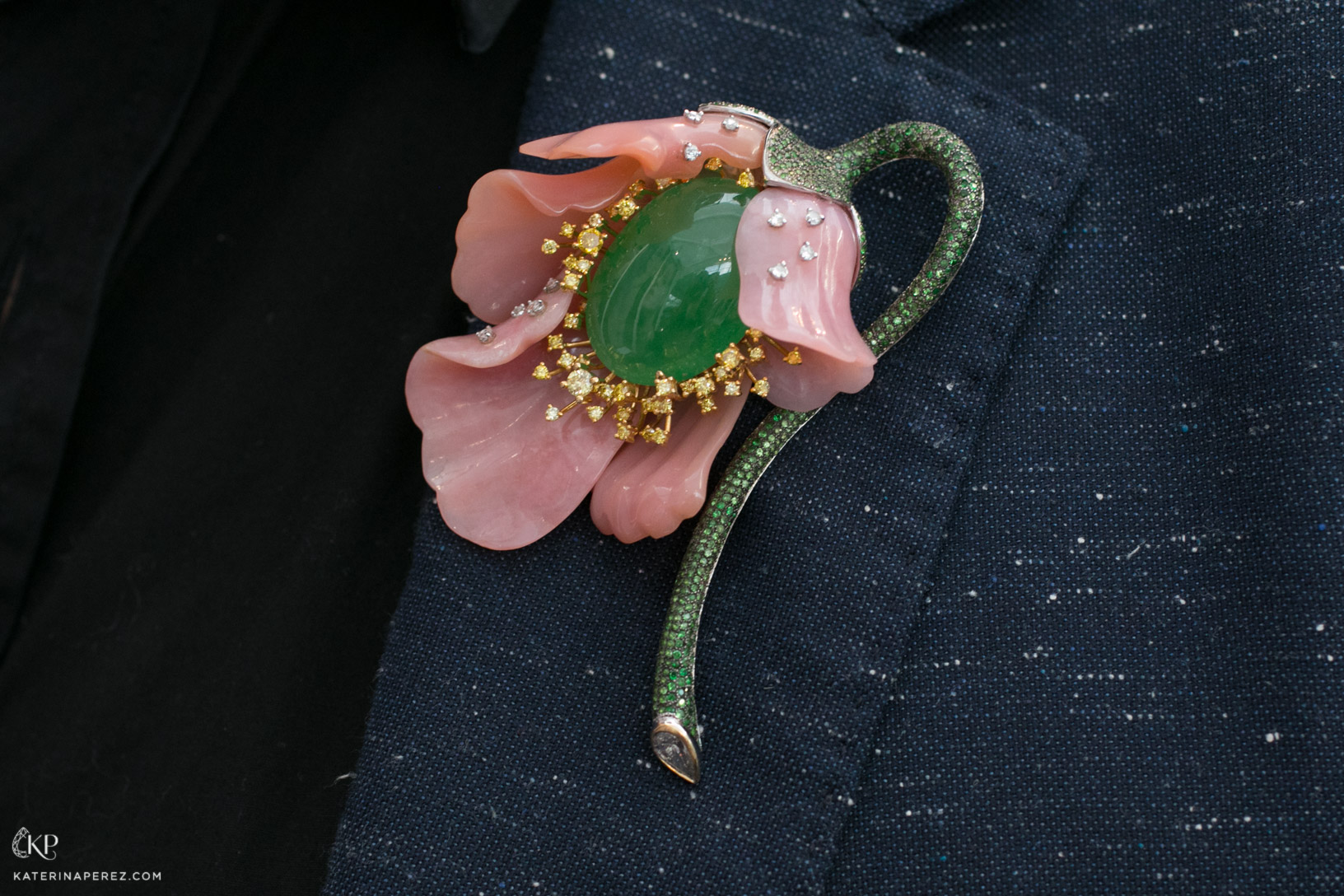 International Jewellery London continues to be one of the most significant events in the British jewellery calendar, and brings the best jewellery from around the world to be showcased in London.