As mentors go, Jessie Thomas was certainly lucky to have master goldsmith David Thomas as her father and teacher. To briefly discuss David Thomas' legacy first isn't to diminish the talent of Jessie. On the contrary, her latest bridal jewels have all been handmade by herself in her London workshop, which demonstrates her skills as a designer-maker in her own right. However, there are parallels between her signature bold, sculptural style and the avant-garde aesthetic of her father, who pioneered the experimental style of jewellery that started to appear in London in the 1960s.
David Thomas was one of a small group of innovative young jewellers selected to exhibit their works at the 'International Exhibition of Modern Jewellery 1890 – 1961' at Goldsmiths' Hall, London, in 1961. His jewellery of this era was asymmetric and voluminous with textured finishes and coloured gemstones left in their natural, rough state. You will no doubt have head of David's contemporaries, like Andrew Grima and John Donald, who also enjoyed international recognition as "new modernist jewellers," according to Hancocks London – a specialist in vintage and contemporary jewellery. Today, David's pieces are held in permanent collections of institutions including the Victoria & Albert Museum and the Goldsmiths Company and can be recognised by his unique Maker's Mark 'D.A.T'.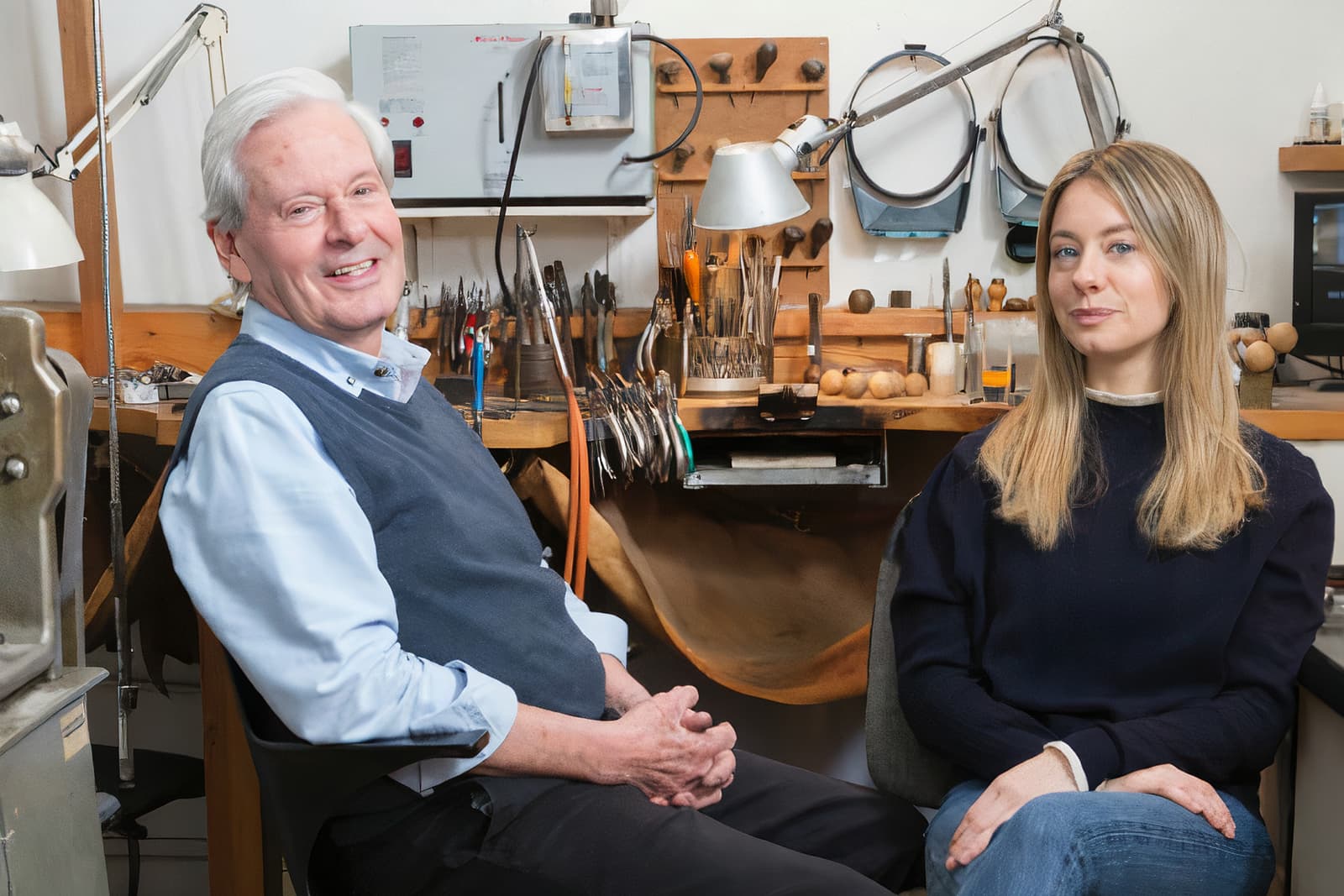 Now, back to Jessie, and can you imagine having this legacy supporting you and guiding you on your own jewellery journey?! Today, Jessie and David work together in their shared workshop and retail space in London's Chelsea, each designing and handmaking ready to wear and bespoke pieces with an air of understated simplicity (something that often belies their technically proficient nature). Their materials of choice are recycled or Fairtrade yellow gold, diamonds from Botswana and Canada, and old-cut and antique-cut diamonds that are repurposed from older pieces.
Jessie's latest array of pieces is a curated selection of engagement rings with architectural silhouettes, clean lines and undulating curves. Some, like the bombe and chunky gypsy styles, have become somewhat of a Jessie Thomas signature that bridge the gap between cocktail ring and classic engagement ring. Other pieces are delicately scalloped, adorned with a hammered metal finish, or designed to sit like miniature tiaras on the finger. This is unfussy bridal with no less impact, which is actually quite hard to achieve. Some of my favourites of these one-of-a-kind creations are the most 'un-bridal', including the Cushion Bombe ring in hammered 18k yellow gold with a 2.05 carat cushion-cut diamond centre stone, set in platinum, and the Curving Brilliant Diamond ring in 18k yellow gold with a tension-set 1.50 carat old-cut brilliant diamond.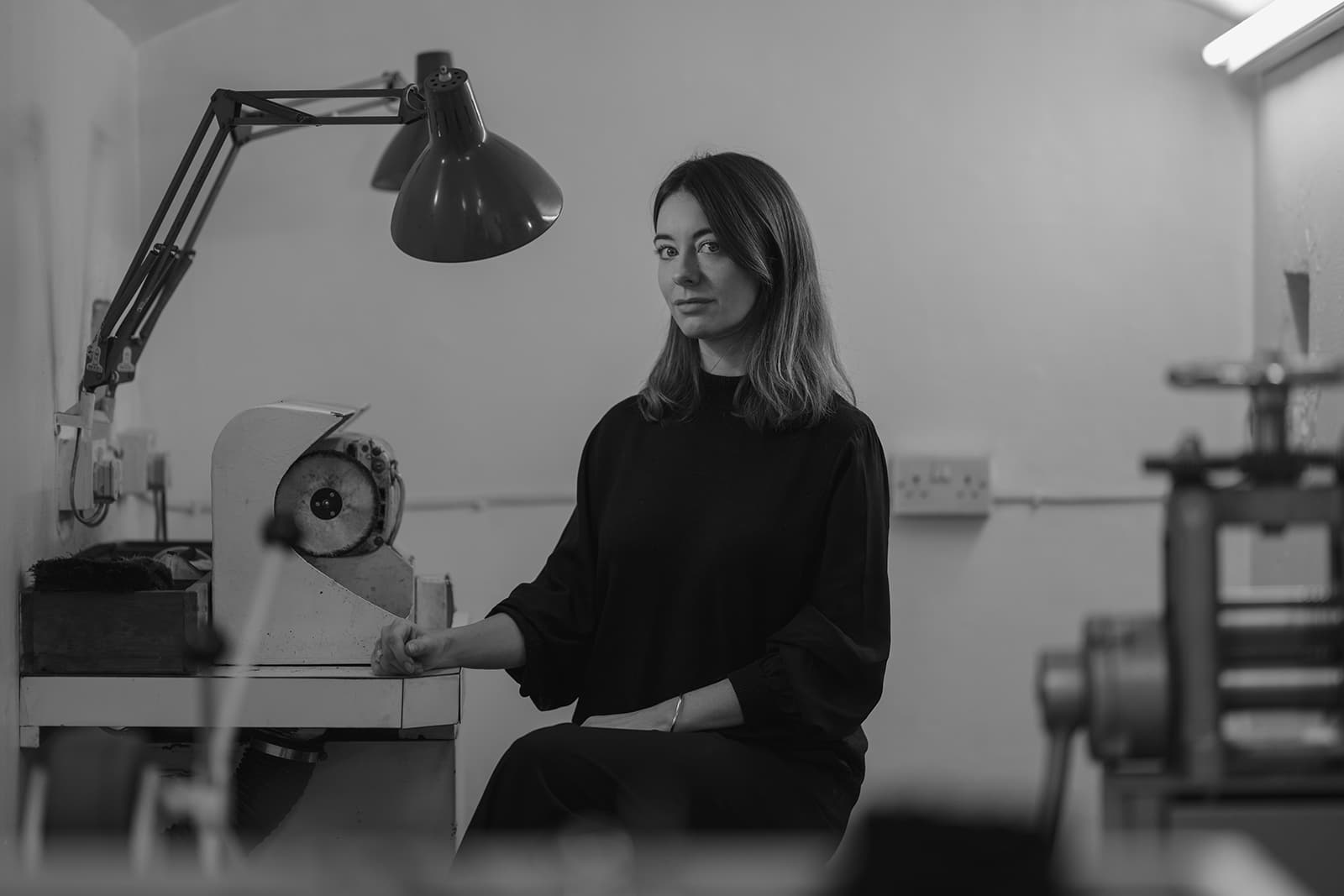 Finally, I'd like to mention another piece – the Sculptural ring – that is unlike anything I've seen before. It's simple upon first glance; an 18k yellow gold band with a modest 0.50 carat pear-shaped diamond in platinum claws, but there's just something about the knotted gold and floating stone that immediately caught my eye. The complete collection consists of around 25 pieces and I'm convinced there is something for every taste, especially those with a passion for the 1960s 'new modernists'.