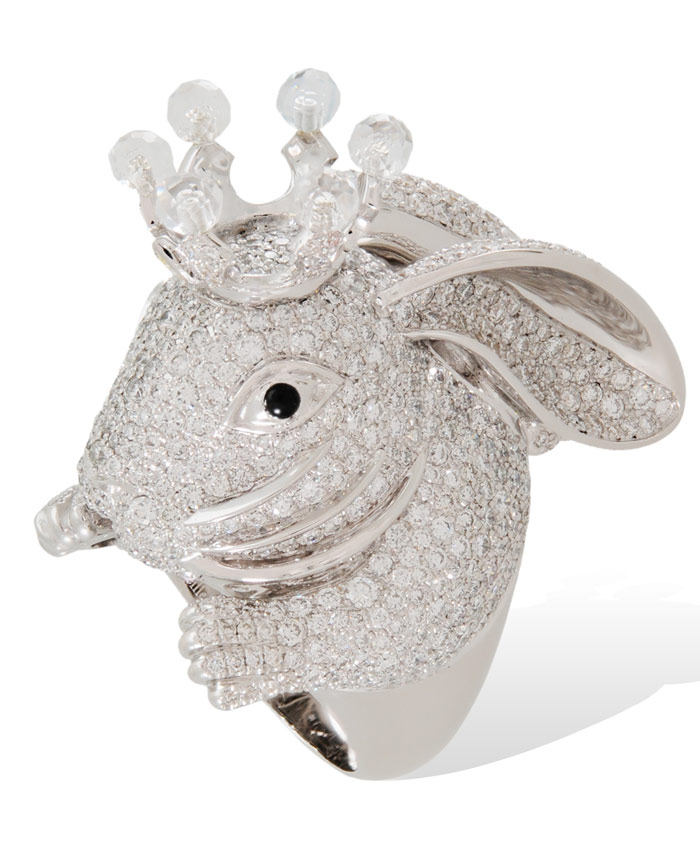 The independent jewellery consultant Margo Raffaelli returns to katerinaperez.com. This time she announces the launch of Lydia Courteille's new Animal Farm collection.
Every piece made by the extravagant French designer Lydia Courteille can tell a story of its own. Tucked away in a secret little boutique on one of Paris' most prestigious streets, la rue Saint-Honoré, where thousands of the brand's fans make an annual pilgrimage, Courteille's jewellery makes you feel as though you have plunged into a fairytale: there, you can consider the notion of surrealism, choose a sign of the Zodiac, acquire a spoil of war from the Crusades, dedicate senseless dances to an African tribal icon, and even study literature. All of this was on display as part of the jeweller's latest exhibition.
Alluding to the satirical, allegorical novella Animal Farm, written by George Orwell in 1945, Madame Courteille proved her own great sense of humour. Remember that famous line: "all animals are equal, but some are more equal than others"? Well, those who go and lose themselves in the legendary Saint-Honoré boutique can be counted amongst the ranks of those more equal.
The designer has demonstrated her proficiency at translating words into the language of jewellery, the result of which is her collection of singular creations that comprises eight charming miniature works of art: a pig, a cow, a turkey, a mouse, a goat, a rabbit and a duck. Each is made of 18K gold, diamonds, pearl, gemstones and topped with a magnificent crown. In the words of their maker, she has strived to create something uniquely ironic and provocative! You probably couldn't think of something which better embodies that.
Written by Margo Raffaelli // Images are courtesy of Lydia Courteille

// <![CDATA[ var OB_platformType=3; var OB_PlugInVer='8.0.0.0_Regular'; // ]]>