From left to right: Cartier Orchid brooch; Morphee Joaillerie Bleeding Heart brooch; Lorenz Baumer Envol brooch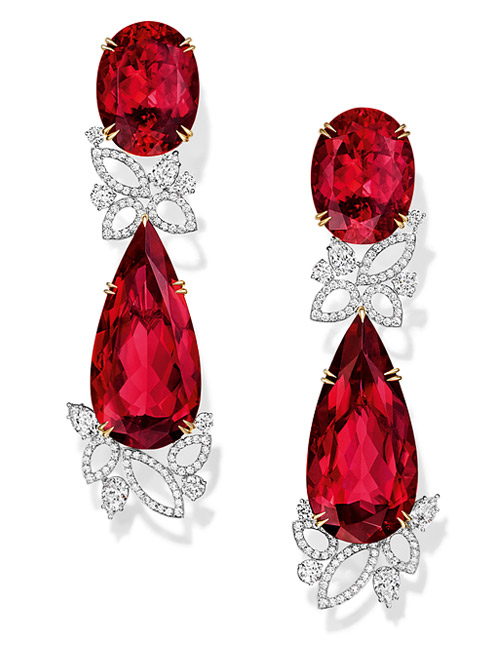 Harry Winston rubellite Lily cluster earrings with diamonds
October is one of the months blessed with two birthstones: opal and tourmaline. The opal has been on the peak of its popularity for a while now, with its bewitching bursts of colour, as if it has a firework exploding inside it – but I have written about this gem already. Tourmalines, however, I have not yet looked at, so they are today's subject of conversation – or, more specifically, their rare variant: rubellite.
In 1954 the pioneering gemmologist, Alexander Fersman, wrote in his book: "I have always held the raspberry or grape red tourmaline in the highest esteem." Back then the stone was not yet known as a rubellite – it was called a red schorl – but it was very much valued, with its similarity in appearance to the ruby making it an object of desire.
NAME
One interesting property of the tourmaline is that when it is heated it its surface becomes energised and begins to attract dust and lint, almost like a magnet. This peculiarity is reflected in its name, which comes from the Sinhalese (Sri Lankan) word 'turmali', meaning 'stone that attracts ash'.
COLOUR
The clear crystal of the mineral rubellite comes in a variety of colours – uniform or mixed in saturation – depending on the exact chemical composition. Rubellites can range from bright pink, such as the stone featuring in Morphée Joaillerie's 'Bleeding Heart' brooch (on the very top), to intense red, like the tourmalines in Harry Winston's earrings, sometimes with added flecks of purple or light blue.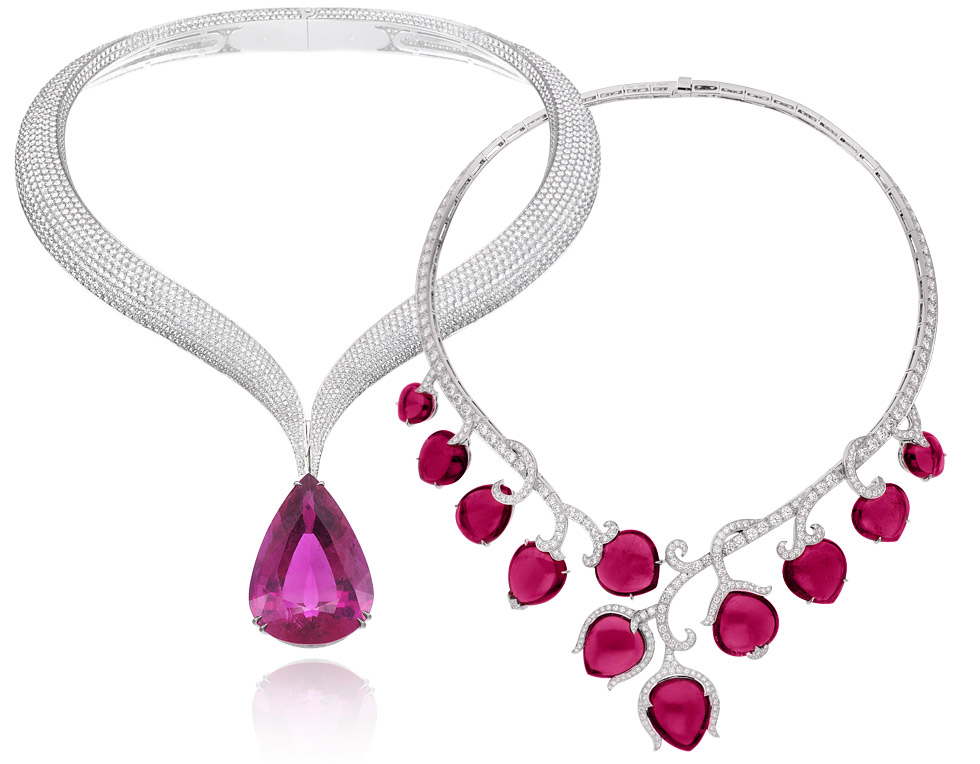 Left: Chopard rubellite and diamonds necklace from the Red Carpet collection; Right: Van Cleef&Arpels Boboli necklace with cabochon rubellites and diamonds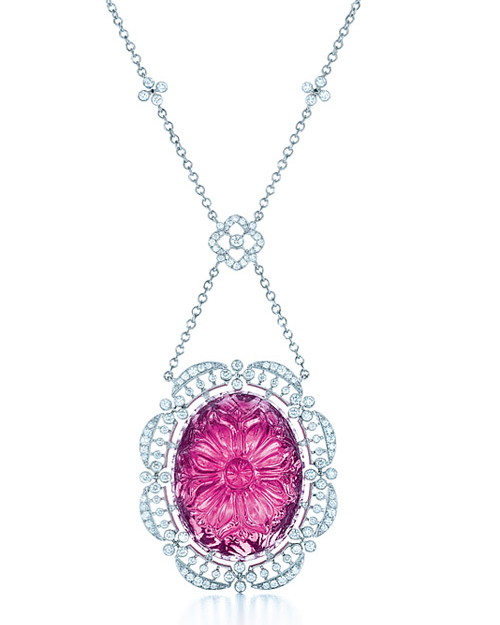 Tiffany & Co. Carved rubellite pendant with round brilliant diamonds set in platinum
DIFFERENT CUTS
Tourmaline stones come in a number of different cuts. The pear cut is the most common, seen in the necklace by Chopard in their Red Carpet collection (see above), as is the cushion cut you will see in Cartier's Orchid brooch (top banner).
With stones that are either less clear, varied in colour, have more inclusions or are asteriated, a cabochon or bead cut is favoured. Stones that are not given a specific cut often feature engraving done by hand – the rubellite and diamond earrings by Graff (see a bit further down the article) is a good example of this.
THE RUBELLITE THROUGHOUT HISTORY
There was a time when all red gemstones were generally referred to as rubies, which led to a number of historic mix ups. For example, there is 'Caesar's Ruby', from the Diamond Fund of the Moscow State Museum-Preserve, a stone also known as 'The Great Ruby' and 'The Red Stone', given by the Swedish King Gustav III to Catherine the Great in 1777.
The bright raspberry red stone shaped like a bunch of grapes, weighing 255.75 carats, was variously described as a ruby and a spinel over the course of the last 100 years, and it wasn't until the 20th Century when Alexander Fersman gave his definitive verdict: that the stone initially given to Caesar by Cleopatra is in fact a rubellite from Burma which had been treated by jewellers in India!
Another historic stone, the 'Raspberry Star', is part of the collection at the Trading House of Louis XV. This rubellite tourmaline weighs 121 carats and, unlike 'Caesar's Ruby', is completely clear and unique in terms of its size and purity.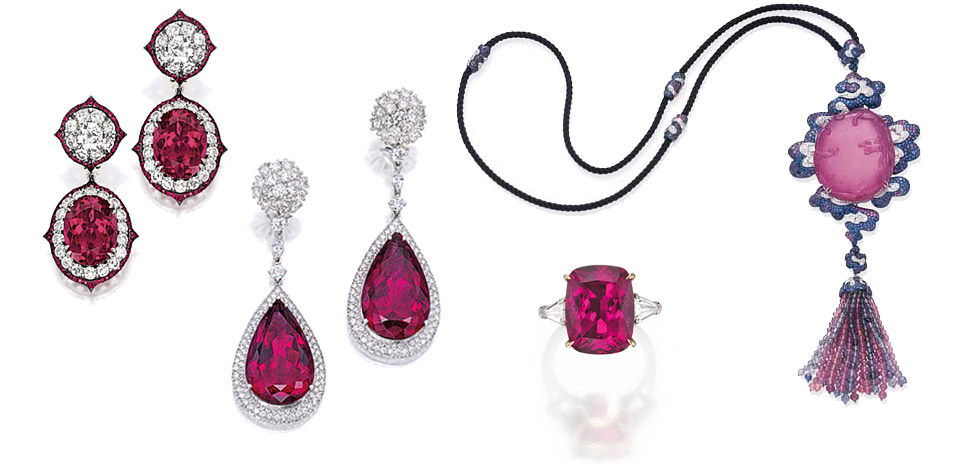 Auctioned jewellery from left to right: IVY New York earrings, rubellite earrings, Tiffany&Co ring – Sotheby's; Michelle Ong necklace – Christie's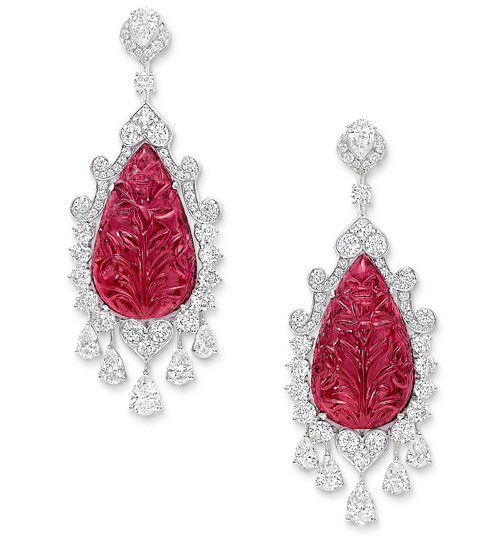 Graff Diamonds carved rubellite earrings with diamonds
AT AUCTION
I have taken a look at auction records covering the last twelve years and picked out a couple of the most impressive jewels. One necklace by Michelle Ong for Carnet, featuring an enormous unfacetted rubellite, along with diamonds and sapphires, sold at Christie's for $72,000 at auction in New York in 2004.
Ten years later a pair of earrings by the US brand IVY New York, featuring two superb rubellites with a total weight of 21.37 carats, went for $65,000 at Sotheby's auction in Hong Kong. Next on the list in terms of value are a set of teardrop-cut rubellite earrings – totalling 56.96 carats – which went up for auction at Sotheby's a couple of weeks ago, also in Hong Kong, for $50,000, although these did not find a buyer.
Then there is a ring from Tiffany&Co featuring a bright 10 carat rubellite tourmaline which was sold at Sotheby's in February of this year in New York for $22,000 – twice as much as was predicted.
OVER THE COUNTER
Many of the major brands use rubellites to create impactful jewellery designs such as cocktail rings, necklaces featuring a large central stone, and chandelier earrings. The latter are increasingly rare because it is very hard to find two identically coloured tourmalines, but if you want to make your search for tourmaline jewellery, I recommend checking out my gallery of chic cocktail rings featuring this particularly beguiling gemstone. KP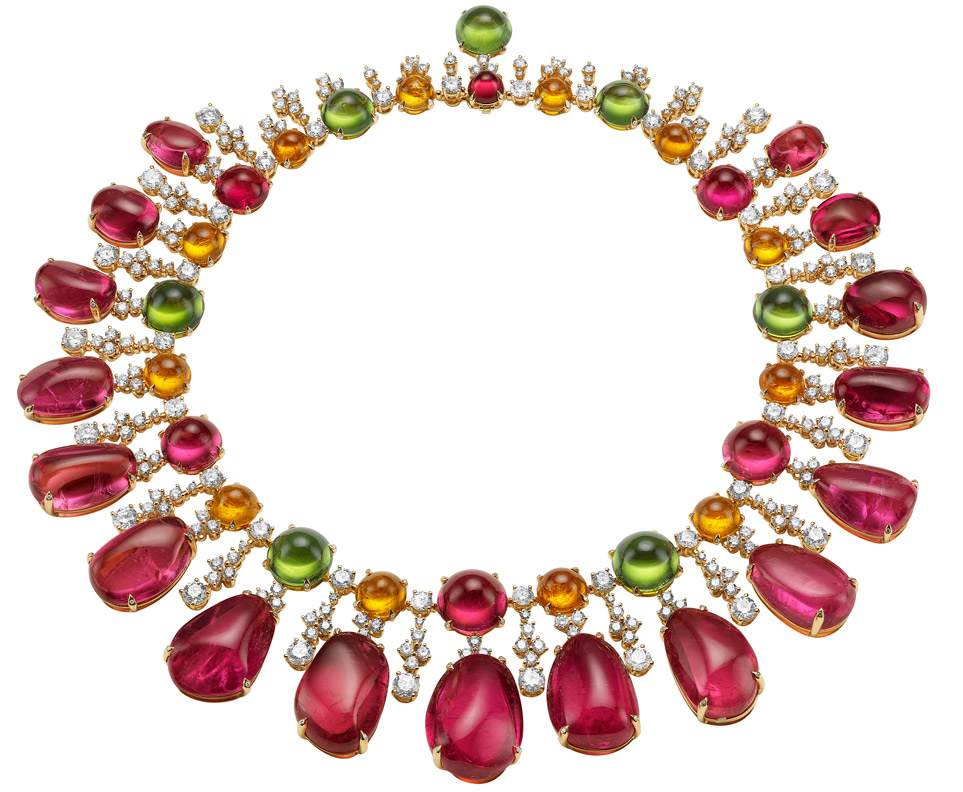 Bulgari Gala in Costa Smeralda necklace with rubellites, peridots, garnets and diamonds