During Paris Haute Couture Fashion Week, I discovered a few dozen jewels that were included in the eminent House's most recent collection. The popularity of these pieces was such that a selection of them had already been sold by the time of presentation, and therefore these creations could only be viewed in the catalogue. In particular, I found myself admiring the most extravagant necklace – 'Blazing Sky' – with its large opal beads. Even from a printed photograph, I was able to marvel at its great beauty. An oval spinel weighing almost 8 carats crowned the central motif of the decorative element; composed of Paraiba tourmalines, spessartite garnets, pink sapphires and diamonds, which were arranged in the form of a star.
Since there were 95 precious items presented in the collection – with 12 more to follow in January 2019 - Piaget divided their creations into 3 'chapters' entitled: 'Warming Lights, 'Exalting Sights' and 'Dancing Nights'. The first chapter works to unite bright and impressive jewels that derive their originality from a bold choice of materials. Finished in pink gold and adorned with yellow and white diamonds, the pieces seem to capture light and transform it through a throng of shimmering reflections.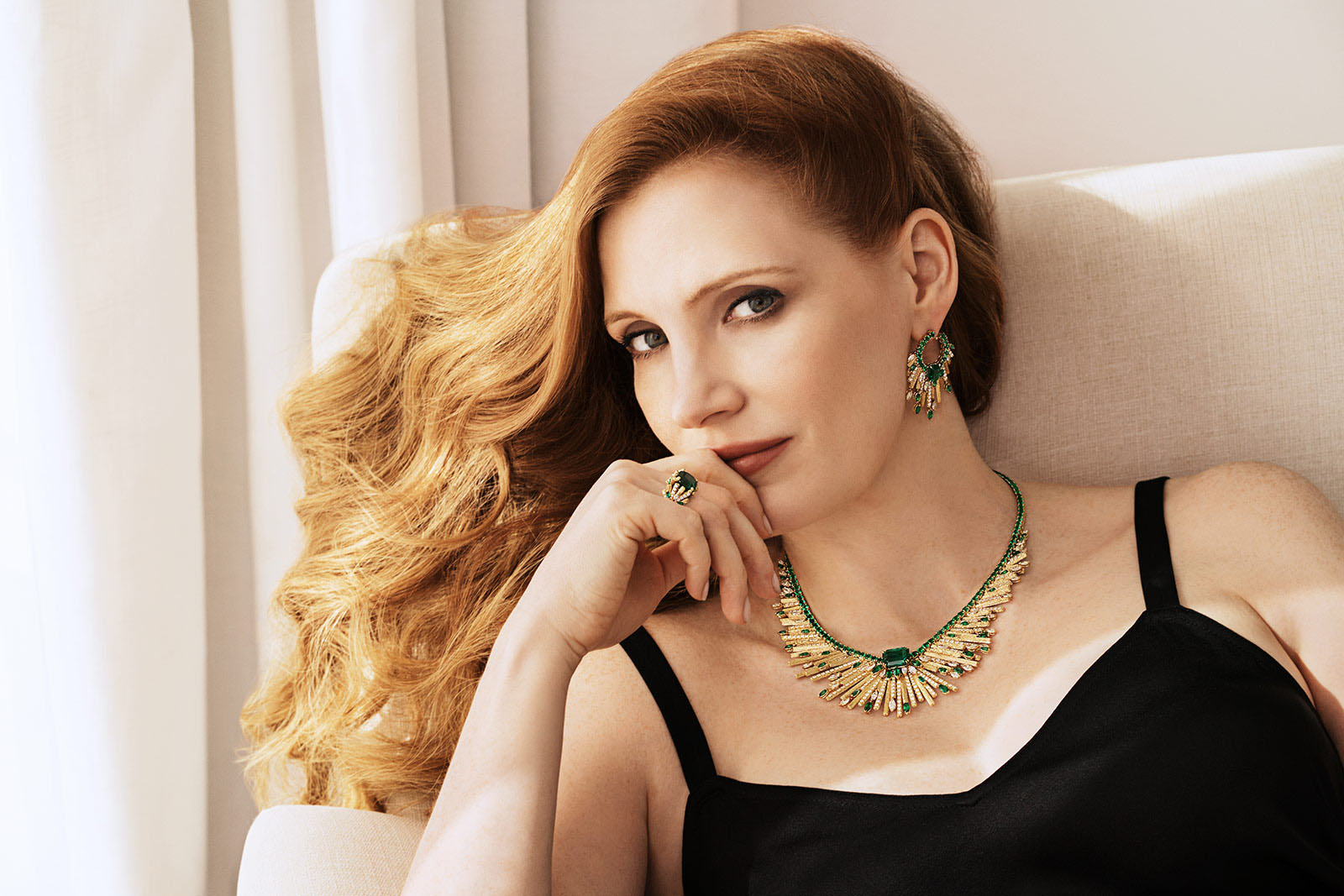 One of the most striking jewelled pieces in this line was the 'Midnight Sun' necklace. It was decorated with dozens of engraved components made of rose gold and studded with marquise cut diamonds, leaving the piece resembling divergent rays of sunlight. A rich green emerald from Colombia weighing 6.02 carats embellished its centre, while lying along the neck was a path of 119 round brilliant emeralds - a rare cut for this stone. A pair of earrings and a ring were created to match the necklace. More outstanding jewels came from the 'Warming Lights' line, and were created using one of Piaget's signature design techniques - feather marquetry. In this collection, both a cuff bracelet and transformable earrings have been decorated using this highly skilled craft, which is perfectly typified in the plumage art work of Nelly Saunier.
The next chapter – 'Exalting Sights' – is an ode to the beauty of nature's mutability, strength and sublimity. In the vastness of the northern polar regions, time flows faster and we find ourselves lost in endless, icy expanses. This landscape is impeccably embodied by the unique 'Infinite Blue' white gold necklace. It is composed of a pear shaped aquamarine weighing 14.52 carats, Paraiba tourmalines, fantasy cut lapis lazuli and, of course, diamonds upon diamonds upon diamonds.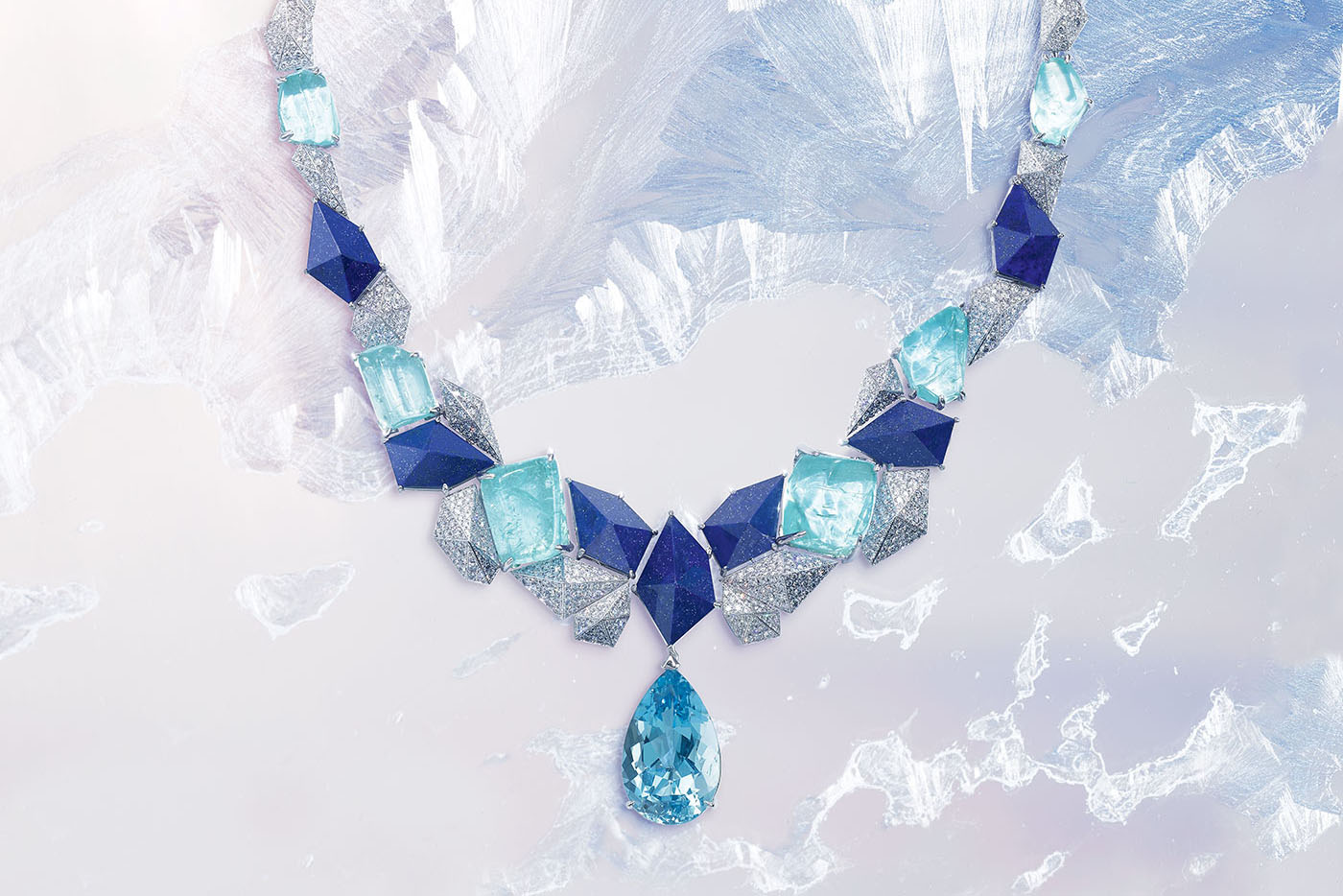 The last sub-collection – 'Dancing Nights' – depicts the great beauty of the Northern Lights, the cosmic wonder that is born of solar winds. The jewellery included within this line combines the most complicated compositions; consisting of multi-coloured precious stones. It seems that the spinels, sapphires, rubies, emeralds and opals are frozen in the movements – such as in the eponymous natural phenomenon - that captures the heart and mind of the viewer.
As in the case of all of their collections created over the past four years, Piaget's 'Sunlight Escape' succeeded in combining rare gems, artfully crafted precious metals and some unusual materials with the employment of a unique approach to technical craftsmanship.