When a starlet steps out of her private car and onto the red carpet, she's a vision of coiffed hair, perfect make-up and meticulously chosen high jewellery. And while the end-product is sensational, the behind-the-scenes process of getting ready for the spotlight - and selecting complementary jewellery from the right brands – is not as easy as going shopping! Stylists work tirelessly to not only cater to their clients' personal tastes, but also curate relationships with high jewellery brands and accommodate any existing partnerships their stars may have with Maisons. For example, flame-haired Jessica Chastain is a Piaget ambassador, which is why she wore the Piaget Sun on Fire diamond and ruby necklace from the Sunlight Journey High Jewellery collection to the Cannes Film Festival in 2017.
There's also the small matter of nominations. As high jewellery is typically worn for award ceremonies, many brands will wait and see who is shortlisted for the most coveted awards (or presenting them) before making a choice of whose necks, ears, and finger they will adorn with jewels. When Lady Gaga was nominated for two accolades at the Academy Award in 2019, she arrived in a stunning Tiffany & Co. necklace set with the fancy yellow 'Tiffany Diamond' weighing 128.54 carats. This was a pivotal high jewellery moment, especially considering the diamond had only one previous outing on the neck of Audrey Hepburn for publicity photographs for Breakfast at Tiffany's in 1961.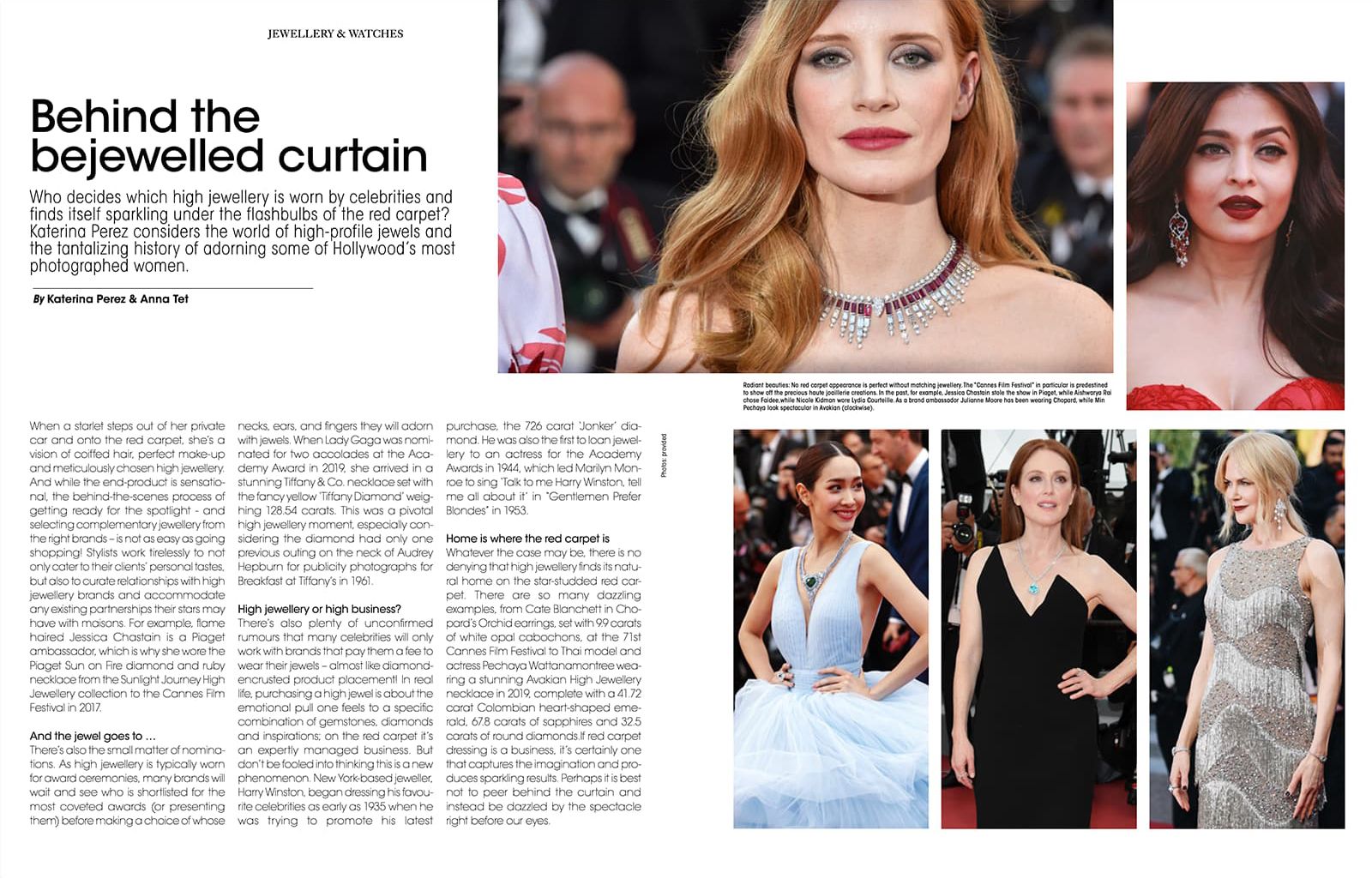 There's also plenty of unconfirmed rumours that many celebrities will only work with brands that pay them a fee to wear their jewels – almost like diamond-encrusted product placement! In real life, purchasing a high jewel is about the emotional pull one feels to a specific combination of gemstones, diamonds and inspirations… on the red carpet it's an expertly managed business. But don't be fooled into thinking this is a new phenomenon. New York-based jeweller, Harry Winston, began dressing his favourite celebrities as early as 1935 when he was trying to promote his latest purchase, the 726 carat 'Jonker' diamond. He was also the first to loan jewellery to an actress for the Academy Awards in 1944, which led Marilyn Monroe to sing 'Talk to me Harry Winston, tell me all about it' in Gentlemen Prefer Blondes in 1953.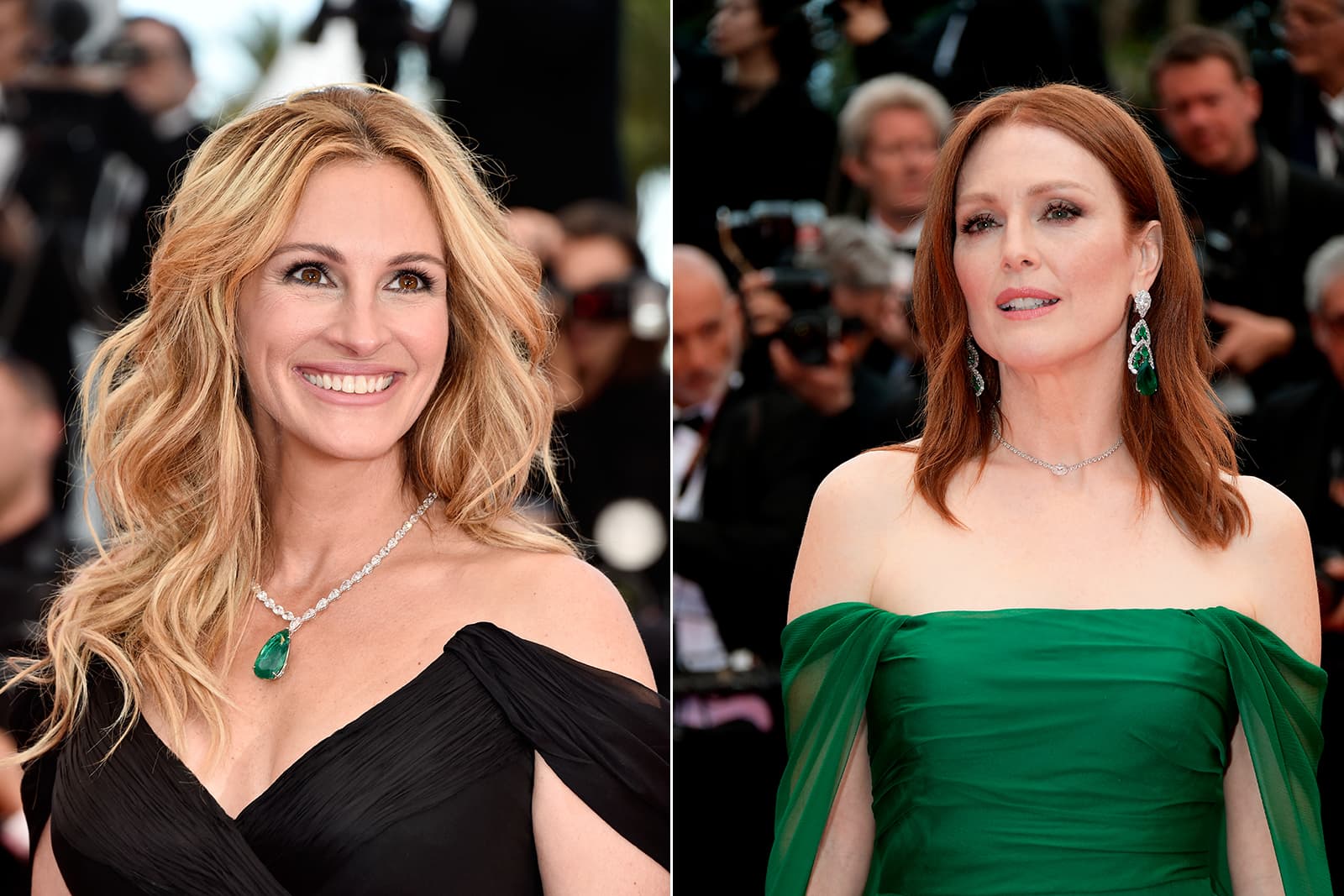 Whatever the case may be, there is no denying that high jewellery finds it natural home on the star-studded red carpet. There are so many dazzling examples, from Cate Blanchett in Chopard's Orchid earrings, set with 9.9 carats of white opal cabochons, at the 71st Cannes Film Festival to Thai model and actress Pechaya Wattanamontree wearing a stunning Avakian High Jewellery necklace in 2019, complete with a 41.72 carat Colombian heart-shaped emerald, 67.8 carats of sapphires and 32.5 carats of round diamonds.
If red carpet dressing is a business, it's certainly one that captures the imagination and produces sparkling results. Perhaps it is best not to peer behind the curtain and instead be dazzled by the spectacle right before our eyes.