The DeLaneau Elements is a unique timepiece created by one of the brand's master enamellists as a tribute to the maison's fascination for art and nature. The mastery of enamelling is highlighted in this wonderful creation that showcases a unique Geneva technique known as la peinture miniature sous fondant (miniature painting with flux enamel). Every detail in nature was carefully studied and recreated in miniature to form a colourful ensemble of flora and fauna. Delicate and feminine, this timepiece brings to life birds, beasts, insects, blossoms and the huge forest through Grand Feu enamelled miniature painting. The gold case of the watch is embellished with a rainbow of 74 baguette-cut precious stones (8 rubies, 12 blue sapphires, 20 yellow and orange sapphires along with 14 tsavorites and 20 diamonds) and 116 brilliant-cut diamonds.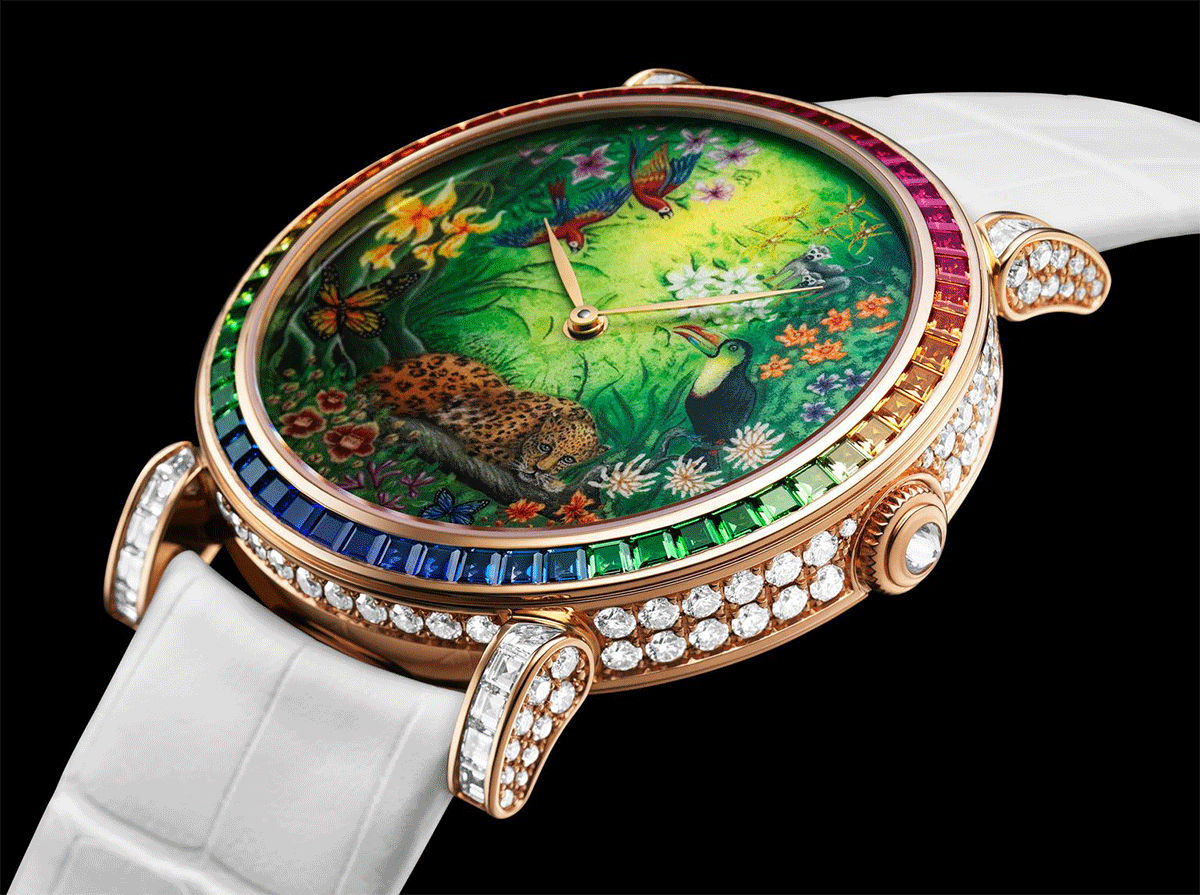 This jewellery masterpiece by Chopard features an 18k rose gold bracelet adorned with baguette-cut sapphires in subtly graded shades. Forming a soft backdrop on the watch face, a kaleidoscope of gemstones in purple – the key colour that marks the Imperiale collection – sparkles alongside anise greens, blues, yellows and reds. The lugs carry on the purple colour palette and are set with cabochon-cut amethysts. Evocative of a rainbow and reminiscent of a firework, this dazzler is a covetable timepiece.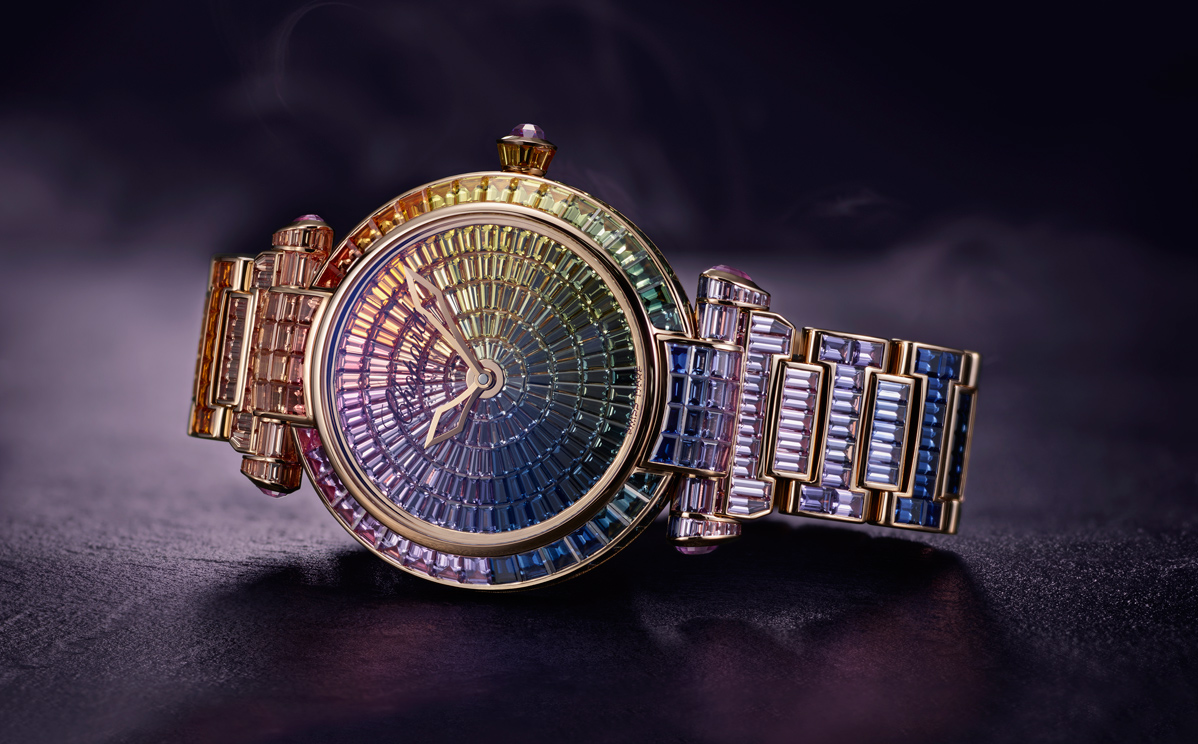 This independent watchmaker continually distinguishes itself with its exceptional designs. Franck Muller's Quatre Saisons-Double Mystery collection pays tribute to elegance and femininity with its classic round shape. The purist design hinges on sensuality by embodying the spirit of contemporary women, who dare to dream and live the dream. The bejewelled timepiece features an 18k white gold case sprinkled with a generous amount of colourful gemstones. Infused with classical sobriety, 259 brilliant-cut gems create a rainbow inspired spectrum on the dial.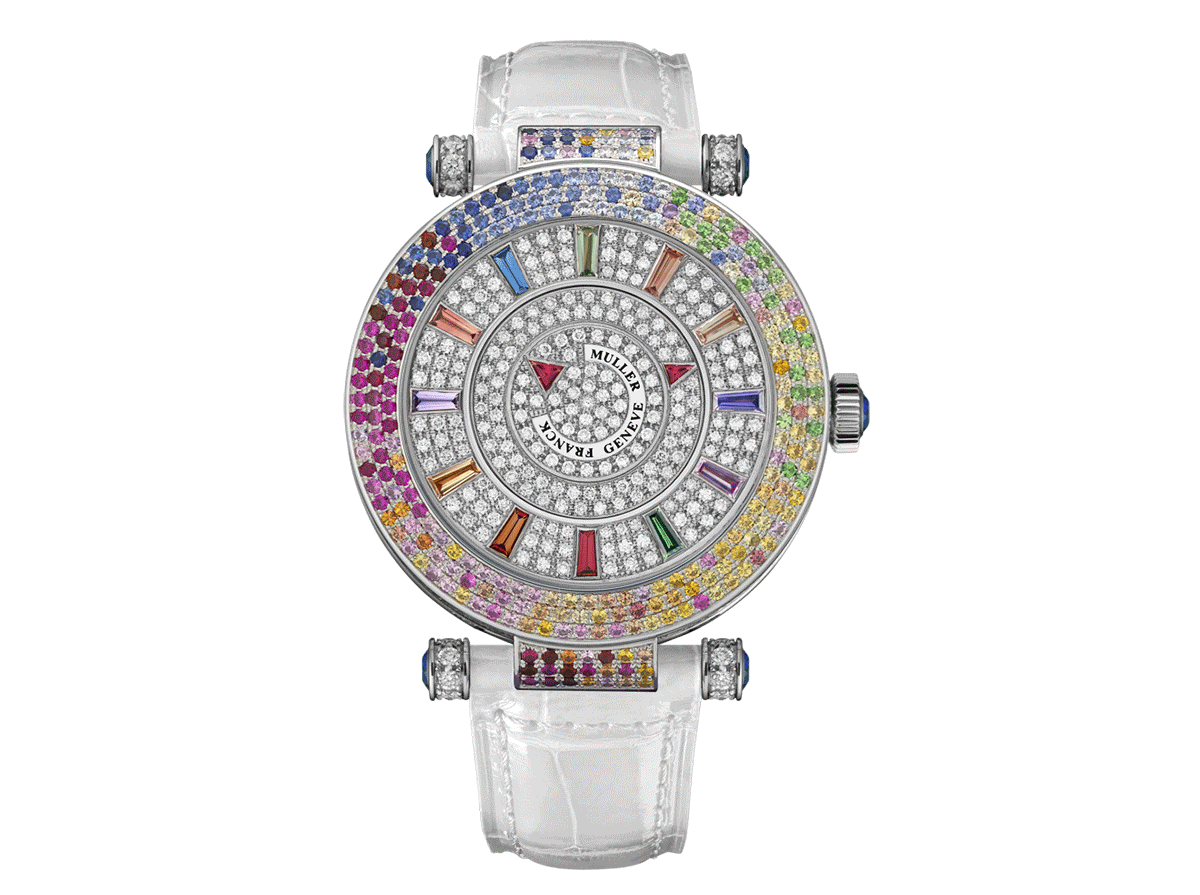 The La D de Dior collection by Dior, first brought out in 2003, inspired by the 70s draws upon Christian Dior's passion for colour and inspirations from couture. "A woman who borrows her man's watch so that she always thinks about him" this belief underlines the design aesthetics of the collection that is accentuated with gold, diamonds and ornamental gemstones. Soon, Victoire de Castellane, Creative Director for Christian Dior Joaillerie, pushed the design a few notches higher with her inherent taste for contrast, and envisioned a series of feminine timepieces. Pure and simple, the pared down La D de Dior Color watch is a nod to the original masculine design, while looking feminine and fun thanks to the gems and rainbow colours.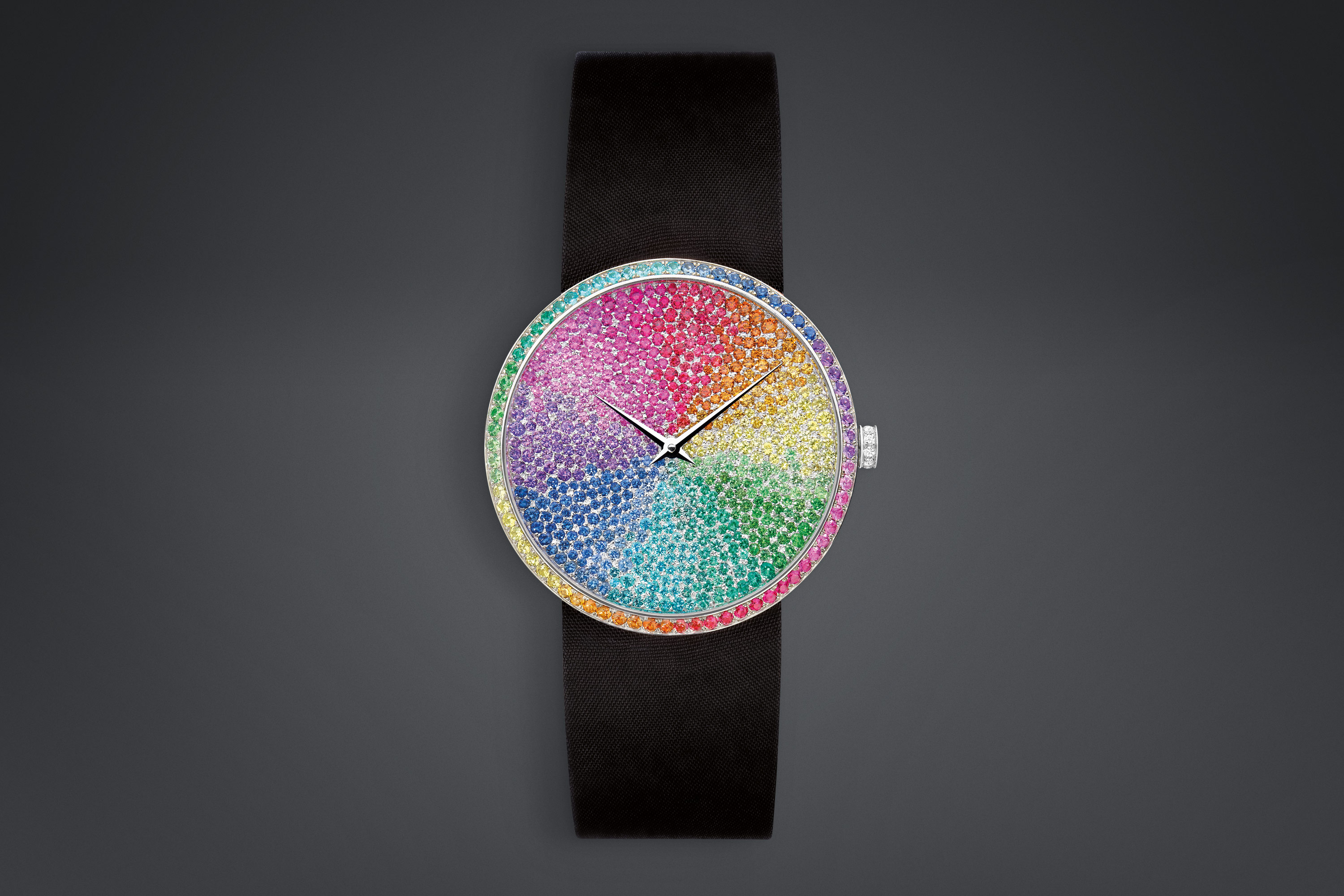 Jacob&Co, which is famous for its opulent gem-studded watches, sought inspiration for a new collection in history and theatre. The Harlequin character in the Commedia Dell'Arte prompted the watchmaker to design its cheerful collection titled Arlequino. The multi-coloured costumes decorated with diamond-shapes gave away to dramatic and daring timepieces set with diamonds, rubies and blue, green, pink and orange sapphires in varying intensity of colours. Similar to the 'Arlequino' design, launched by Jacob&Co in 2015 as part of its Brilliant Flying Tourbillon collection, the new Caviar and Brilliant versions feature bright gems that are very much in sync with the colours in a rainbow.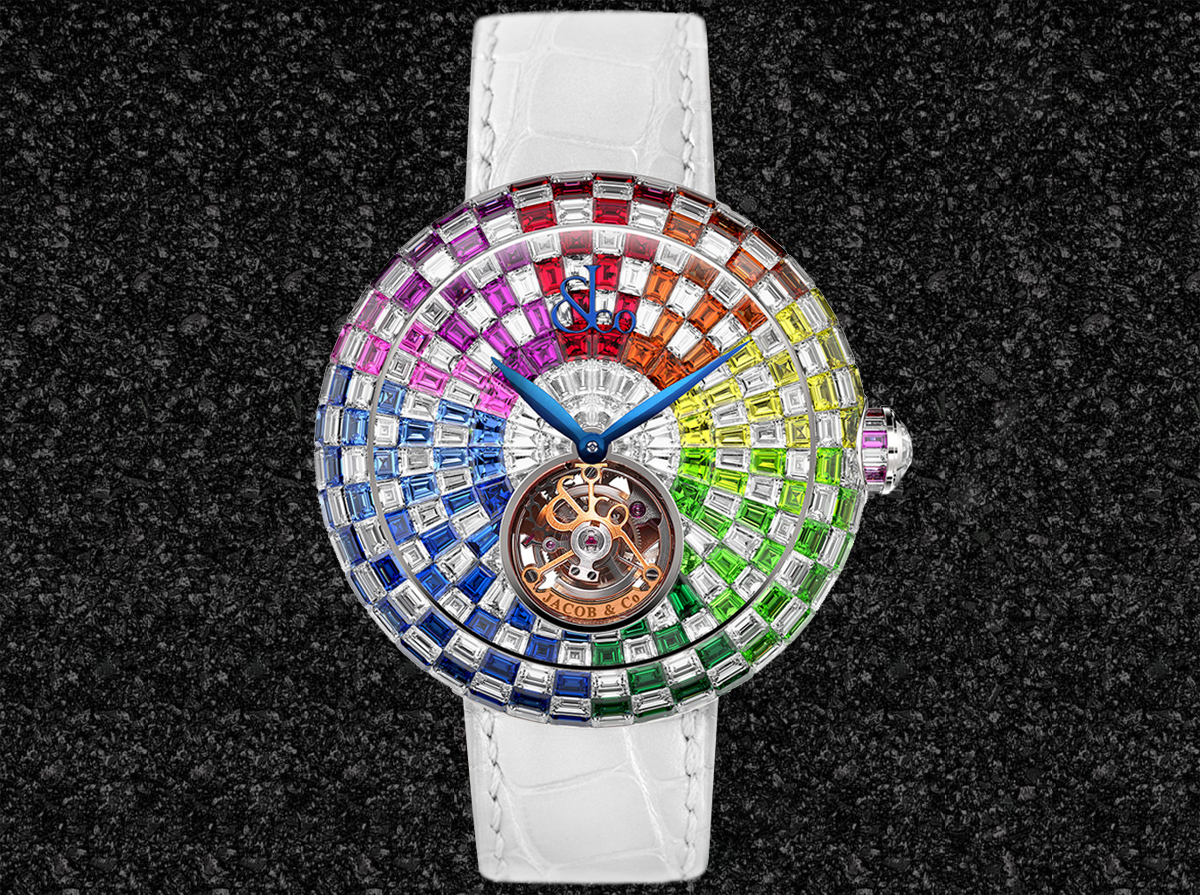 This year, the iconic Reverso model by Jaeger-LeCoultre celebrated its 85th birthday. To mark this milestone, the brand had shoe designer Christian Louboutin create a timeless collection along Art Deco lines infused with grace and playfulness. Guided by his imagination, Louboutin amped up the colours of the Reverso line with a supremely artistic flair. He designed iridescent Classic Duetto timepieces that draw upon Reverso's classic aesthetics: the Classic Duetto Reverso watches by the shoe designer celebrate graduating oranges and yellow tones, and are just as sexy and glamorous as his red-soled Louboutins.