This is the fourth collection created for Hermes by the genius footwear and accessories designer, with the last one coming out two years. Hardy prefers to name his items haute bijoux, and not haute joaillerie, emphasising that when putting the line together he drew inspiration not from materials, as is often the case in high jewellery, but from the conceived form.
HB IV Continuum includes pieces that were created in the best traditions of high jewellery: they are complex in texture, large in form and made with the use of the most precious materials such as Tahitian pearls, diamonds and the whole rainbow of precious gems. At the same time, the pieces' design is dictated by costume jewellery trends: here you'll find both a multi-coloured choker, a two finger ring and a wide cuff bracelet – all of which have been at the height of popularity for the last few seasons.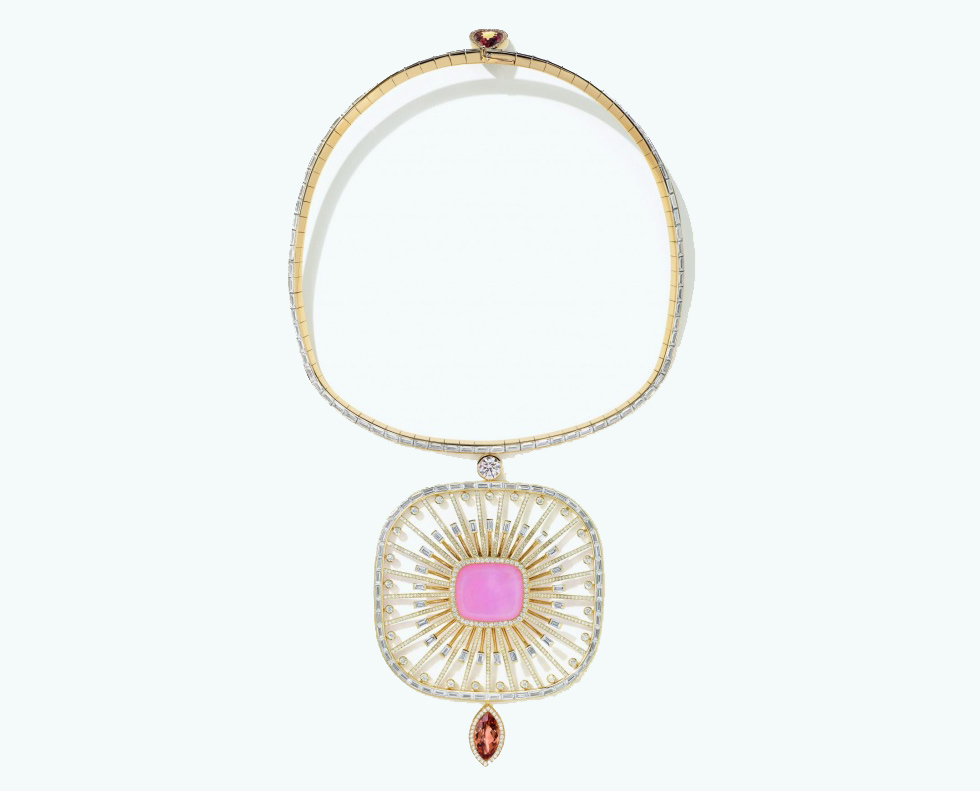 The high jewellery part of HB IV Continuum consists of three sets, each of which has a name that reflects its essence. For example, the Light and shade (Ombres et Lumière) jewels are made from pink gold together with pearls of different colour grades, from the snow white south sea beads and Akoya to the Tahitian pearls. There is an alluring gradient of colour on the necklace, dropping down onto the décolleté and covering a large part of the neckline, on the wide bracelet and on the two finger ring, creating a play of light and shadow.
The Fire in the Sky (Feux de Ciel) choker, cuff bracelet and ring are evocative of the multi-coloured scarf collection of the same name, painted in bright colours: red, violet, blue, light blue and others. And Pierre Hardy has illuminated the jewellery he created with gems of the same shade: green and pink tourmalines, wine-red garnets, violet iolites, orange-pink imperial topazes and diamonds. The succulent tones smoothly flow into one another from stone to stone of the same "princess" cut. The gems are fixed side by side between gold rails put together in several rows one above the other which creates the volume that is characteristic of the jewellery's showy effect.
The Heavenly Carriage (Attelage Celeste) set consists of items with a central element that resembles the wheel of an irregular form. At the centre of a square with rounded corners, a pink opal of the same form is fixed. The largest of the three (in terms of stone on each item) is the 18.6 carat pink opal on the necklace. Leading out from it, like rays of light, tracks of diamonds are scattered in all directions. The necklace's chain is encrusted with sparkling "baguette" cut diamonds.
These three sets are only the high jewellery part. The HB IV Continuum continues in the form of more simple jewellery made and of gold and also several pieces in silver.