As many as 30,000 creative works from 24 art categories like old master, modern and contemporary paintings, sculptures, design, photography and jewellery will be on display during the 10-day event. Among the Haute Joaillerie exhibitors participating this year at TEFAF are Wallace Chan, Hemmerle, Alexandre Reza, Chopard, Van Cleef&Arpels, Verdura and Otto Jakob.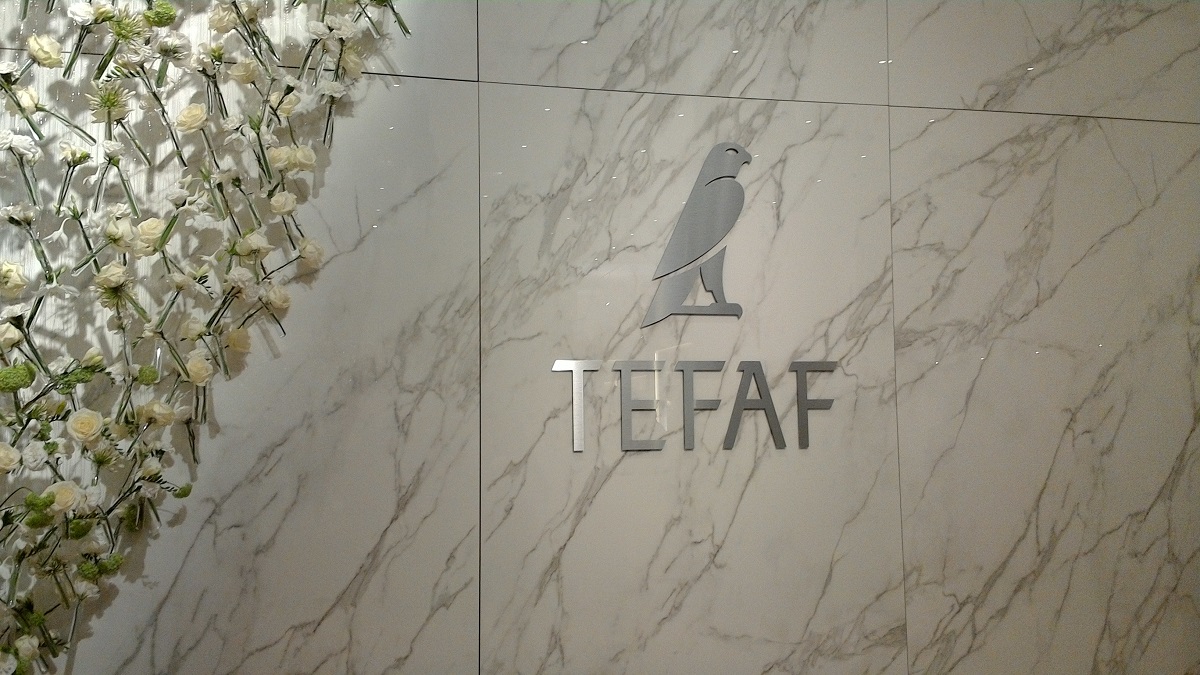 Wallace Chan – Stand 139
Wallace Chan is creating history of sorts this March by becoming the first Chinese jewellery artist ever to be invited to exhibit at TEFAF. Deeming it an honour to be part of TEFAF, Chan said it was "certainly a dream come true for an independent creator" like him, considering how difficult it was to get admitted to TEFAF, an exhibition famed for its highly selective process and professionalism.
Chan will present select pieces of his jewellery art creations, glass carvings and large-scaled titanium sculptures that highlight the balance between traditional and contemporary. Among the key pieces being showcased here are Chan's marvellous designs, wherein he plays with colours, regularities, irregularities, shapes, contrasts and textures to create the unimaginable – Fish's Whisper bangle, Let Life Be Beautiful brooch and rings entitled Moonlit Waltz and My Dreams.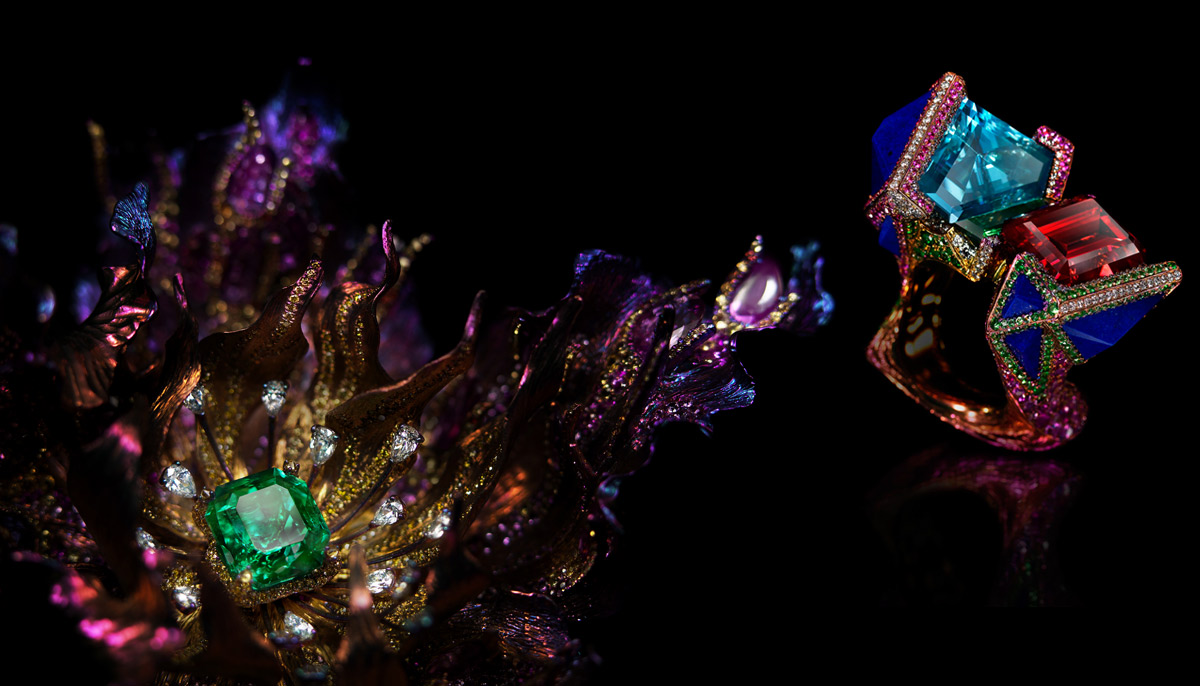 Hemmerle – Stand 141
The fourth generation family-run jewellery house opened their boutique on Maximilianstrasse, Munich, in 1995, Stefan Hemmerle and his wife, Sylveli, decided to break free of the past and transform their designs into contemporary works of art, every bit wearable. Producing one-of-a-kind pieces, Hemmerle revives ancient techniques by adding a contemporary twist. Along with Stefan and Sylveli, their son, Christian, and daughter-in-law, Yasmin, are at the forefront of this century-old jewellery business, taking it to greater and newer heights. This year, the jewellery house will unveil The [AL] Project, featuring over 15 pairs of earrings and a brooch crafted in aluminium inspired by nature, minimalism and geometry. One word – exquisite!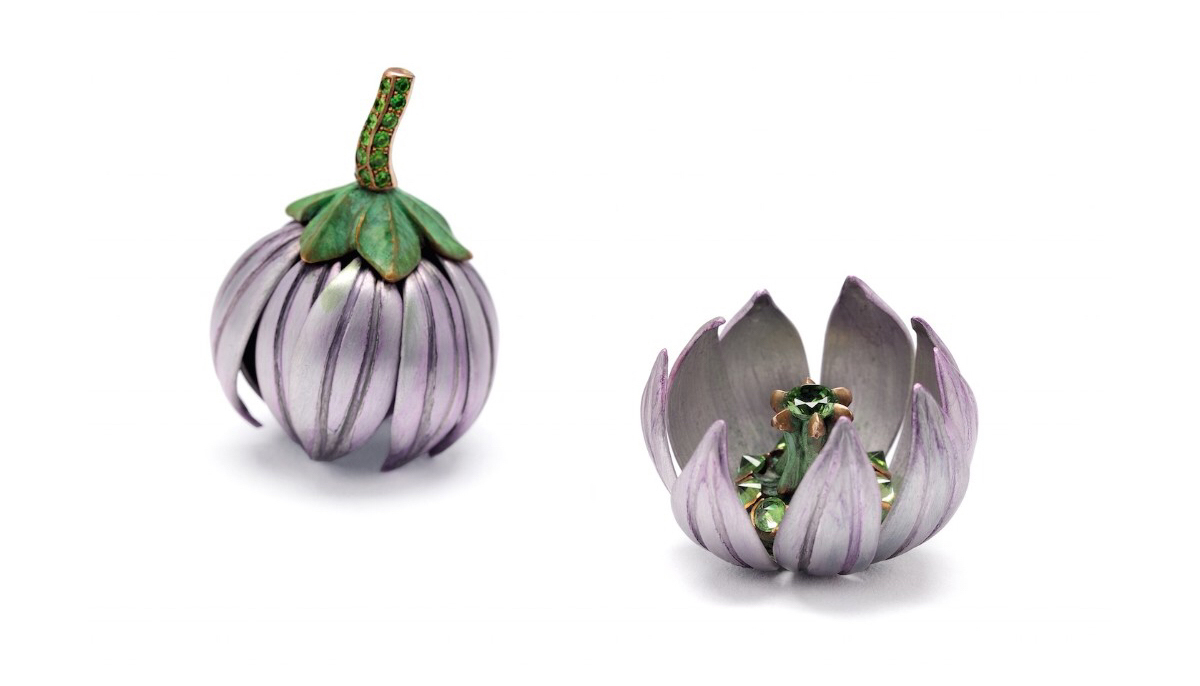 Alexandre Reza – Stand 142
Gemologist and gem trader Alexandre Reza segued into design by making original pieces embellished with precious stones from his enviable inventory. Combined with exceptional savoir-faire and mastery of technical know-how, the offering from the family-run jewellery house, which has been in the business for over a century, is nothing short of spectacular. A masterpiece achievement by Alexandre is the 'trembleur' technique, wherein parts of the jewel shake ever so gently. Beauty, perfection and timelessness are the key features of designs crafted by this Paris-based master jeweller and his son, Olivier Reza, who now carries forward the legacy. The devotion to beauty and passion for perfection is what makes Alexandre Reza creations so covetable.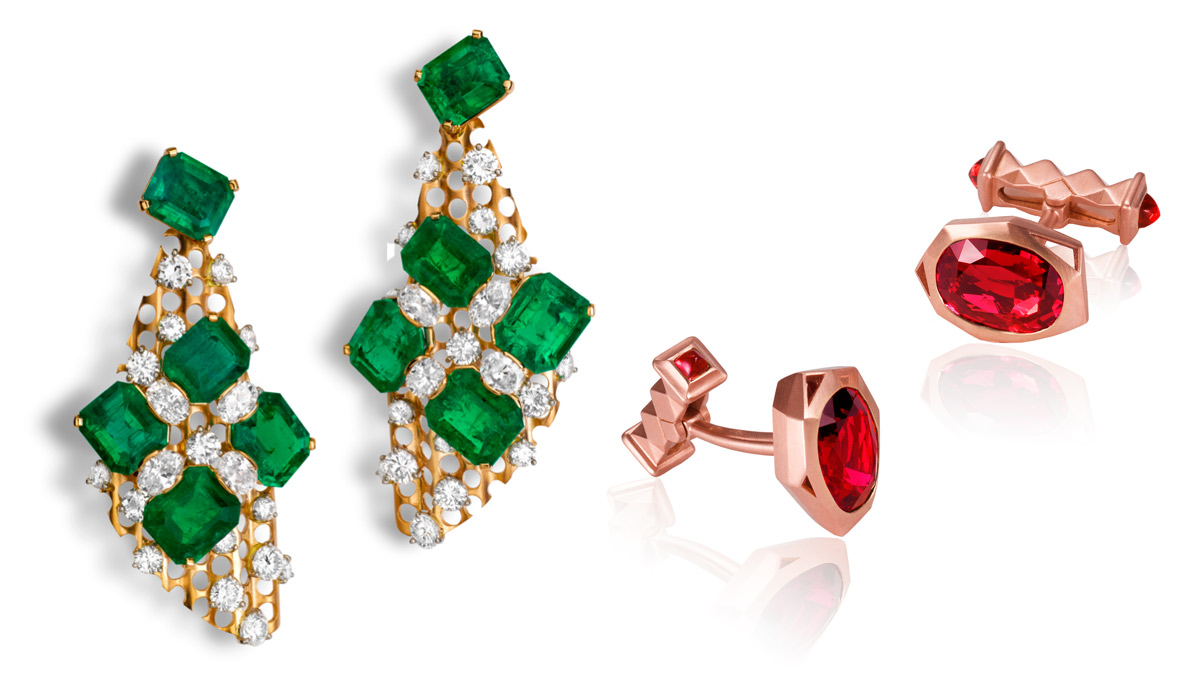 Van Cleef & Arpels – Stand 146
With a rich and illustrious heritage spanning over a century, Van Cleef &Arpels has been narrating extraordinary gem-studded stories. Grace, understated elegance, innate perfection, mastery over technicalities, stunning design aesthetics are some of the hallmarks of jewellery and watches created by the Maison. Evoking the spirit of Van Cleef & Arpels and its ingenuity, are such emblematic creations as the Minaudière precious case bag, Zip necklace, Poetic Complications, ballet inspired jewellery and pieces enriched with precious stones in mystery setting. Exploring symmetry and volume, the Maison continues to create three-dimensional objet d'art that is exceptional in terms of style and beauty.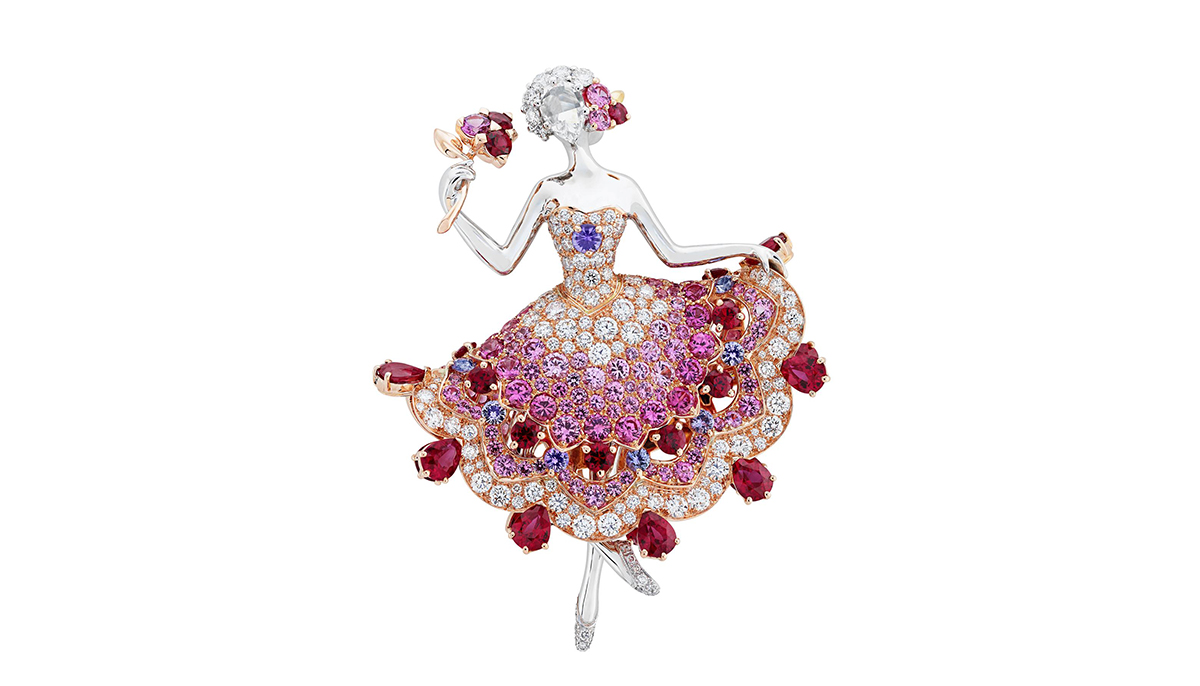 Chopard – Stand 145
It all began in 1860 in a nondescript village of Sonvilier in Switzerland, where s skilled young craftsman Louis-Ulysse Chopard set up shop. Over the years, the company grew by leaps and bounds upholding its tradition of excellence. In 1963, Paul André (the founder's grandson) sold the company to Karl Scheufele. Guided by a quest for perfection, the brand is currently helmed by Caroline Scheufele and her brother, Karl-Friedrich Scheufele.
The bejewelled menagerie of around 150 animal themed designs features fabulous pieces from Chopard, while its horological creations are marked by innovation. The brand recently unveiled its new Haute Joaillerie featuring multi-coloured colourful jewels, which include two cuff bracelets and a stand-out necklace in titanium and will be showcasing these arresting pieces at TEFAF.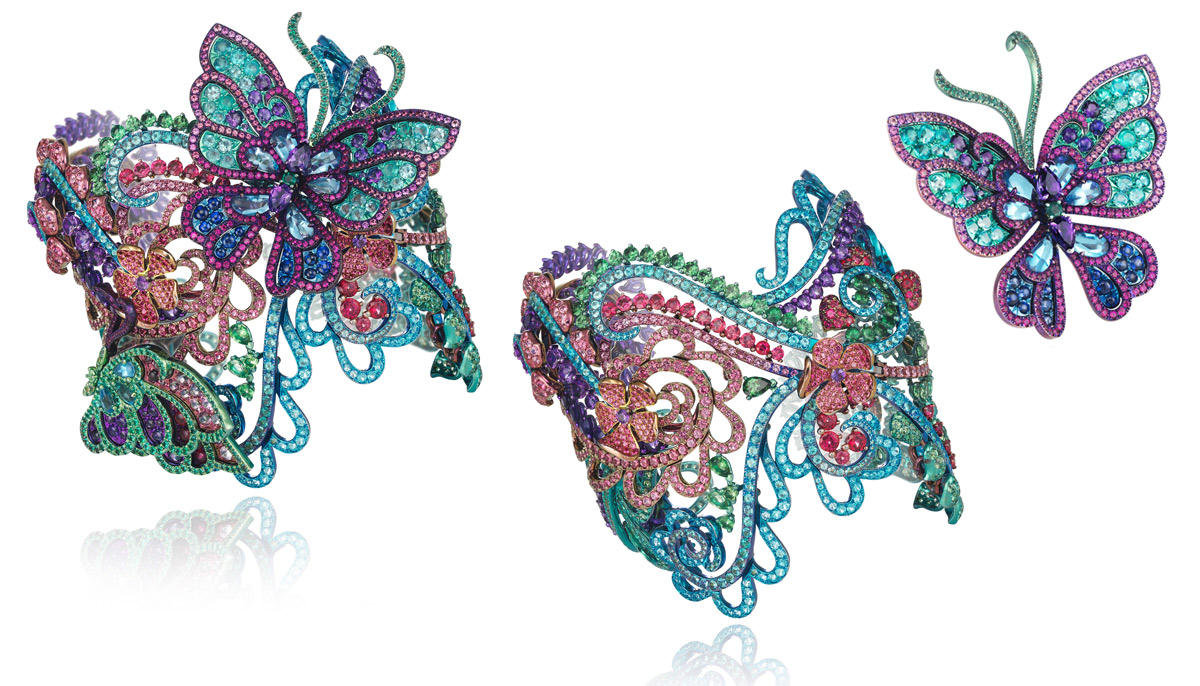 Duke Fulco Di Verdura's world changed irrevocably in 1925 when he was introduced to Coco Chanel. He joined her in Paris to help design new textiles. His love for jewellery led him to making the Maltese cross cuffs much favoured by Chanel. 1934 saw Fulco exploring America and Hollywood, and his glamorous Sicilian themed designs with modern, revolutionary aesthetics, popped on the list of the rich, the bold and the famous.
Ward Landrigan bought the jewellery business after Fulco chose to retire and has been busy reviving Fulco's legacy and wondrous designs. Nico Landrigan joined his father and has since made it his mission to enrich Verdura's collections, by drawing upon nearly 10,000 sketches that Fulco made in his lifetime.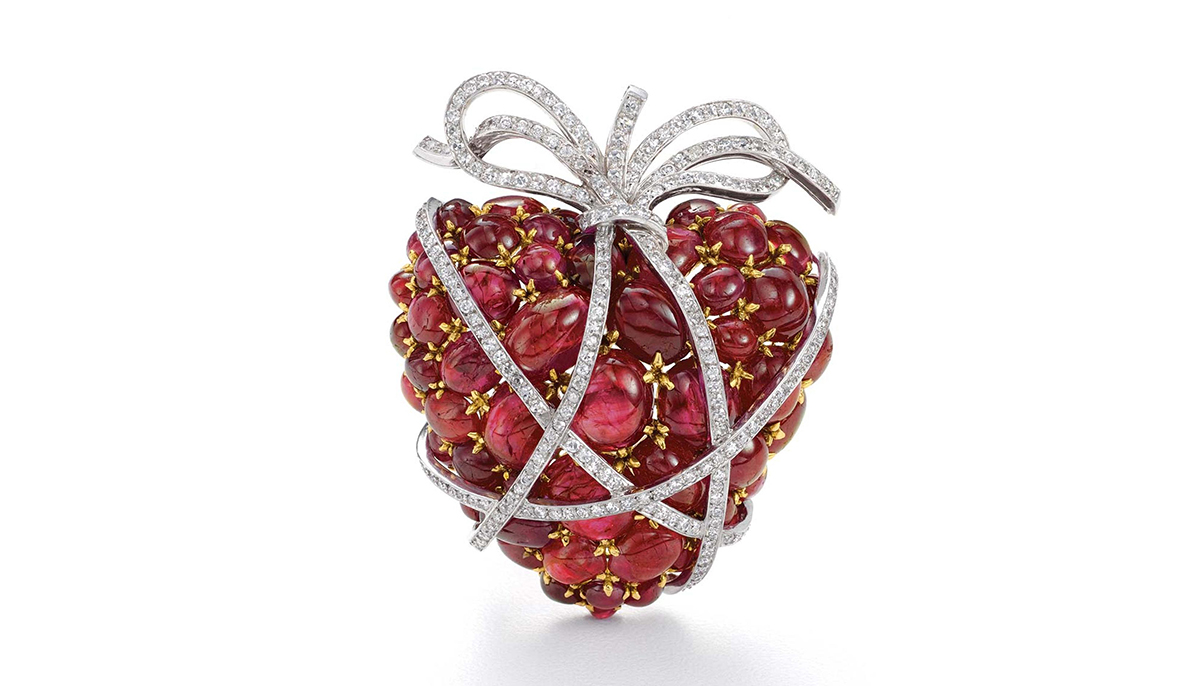 Otto Jakob – Stand 147
His first tryst with jewellery was when he was just 17. Otto Jakob made a floral ring for his then high-school sweetheart, Veronica (now his wife). Her friends, fascinated by this piece, wanted one too. Many years later in 1980, this formally trained artist decided to devote his attention to crafting jewellery. Jakob's is noted for his exclusive jewellery and each one-of-a-kind piece is made painstakingly.
The Korol earrings whose name is derived from the Russian word meaning 'The King' features diamond-set flaming stars inlaid in oval-shaped coral. The Mjölnir swivel ring reveals an ornate cloisonné enamelled hoop and a two-faced bezel, its inspiration comes from the signet rings, which were sometimes made into swivel rings to protect the signet. Another interesting piece is the Hand with Panther Chameleon pendant, designed in the shape of a reptile trying to free itself from the hand holding it.