Maral Melhem has a great sensitivity for understanding the moment to seize an opportunity, in order to achieve her goals. This time it was the Cannes Film Festival, an occasion in which she has always wanted to participate. When we met in her suite at the J W Marriott, she told me, "When a haute couture fashion designer came on board we decided to collaborate - because I specialise in jewellery, celebrities can come to our showroom and get their show-stopping fashion and jewellery look in one place."
Danish model and Victoria's Secret 'angel' Josephine Skriver did just that — for the première of 'A Hidden Life' she wore an Ali Younes black dress with voluminous ruffles and a train, paired with the 'Fleur de Lys' masterpiece bracelet from VMAR. The piece features gold with elements of deep ebony wood, showcasing a sumptuous rubellite, and a vivid blue green tourmaline, accented with diamonds. The 'Fleur de Lys' is such a statement jewellery piece that Josephine chose the simple 'Q-Ore' heart-shaped studs to complete the look.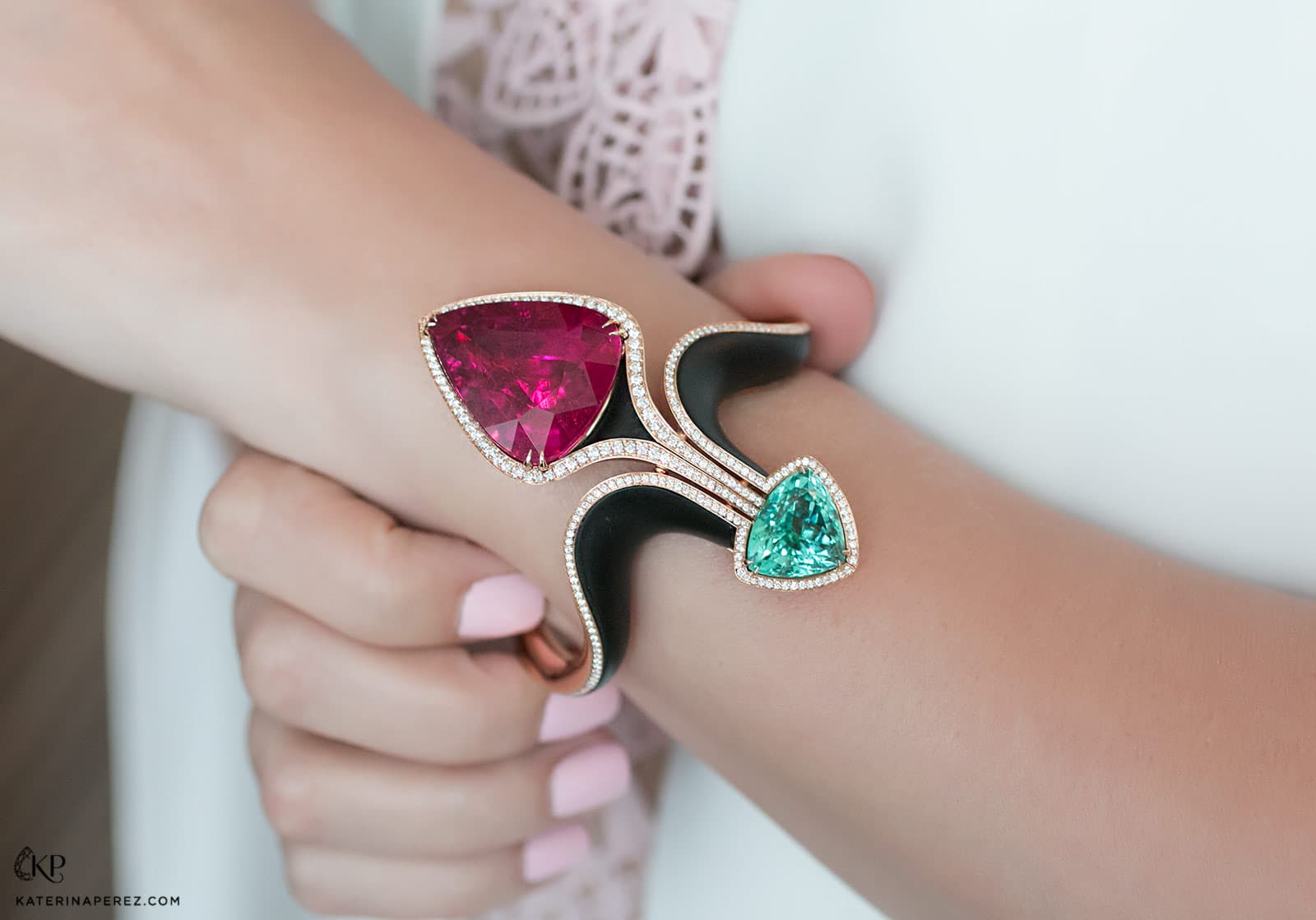 "When my gem dealer showed me the rubellite back in January, I instantly fell in love with it. I kept putting the stone on my wrist, and I knew that I would want to make a bracelet out of it. This way people could admire the stone when they please without having to go to the mirror to see it," explained Maral on the design of the 'Fleur de Lys'.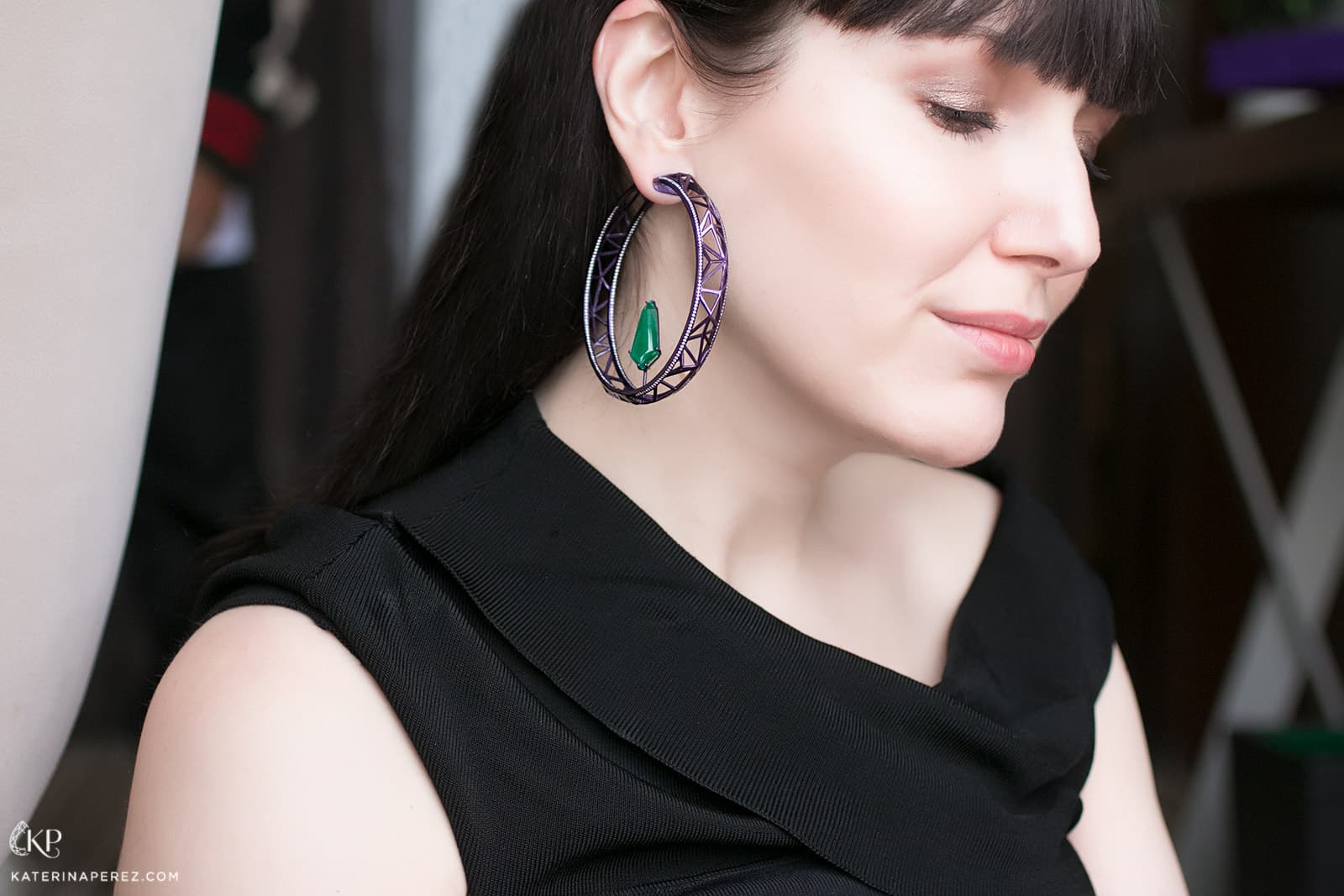 Typically a stone of this impressive size is fixed in a necklace, but the founder of VMAR decided to go against the status quo and follow her own path — as she often does. Her experimental approach to jewellery design is also reflected in the new large titanium hooped earrings from the 'Mariana' collection. Offered separately; one earring from the pair is purple, whilst the other is green, and they can be worn individually or together - creating a stylish, bold jewellery moment. The alternative pair were worn on the red carpet by popular Lebanese presenter Raya Abirached. Titanium purple and green 'Mariana' studs are also available, adding numerous variations for ways to wear this line of earrings.
"This design was initially a bangle with one openwork side. When it was almost ready, I was not satisfied with the closing mechanism and reviewed the idea. That's when I decided to turn the bangle into statement hoop earrings with openwork on both sides and diamond embellishment. When the jewels were finished, I felt they were still missing something, so I ended up adding a flat cut stone – an emerald for the purple earring and an amethyst for the green one," Maral said regarding her creative process.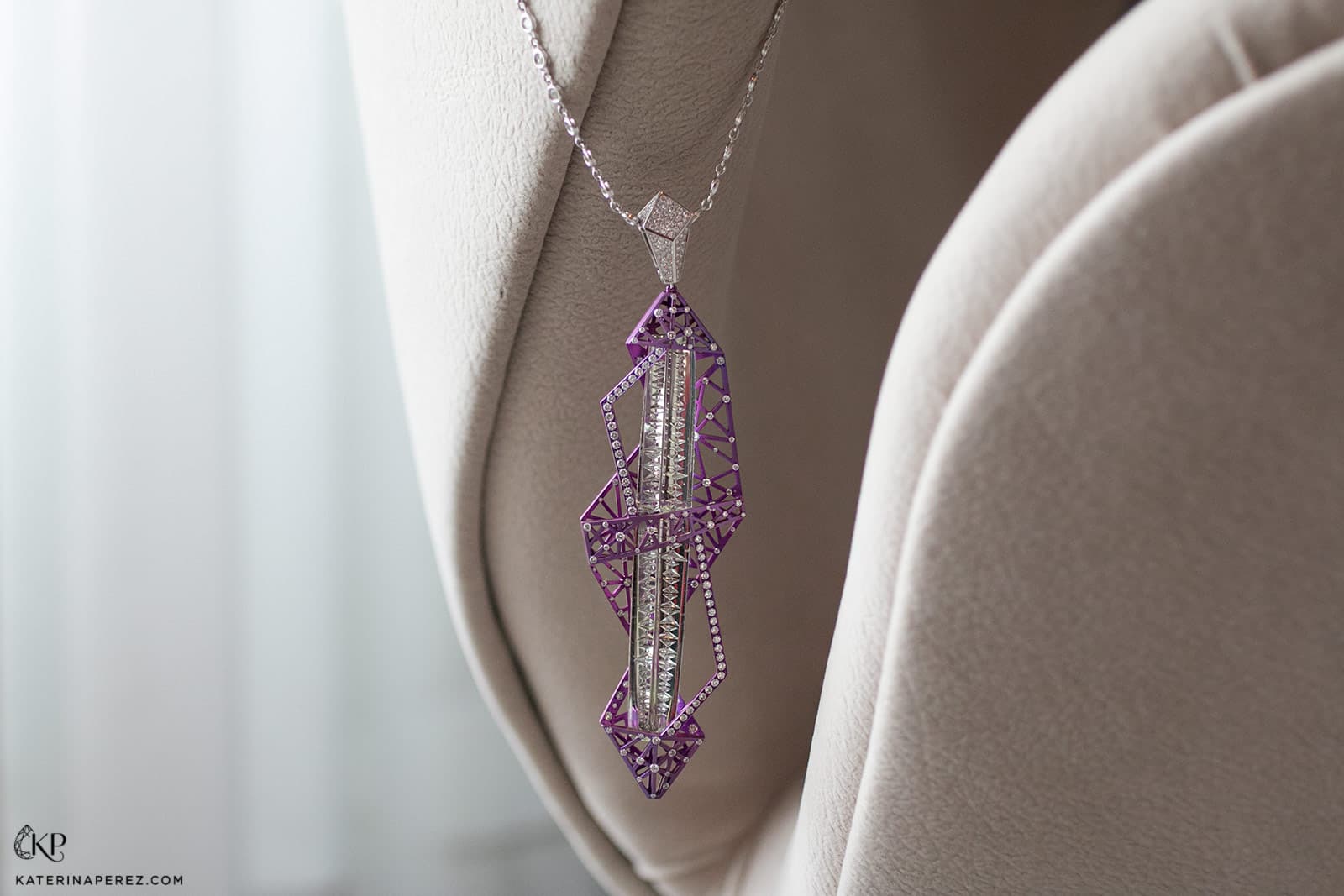 There was one piece of high jewellery art from VMAR that was impossible to miss: a pendant from the 'Constellations' collection. Its design is a complex geometrical composition, all built around an unusual green beryl weighing 38.50 carats. The stone was cut by Atelier Munsteiner and features the workshop's signature facets along the entire stone. "It took me more than 8 months to complete the necklace, because I was searching for a design that would not hide the stone. We had to change the drawing a few times until it was perfect," revealed Maral. The pendant itself is a series of intersecting lines in titanium — much like other pieces in the 'Constellations' collection — and is embellished with 3.20 carats of miniature diamonds. More miniature diamonds decorate a chain of white gold, which can be worn separately to the pendant.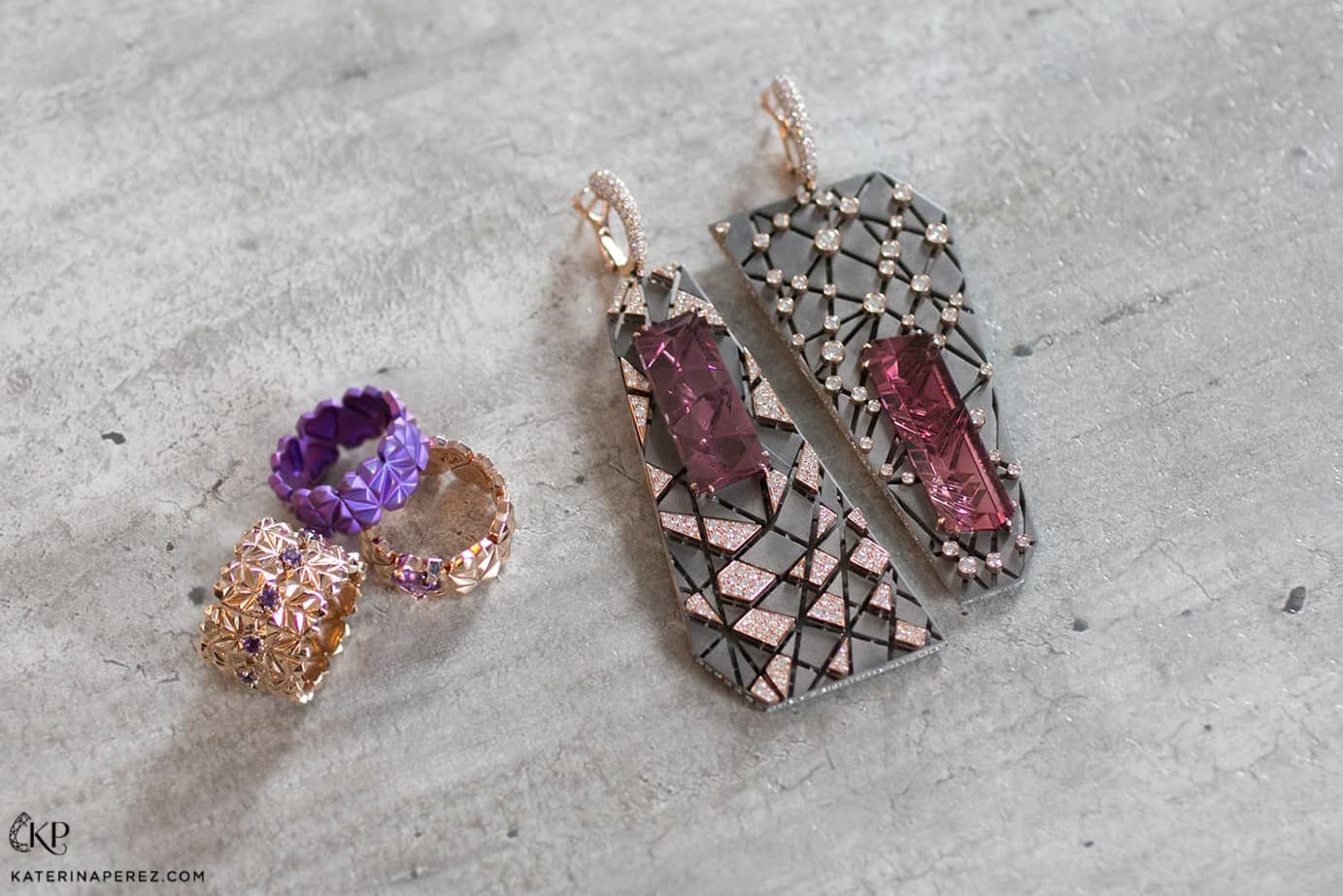 And so, the Cannes Film Festival has come to an end, but the memories will be long lasting - especially for myself, as I attended the Chopard party wearing masterpiece earrings from the VMAR 'Constellations' collection.