Reaching the milestone of 25 years in business is an incredible achievement for any brand, not just those in the realm of fine and bespoke jewellery. Robinson Pelham has cemented its status as one of London's most influential independents and can now boast Gwyneth Paltrow, HRH The Princess of Wales and her sister, Pippa Middleton, as some of its most high-profile clients.
Its trio of founders has been working for nearly a year on the research and development of new collections to honour its quarter century, including a suite of rainbow gemstone designs that epitomise the brand's signature style (you know how much I love coloured stones and so you can understand why I appreciate Robinson Pelham's designs so much!).
To learn more about milestones, the founders' love for colour, bestsellers and new collections (some of which are available on Net-a-Porter.com and at Harrods), I spoke to Vanessa Chilton and Zoe Benyon to share the highlights of our conversation with you.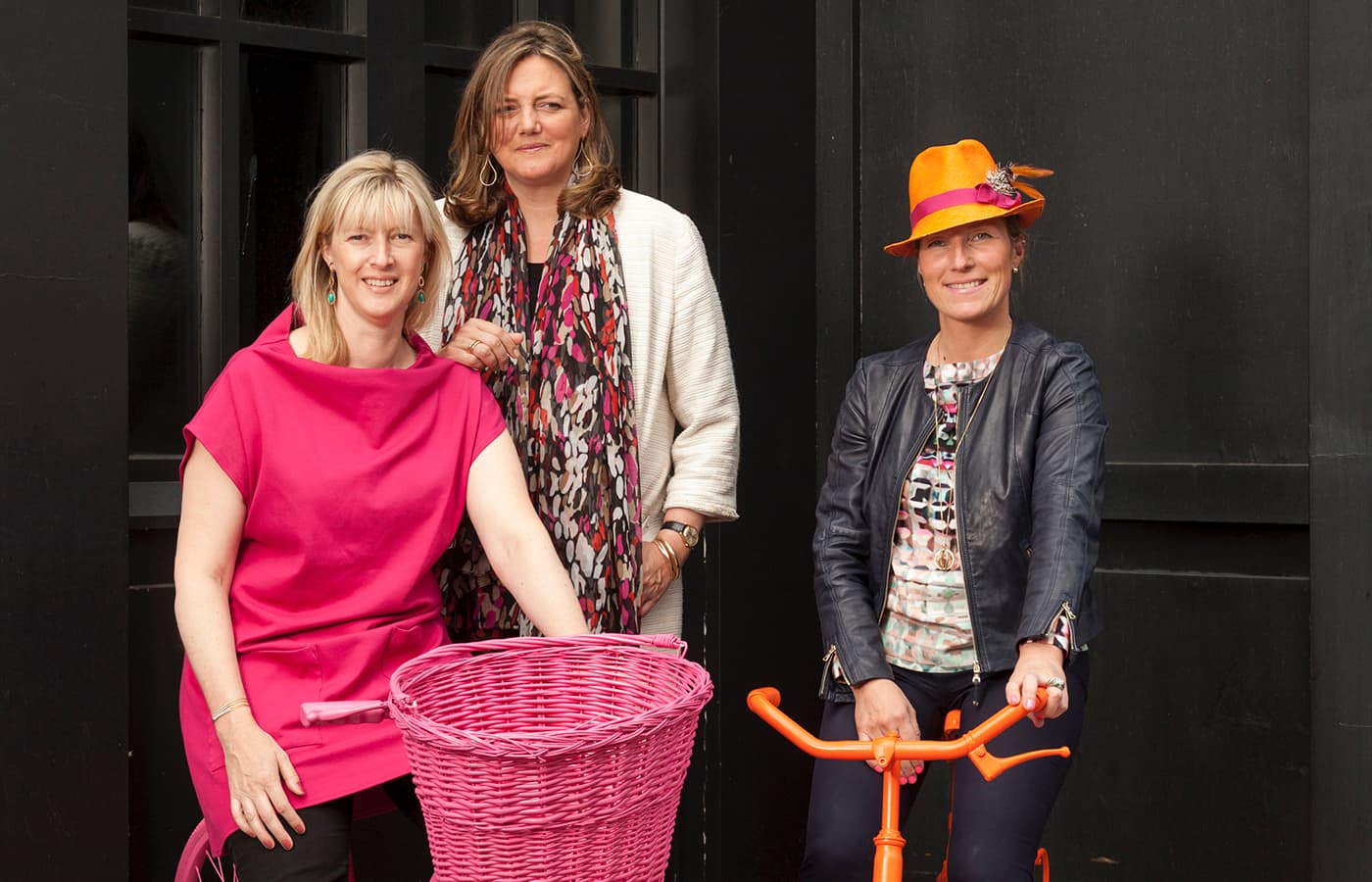 Katerina Perez: How did you start your business, and how has it changed over the years?
Zoe Benyon: We started making bespoke jewellery from a basement in London 25 years ago, and now we have a flagship store in Chelsea, London, and sell our ready-to-wear collections in six countries and through several large online retailers. When we started our clients were mainly men buying jewellery for women. This dynamic is still prevalent in December, but during the rest of the year it is far outweighed by women buying jewellery for themselves. This is something we embrace. We love dealing directly with the customer, ensuring it is the right piece for them.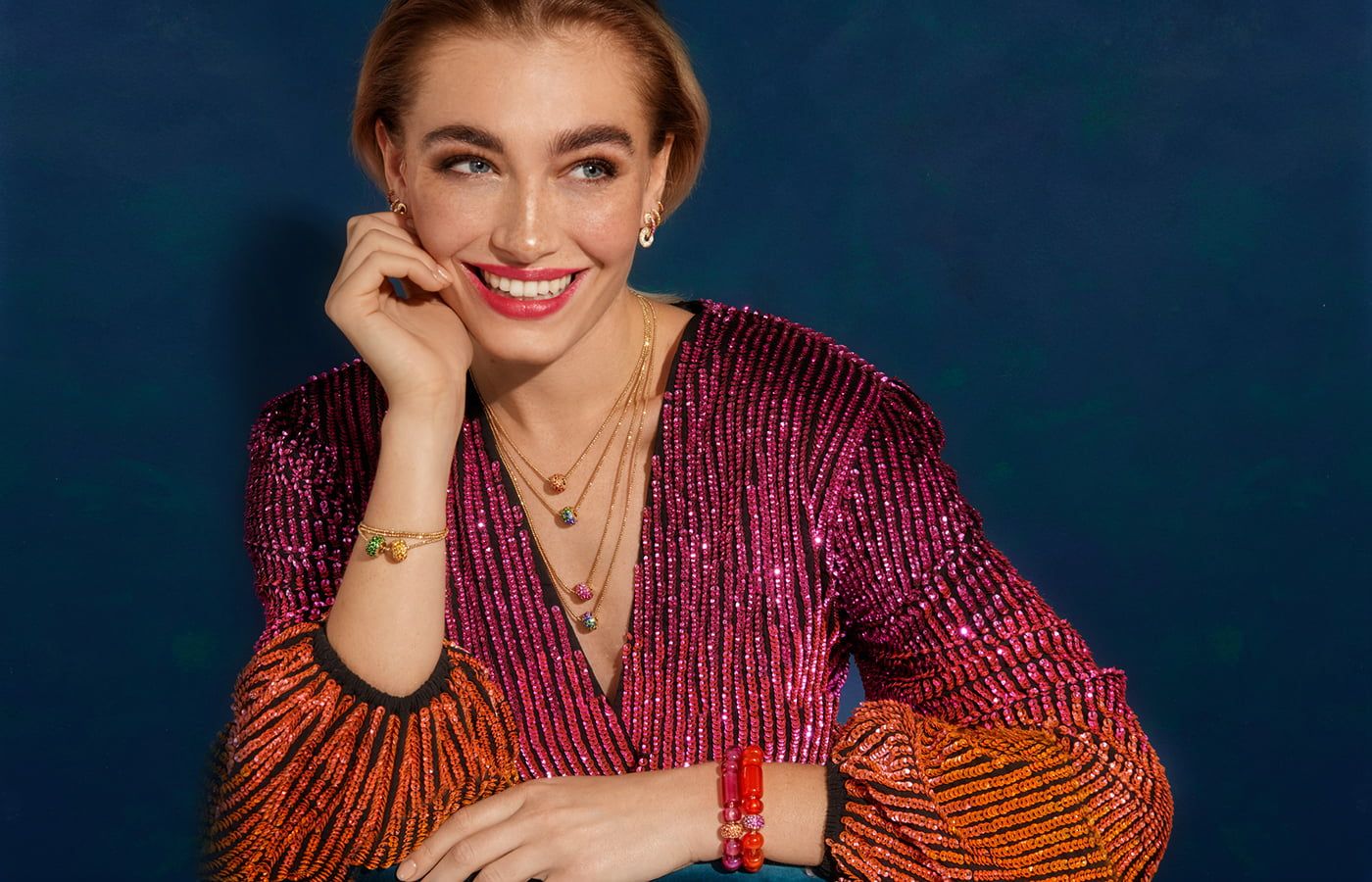 KP: What have been some of your most crucial milestone moments?
Vanessa Chilton: We've been fortunate with who wears our jewellery, from Gwyneth Paltrow, who is the epitome of 'California Wellness Chic' to HRH The Princess of Wales (who is a fabulous ambassador for all British designers). Designing a pair of earrings to be worn by the bride at the Royal Wedding was a great honour, and it harked back to our first love, bespoke jewellery.
KP: When I think about Robinson Pelham, I think of colour! How has your shared jewellery design style changed over time?
VC: Colour has always been in our brand DNA, but it takes confidence to execute colour design in the right way. Our confidence has grown over the past 25 years so we can now indulge in experimenting with it. Colour is a mood changer; it is very often how you inject informality into fine jewellery. Some people take jewellery very seriously, but one of the purposes of jewellery is to spread joy and using colour makes that much easier. Because we've been designing jewellery for so long we know how to use colour subtly and at full volume.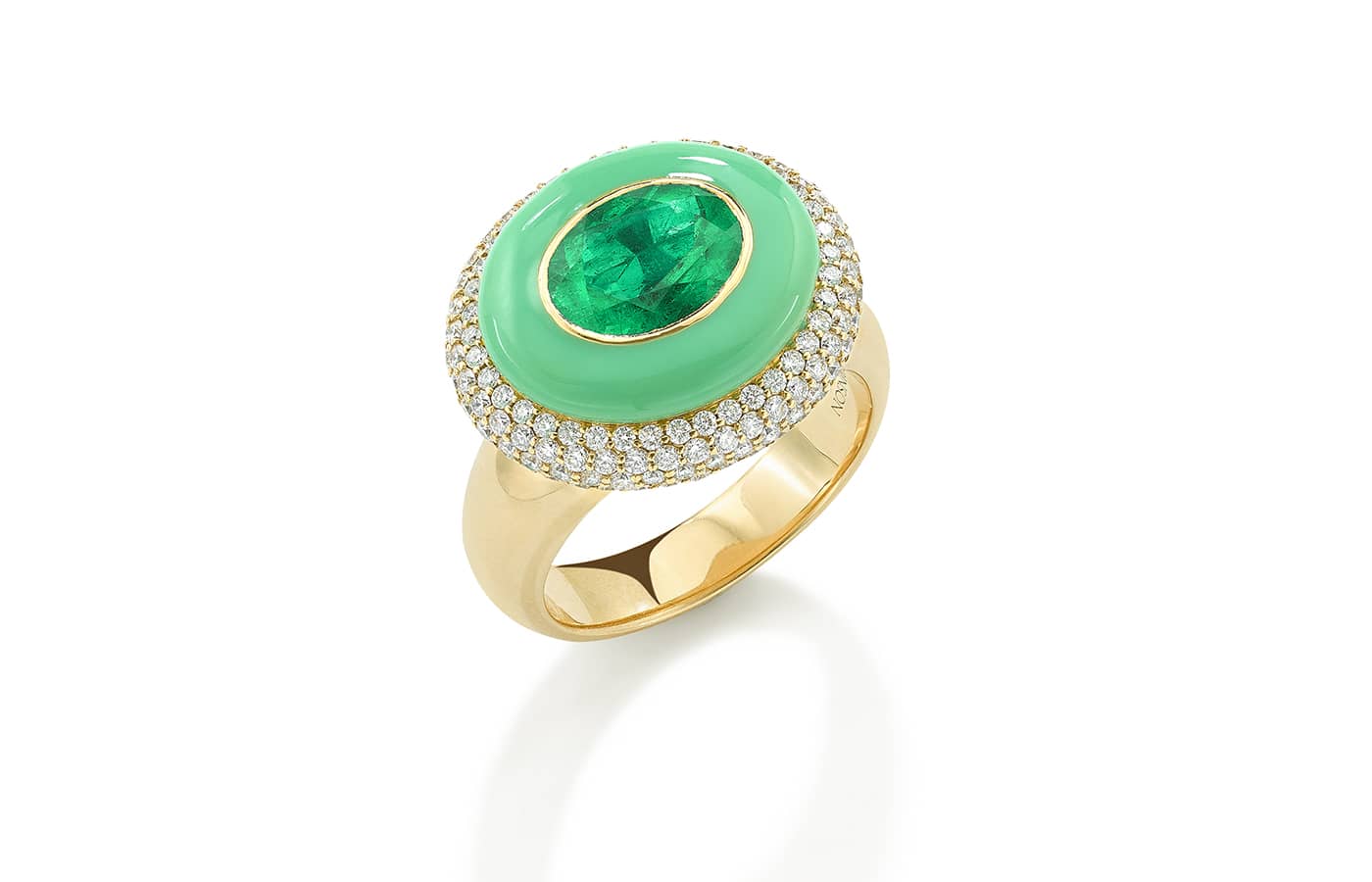 KP: What have you learned over the last 25 years in business?
ZB: We've learned how to celebrate the good things but not pin your happiness to them, how to create your own brand identity, how to have confidence that what you design and make is as good as you think it is, how to design jewellery that is genuinely wearable and has meaning, and how to encourage more clients to be a little bolder and hand on the confidence. Our jewellery now is confident and bold, not just in scale but often in content; we feel freer in design, we cater to a wide range of budgets, and we only make the pieces we love.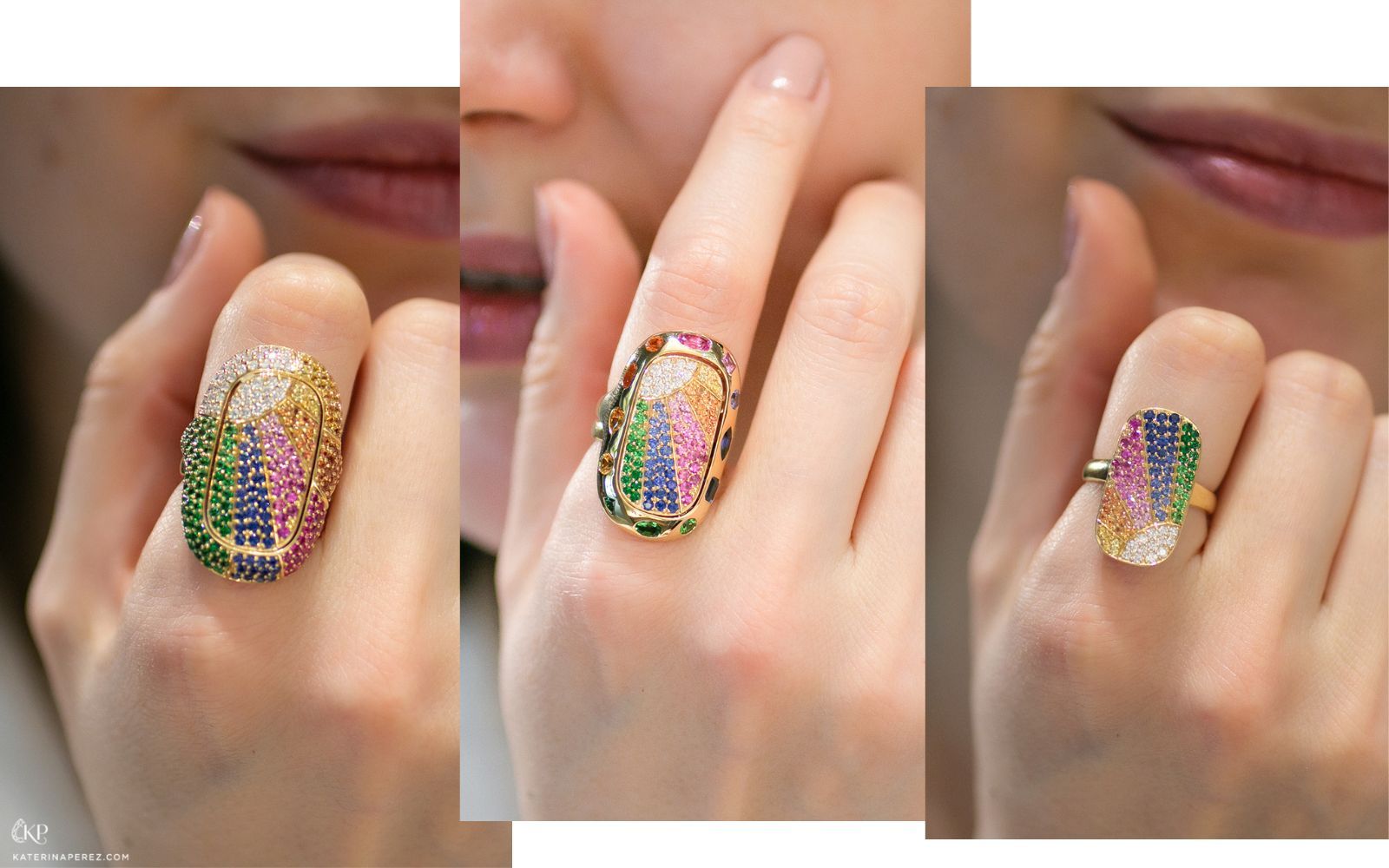 KP: What would you say Robinson Pelham is most well-known for?
VC: Colour and hidden messages, but the perfect Robinson Pelham piece is set with rainbow Pixelated Pave where we leapfrog one colour into another, less of the smooth smudge of graduated colour and more of the disruptive injections of colour. Scale is also our ally, so to pick a perfect Robinson Pelham piece now, we would go for the Rainbow Entwined ring.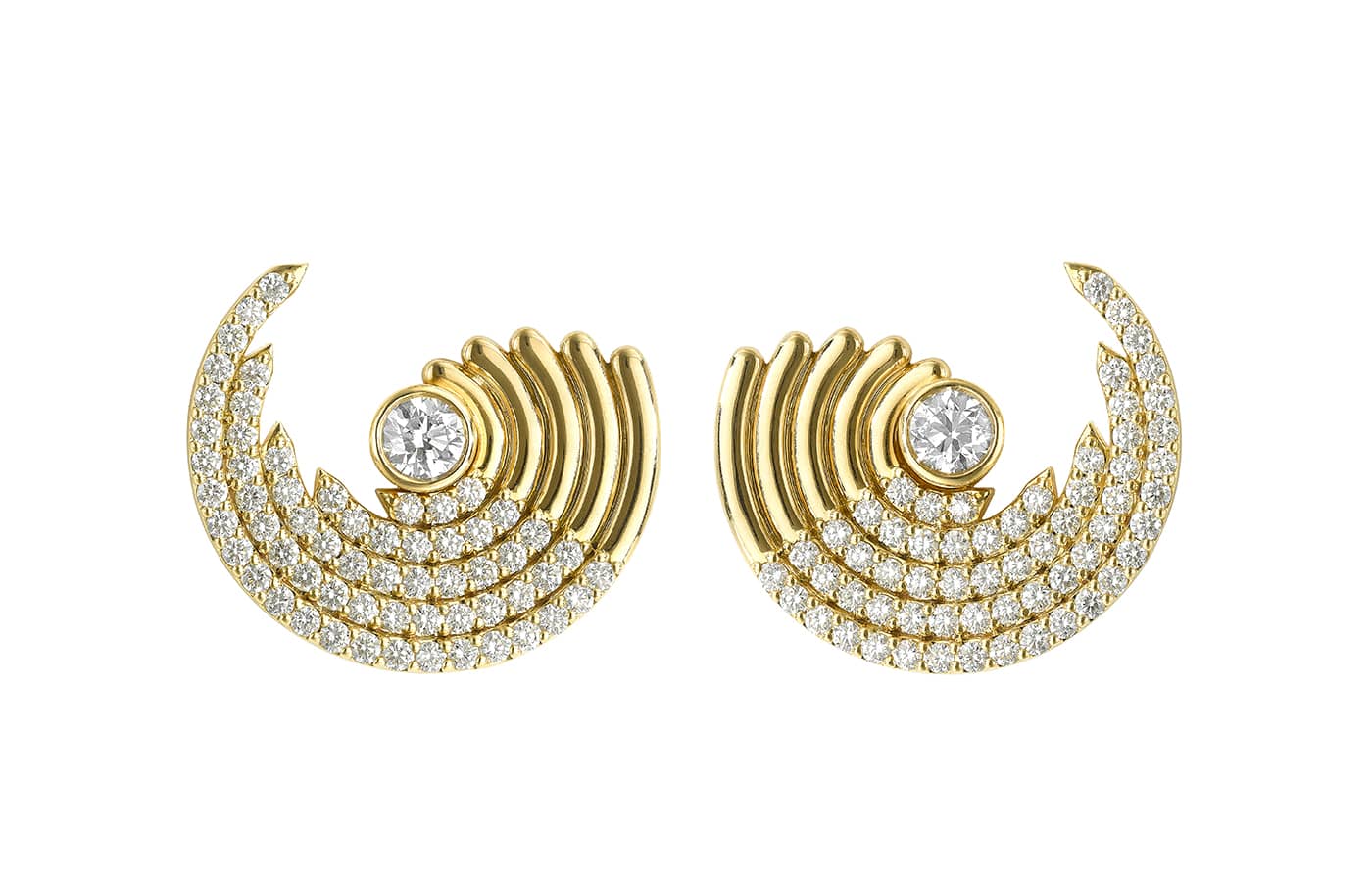 KP: How have your customers' tastes changed - are there pieces you are making now that you would have never dreamed about making two decades ago?
ZB: When we started, clients wanted minimal white gold, and we have nudged them gently over the last 25 years into scale and yellow gold and rainbow-coloured stones. There was a clear delineation of evening and daytime jewellery 25 years ago. Over the years we have educated our customers not to be afraid of buying a piece that can transition from daytime to evening. We encourage our customers to wear yellow and white gold with coloured stones and diamonds day and night.
KP: What are your current best-selling collections, and what pieces are you really excited about right now?
ZB: Our staple iconic best-selling collections are Identity (the short Identity necklace with a diamond bar has become our cult classic), and our EarMenu, which is a perennial favourite of all ages with over 5,000 combinations of Orb hoop earring and EarWish (what we call our interchangeable charms). Each Wish has a meaning, which means you can send jewellery with love and as a message.
KP: What continues to excite you about jewellery and being a fine jeweller after these years in business?
VC: We are flirting with making men's jewellery, and someone we admire in the industry pointed out to us that there are already pieces in most of our collections that can be worn by men and women. Recently the jewellery landscape has been most shaped by the rise in the price of commodities, diamond and gold chief amongst those, so it has been amazing to be part of a forced diversification; we have introduced glass and enamel into our collections to sit alongside diamonds, gold, rubies and everything you would expect to see here. The joy of dreaming up something and then seeing it take tangible form is addictive.
KP: Finally, what do you have planned for your 25th anniversary?
ZB: We have several new collections this year to celebrate our anniversary. Entwined is the epitome of what we stand for, an amazing combination of full rainbow and the clean lines of carré cut diamonds overlapping in a ring, inspired by a more classic engagement ring that we made, but this version is Robinson Pelham at full volume.
In the Zouk collection, we have reversed the importance of ear jackets, the central stud is the silent partner, and the vibrant round soundwave surrounds are what set the mood. Good earrings are cheekbone enhancers, and these have proved to be just that.
VC: Perhaps the most focused collection which really celebrates our 25-year journey is Labyrinth, made up of pendants and rings that guide the wearer, where a physical maze is picked out in either diamond, brown diamond, tsavorite or pink sapphire so you can see the way to the centre point, a point set with either a rose cut, hexagonal or heart-shaped diamond, tsavorite or pink sapphire. And each pendant and ring is engraved with FIND YOUR WAY.
I'm sure you will agree with me that Robinson Pelham has certainly found its way over the last 25 years. And how wonderful that a business, led by women, could carve its own path with colour, confidence and self-gifting at its heart. The next time I wear rainbow gems, I will raise a glass to Robinson Pelham during its special anniversary year.