"Butterflies have always captivated me – their spontaneous movement conveys effortless femininity and a carefree spirit," says the designer. It is hardly surprising that these winged creatures have managed to capture the imagination, not just of jewellers, but of so many people in the art world: their fluttering movement creates an air of effortlessness and lightness of being, and this is exactly what you will find recreated in the jewellery pieces of the Butterfly collection.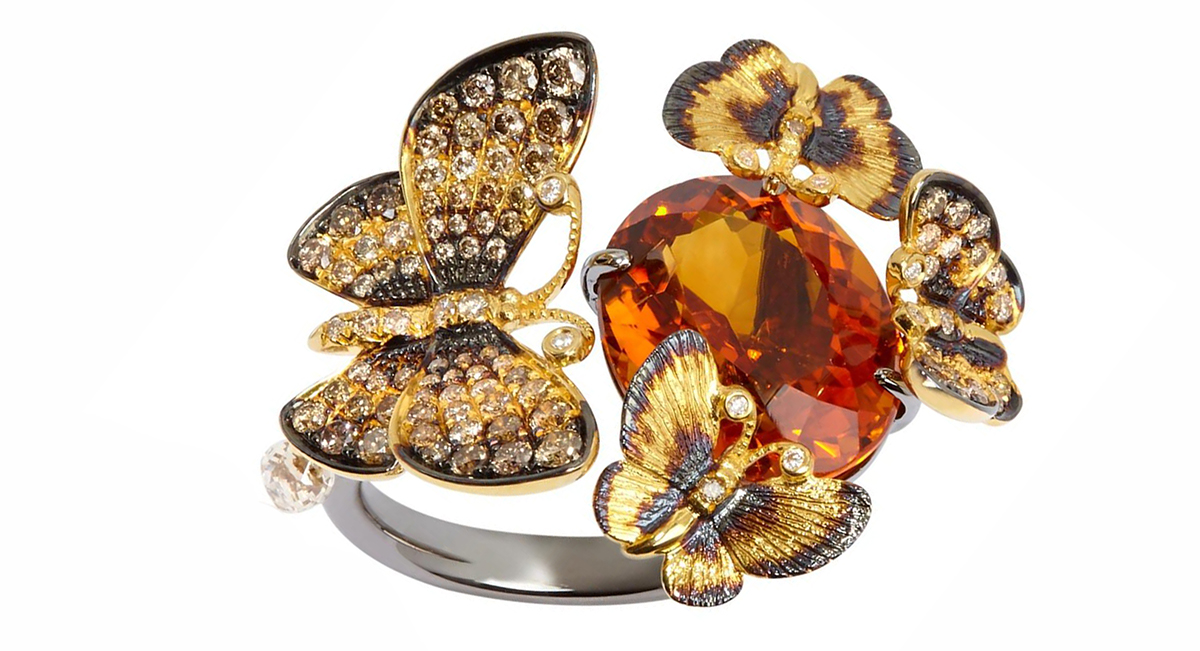 If you are a follower of Annoushka's work then you will no doubt have seen the amulet from her Mythology collection: a gold butterfly with diamonds and green garnets. This piece is very different from the designs in the new collection, which features a number of different bracelets, pendants, earrings and rings. You can clearly trace the influence of fashion in the double finger ring and the bracelet ring, and Annoushka explains this as follows: "When I design it is very personal – I design what I like to wear. I aim to create pieces which happily alongside heirloom jewellery but are also fresh, contemporary and comfortable."
It is worth taking a moment to point out the way Annoushka has played around with the potential of her design by arranging her pieces into a bursting flutter of butterflies, which makes even the larger 18-karat gold pieces such as the ring and the wide bracelet appear light and airy.
The wings of real butterflies are naturally decorated in all manner of different colours – bright, unforgettable reds, yellows, navy blues and purples. In Annoushka's collection, however, colour is not a primary concern: the gold surface of the insects' wings have been hand-coated with brown rhodium complemented with occasional diamonds. "I feel the hand-painted rhodium with brown diamonds gives the pieces opulent warmth and vitality," says Annoushka of her colour choice.
I was interested to find out which piece was Annoushka's favourite. Her answer: "I love the two-finger cocktail ring as it captures the fleeting moment when a butterfly settles, which was the inspiration for the collection." In keeping with the collection's special significance for its creator, she has released it as series A/24, which means she has made 24 pieces of each design. So if any of them take your fancy, you need to be quick to snap one up.