The Emotion rings are a part of Fabergé's capsule collection of irresistible creations in bold colours and tactile designs. Inspired particularly by Russia's great rivers and mountain streams, these organically-shaped Fabergé signature jewels echo the Russian affinity with the fluidity of the natural world.
The name of the collection was chosen for a reason. The rings illustrate the Fauvist view of colour as an emotional force, an expression of feeling. They share Fauvism's freedom of form, its focus on emotive interpretation rather than representation.
Emotion rings comprise painterly abstract compositions of creative pavé work in intense blocks of colour-rich precious and semi-precious gemstones. With the expansion of the collection 3 rings in new vivid colour combinations will arrive at the boutiques this September .
Each ring featuring over 300 gems resembles fireworks of bright colours: greens, reds, blues and yellows. To create the stunning combinations of various hues, Fabergé used finest emeralds, pink diamonds, purple sapphires, turquoise Paraiba tourmalines and some other multi-coloured gemstones.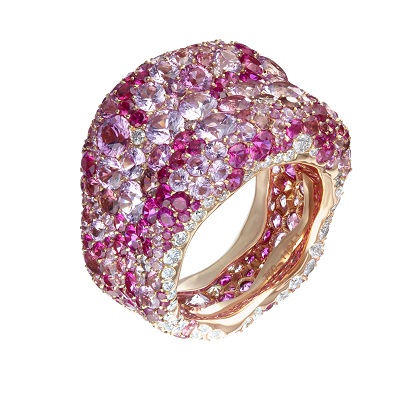 Fabergé really pushed the boundaries in order to create something as unique and beautiful as the colurful jewels from the new collection, which will become available at the boutiques in just a few weeks.